This Feijoa Loaf is a moist, sweet loaf flavored with Feijoa fruits and perfect to use all your Feijoa this Autumn.
Plus, this loaf is also allergy-friendly and made with no eggs, no butter, or dairy.
In Autumn in New Zealand, my Feijoa trees are over-producing, and we have to get creative baking with them.
When it's the end of the feijoa season, it's the perfect time to make this easy and delicious feijoa loaf if you're tired of feijoa chutney.
If you also have too many feijoas growing in your garden, this is a good recipe to use a large batch of them.
How To Make Feijoa Loaf
It's so easy to make this feijoa bread that once you try it, you will make it every Autumn.
Ingredients
All you need to make this tasty loaf with feijoa are:
Ripe Feijoa – When they fall from the tree and if the feijoa are soft to the touch, they are good for baking. The softer, the sweeter, and juicier they are. As a result, if you are using juicier feijoa, the bread can be moister and sweeter.
All-Purpose Flour – I use plain flour for this sweet bread recipe.
Avocado Oil – You can also use light olive oil or melted coconut oil.
Baking Powder
Cinnamon
Salt
Brown Sugar, unrefined cane sugar, or coconut sugar.
Almond Milk or any plant-based milk you love, including oat milk or soy milk.
Vanilla Extract
Preheat the oven to 180°C (350°F). Grease and line a 9-inch x 5-inch loaf tin with parchment paper and lightly oil the paper with cooking spray. Set it aside.
Preparing The Feijoa Puree
Place feijoas on a chopping board. Then, cut the feijoa halfway lengthwise and use a teaspoon to scoop out their flesh.
Place the flesh on a chopping board, and discard the feijoa skin or compost.
Next, use a long sharp knife to finely chop the feijoa into a sort of thin puree. You can also mash with a potato masher or fork. You don't need to cook the mash in a saucepan.
Pack the mashed feijoa and its juice in the measuring cup – you need a full cup.
Place the cup of chopped feijoa in a large bowl with avocado oil, vanilla extract, and almond milk. Stir the wet ingredients evenly.
Next, whisk in the sugar and salt.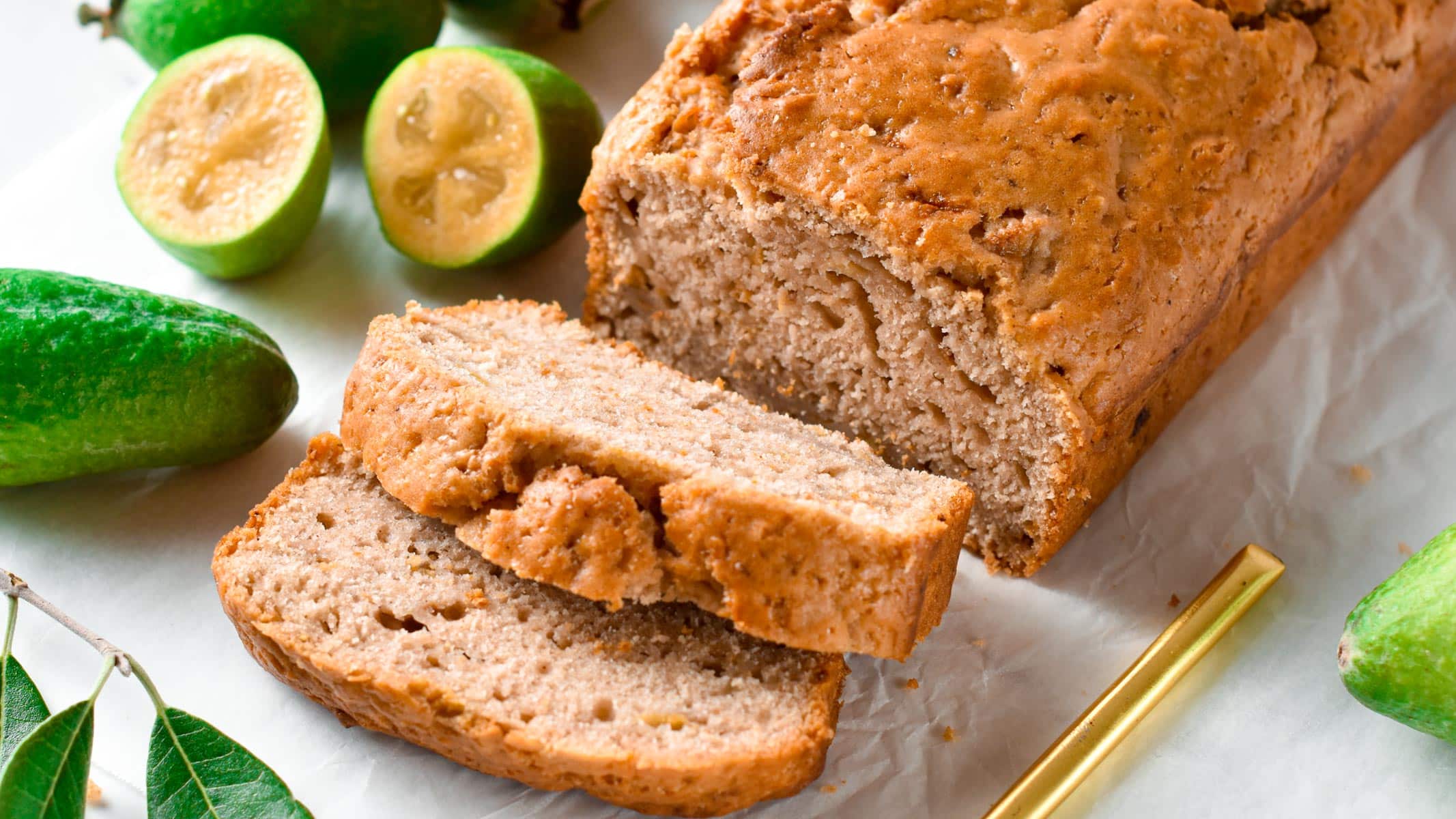 Combining Ingredients
Finally, sift in the flour and baking powder and use a rubber spatula to bring the ingredients together into a thick feijoa loaf batter.
Mix to combine well until no more flour dots can be seen. If too dry, add 1 or 2 tablespoons of almond milk.
Pour the batter into the prepared loaf pan and bake in the center rack of the oven for 45 to 50 minutes. The cooking time varies depending on how juicy the feijoas are.
The juicier, the longer it takes to bake the loaf. Bake until a skewer inserted in the center of the loaf comes out clean and the top has nice golden brown.
Let the feijoa cake cool down for 5 minutes in the pan, then pull it out from the pan using the hanging part of parchment paper.
Cool on a cooling rack for a few hours or overnight until the loaf is at room temperature.
Flavor Options
Of course, you can play with flavors and stir in 1/3 cup of some of the below ingredients to create a variety of feijoa loaf flavors.
Chopped Nuts like walnuts, almonds pecans
White Chocolate Chips
Mashed Banana
Shredded Apples
Shredded Coconut
Also, try adding some extra ground spices or zest below:
1/4 teaspoon of Ground Nutmeg
1 teaspoon of Ground Ginger
1 tablespoon of lemon or Lime zest
Storage Instructions
Store the feijoa loaf in a sealed container or wrapped in foil for up to 4 days, in the fridge.
You can freeze leftover slices of the loaf in zip-lock bags or airtight container and thaw them in the fridge the day before.
Serving
Feijoas go very well with almond butter, jam, and peanut butter.
Add a drizzle on top of your slice for a healthy autumn breakfast or snack on the side of your coffee.
Allergy Swaps
Below are some allergy swaps option if you need them.
Gluten-Free – I didn't try all-purpose gluten-free flour in this recipe, so I am not sure how it will come out. Generally, egg-free loaf turns a bit gummy with a gluten-free flour blend.
Sugar-Free – Use sugar-free crystal sweeteners like Monk fruit blend if you like.
Frequently Asked Questions
Here are my answers to your most common questions about baking this feijoa bread recipe.
What Do Feijoas Taste Like?
Feijoa taste between apple, kiwi, guava, and lemon. It's sweet, lightly sour like lemon, and has notes of apple and kiwi fruits.
Can I Make Feijoa Muffins With This Recipe?
Yes, you can bake the recipe into a greased and lined 12-muffin tray.
Add 1/2 teaspoon baking soda to the dry ingredients to help the muffin raise better.
Can I Add A Banana To The Recipe?
If you don't have enough feijoa for this recipe, you can make a feijoa banana loaf, swapping some of the feijoa purees for mashed ripe bananas.
What Kind Of Fruit Is A Feijoa?
Feijoa is also called pineapple guava fruit and it's related to the Guava family. It grows on a small evergreen tree of the Myrtle family.
What Country Are Feijoa From?
Feijoa is native to Southern Brazil, and Paraguay but it's mostly found in New Zealand in Autumn, where it has been imported.
Do Feijoa Have Lots Of Sugar?
Feijoa has a moderate amount of sugar for a fruit, with 8 grams per 100 grams and 6 grams of fiber.
It's less than a banana which contains 12 grams of sugar per 100 grams, but more than raspberries – 4.4 grams per 100 grams.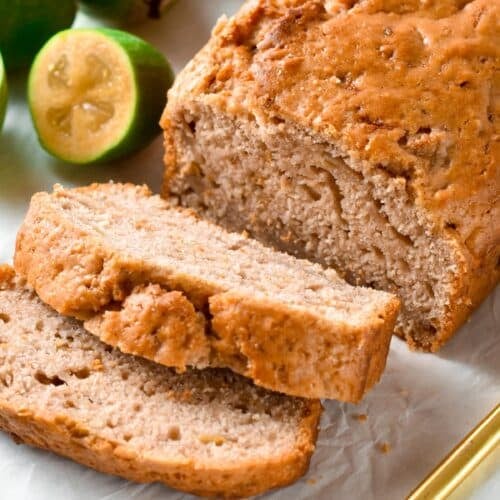 Feijoa Loaf
Shop My Tools
Instructions
Preheat the oven to 180°C (350°F). Line a 9-inch x 5-inch loaf tin with parchment paper. Slightly oil the paper and tin with oil spray. Set aside.

Cut the ripe feijoa halfway crosswise and scoop out their flesh with a teaspoon. Finely chop the flesh into a puree on a chopping board using a sharp knife or press with a fork. Pack the feijoa flesh and its juice in a measuring cup to measure 1 cup.

Place the feijoa puree in a large mixing bowl with avocado oil, vanilla extract, almond milk and stir to combine.

Stir in sugar, salt, and cinnamon.

Sift in the flour and baking powder and stir to incorporate. The batter should be thick and heavy and a bit hard to stir, but it should come together – all spots of flour should nicely combine with the wet ingredients. If not, or too dry. If too dry, it might be because some feijoas weren't ripe/soft enough, add 1-2 tablespoons extra milk to help the batter come together.

Transfer the batter to the prepared loaf tin and bake it on the center rack of the oven for 45-55 minutes or until a skewer inserted in the center of the loaf comes out clean.

Cool down on a wire rack for a few hours before slicing.

Store in the fridge, in a sealed container for up to 4 days.
Share on Facebook
Pin Recipe
Nutrition
Serving:
1
slice
|
Calories:
178.3
kcal
|
Carbohydrates:
27.8
g
|
Protein:
2.4
g
|
Fat:
6.5
g
|
Saturated Fat:
0.8
g
|
Polyunsaturated Fat:
1
g
|
Monounsaturated Fat:
4.4
g
|
Sodium:
136.3
mg
|
Potassium:
70.3
mg
|
Fiber:
1.9
g
|
Sugar:
10.7
g
|
Vitamin A:
1.5
IU
|
Vitamin C:
6.7
mg
|
Calcium:
66.8
mg
|
Iron:
1.1
mg
|
Magnesium:
7.5
mg
|
Phosphorus:
41.4
mg
|
Zinc:
0.2
mg