Healthy Chocolate Crackles
This healthy chocolate crackle recipe is an easy no-bake crunchy chocolate treat made with just 6 ingredients.
It's a healthier twist to the classic Australian recipe, mixing wholegrain puffed cereals and unrefined coconut oil.
I am all into Australian recipes lately and I love it. Today, I am sharing a healthier version of popular treats called chocolate crackles.
What Are Chocolate Crackles?
Chocolate Crackles are an Australian recipe created by the brand Kellogg's to showcase their puffed Rice Krispies cereals into an easy chocolate treat recipe.
It's a simple no-bake recipe that combines Rice Krispies, melted Copha (a vegetable shortening), cocoa powder, and icing sugar.
What Is Copha?
Copha is a vegetable shortening made from hydrogenated coconut oil. It means that the small amounts of unsaturated fats in the oil is hydrogenated in order to extend the shelf life of the product.
But, this chemical process results in the formation of trans fat. Trans fat is the worst type of fat for your heart and health in general.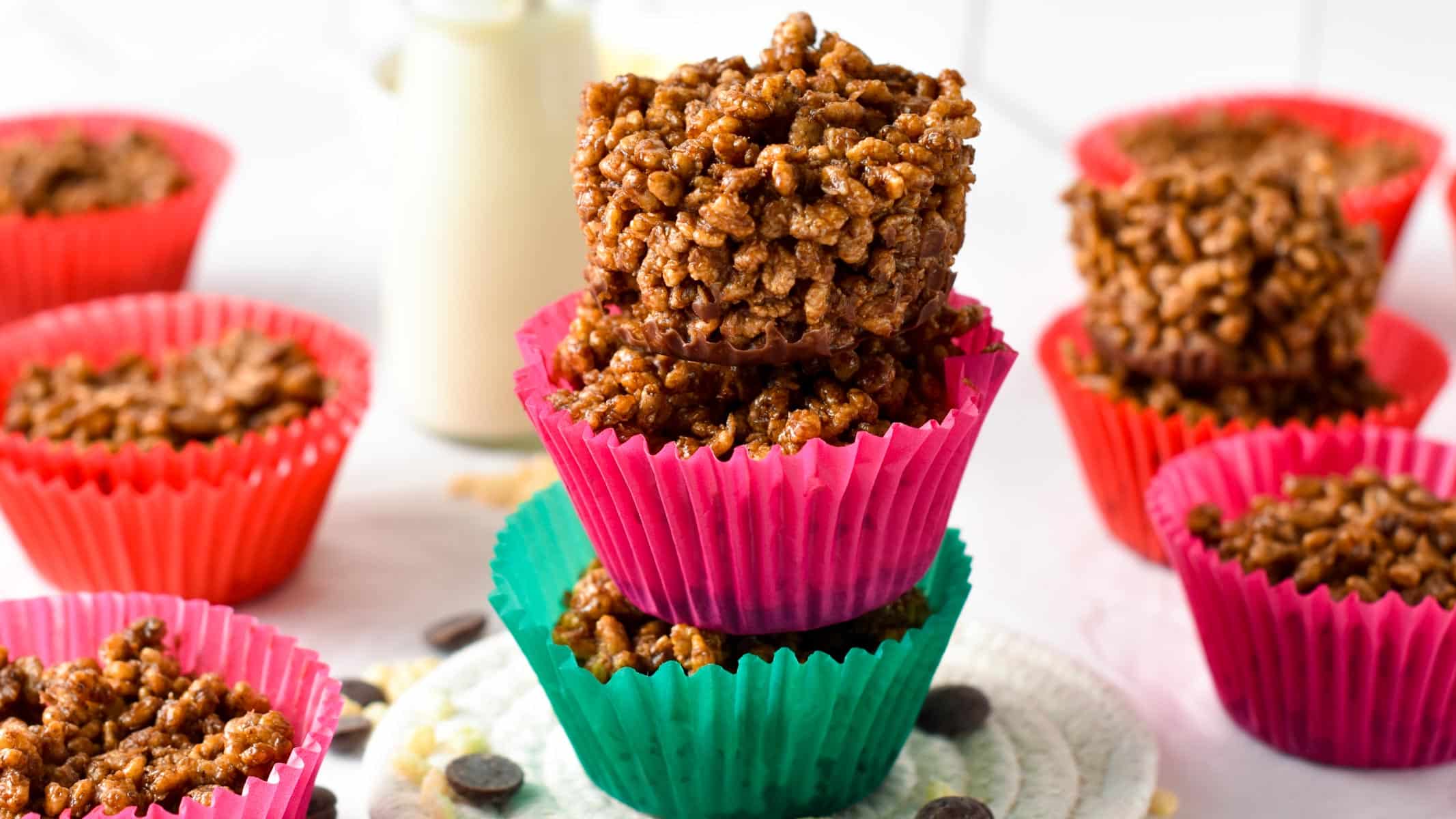 How To Make Healthy Chocolate Crackles
I do prefer to call these healthier chocolate crackles rather than healthy because even if they are way better for you than the classic recipe, they still contain a good amount of saturated fat from coconut oil
Ingredients
Puffed Cereals – The classic Australian dessert contains puffed rice. To make this dessert healthy, try a blend of puffed brown rice, puffed quinoa, puffed millet, or even puffed amaranth. Amaranth has a smaller grain size and doesn't add the same crunchiness so it's not the best swap for texture.
Unsweetened Cocoa Powder – Using unsweetened cocoa powder, avoid the added refined sugar from cocoa powder found in the classic recipe.
Extra-Virgin Cold Pressed Coconut Oil – While this oil has as much saturated fat as regular copha, it's virgin which means it also contains vitamin E, and bioactive polyphenol.
Unsweetened Desiccated Coconut
Date Syrup or any refined sugar-free liquid sweetener you love, like maple syrup, brown rice syrup, or coconut nectar. Date syrup contains fewer total carbohydrates than maple syrup, and the taste and color it brings to the chocolate crackle recipe are amazing.
Vanilla Extract – This is optional, the authentic chocolate crackle recipe doesn't use vanilla.
Sea Salt – A pinch of salt brings out the chocolate flavor.
Preparation
Line a 12-hole muffin tray with paper liner cases. Lightly oil the cases. Set aside.
In a large mixing bowl, add puffed cereals, cocoa powder, and desiccated coconut. Stir to evenly cover the puffed cereal with cocoa powder. Set aside.
Melting Coconut Oil
In a non-stick saucepan, add coconut oil and date syrup and bring over low-medium heat, stirring once in a while with a wooden spoon or rubber spatula, until the coconut oil is just melted.
Don't overheat. You don't want the liquid to simmer or even boil. Remove from heat.
Stir in vanilla extract and sea salt in the liquid ingredients.
Combining Ingredients
Then, pour the liquid ingredients into the bowl with puffed cereal.
Stir very well to make sure the puffed rice is fully covered with the wet ingredients. There are always some that gravitate to the bottom of the bowl, don't worry about that.
Filling The Cases
Use a large spoon to scoop out some covered chocolate puffed rice and place it into the prepared paper liners.
Make sure you grab some mixture from the bottom of the bowl too as the liquid ingredients tend to run down the bowl.
Repeat until all the paper liner cases are filled.
Refrigerating
Refrigerate for a few hours until the coconut oil firm up the treats and the chocolate crackle are hard.
You can also work faster and freeze the pan for 20 minutes to set the healthy chocolate crackle recipe faster.
Decorating
These are kids' party classic Australian treats. So if you bring these to a birthday party, have fun and add a pinch of sprinkles for colors or a pinch of desiccated coconut to keep it healthy.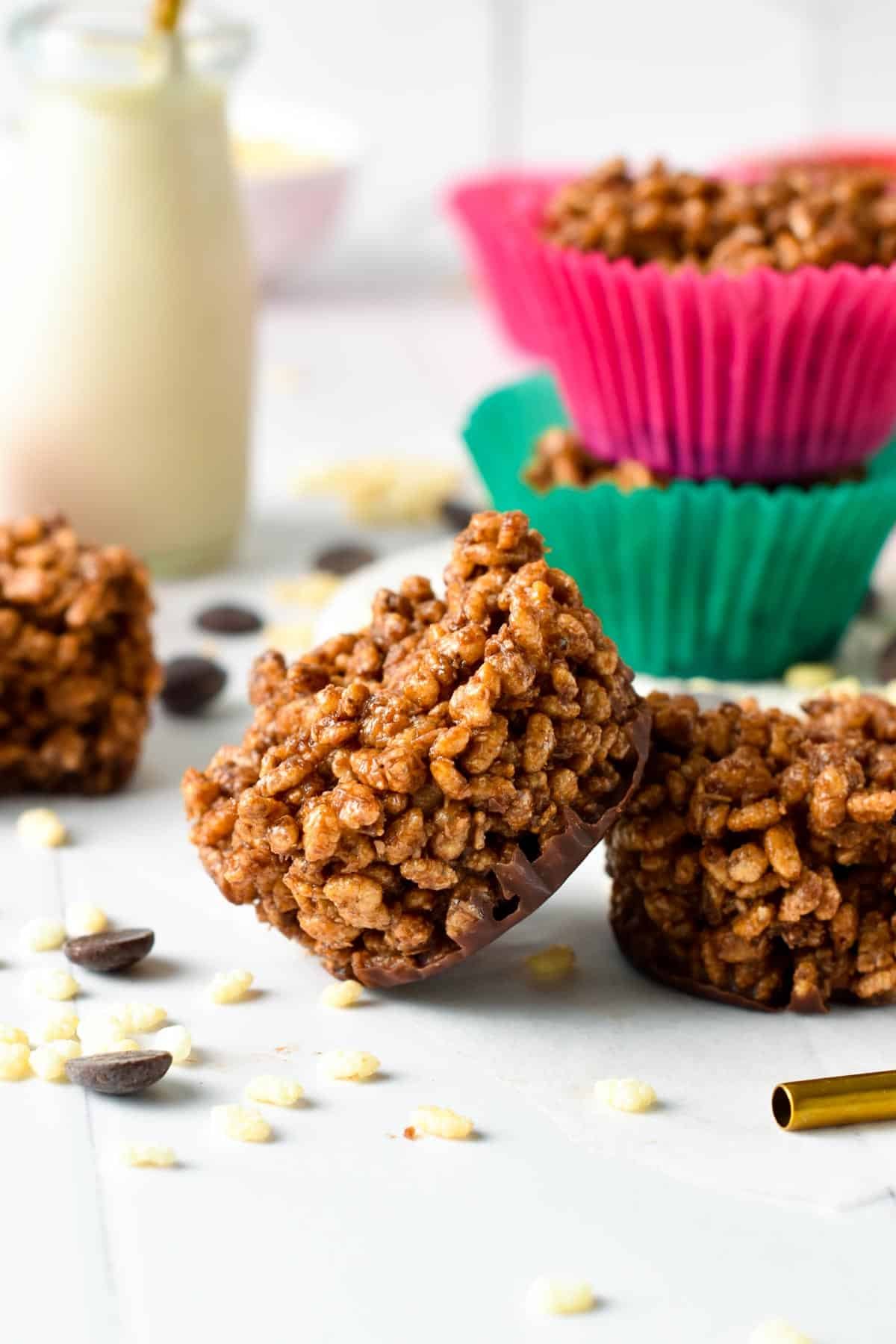 Storage Instructions
Since coconut oil melts under 23°C (73°F), you must store these treats in the fridge, or they soften fast at room temperature, especially on warm days.
You can also freeze the chocolate crackles for later in a zip-lock bag and freeze them for up to 1 month.
Allergy Swaps
Below are some ingredients swap ideas if you have some allergies to the ones used in this recipe.
Coconut-Free – You can swap desiccated coconut for an almond meal or simply skip the ingredients. For coconut oil, swap for cocoa butter. However, cocoa butter is much more expensive.
Gluten-Free – Make sure the puffed cereal you use is wheat-free like rice or quinoa.
Cocoa Powder can be replaced with cacao powder.
Frequently Asked Questions
Here are my answers to the most common questions about this recipe.
Can I make chocolate crackles with less oil?
Yes, you can use less oil for this recipe. Skip the cocoa powder and melt 1/4 cup of virgin coconut oil melt with 1 1/2 cups of dark chocolate – try 85% or 70% cocoa – and 1 cup of nut butter like peanut butter or almond butter.
Can I make this into a slice?
Yes, you can press the mixture into a 9-inch x 9-inch brownie pan covered with parchment paper. Refrigerate until hard then cut into slices.
How many calories are in chocolate crackles?
One chocolate crackle contains 188 kcal.
What are chocolate crackles made of?
The authentic chocolate crackle recipe is made from puffed Rice Krispies, cocoa powder, icing sugar, and copha – vegetable shortening.
What is a good substitute for Copha?
The best is to swap copha for extra virgin coconut oil. Extra virgin coconut oil has as much saturated fat, but it's not hydrogenated and won't add unhealthy trans fat in your recipe.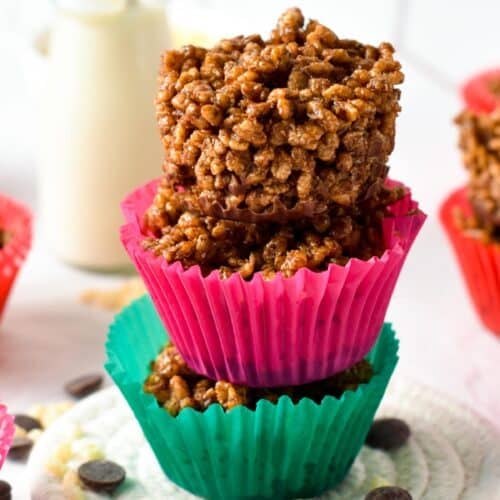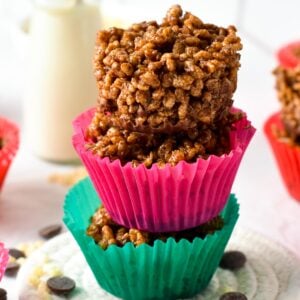 Healthy Chocolate Crackles
This healthy chocolate crackle recipe is an easy no-bake crunchy chocolate treat made with just 6 ingredients.
Pin
Print
Review
Shop My Tools
Ingredients
4

cups

Puffed Rice

-

or use a mix of puffed brown rice, puffed quinoa, puffed amaranth and/or puffed millet

¼

cup

Unsweetened Cocoa Powder

1

cup

Coconut Oil -

unrefined, extra virgin (note 1)

¾

cup

Desiccated Coconut

½

cup

Date Syrup

-

or brown rice syrup or maple syrup
Instructions
Fill two 12-hole muffin tins with muffin paper liners – I used 16 paper liners in total. Slightly oil with cooking spray. Set aside.

In a non-stick saucepan, over medium heat, or in a microwave-safe bowl melt coconut oil and sweetener on low heat. Stir once in a while and stop when the oil is just melted, don't simmer or boil.

Remove from heat, and whisk in salt and vanilla extract.

In a large mixing bowl, stir puffed rice, cocoa powder, and desiccated coconut until the rice is evenly coated with the cocoa.

Pour the melted coconut oil mixture onto the puffed cereal and stir for about 1 minute, until all the puffed rice is coated with the mixture.

Fill each prepared muffin paper liner with the mixture.

Place the trays in the fridge for 1 hour or 20 minutes in the freezer to harden the crackle faster.
Storage
Store in a sealed container in the fridge for up to 1 week or freeze for up to 1 month in freezer bags and thaw in the fridge the day before.
Notes
Note 1:

Unrefined coconut oil is a better choice, but to avoid the coconut flavor, use refined coconut oil.
Share on Facebook
Pin Recipe
Nutrition
Serving:
1
crackle
|
Calories:
188.3
kcal
|
Carbohydrates:
12.7
g
|
Protein:
0.9
g
|
Fat:
16.3
g
|
Saturated Fat:
13.6
g
|
Polyunsaturated Fat:
0.3
g
|
Monounsaturated Fat:
1
g
|
Sodium:
75.6
mg
|
Potassium:
70.3
mg
|
Fiber:
1.2
g
|
Sugar:
6.4
g
|
Vitamin C:
0.1
mg
|
Calcium:
14.3
mg
|
Iron:
0.5
mg
|
Magnesium:
13.8
mg
|
Phosphorus:
23.6
mg
|
Zinc:
0.3
mg