Overnight Weetabix (2 Amazing Flavors)
This Overnight Weetabix recipe is a healthy high-protein breakfast perfect to meal prep for a week of healthy breakfasts.
If you love a high-protein healthy breakfast, but you are after something oat-free, try this overnight Weetabix as a swap to baked oatmeal or overnight oats. I love oats, but some days, I need a different cereal to start the day.
Weetbix is a healthy, crispy cereal bar that softens when soaked in liquids and creates a creamy, smooth texture with a tasty wheat bran flavor. It's perfect to make thick, creamy smoothies like my strawberry Weetbix smoothie or to make overnight Weetbix.
Why You Will Love Overnight Weetabix
Overnight Weetbix is a TikTok food trend that consists of soaking Weetabix breakfast cereal into milk and then topping it up with yogurt or protein pudding, plus some other flavorsome ingredients. While the method of making this recipe is very similar to my overnight oats recipe, the taste and texture are very different.
Soaked Weetbix biscuits are creamy and smooth, with no bits or pieces of cereal. The taste is close to wheat cereals, with a light, earthy, and nutty flavor. It doesn't have the bits and pieces of soaked oats, which makes it easier to eat and similar to a creamy mousse. Weetbix cereal is also packed with nutrients and iron.
As a result, a batch of this healthy overnight oat recipe is highly nourishing, filled with 13 grams of protein and 6.6 mg of iron to give you energy in the morning. It's also a great healthy alternative to oats, and it exists in a gluten-free range to make gluten-free overnight Weetbix.
You will also love that you can create a range of flavorsome overnight Weetabix flavors. My favorite is clearly the Biscoff overnight Weetbix shared in this post. But, there are many ways to make healthy overnight oat Weetbix, adding protein powder or your favorite nut butter for flavors.
How To Make Overnight Weetbix
The classic overnight Weetabix recipe uses only three ingredients. I tweaked the recipe slightly by adding some chia seeds and making it healthier. It also improves the texture of the recipe, as chia seeds soak some of the liquid and firm up the soft, smooth layer of soaked Weetbix.
Soak Weetbix Biscuits
The first step of this recipe consists of breaking, and soaking the Weetbix with the remaining ingredients.
Weetabix Breakfast Cereal – Weetabix, as it's known in the UK, or their Australian and New Zealand equivalent, the Weetbix, are small bars of cereal preliminary made of wheat used to make quick and easy breakfasts. You can use the gluten-free version if you are intolerant to gluten or the kid version boosted in iron. If Weetbix is not available in your country, use wheat cereals.
Almond Milk – Or any other type of non-dairy milk such as coconut milk, oat milk, or cashew milk. My preference is to use unsweetened almond milk.
Maple Syrup – You can use any liquid sweetener in this recipe, such as maple syrup, vegan honey, agave syrup, coconut nectar, or rice malt syrup. You can also use sugar-free equivalents like sugar-free syrup or liquid stevia to naturally sweeten the breakfast with no added carbs.
Chia Seeds – The recipe works without chia seeds, but the seeds enhance the breakfast's nutrition profile. Chia seeds are a great vegan protein source, and they add a lovely pudding texture to the Weetabix.
Overnight Weetbix Flavor Ideas
Now that the first layer is ready, you need to choose which overnight Weetbix flavor you want to prepare for your breakfast. There are many ways to top up the soaked Weetabix biscuits.
Pick the flavor you like from the options below and gather the ingredients needed.
Protein Overnight Weetbix
Yogurt of Choice – We used plant-based soy yogurt, but any vegan creamy yogurt works.
Protein Powder – Protein powder or powdered peanut butter. Our preference is to use peanut-based vegan protein powder.
Cinnamon or vanilla extract to add more flavors.
Biscoff Overnight Weetbix
Biscoff Spread – feel free to use the crunchy Lotus to add a crispy texture to the recipe, or use the smooth Biscoff spread for a creamy Biscoff layer.
Almond Milk or any plant-based milk you like.
Yogurt of Choice – We used plant-based cashew yogurt.
Nutella Overnight Weetbix
For the Nutella layer, you need:
Dark Chocolate Chips – I am using 70% cocoa chocolate chips from Belgian chocolate but any chocolate chips works
Yogurt of Choice – we used plant-based yogurt.
Almond Milk, soy milk, or oat milk.
Healthy Nutella – We used a dairy-free chocolate hazelnut spread.
Assembling The Overnight Weetabix Recipe
Preparing The Weetbix Layer
In a small airtight container, crush two Weetabix biscuits. It doesn't matter if you have large or small pieces because as soon as you add milk, it gets mushy.
Pour the chia seeds and unsweetened almond milk to make the Weetabix base. Sweeten with maple syrup or stevia and stir to combine.
Preparing The Toppings
For the Biscoff or Nutella overnight Weetbix, always start by spreading a layer of plant-based Yogurt on top of the soaked Weetbix layer.
Next, in a microwave-safe bowl, melt Nutella or Biscoff with almond milk then spread on top of the yogurt layer.
Finally, decorate with either chocolate chips and nuts, or Biscoff biscuits.
But, if you are making a protein overnight Wetbix, stir protein powder, almond milk, maple syrup, and yogurt and then spread on top of the soaked Weetbix. Drizzle peanut butter on top or simply add berries.
Other Flavors Ideas
The Biscoff Overnight Weetabix is one of the most popular flavors, but you can also make:
Strawberry Cheesecake Weetbix overnight
Banoffee Pie
Swap the peanut butter layer with an even layer of thin banana slices that you lay on top of the yogurt layer.
Sprinkle some crunchy shortbread biscuit on top and cinnamon for a classic banoffee taste. You can also add some Nutella, chocolate spread, or almond butter on the top.
Fruit Salad
Add a layer made with slices of fresh peaches.
Place fresh berries on the top like blueberries or raspberries.
More Overnight Oats Recipes
If you like overnight oats, you'll love these other recipes.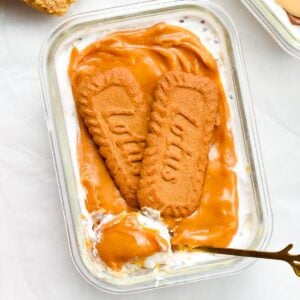 Overnight Weetabix
This Overnight Weetabix recipe is a healthy make-ahead breakfast recipe, high in protein and perfect to start the day with fiber and vitmains.
Pin
Print
Review
Servings: 1 serving
Calories: 379 kcal
Ingredients
Peanut Butter/Biscoff Layer
Instructions
In a glass airtight container, crush 2 Weetabix biscuits with your hands until they form a thin crumb.

Add chia seeds, almond milk, and maple syrup. Stir and spread evenly all over the container.
Yogurt Protein Layer
In a mixing bowl, stir the yogurt, protein powder, and almond milk. If you don't want to use protein powder, skip it and simply spread pure yogurt, feel free to sweeten it with 1 teaspoon of maple syrup.

Spread the yogurt layer on top of the Weetabix layer.
Peanut/Biscoff Layer
In another bowl, whisk the peanut butter or Biscoff, maple syrup, yogurt, and almond milk until smooth.
Chocolate Layer
Finally, in a microwave-safe bowl, add chocolate chips and milk. Microwave for 30-45 seconds until melted. Stir in yogurt to form a ganache.

Spread the chocolate layer on top or for the Biscoff flavor.

Serve with peanut and chocolate chips or Biscoff biscuit.
Notes
How to store overnight Weetbix – Store the recipe in a sealed glass container in the fridge for up to 4 days. Gluten-free – use gluten-free certified Weetbix biscuits Weetbix swap – in the US, the equivalent of Weetbix is shredded wheat cereal.
Share on Facebook
Pin Recipe
Nutrition
Serving: 1serving | Calories: 379kcal | Carbohydrates: 36g | Protein: 19.9g | Fat: 17.1g | Saturated Fat: 6.6g | Polyunsaturated Fat: 3g | Monounsaturated Fat: 5.5g | Trans Fat: 0.01g | Cholesterol: 19.8mg | Sodium: 378.1mg | Potassium: 470.4mg | Fiber: 6.3g | Sugar: 11.2g | Vitamin A: 154.6IU | Vitamin B12: 0.6µg | Vitamin C: 0.8mg | Vitamin D: 0.1µg | Calcium: 384.1mg | Iron: 6.6mg | Magnesium: 67.7mg | Phosphorus: 234.8mg | Zinc: 1.6mg
Frequently Asked Questions
Can I Skip The Chia Seeds?
Yes, the recipe works without chia seeds. Decrease the almond milk to 1/3 cup only as it would have been absorbed by the seeds.
Why Is My Weetabix Batter Thick And Dry?
Your overnight Weetbix might get too dry and thick, but you can save it! Stir 1 to 2 tablespoons of almond milk in the Weetbix before adding the top layers.
Do I Have To Refrigerate Overnight?
No, you can refrigerate for only 1 hour. The refrigeration only sets the top layers. The Weetbix layer texture is pretty much the same after overnight soaking or 1 hour.
Can I Skip The Sugar?
Absolutely, you can skip all the maple syrup to make this breakfast without added sugar.
You can sweeten the layers with stevia drops or mashed banana for a sweet natural flavor.