These Raspberry Overnight Oats are the most refreshing breakfast oatmeal jars for summer.
Packed with nutrient-dense chia seeds, oats, and fresh raspberries, these will keep you full and happy in the morning.
I love healthy breakfast recipes, they keep me energized and full for hours.
Recently, I started to eat overnight oats on a weekly basis and it makes me feel great.
It's also fresh and cold on hot summer days. Plus, this new raspberry overnight recipe is so refreshing, with tangy, not-too-sweet pieces of juicy raspberries mixed into a creamy vanilla oatmeal texture.
How To Make Raspberry Overnight Oats
This recipe is inspired by my classic overnight oat recipe in which I added frozen raspberries and a touch of lime.
You don't need yogurt for this version but feel free to swap some of the plant-based milk for coconut yogurt or a Greek yogurt style like soy yogurt to add creaminess.
Ingredients
All the ingredients you need to make these creamy refreshing raspberry oatmeal jars are:
Old-Fashioned Rolled Oats or quick oats, or even steel-cut oats.
Chia Seeds – White or black chia seeds, both work the same.
Fresh Raspberries or frozen raspberries – You don't need to thaw the berries. Simply add the frozen berries to the overnight oat recipe.
Lime Juice – Optional, but I adore the tangy lime flavor with raspberries. Feel free to use lemon juice instead or simply skip for an extra splash of milk.
Maple Syrup or any unrefined sweetener you love, including coconut nectar, date syrup, or agave syrup.
Non-Dairy Milk of Choice – I recommend using any dairy-free milk you have on hand that you love! There's no wrong combination. I love soy milk for its nutritional properties, packed with protein and fortified. However, I had great success using coconut milk, almond milk, or oat milk.
Vanilla Extract
Preparation
Add oats and chia seeds to a large mixing bowl or airtight container – I like my glass container because they come with a lid.
Stir the dry ingredients evenly, then add the liquid ingredients: nondairy milk, maple syrup, lime juice, and frozen or fresh raspberries.
Stir and mash the raspberries with a fork into the mixture so they release juice in the overnight oat mixture.
Stir well to evenly combine all the ingredients. Close the container with a lid and refrigerate for at least 6 hours or overnight.
Serving
The next day, divide the batch into small yogurt jars and, if you like, make layers adding your favorite yogurt, homemade chia seed jam, and some extra raspberries.
You can make the jars ahead so they are ready to eat in the following days.
Also, you can double or triple the recipe if you intend to serve more people with this raspberry overnight oats recipe.
Top up the glass mason jar with some of the below:
Fresh or frozen raspberries
Lime zest
Yogurt – coconut or soy tastes fantastic
Nut butter – cashew butter, almond butter, or peanut butter.
A drizzle syrup like maple syrup
Jam
Shredded coconut
Crushed peanuts
Sliced almonds
Recipe Variations
There are many ways to make this easy raspberry overnight oats recipe. Depending on your favorite flavors, pick some of the below.
Raspberry Coconut – Use coconut milk, stir in three tablespoons of shredded coconut in the mixture, and serve with coconut yogurt on top and toasted coconut flakes.
Raspberry Almond – Add two tablespoons of almond butter to the mixture. Serve with almond yogurt, sliced almonds, and a drizzle of almond butter.
Raspberry White Chocolate – Stir 2 to 3 tablespoons of your favorite dairy-free white chocolate chips. Serve with melted white chocolate or try my vegan white chocolate.
Raspberry Cocoa Overnight Oats – Add 1 1/2 tablespoons of unsweetened cocoa powder to the recipe for raspberry chocolate. Increase the sweetener by one tablespoon and add a pinch of salt to emphasize the cocoa flavor. You can also stir in 1 or 2 tablespoons of mini chocolate chips to the recipe.
Storage Instructions
These raspberry overnight oats store for up to three days in the fridge.
I don't recommend keeping the jar longer in the fridge simply because the raspberries start to turn bad after a few days and can alter the taste of the recipe.
If you used frozen raspberries, you can't freeze leftovers from the recipe. It's not safe to freeze a thawed product as it can grow resistant bacteria.
If you use fresh raspberries, it is safe to freeze overnight oats in small batches and thaw them in the fridge the day before serving.
Allergy Swaps
below are some ingredients replacement ideas if you need them:
Milk – You can pick any nondairy milk, soy, coconut, or oat milk work for this recipe. Feel free to use your favorite flavors.
Chia Seed Free – Skip the chia seeds for ground flaxseeds or an extra 1/4 cup of oats.
Gluten-Free – Pick a certified gluten-free oats.
Fruit Choice – You can use this recipe with any berries you love, including blueberries, strawberries, or boysenberries. However, some berries are sweeter, and you may like to decrease the sweetener.
Frequently Asked Questions
Here are my answers to your moist common questions about this easy healthy breakfast meal prep recipe.
Can I Add Frozen Fruits To Overnight Oats?
Yes, you can stir in frozen fruits or frozen berries and soak them all together overnight.
The frozen fruits release juice and thin out the texture of the recipe. As a result, you may want to add up to 1/4 cup less milk to the recipe.
What Fruit Is Best For Overnight Oats?
The best fruits to add to overnight oats are soft fruits like berries or mashed bananas. Keep in mind that mashed bananas oxidize and change the color of the recipe with time.
Should I Put Fruit To Overnight Oats?
It tastes fantastic to add 1/2 cup of fresh or frozen berries to the overnight oat recipe.
However, this decreases the time you can keep it fresh in the fridge, as the berries are fragile and spoil after a few days.
To keep the recipe fresh for longer, add the berries just before serving.
Which Is Healthier Oatmeal Or Overnight Oats?
Both recipes are made from almost the same ingredients.
But overnight oats are raw, and no heat is involved, so the nutrients and vitamins remain intact.
Plus, this overnight oat recipe contains added superfoods, like chia seeds, adding omega-3 fatty acids, fiber, and protein to your day.
As a result, overnight oats are more nutrients dense than oatmeal, but both are healthy options to start the day.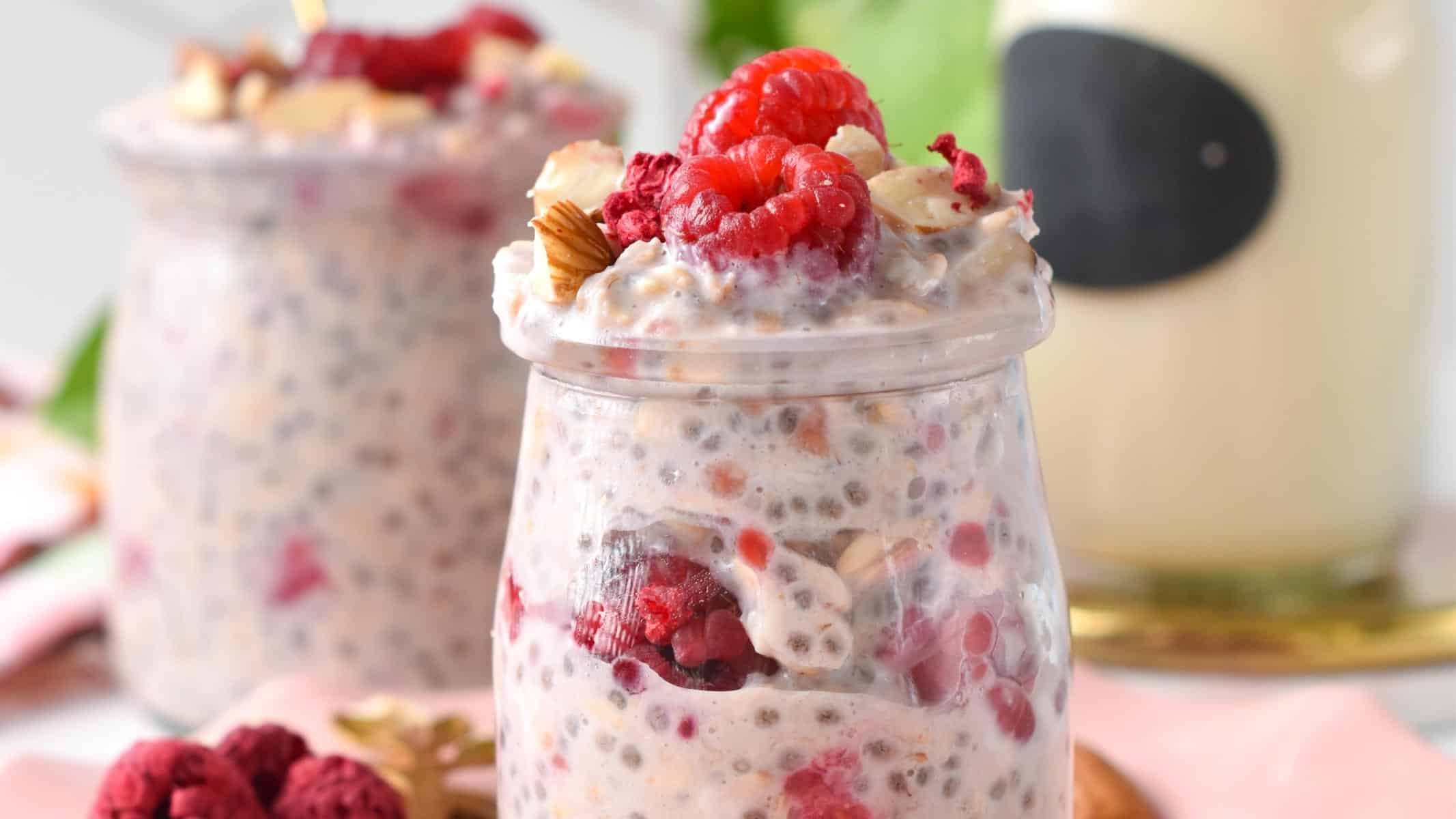 More Overnight Oat Recipes
If you like this recipe, you'll love these other overnight oat recipes: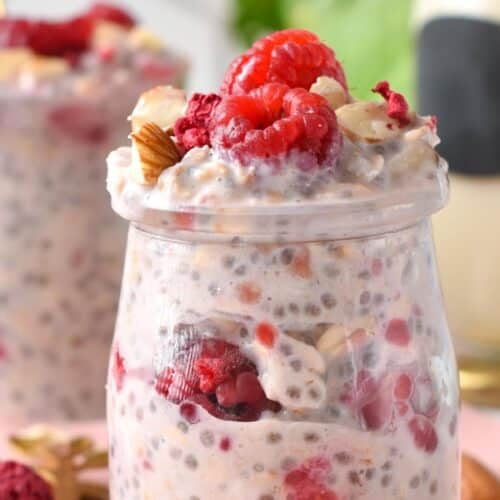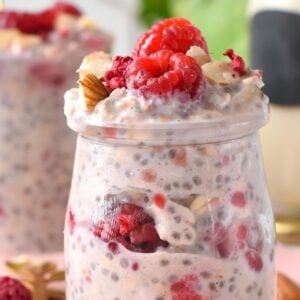 Raspberry Overnight Oats
These Raspberry Overnight Oats are the most refreshing breakfast oatmeal jars for summer. Packed with nutrient-dense chia seeds, oats, and fresh raspberries, these will keep you full and happy in the morning.
Pin
Print
Review
Shop My Tools
Instructions
In an airtight container or large mixing bowl, add oats and chia seeds. Stir to evenly combined.

Add in plant-based milk, maple syrup, lime juice, and vanilla extract, and stir again.

Fold in fresh or frozen raspberries, use a fork to press some in the mixture gently, and stir well to distribute evenly.

Cover the bowl with foil or close the bowl with a lid.

Refrigerate for at least 6 hours or overnight.
Serving
The next day, stir well again to combine flavors. If too thick, add a splash of milk. Serve plain or with layers of extra raspberries, yogurt, and top with almonds.
Storage
Store for up to 3 days in the fridge in an airtight container. If you didn't use frozen fruits, then you can safely freeze leftovers in airtight jars and thaw in the fridge the day before.
Share on Facebook
Pin Recipe
Nutrition
Serving:
1
serving (no toppings)
|
Calories:
294.5
kcal
|
Carbohydrates:
47.5
g
|
Protein:
8.5
g
|
Fat:
8.4
g
|
Saturated Fat:
0.9
g
|
Polyunsaturated Fat:
4.8
g
|
Monounsaturated Fat:
2
g
|
Trans Fat:
0.01
g
|
Sodium:
209.4
mg
|
Potassium:
284.8
mg
|
Fiber:
10.7
g
|
Sugar:
11.1
g
|
Vitamin A:
20.1
IU
|
Vitamin C:
10.3
mg
|
Calcium:
309.3
mg
|
Iron:
2.9
mg
|
Magnesium:
106.6
mg
|
Phosphorus:
279.1
mg
|
Zinc:
2.3
mg