This Vegan White Chocolate is perfect for snacking on or using any vegan recipes calling for white chocolate.
Plus, this recipe is easy to make sugar-free and diabetes-friendly.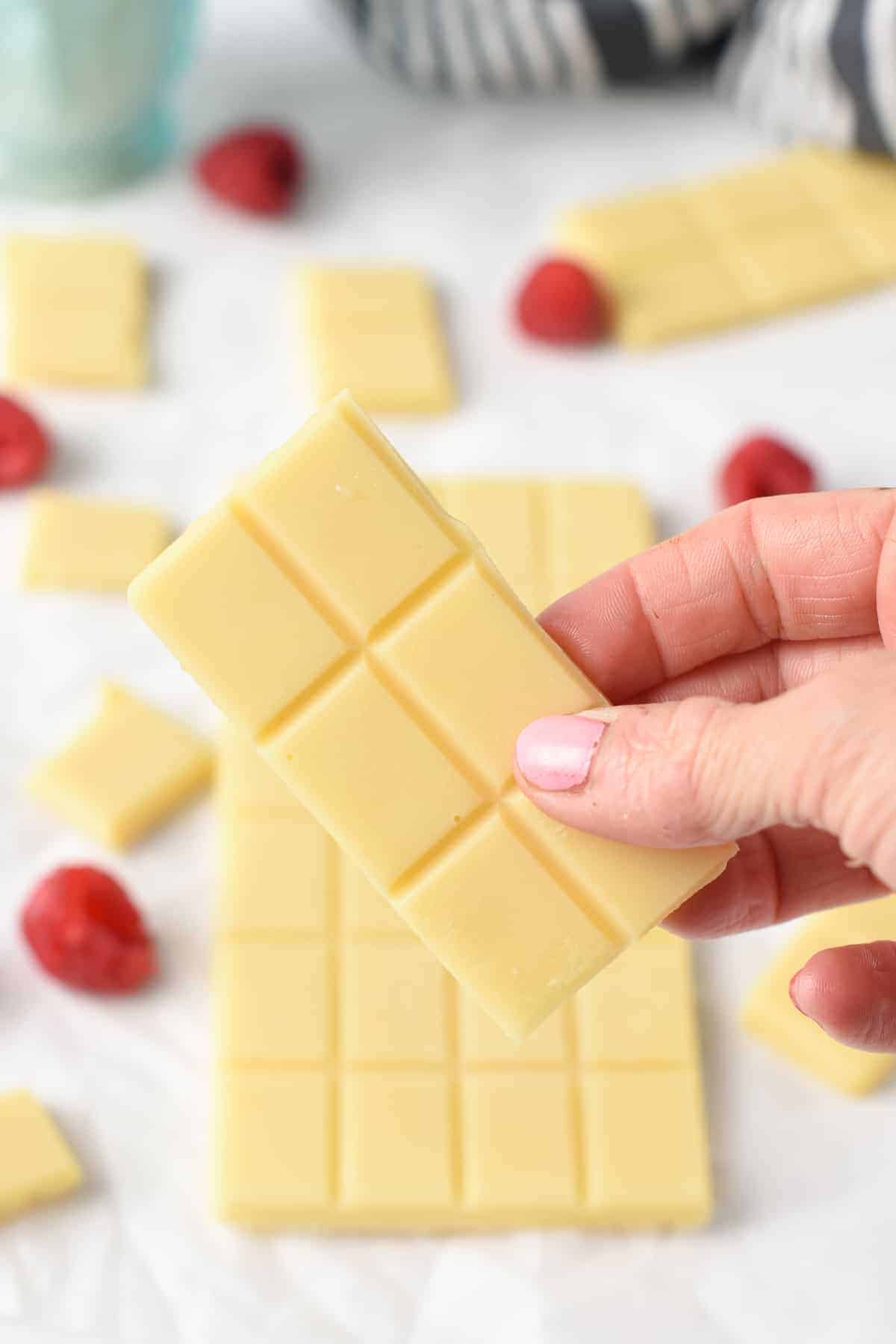 White chocolate is basically cocoa butter and sugar, but it also contains non-vegan ingredients like butter or milk.
So here's an easy recipe to make your vegan-friendly white chocolate at home.
Is White Chocolate Vegan?
The vast majority of commercial white chocolate brands include dairy products in their products. This is the same reason why many dark chocolates aren't vegan.
In theory, manufacturing white chocolate could be done with only cocoa butter, soy lecithin, and sugar.
But it actually contains milk solids most of the time to add a touch of creaminess, making them not vegan-friendly.
Let's have a look at some of the most common brands:
Ghirardelli's White Baking Chocolate is made with dry milk and milk fat. So it's not vegan.
Nestle's Toll House White Chocolate Chips also contain milk and nonfat milk. They are not vegan either.
Merckens Coating Melting White Chocolate Buttons contain nonfat dry milk. They aren't vegan.
OliveNation's Callebaut White Chocolate Chunks are made with whole milk powder, nonfat dry milk, and milkfat. They're not vegan.
How To Make Vegan White Chocolate
Luckily, it's ridiculously easy to make white chocolate at home.
Ingredients
Raw Cocoa Butter – that's the main ingredient of any homemade chocolate recipe.
Refined Coconut Oil – or melted vegan butter. If you use coconut oil, use a refined option to avoid the coconut flavor in your chocolate. Melted vegan butter tastes very good, and the chocolate colors come out gold white, which is beautiful.
Sweetener – read more below on choosing the best sweetener, but my preference goes for maple syrup, rice syrup, or coconut nectar.
Cashew Butter or coconut butter – the color of your chocolate will be darker with the second option, but the first option also adds a coconut flavor, so it's up to you to choose your favorite option.
Vanilla Extract
Sweetener Choice
When it comes to homemade chocolate, the sweetener can be tricky to pick. Let me explain.
I tested the recipe with both:
liquid sweeteners
powdered sweeteners
My preference goes to maple syrup or any liquid sweetener you like.
In fact, powder sweeter won't dissolve into the melted cocoa butter.
As a result, anytime you use a powder sweetener, it will accumulate in one spot of the chocolate bar and won't spread evenly.
Some areas won't be sweet, others too sweet, and the powder will obviously let a grainy texture.
So I highly recommend a liquid sweetener except if you need to make sugar-free white chocolate.
Utensils
To make chocolate, it's necessary to use:
Wooden or silicone spoon to stir chocolate – don't use metal that transfers cold to the melted cocoa butter and change its texture.
Silicone mold – it doesn't have to be a bar shape. For example, small silicone molds work well to make small white chocolate truffles.
Add-ons
You can flavor this vegan white chocolate by adding some of the following ingredients.
Peppermint extract
Crushed candy cane
Chopped nuts
Cocoa nibs
Desiccated coconut
Instructions
To make this vegan white chocolate recipe, place the mold of your choice (bars or shaped) onto a wooden board that fits in your freezer. No need to oil it!
Pour the cacao butter and vegan butter (or coconut oil) into a saucepan and heat the mixture over medium heat.
Stir the vegan white chocolate with a silicone spatula until the butter has fully melted.
Reduce the heat to low and pour the cashew butter (or coconut butter) and stir it until it has melted.
Add the maple syrup and the vanilla extract to the saucepan, and whisk the mixture for a few seconds to incorporate.
Let the white chocolate mixture cool down for a few minutes before pouring it onto the mold of your choice.
Transfer the chopping board with the mold to the freezer and let it sit for at least 10 minutes to harden.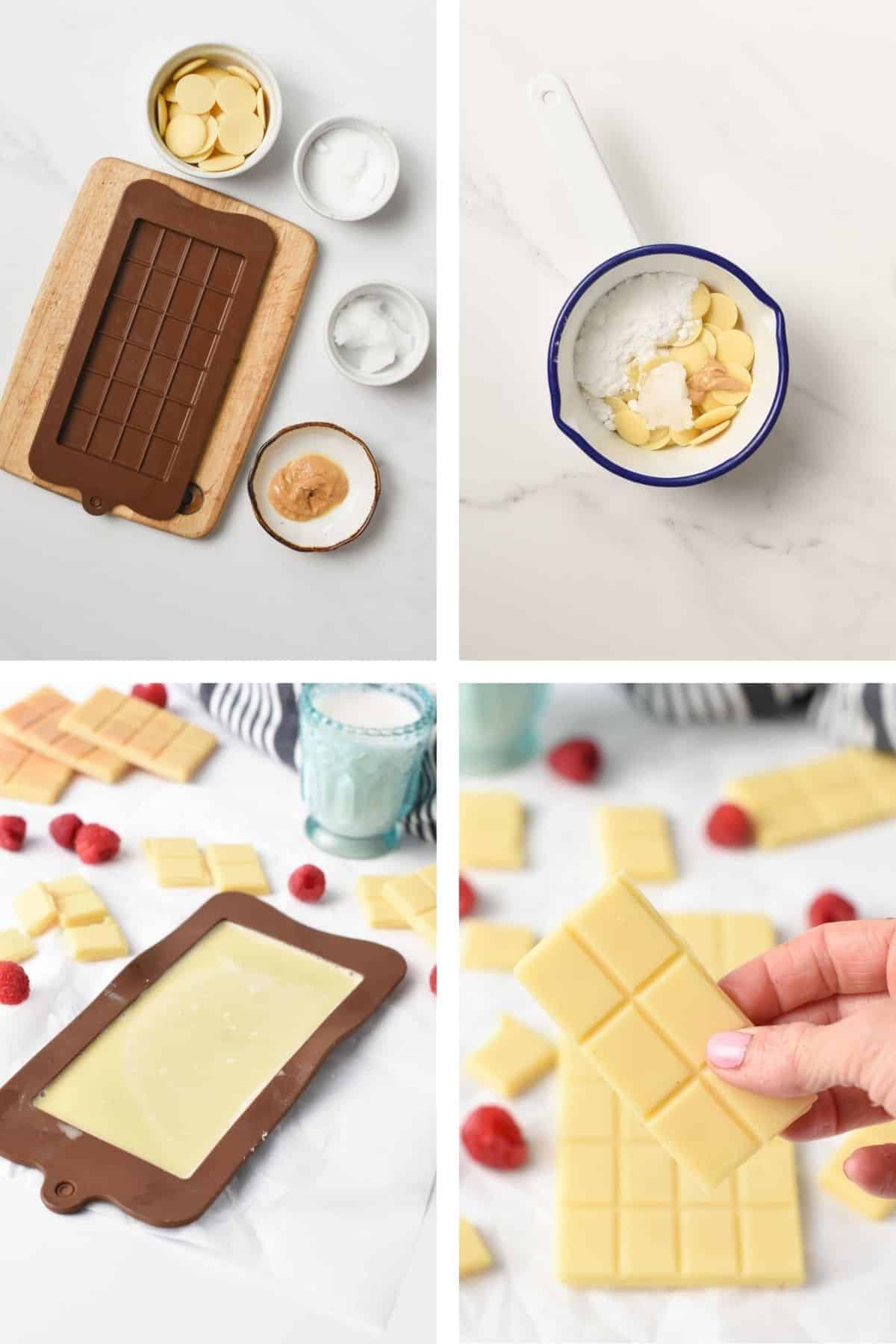 Storage
This chocolate must be stored in the fridge or freezer for an intense crunch. It will melt at room temperature.
Usage
You can use this vegan white chocolate for eating straight out of the mold or for many baking recipes.
Chop it and add it to muffins, cupcakes, cake batter, or even to make chocolate bark.
It's also delicious melted on top of a chocolate cake or strawberry muffins.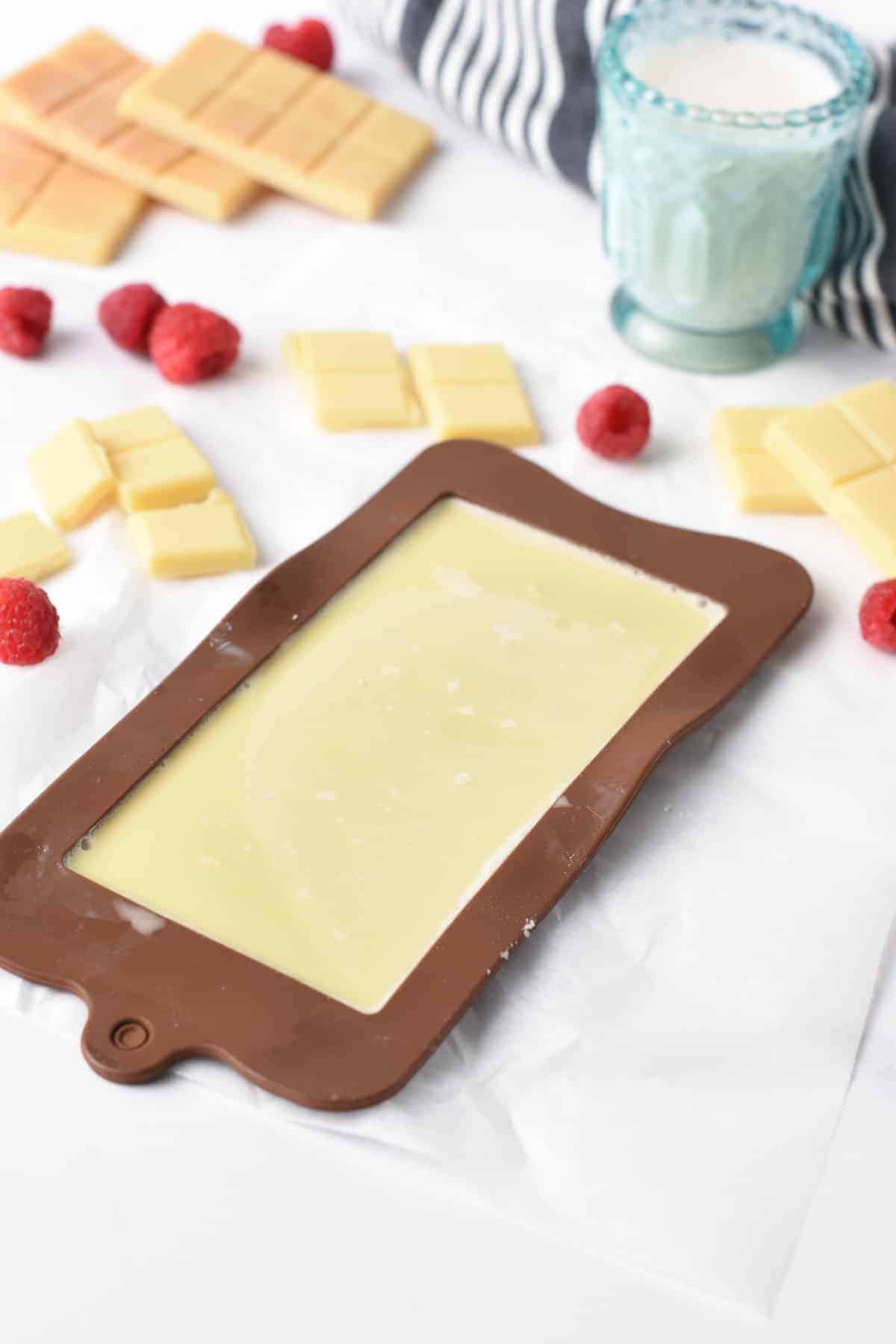 Frequently Asked Questions
Can I Use It In Cookies?
You can use this recipe to make white chocolate chunks for cookies but you can also turn it into drops or buttons.
To do that, use a spoon to let large drops of melted mixture drop onto a plate covered with parchment paper.
Can I Use Powdered Sugar?
No, powdered sweeteners of any kind wouldn't dissolve properly. It's better to use a liquid sweetener like maple syrup.
More Recipes With Vegan Chocolate
If you like simple staple recipes, you'll love these:
Have you made this recipe? Leave a review or comment below!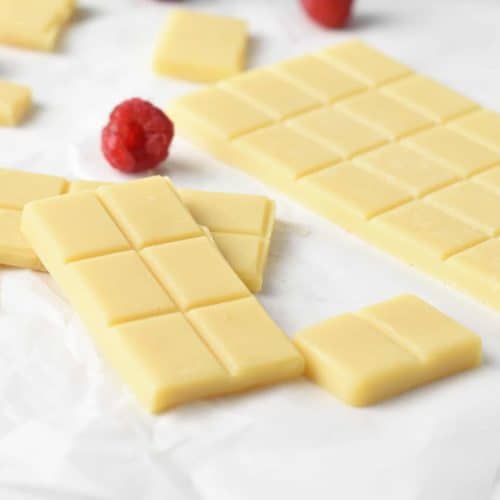 Vegan White Chocolate
An easy homemade Vegan White Chocolate recipe made with a few wholesome ingredients in 10 minutes.
Pin
Print
Review
Save
Saved Recipes
Servings:
12
servings (2 squares each)
Shop My Tools
Instructions
First, prepare a chocolate silicone tab mold, place it on a wooden board. Set aside.

In a small saucepan, add cocoa butter and vegan butter. If using coconut oil, use refined coconut oil to avoid the coconut flavor.

Bring over medium/low heat and occasionally stir until melted. The mixture will be really thin and yellow.

Keep the saucepan over low heat, and stir in cashew butter until melted.

Finally, stir in maple syrup and vanilla extract.

Turn off the heat and let the mixture cool down slightly before pouring it on the mold.

Pop the mold in the freezer for 10-12 minutes until the chocolate bar is hard and set.
Storage
Store in the fridge or in the freezer for an ultra-crunchy bar. The chocolate melts fast under 85°F (30°C).
Share on Facebook
Pin Recipe
Nutrition
Serving:
1
serving (2 squares)
|
Calories:
22
kcal
|
Carbohydrates:
5.5
g
|
Protein:
0.1
g
|
Fat:
2.3
g
|
Saturated Fat:
0.4
g
|
Polyunsaturated Fat:
0.6
g
|
Monounsaturated Fat:
1.1
g
|
Trans Fat:
0.3
g
|
Sodium:
15.4
mg
|
Potassium:
5.2
mg
|
Fiber:
0.1
g
|
Sugar:
0.1
g
|
Calcium:
0.4
mg
|
Iron:
0.1
mg
|
Magnesium:
2.2
mg
|
Phosphorus:
3.9
mg
|
Zinc:
0.1
mg