Healthy Vegan Rocky Road Slice
This healthy rocky road recipe is a delicious chocolate bar filled with nourishing nuts, dried cranberries, and homemade popcorn.
It's a healthy twist to the favorite rocky road candy bars made with no mini marshmallows for no sugar added and 100% vegan and gluten-free.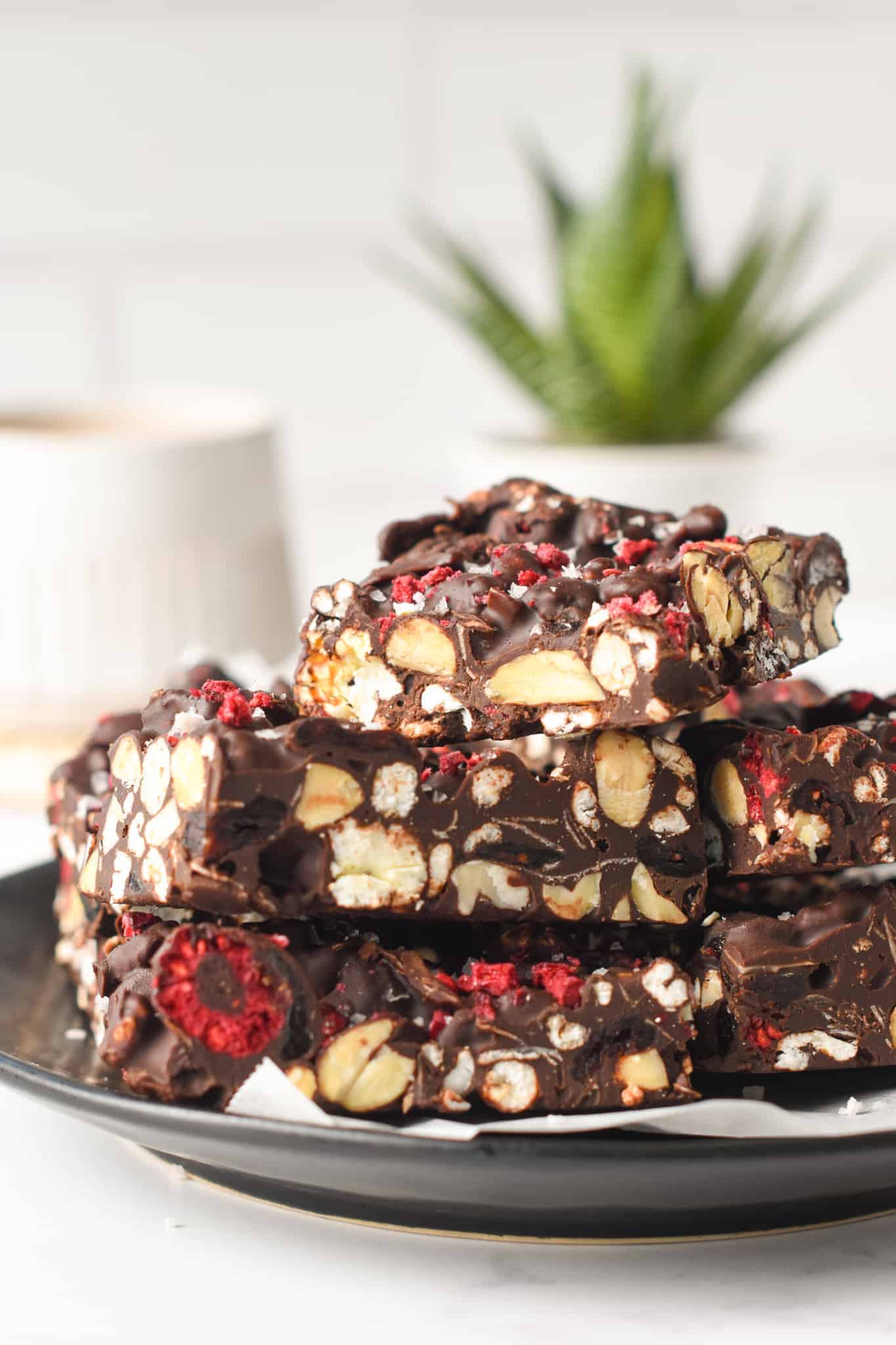 What Are Rocky Road Bars?
Rocky road bars are crunchy thick chocolate bars filled with peanuts and chewy pieces of marshmallows.
Rocky road bars are very popular in Australia and New Zealand, while in the US, rocky road is generally sold as ice cream.
The origin of these delicious bars is believed to be a way for bakers and sweet shops to sell confectionery spoiled on the long trip from Europe to Australia.
Coating it in chocolate and mixing it with fresh nuts was covering the taste of the spoiled cherries!
This healthy rocky road recipe is a variation of my vegan rocky road.
Why You'll Love This Recipe
This healthy rocky road recipe is naturally:
Dairy-free
Vegan
Gluten-free
High-protein and fiber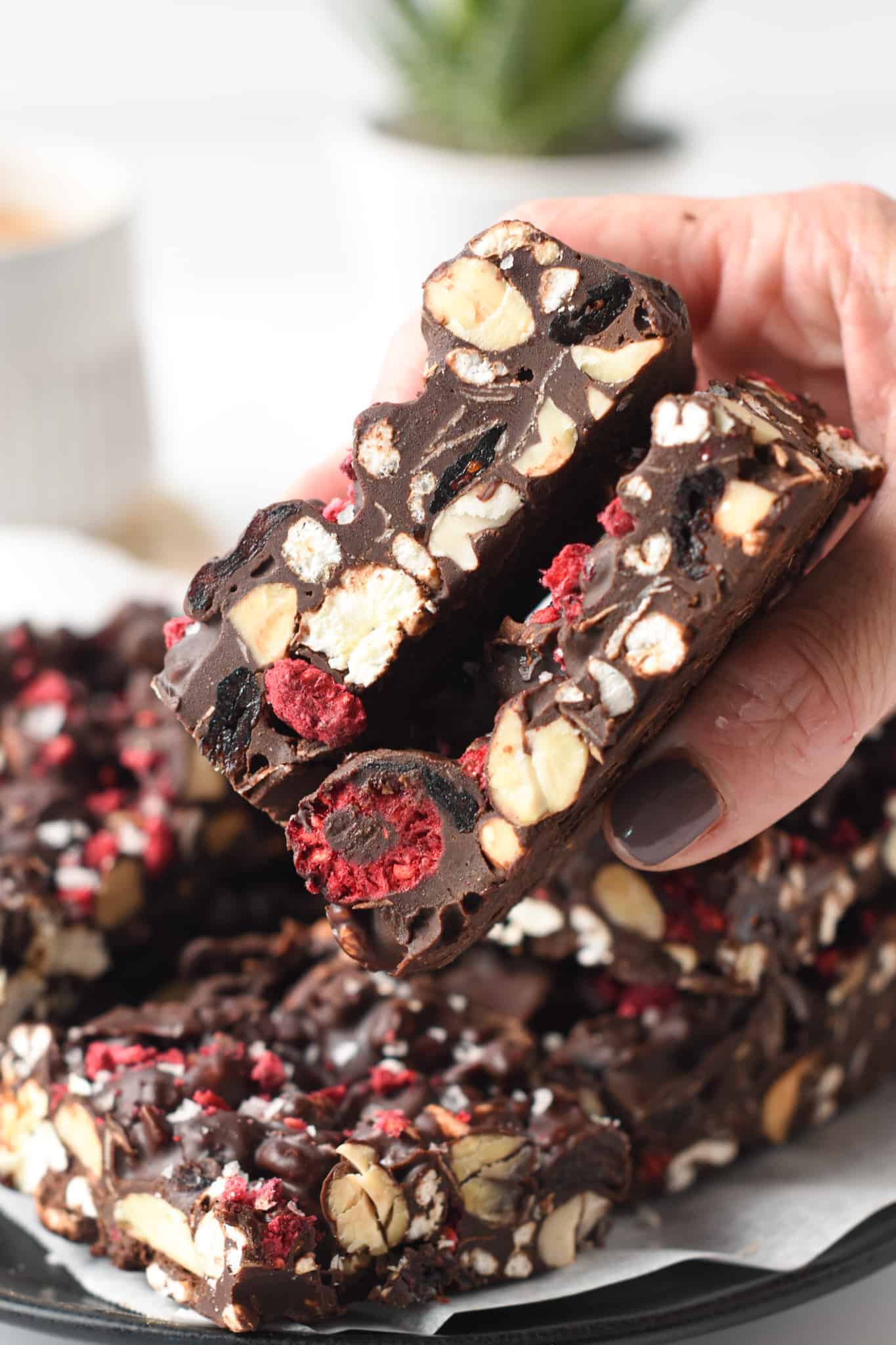 How To Make Healthy Rocky Road
Healthy vegan rocky road slices are made of nourishing, wholesome ingredients and homemade chocolate.
They don't contain marshmallows but instead use chewy cereals and dried fruits.
They are vegan, gluten-free, and made with simple staple ingredients.
Ingredients
Let's see what you need to make a healthy rocky road slice at home.
Coconut Oil or half coconut oil/half cocoa butter – while cocoa butter is expensive, it makes the best tasty homemade vegan chocolate. Also, refined coconut oil is the best here to avoid coconut flavor in your chocolate.
Unsweetened Cocoa Powder
Dark Chocolate – I used 85% dark chocolate but 70% versions work as well. You can use sugar-free chocolate as a keto option.
Maple Syrup or any liquid sweetener you like including sugar-free liquid sweetener for a low-carb option.
Peanut Butter or almond butter for less saturated fat.
Vanilla Extract
Puffed Cereals like puffed spelt, puffed quinoa, or popcorn – it's a natural way to add a chewy texture to the bars without using store-bought marshmallows.
Dried Cranberries or dates pieces – they add natural sweetness and extra chewy texture.
Nuts – use any nuts you like, but roasted almonds and macadamia nuts bring out the best flavor.
Freeze-Dried Raspberries for a crunch.

Making The Chocolate Layer
Before you start, cover a square 8-inch pan with lightly oiled baking paper.
Set it aside.
First, in a saucepan over low-medium heat, melt coconut oil with peanut butter, dark chocolate, sweetener, and vanilla extract.
You can also microwave ingredients in a microwave-safe bowl.
Adding Toppings
When the chocolate is smooth and melted, stir in the dry ingredients: nuts, puffed cereals, freeze-dried raspberries, and dried cranberries.
Pour the mixture over the prepared pan, spread with a silicone spatula, and press well to bring the ingredients closely together.
Refrigerate the bar for 10 to 15 minutes or until the chocolate is hard.
Storage
Cut into 16 squares and store in an airtight container in the fridge for up to 5 days.
The bars soften at room temperature so always keep them in the fridge for the best crunchy texture.
You can freeze rocky road bars for up to 3 months in zi-lockp bags. Thaw in the fridge the day before.
Healthy Rocky Road Nutrition
If you crave chocolate bars, this rocky road bar recipe is a great way to fix it.
It tastes like chocolate fudge with crunchy and fudgy filling.
Plus, it's a very fulfilling snack that brings you healthy plant-based proteins from nuts and cereals – especially if you are using puffed quinoa or amaranth.
You can also make plenty of healthy additions to these rocky road slices like hemp seeds, sunflower seeds, or chia seeds – customize them to your taste!
Allergy Swaps
You can adapt this recipe to some allergies:
Nut-Free – you can swap the nuts for more puffed cereals and replace peanut butter with sun butter
Keto rocky road option – use sugar-free dark chocolate and sugar-free syrup. For the filling, focus on low-carb nuts and seeds, including macadamia nuts, almonds, pumpkin seeds, and peanuts.
More Vegan Dessert Bars
If you love an easy vegan dessert bar, I recommend you also try:
Made this vegan rocky road bar recipe yet? Share a picture with me on Instagram,
Healthy Rocky Road Bars
A crunchy homemade chocolate bar filled with nuts, dried cranberries, and popcorn.
Pin
Print
Review
Instructions
Line a 9-inch x 6-inch or 8-inch x 8-inch square pan with parchment paper. Slightly oil the paper. Set aside.

In a saucepan, under low heat, melt the dark chocolate, peanut butter, coconut oil, maple syrup and vanilla When the mixture is smooth, remove from heat.

Stir in all the filling ingredients. You can add more popcorn or puffed cereals, depending on your taste. Popcorn are bigger than puffed cereals, so you usually need less of it – in cups!

Transfer the mixture onto the prepared pan and press with the back of a silicon spatula to spread and flatten evenly.

Freeze

15 minutes

or until the chocolate is set.

Cut into 16 bars and store in the fridge for up to 5 days, in an airtight container.
Notes
Paleo grain-free options: replace the puffed cereals with extra nuts or seeds.
Keto option: use sugar-free monk fruit sweetener instead of maple syrup. Replace dried fruits with pumpkin seeds or hemp seeds, and replace puffed cereals with extra macadamia nuts.
Recipe updated on 31/02/2022, previous recipe used a homemade chocolate layer, recipe details below:
1/2 cup melted coconut oil
1/2 cup maple syrup
1/2 cup unsweetened cocoa powder
2 teaspoon vanilla extract
2 tablespoons peanut butter
Share on Facebook
Pin Recipe
Nutrition
Serving:
1
square
|
Calories:
173.2
kcal
|
Carbohydrates:
13.4
g
|
Protein:
4.2
g
|
Fat:
12
g
|
Saturated Fat:
5.2
g
|
Polyunsaturated Fat:
1.7
g
|
Monounsaturated Fat:
4.1
g
|
Trans Fat:
0.1
g
|
Cholesterol:
0.4
mg
|
Sodium:
46.4
mg
|
Potassium:
187.6
mg
|
Fiber:
2.8
g
|
Sugar:
5.3
g
|
Vitamin A:
6.1
IU
|
Vitamin B12:
0.1
µg
|
Vitamin C:
0.3
mg
|
Calcium:
22.2
mg
|
Iron:
1.9
mg
|
Magnesium:
53.9
mg
|
Phosphorus:
97.8
mg
|
Zinc:
0.9
mg