Dark Chocolate Peppermint Bark (Vegan)
A delicious Dark Chocolate Peppermint bark Recipe made of two layers of high-quality chocolate, 70 % cocoa, and white chocolate topped with crushed candy canes.
Plus, this Christmas Bark recipe is 100% vegan, dairy-free, and gluten-free, so you can share it with all your family and friends for Christmas!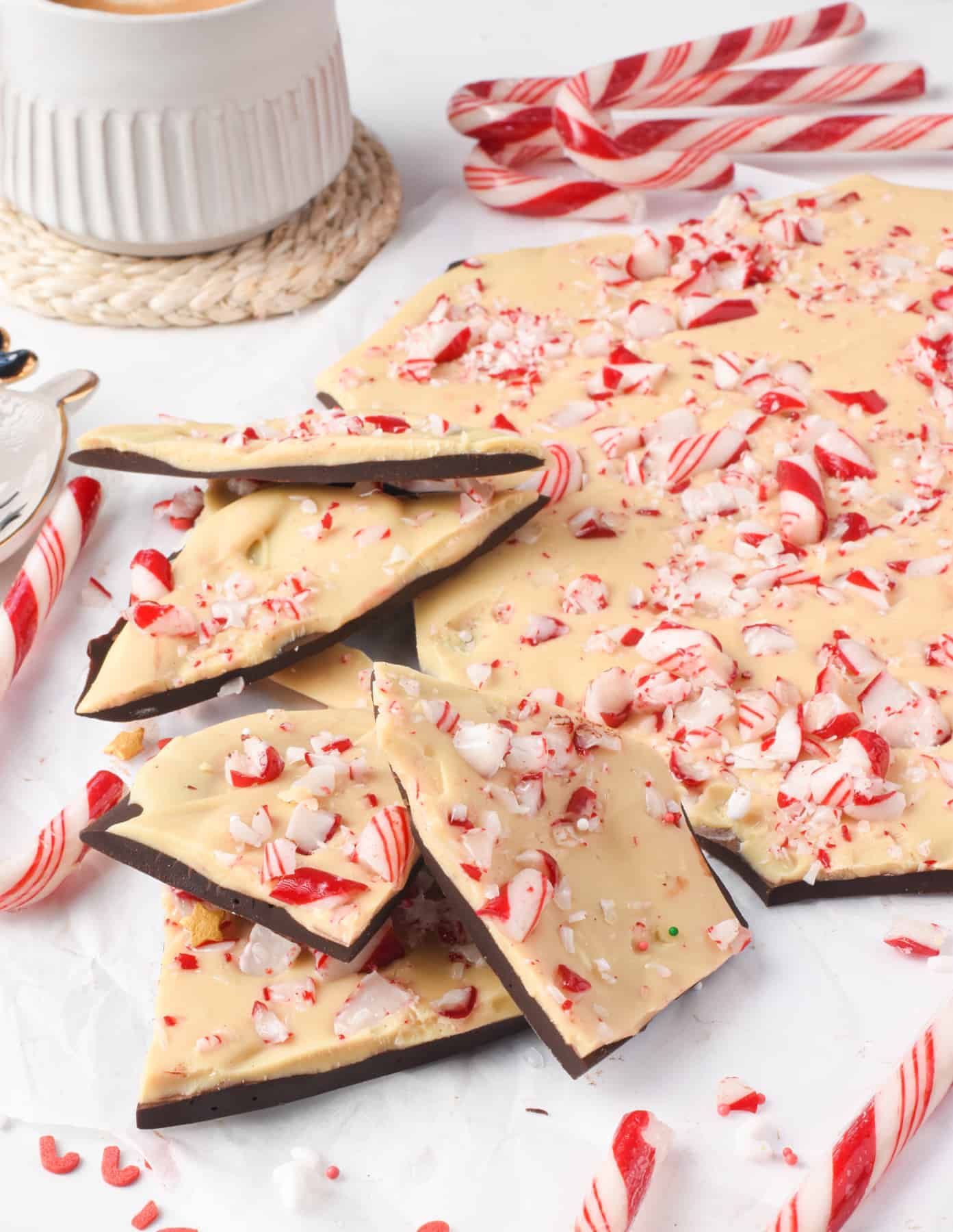 Last week, I shared a delicious dark chocolate almond bark recipe, and lots of you requested a peppermint version!
So here's my creation, a two-layer chocolate bark made with a combination of peppermint-flavored dark chocolate and topped with dairy-free white chocolate.
The addition of crushed candy cane on top is absolutely amazing in terms of color and texture!
How To Make Chocolate Peppermint Bark
Let's see how you can make this lovely Christmas bark recipe at home.
Ingredients
Dark chocolate – I am using 70% dark chocolate bars, but you can use higher grades like 78% or even 85% to strengthen the dark chocolate flavor and decrease sugar.
Peppermint extract
White chocolate chips – I use vegan white chocolate melts from Sweet Williams to make vegan peppermint bark.
Crushed peppermint flavored candy canes
Preparing The Tools
Before making your lovely Christmas bark, prepare a large sheet pan, cover it with parchment paper, lightly oil the paper, and use two clips to pinch the paper closely to the baking sheet.
I like this option to prevent the paper from moving as you pour the melted chocolate on the tray. Set it aside.
Melting The Dark Chocolate
Cut the dark chocolate tabs into small pieces and place them into a microwave-safe glass bowl. Microwave the bowl in 30-second bursts on high powder – 900W.
Stir every 30 seconds, and repeat these steps until the dark chocolate is fully melted and shiny. Now, stir in the peppermint extract to flavor the dark chocolate.
Pour the melted dark chocolate on the baking sheet and use a silicone spatula to spread the melted chocolate evenly. Of course, the thinner you spread the chocolate, the larger the bark will be.
Personally, I like to spread it into an 8-inch x 11-inch (21 cm x 29 cm) rectangle.
Refrigerating
Now pop the baking sheet into the fridge to set the dark chocolate layer – it takes between 20 minutes to 30 minutes.
Crushing The Candy Canes
Meanwhile, peel off the plastic layer protection from each candy cane. Place the candy canes into a zip-lock bag and, using a wooden tool – I used my rolling pin – crush the candy canes into pieces.
Set aside the pieces of candies.
Melting The White Chocolate
Now, place the white chocolate buttons into a microwave-safe bowl and melt following the same method as described above.
When the melted chocolate is melted and shiny, remove the dark chocolate bar from the oven.
Pour the melted white chocolate onto the dark chocolate, working fast because the hot white chocolate quickly melts the dark chocolate and color blends.
Decorating With Crushed Candies
Now, sprinkle the peppermint flavor candy canes pieces on top of the melted white chocolate layer.
Place the baking sheet in the fridge again for 30 minutes to set the chocolate peppermint bark fully.
Breaking The Bark
To break the bark, use your hands and break it into pieces of uneven sizes.
You can also place the bark on a chopping board and tap with a pillar or use a knife.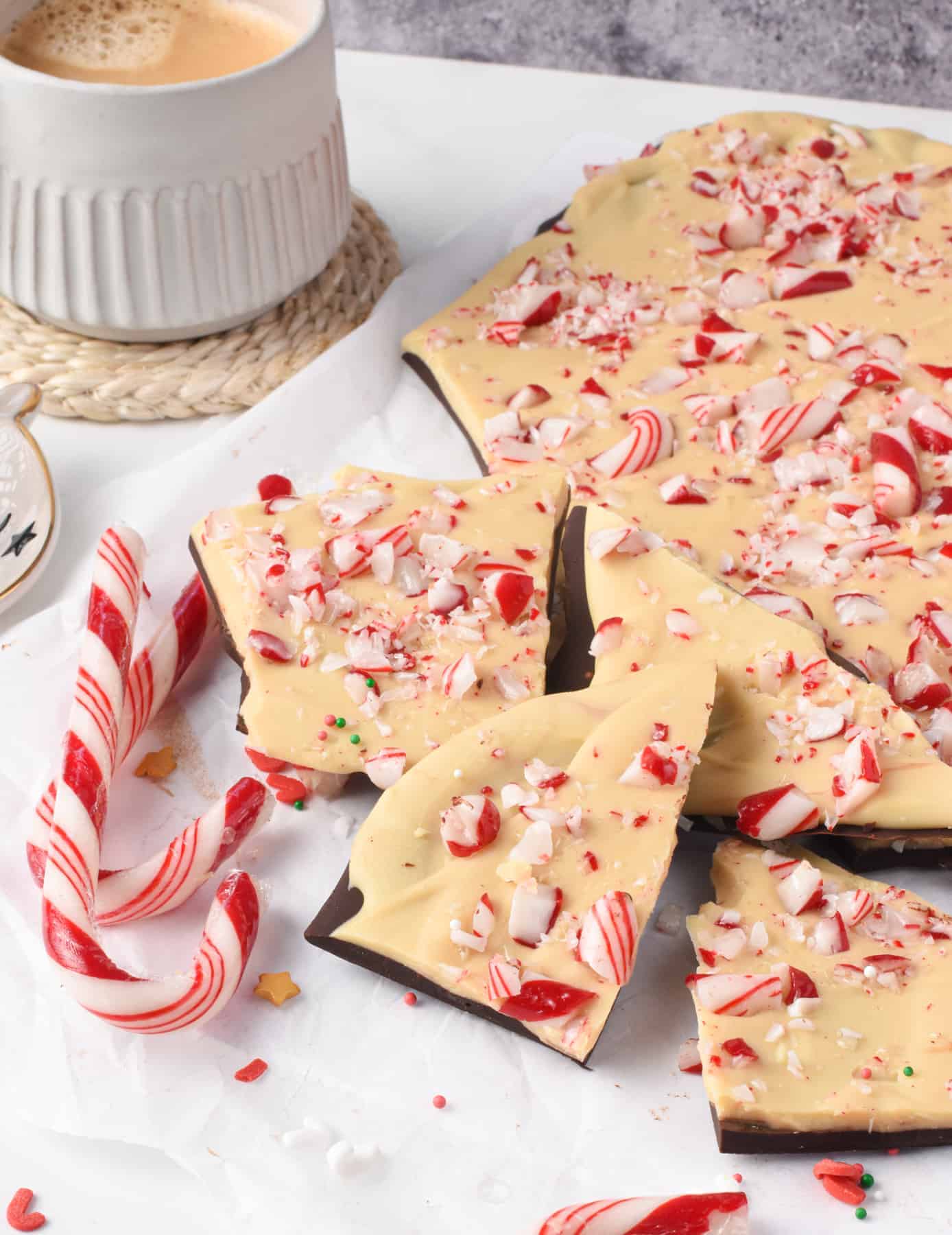 Storage
This vegan peppermint bark stores for up to 2 weeks in the fridge if placed in airtight containers or zip-lock bags.
With time, the candy on top of the bark becomes a bit sticky as they get in contact with air moisture.
You can also freeze chocolate bark for later. Wrap the bark into an airtight container or zip-lock bags and thaw at room temperature a few hours before eating.
Frequently Asked Questions
Can I melt the chocolate without the microwave?
Sure, you can melt chocolate in a non-stick pan under medium heat or use a double boiler method – read my chocolate almond bark recipe to see how I use this method to melt chocolate without a microwave.
Can I use dark chocolate chips?
Sure, you can, but keep in mind that most dark chocolate chips are not as dark as high-quality chocolate bars.
Chocolate chips vary from 50% to 60%, and they are much sweeter, resulting in very sweet chocolate peppermint bars.
More Vegan Christmas Recipes
Have you made this dark chocolate peppermint bark for the holidays? Let me know how you decorated yours and how much your family and friends loved it!
Your friend, Carine.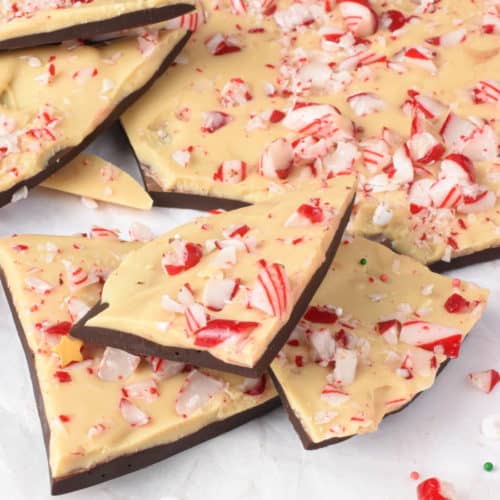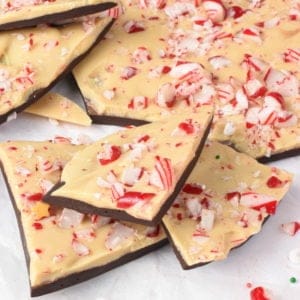 Dark Chocolate Peppermint Bark
This Dark Chocolate Peppermint Bark is a two-layer bark made of peppermint-flavored dark chocolate and dairy-free white chocolate topped with pieces of peppermint candy canes!
Pin
Print
Review
Servings:
40
servings (30g)
Instructions
Line a large baking sheet with parchment paper. Lightly oil the paper with coconut oil. Set it aside.

Meanwhile, break the dark chocolate into small pieces and place the pieces of chocolate in a microwave-safe glass bowl.

Place the glass bowl in the center of the microwave and microwave by 30-second bursts, stirring between each, repeating this until the dark chocolate is fully melted and shiny.

Stir in 1/4 teaspoon peppermint extract.

Spread the peppermint-flavored dark chocolate mixture onto the prepared baking sheet, thickness is up to your liking. The thicker, the longer the bark takes to set. Mine is about 8-inch x 11-inch wide (21 cm x 29 cm).

Refrigerate for 20-30 minutes until the layer is hard.

Place the white chocolate chips into a microwave-safe bowl and microwave by 30-second bursts, stirring between, until fully melted – as you did before with the dark chocolate.

When the white chocolate is fully melted, remove the dark chocolate bark from the fridge and spread the melted white chocolate mixture on top. Work quickly to prevent the white chocolate from melting the dark chocolate, which would blend them.

Sprinkle the crushed candy cane pieces on top.

Refrigerate again for 20-30 minutes until the bark is hard and set.

Break the bark into pieces by hand or with a sharp knife by placing it onto a chopping board.
Storage
Store in a sealed container at room temperature for up to 4 weeks or in the fridge for up to 1 week.
Share on Facebook
Pin Recipe
Nutrition
Serving:
1
serving (30g)
|
Calories:
89
kcal
|
Carbohydrates:
9.5
g
|
Protein:
1
g
|
Fat:
5.3
g
|
Saturated Fat:
3.1
g
|
Polyunsaturated Fat:
0.2
g
|
Monounsaturated Fat:
1.6
g
|
Trans Fat:
0.1
g
|
Cholesterol:
1.6
mg
|
Sodium:
7.6
mg
|
Potassium:
72.6
mg
|
Fiber:
0.8
g
|
Sugar:
7.3
g
|
Vitamin A:
4.9
IU
|
Vitamin B12:
0.1
µg
|
Vitamin C:
0.1
mg
|
Calcium:
18.9
mg
|
Iron:
0.9
mg
|
Magnesium:
17.8
mg
|
Phosphorus:
34.8
mg
|
Zinc:
0.3
mg