This date bark is the last TikTok food trend that you absolutely must try if you are a fan of healthier desserts.
This easy wholesome treat takes under 30 minutes to make and it's so good that I am pretty sure it will be on most Christmas tables to replace the classic almond bark.
Recipe food trends aren't necessarily legit, but this date bark is the best easy sweet treat. Let me share how to do it very easily.
Why You'll Love This Dessert
There are many reasons why these date bark are nutrients-dense and healthier for you as a treat:
Gluten-Free
Vegan – Naturally dairy-free and cruelty-free.
Refined Sugar-Free – There's no added sugar in this recipe.
High-Fiber – Dates are sweet, but compared to regular sugar, they are packed with fiber, slowing down blood sugar spikes and sugar absorption. They are also packed with nutrients and vitamins.
Packed with Proteins from nuts.
How To Make Date Bark
Making this healthy treat is so easy that you will always have a batch in the fridge to fix your candy bar cravings.
Ingredients
All you need to make this healthy treats are:
Medjool Dates – pitted. You can also use other dates variety, but Medjool dates are rich and thick and add a caramel-like flavor to the dessert.
Creamy Peanut Butter or any nut butter you like, including cashew butter or sunflower seed butter for a nut-free option.
Roasted Salted Peanuts or any nuts you love, like pistachios, almonds, walnuts, pecans, or even shredded coconut.
Coconut Oil
Salt
Dark Chocolate – I am using 85% dark chocolate, but feel free to use any chocolate chips with the cocoa content you love.
Preparation
First, select a plate or baking sheet that fits the size of your freezer where the bark will set.
Cover it with parchment paper and slightly oil it with cooking spray.

Cutting The Dates
Pit the dates, cut them halfway lengthwise, and pull lightly to open them.
Arranging On Plate
Place the dates next to each other on the plate, arranged on lines and columns.

Pressing The Dates
Next, use a glass to press each date flat. Try to stick the date as close to each other as you can to make a sort of date layer.
They won't stick to each other perfectly, there are gaps that will be filled with melted chocolate later.
Pressing The Dates
Now, it's up to you to drizzle any nut or seed butter you love on top of the dates.
Next, sprinkle some crunchy ingredients like peanuts, cashews, coconut flakes or seeds.
You can be creative here and blend different nuts, seeds or even use freeze-dried fruits for a lower calorie topping.


Melting Chocolate
Add the dark chocolate and coconut oil in a microwave-safe bowl. Microwave until the chocolate is melted and shiny.
Freezing The Bark
Pour the melted dark chocolate all over the bar, filling all the gaps between the dates.
Place the plate for 20 minutes in the freezer to harden the chocolate and set the date bark
Cut the bark
Remove from the freezer when the chocolate is hard. Peel off the bark from the parchment paper and place the date bark on a chopping board.
Using a long sharp knife cut into irregular pieces.
Serving
You can serve the bark with a pinch of flaky sea salt or with a scoop of vanilla ice cream.
You can also freeze the pieces of date bark and eat them frozen. Remove from the freezer for 10 minutes at room temperature before eating to thaw lightly.
Storage Instructions
This viral date bark recipe won't last very long trust me! But, here how you can store leftovers.
Fridge – Place the bark in an airtight container in the refrigerator and store it for up to two weeks.
Freezer – Freeze in zip-lock bags for up to 3 months. Thaw in the fridge the day before.
Alternatives
You can use this recipe to create a range of different bark flavors. You don't have to make the classic Snickers bar flavor.
For example, try some options below to make a new chocolate date bark flavor.
Almond Date Bark – Swap the peanut butter for almond butter. Use roasted chopped almonds instead of peanuts.
Seed Date Bark – Use sunflower seed butter or tahini and sesame seeds or hemp seeds.
Cashew Coconut Date Bark – Use cashew butter and shredded coconut.
Protein Date Bark – Replace the peanut butter with peanut butter powder and top with high-protein ingredients like hemp seeds.
Frozen Date Bark – Add a scoop of dairy-free vanilla ice cream on top of the peanut butter. Add melted dark chocolate and store in the freezer for a frozen snicker date bark.
Allergy Swaps
Below are some ingredients swap ideas if you need.
Nut-Free – Swap peanut ingredients for sunflower butter and shredded coconut or sunflower seeds.
Cocoa-Free – Use carob instead of dark chocolate.
Date-Free – This recipe works with other large dried fruits like dried figs dried apricots.
Frequently Asked Questions
Here are my answers to your most frequent questions about this healthy dessert recipe.
What Is Date Bark?
Date bark is a viral recipe made of a layer of pitted Medjool datesTheySnickerare Snickers covered with peanut butter, roasted peanuts, and melted dark chocolate.
It has a chewy bottom layer from dates and the crunch textures of chocolate and nuts. Overall, they taste very similar to a snicker candy bar, and much faster to make than my no-bake snickers bars.
What Kind Of Chocolate Is Bark?
A bark is usually made from dark chocolate chips or semi-sweet dark chocolate chips melted with a touch of oil.
More Chocolate Bar Recipes
If you like chocolate bars, you'll love these other recipes: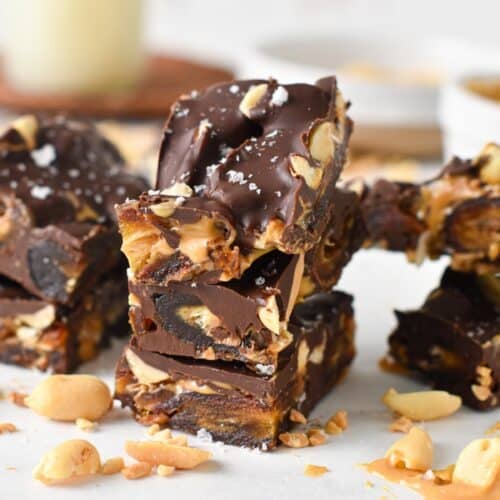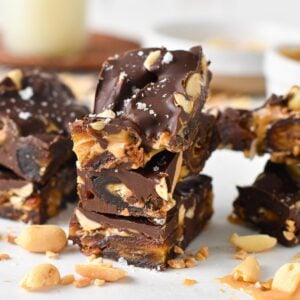 Date Bark
This date bark is the latest TikTok food trend that you absolutely must try if you are a fan of healthier chocolate-loaded desserts.
Pin
Print
Review
Instructions
Line a plate or baking sheet that fits the size of your freezer drawer with parchment paper. Slightly oil paper with cooking spray.

Place the pitted date on the prepared sheet, making sure you open each date wide lengthwise. Try to keep them as close to each other as possible.

Using the back of a glass, press each date to flatten them.

Drizzle the creamy peanut butter all over the Medjool date.

Sprinkle the roasted salted peanuts all over.

Place the chocolate chips and coconut oil in a microwave-safe bowl and microwave for 1 minute. Stir and return to the microwave in 15-second bursts until the mixture is completely melted.

Pour the melted chocolate on the bar, filling the gap between the dates.

Pop the plate/sheet in the freezer for 20 minutes until the chocolate is hard.

Peel the date bark from the parchment paper, release it on a chopping board, and, using a sharp knife, cut it into ten pieces.
Storage
Store in the fridge for up to 2 weeks in an airtight container or up to 3 months in the freezer, in freezer bags. Eat frozen or thaw at room temperature for 10 minutes before eating.
Share on Facebook
Pin Recipe
Nutrition
Serving:
1
piece
|
Calories:
354.8
kcal
|
Carbohydrates:
50.8
g
|
Protein:
6.3
g
|
Fat:
18.5
g
|
Saturated Fat:
7.8
g
|
Polyunsaturated Fat:
2.6
g
|
Monounsaturated Fat:
7.1
g
|
Sodium:
70.2
mg
|
Potassium:
439.2
mg
|
Fiber:
6.6
g
|
Sugar:
40.7
g
|
Vitamin A:
71.5
IU
|
Calcium:
42.2
mg
|
Iron:
0.7
mg
|
Magnesium:
52.7
mg
|
Phosphorus:
87.2
mg
|
Zinc:
0.6
mg