No-Bake Snickers Bars Raw Snickers
These Raw Snickers bars are no-bake vegan Snickers made of wholesome ingredients and unrefined sugar.
Plus, they are gluten-free and paleo-approved!
What Are Raw Snickers?
Raw Snickers are easy no-bake bars with a cashew nougat base and a no-bake date caramel on the top, coated with plant-based chocolate.
It's a delicious dessert that can also be enjoyed as a post-workout snack.
How To Make Raw Snickers
No-bake Snickers bars or raw vegan Snickers are a healthier version of your favorite commercial snickers bars.
They have a similar taste and texture as the one you love from the store without the refined ingredients.
Ingredients
All you need to make healthy homemade Snickers are:
Cashews – fresh cashews to make the base.
Peanut Butter – fresh, runny with no added oil, no added sugar. You can also use almond butter or sunflower seed butter.
Coconut Flour – Coconut flour is a healthy flour that is safe to eat raw.
Dates – Medjool dates are my favorite for this recipe.
Unsweetened Almond Milk – Or any other plant-based milk such as cashew milk, oat milk, or coconut milk.
Vanilla – To give the bars even more flavor.
Coconut Oil – Coconut oil is a magic ingredient that keeps these bars solid in the fridge and makes them melt in your mouth.
Dark Chocolate – chocolate with more than 70% cocoa chocolate is often vegan. I recommend 85% or 90% dark chocolate for this recipe. Learn how to pick vegan dark chocolate.
Making The Layers
We all love vegan Snickers, sweet peanut candy bars with a chewy nougat layer, sticky caramel, and crunchy chocolate.
This is the secret to making healthier wholesome vegan Snickers layers.
Nougat layer – a combination of cashews, peanut butter, maple syrup, and coconut flour. This creates the most delicious sticky nougat layer with a delicious peanut flavor.
The caramel layer is a sticky peanut date caramel made of peanut butter and soft Medjool dates.
The chocolate coating is made of 90% dark chocolate to decrease sugar as the 2 previous layers are already very sweet.
Why Are Raw Snickers Healthy?
These are healthier versions of your favorite Snickers bars.
Of course, I can't say healthy because they are still high in calories and saturated fat from peanuts.
But, the wholesome ingredients in this recipe provides fiber, nutrient, and less sugar.
Let's see some numbers to compare 50g of these raw vegan Snickers bars to a commercial one:
10g fewer carbs
10 g less sugar
2 times more fiber
Iron, magnesium, and potassium form dates and nuts!
So if you want to indulge in raw vegan desserts, this is a better option than any other treats made of refined sugar!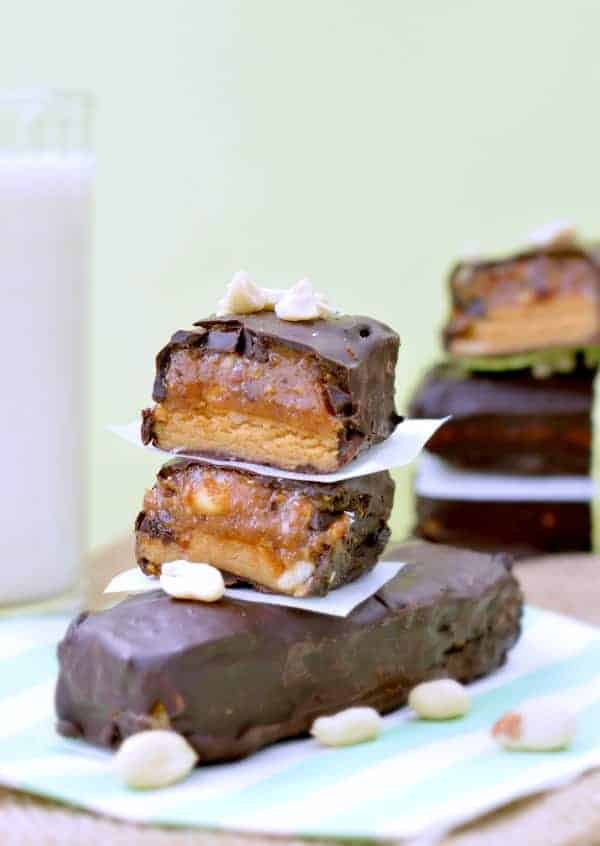 More Raw Vegan Dessert Recipes
If you love raw vegan desserts, I recommend you also try our:
Made those raw snickers bars and want to share a picture with us? Follow us on Instagram and tag us in your story. We love to see your creations.
Your friend, Carine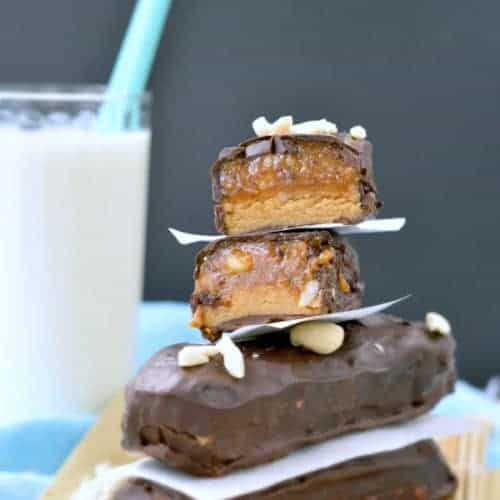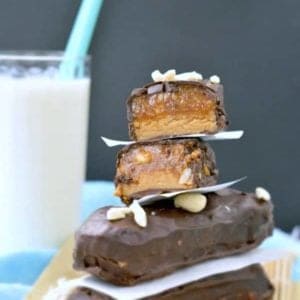 No-bake Vegan Snickers Bars
These Raw Snickers Bars are no-bake vegan snickers to enjoy a treat with wholesome ingredients.
Pin
Print
Review
Shop My Tools
Instructions
Nougat layer
In a blender with the S blade attachment, add all the nougat layer ingredients starting with: cashews, peanut butter, maple syrup, coconut oil, water, and coconut flour.

Blend on high speed until the ingredients come together. Form a paste that has almost no bits of nuts (or very small ones). You may have to stop the food processor a few times, stop every 30 seconds, scrape the sides of the bowl with a spatula and repeat until the nougat layer is smooth and easy to shape. It should resemble playdoh in texture. If too dry add a splash of water, up to 1 tablespoon.

Press the nougat layer into a 9-inch x 5-inch loaf pan covered with parchment paper. Place the pan in the freezer while you make the caramel layer.
Caramel layer
In the same blender bowl (no need to clean) add all the caramel ingredients: dates (if yours are not soft, soak in boiling water

10 minutes

before using, drain them, and then add in the recipe), peanut butter, almond milk, vanilla, and salt.

Blend on high speed until the ingredients come together, form a smooth sticky date paste that has almost no chunks of dates (or very small ones). As before, you may have to stop the food processor a few times, every 30 seconds, scrape the sides of the bowl with a spatula, and repeat until the date paste is consistent.

Remove the loaf pan from the freezer, spread the caramel layer on top of the nougat layer, and then sprinkle the roasted peanuts.

Place the loaf pan in the freezer again for

15 minutes

.

After 15 minutes, pull out the bars from the loaf pan and place them on a chopping board.

Slice into 12 small bars (on the picture I made 6 huge snickers bars. Trust me it is too big for 1 serving!).
Chocolate layer
Melt the dark chocolate and coconut oil together in a saucepan or microwave. I recommend 85% chocolate as the middle layers are already very sweet it balances the whole bar sweeteners better (and decreases the sugar!)

Using two forks, dip each Snickers bar into the melted chocolate then return the bars onto a plate covered with parchment paper.

Repeat until all the bars are covered with chocolate.

Place the plate in the freezer

10 minutes

or until the chocolate layer is set.

Store in the fridge, in an airtight container for 3 weeks, or freezer in ziplock bags. Defrost 1 hour before or eat half frozen.
Share on Facebook
Pin Recipe
Nutrition
Calories:
295
kcal
|
Carbohydrates:
22.4
g
|
Protein:
7
g
|
Fat:
21.3
g
|
Fiber:
3.7
g
|
Sugar:
14.3
g