Banana Popsicles (110kcal Snack)
These Homemade Banana Popsicles are easy homemade popsicles perfect for using your ripe bananas, and the recipe makes healthy popsicles with only five ingredients.
Plus, they are naturally sweetened, dairy-free, and contain only 110 kcal per serving for a healthy snack!
I love making healthy frozen treats, especially my own popsicles.
After sharing my peanut butter popsicles and strawberry banana popsicles, it's time for a pure banana flavor!
How To Make Banana Popsicles
It's very easy to make banana popsicles with only five ingredients.
Ingredients
All you need are:
Ripe Bananas or fresh yellow bananas, but the riper, the sweeter the popsicles will be.
Unsweetened Almond Milk or oat milk, or any non-dairy milk you like.
Yogurt of Choice – I like Greek Style coconut yogurt with banana, and it also adds a creamy texture.
Vanilla Extract – For additional flavors.
Maple Syrup – Or any other liquid sweetener such as coconut nectar or rice malt syrup.
To make popsicles, add all the ingredients to the jug of a high-speed blender or bowl of a food processor and blend until smooth.
Fill a 10-mold popsicle stand with the batter.
Freeze the banana ice pops overnight.
Decoration
The next day, you can decorate the popsicles or keep them plain.
To make a peanut butter shell, add peanut butter, maple syrup, and coconut oil in a microwave-safe bowl.
Microwave for 3-45 seconds until fully melted. Place the melted peanut butter into a tall glass.
Remove the popsicles from the freezer and place the plastic mold under warm water.
Pull the popsicle out of the mold pulling the popsicle stick in one direction and the plastic mold in the other.
Dip the frozen banana popsicle into the melted peanut butter to just cover the top.
Sprinkle some of the below ingredients to decorate:
Crushed peanuts
Toasted coconut
Dried banana – crushed
Storage Instructions
These popsicles store very well in their mold for up to 3 months.
If you coated the popsicles with a shell, store them in an airtight container in the freezer.
Flavors variation
This recipe is very versatile, and you can play with flavor by changing the fruit ratio, milk, or adding nut butter. Some of the great flavors you can make are:
Almond Banana Popsicles – add 2-3 tablespoons of almond butter to the batter and add sliced almonds on the shell.
Peanut Banana Popsicles – add 2-3 tablespoons of peanut butter to the mixture and cover the shell with crushed peanuts.
Avocado Banana Popsicle – swap 2 bananas for a ripe avocado and boost the healthy fat content of your treat.
Chocolate Banana Popsicles – add 3 tablespoons of unsweetened cocoa powder to the batter and use my peanut butter popsicle recipe to make the chocolate shell.
Allergy Swaps
Below I listed the most frequent allergy swaps you may need for this recipe:
Nut-Free – You can use any nut-free plant-based milk like oat milk or coconut milk instead of almond milk.
Yogurt-Free – You can use canned coconut cream as a replacement for yogurt.
Coconut-Free – Pick a yogurt made from soy milk, almond milk, or oat milk.
Sugar-Free – Use monk fruit-sweetened maple syrup for a natural sugar-free sweetener or erythritol or allulose.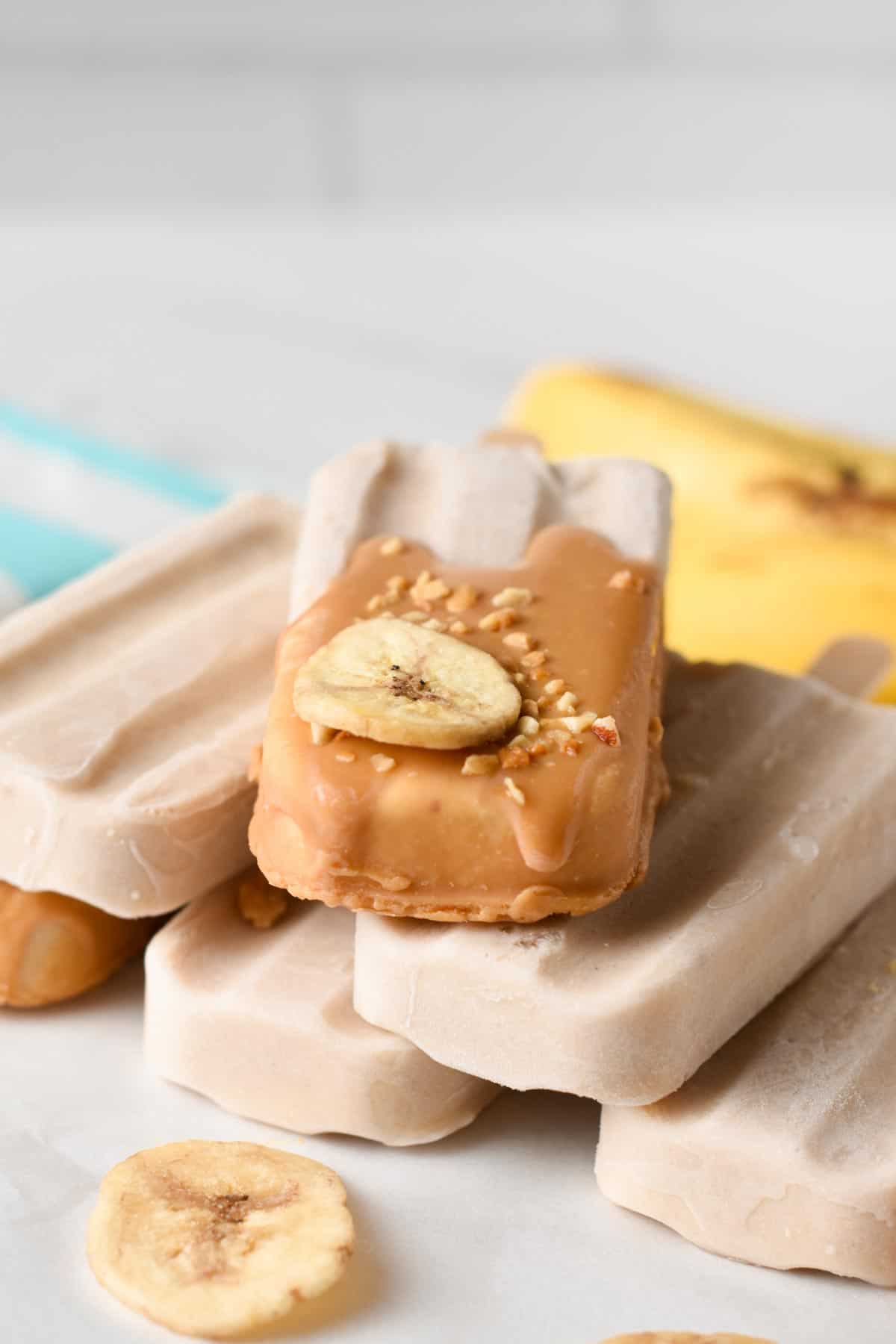 Frequently Asked Questions
Below I listed the answer to the most frequent questions about this banana popsicle recipe.
How Do I Avoid The Icy Texture In Homemade Popsicles?
No-churn ice cream is always icier because the ingredients are frozen without movement.
You can do a few things to avoid the icy texture, like adding fat or spirit to the ice cream batter.
In fact, fat like MCT oil or vodka won't freeze, and it prevents the ice cream from bonding and freezing, forming ice crystals.
So add one tablespoon of vodka or MCT oil to the blender to improve the texture.
Can I Churn This Recipe?
Yes, you can churn this ice cream and make a lovely banana ice cream.
Transfer the batter into a 9-inch x 5-inch loaf pan and freeze it for at least 2 hours before scooping the ice cream.
Can I Use Other Fruits?
You can use this popsicle recipe as a base for fruit popsicles and swap the banana for the same amount of mango, pineapple, or avocado or use my avocado popsicle recipe.
Can I Skip The Sweetener?
Yes, you can make these popsicles with no sweetener added. They won't be very sweet but are perfect as sugar-free popsicles for toddlers or kids.
More Refreshing Dessert Recipes
If you like ice creams and shakes, you'll love these other recipes:
Have you made these banana popsicles? Share a comment or review below.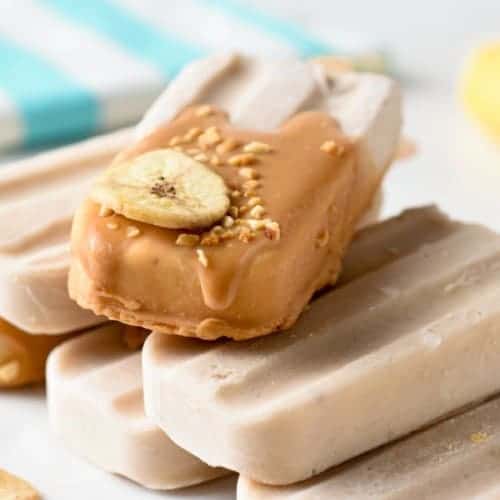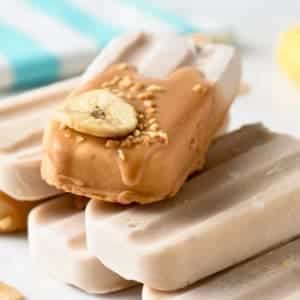 Banana Popsicles
These Banana Popsicles are easy high-protein frozen treats for banana lovers.
Pin
Print
Review
Ingredients
Peanut Butter shell – optional
Instructions
Note that these are no-churn popsicles ice cream, therefore the texture will always be a bit icy especially more if you use low-fat milk/yogurt alternatives.

In a blender, add all the ingredients: banana, almond milk, maple syrup, yogurt, and vanilla extract. Add peanut butter too if used.

Blend on the high-speed setting of your blender until smooth.

Pour the ice cream into a 10-popsicle mold and insert a popsicle stick in the center of each popsicle.

Freeze the banana popsicles overnight.
Peanut Butter Shell
The next day, cover a plate that can fit all the popsicles with parchment paper.

In a microwave-safe bowl, melt peanut butter, coconut oil, and maple syrup, if used. Stir until smooth and place the mixture into a tall glass.

To unmold popsicles, run the plastic mold under warm water and pull to release popsicles easily.

Dip the top of the popsicle into the melted peanut butter, sprinkle crushed peanuts and stick one dried banana slice on top of the popsicle.

Place the dipped popsicles onto the prepared plate. Repeat with remaining popsicles.

Freeze again to set the peanut shell.

Store popsicles in the freezer in an airtight container and set 5-8 minutes at room temperature before eating to enjoy its best texture.
Share on Facebook
Pin Recipe
Nutrition
Serving:
1
popsicle (no shell)
|
Calories:
110.1
kcal
|
Carbohydrates:
20.9
g
|
Protein:
2.1
g
|
Fat:
2.7
g
|
Saturated Fat:
0.4
g
|
Polyunsaturated Fat:
0.7
g
|
Monounsaturated Fat:
1.1
g
|
Sodium:
66.7
mg
|
Potassium:
231.2
mg
|
Fiber:
1.8
g
|
Sugar:
13.1
g
|
Vitamin A:
34.8
IU
|
Vitamin C:
7.7
mg
|
Vitamin D:
0.3
µg
|
Calcium:
88
mg
|
Iron:
0.2
mg
|
Magnesium:
21.8
mg
|
Phosphorus:
22.8
mg
|
Zinc:
0.2
mg