5-minute Pumpkin Nice Cream (Vegan!)
A 5-minute Pumpkin Nice Cream recipe made with sweet smooth frozen bananas, pumpkin spices, and pumpkin puree to celebrate all the fall flavors! Bonus, this easy dessert is a guilt-free Vegan Pumpkin Ice Cream recipe made with no dairy or refined sugar.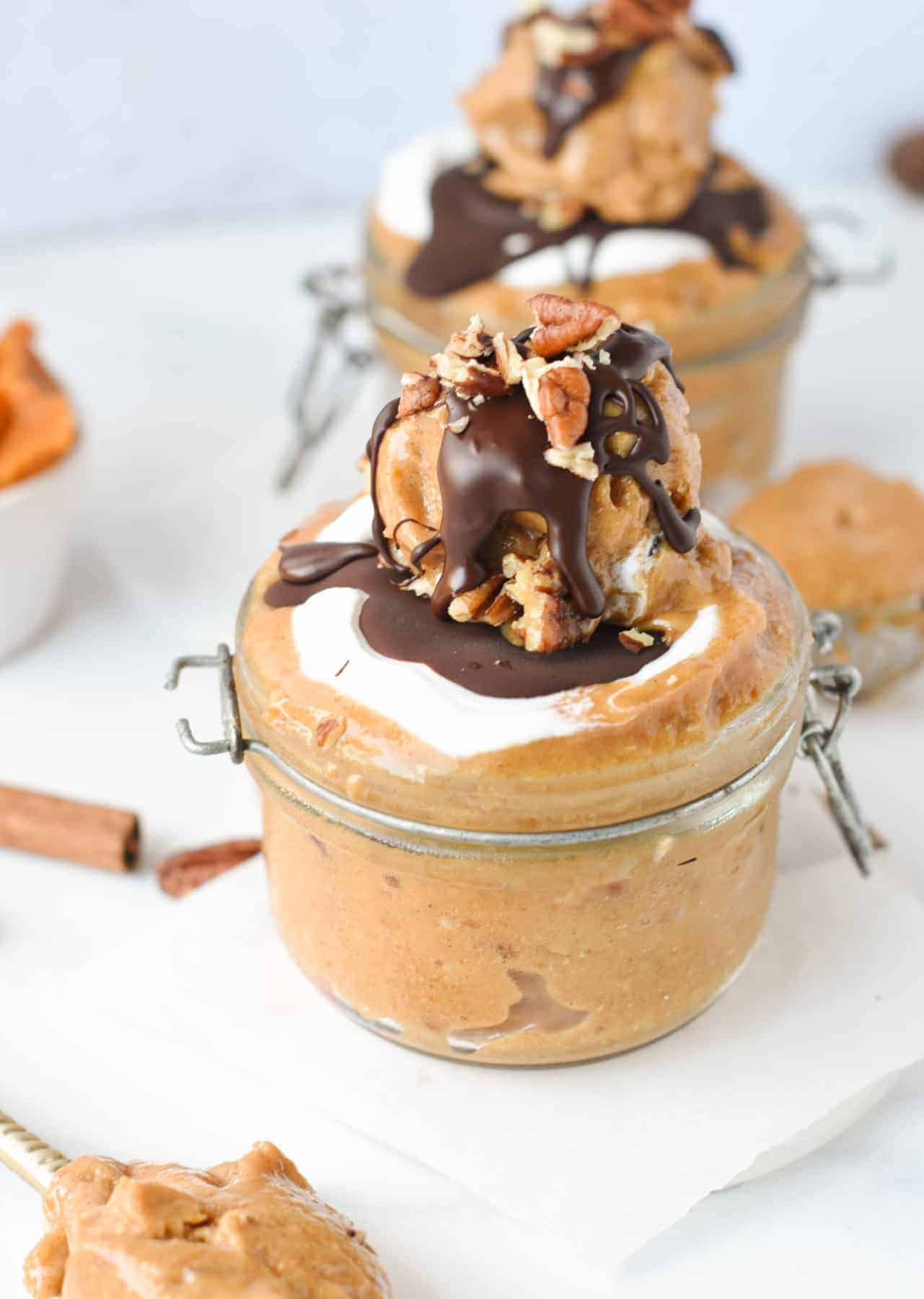 What's a Nice Cream?
A Nice Cream recipe is simply an ice cream recipe made in 5 minutes in your food processor using frozen banana slices. It also includes other ingredients like cocoa powder for a chocolate nice cream or pumpkin spice like in this Pumpkin nice cream recipe.
How to make Pumpkin Nice Cream?
There's nothing easier than this pumpkin banana ice cream! It tastes like soft serve, and it's only using healthy, wholesome ingredients. So let's see what you need to start with this nice cream recipe.
Ingredients
Frozen banana slices – ripe bananas work the best because they are softer, sweeter, and reduce the quantity of sweetener needed in the recipe. However, if you only have yellow bananas, the recipe works as well.
Maple syrup or any liquid sweetener like agave syrup or coconut nectar
Almond butter or peanut butter
Canned pumpkin puree or use my homemade pumpkin puree recipe.
Cinnamon
Ginger
Nutmeg
Coconut milk – or any plant-based milk you enjoy, like almond milk, oat milk, or soy milk.
Chopped pecans or walnuts
Four hours before
Before making nice cream, the key is to freeze banana slices. I recommend always keeping some frozen ripe banana slices in the freezer. This recipe is a great way to use ripe bananas and to avoid throwing away delicious fruits.
Peel the ripe bananas, slice them roughly in slices. The key is to make thin slices of about 1 cm/ 0.4 inches. It's blending much faster.
Next, place the banana slices into a single layer onto a baking tray covered with parchment paper. Freeze for 4 hours or longer until the banana slices are hard.
Blend ingredients
Measure the volume of frozen banana slices called by the recipe—store leftovers in ziplock bags or containers in the freezer for later.
In a food processor with the S blade attachment, place frozen banana slices, pumpkin puree, pumpkin pie spices, almond butter, maple syrup, coconut milk – start with one tablespoon and adjust later.
Blend for 30 seconds, stop, open the lid and scrape down the sides of the bowl using a wooden spoon.
Close lid and repeat until the pumpkin nice cream is smooth and soft like soft serve.
If it doesn't blend well, increase speed or add the extra tablespoon of coconut milk to help.
Finally, remove the blade of the food processor bowl and stir in the chopped pecans using a spoon.
Serve immediately or freeze 10 minutes
Depending on how much extra coconut milk you added, the mixture can be perfect or too soft to your liking.
To firm up the nice cream, pop it in the freezer for 10- 15 minutes.
Serving ideas
Now, scoop out some pumpkin nice cream into small bowls. Top with some of the ingredients below. It can be all of them or just a few:
Coconut cream or coconut yogurt
Melted dark chocolate – most dark chocolates >70% are plant-based. Check my post to learn how to find vegan dark chocolate.
Almond butter
Extra chopped pecans
Blender or food processor?
The best tool to make nice cream is a food processor. The bowl is much wider, and the banana slices blend perfectly without adding too much liquid.
In a blender, the jug is narrow at the bottom, and you often need to add much more coconut milk to bring ingredients together.
It results in overly soft nice cream, looking more like a smoothie bowl than a soft serve. Finally, if you use a blender, remember that you will have to use probably two times more milk and freeze the preparation to firm up before serving.
Storage
Nice cream recipes don't store very well. They harden very fast because they are no-churn ice cream.
You can store extra leftovers in the freezer, but it takes about 20-30 minutes to soften the next day, which to me is very long!
So instead, I prefer to store leftovers in ice cube trays, then ice the frozen ice cubes into a smoothie.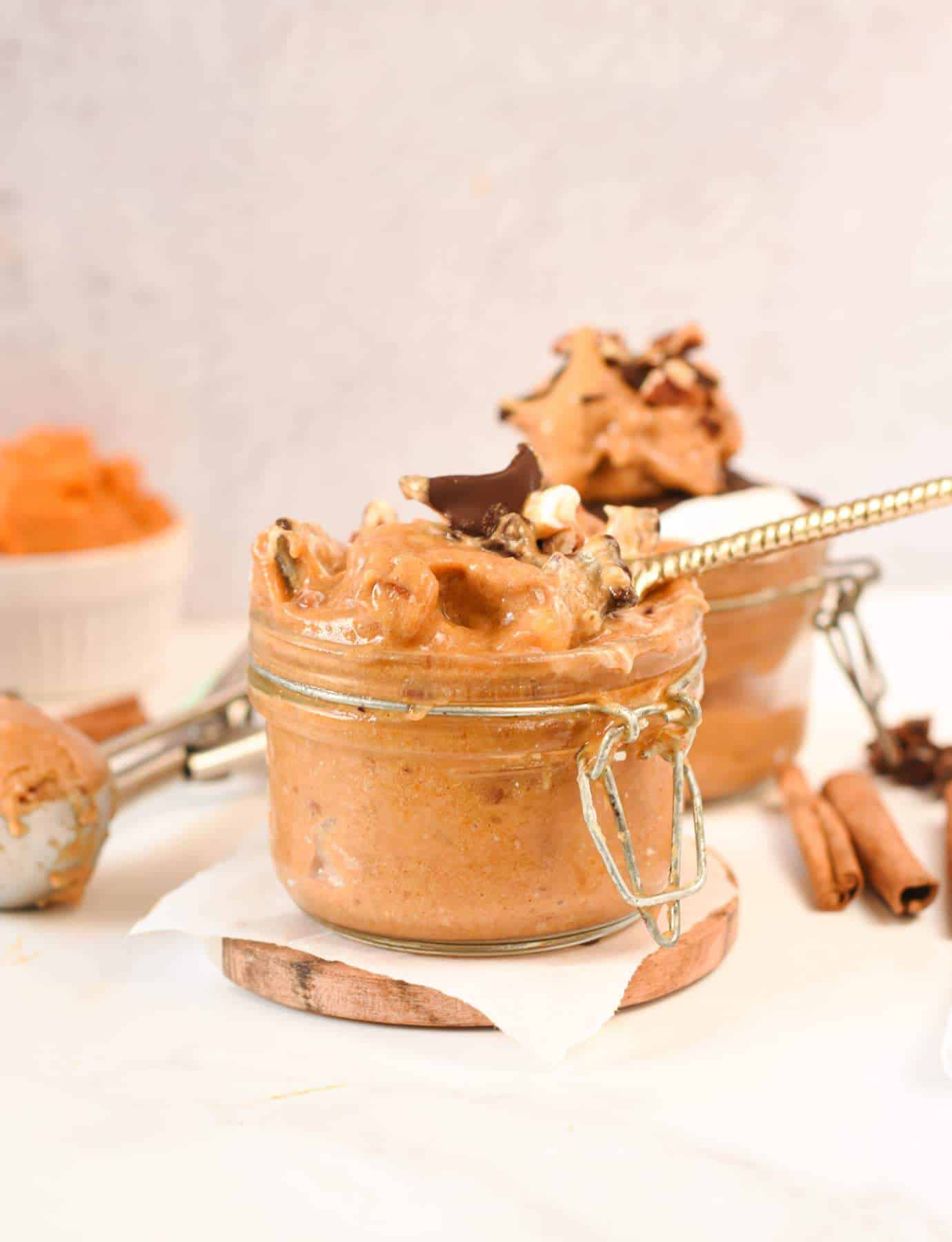 Then, when a nice cream craving comes up, use the frozen banana slices and prepare a fresh small batch.
More Pumpkin recipes
Below I listed more vegan pumpkin recipes for you to try this fall.
Have you made this vegan nice cream recipe with pumpkin spice flavor? Share a review or question below!
Your friend Carine