3-Ingredient Strawberry Banana Smoothie Bowl
This strawberry banana smoothie bowl is a creamy, thick vegan smoothie bowl to start the day with vitamins and nutrients.
Bonus, you can turn this into a high-protein vegan smoothie bowl by adding your favorite plant-based protein powder into it.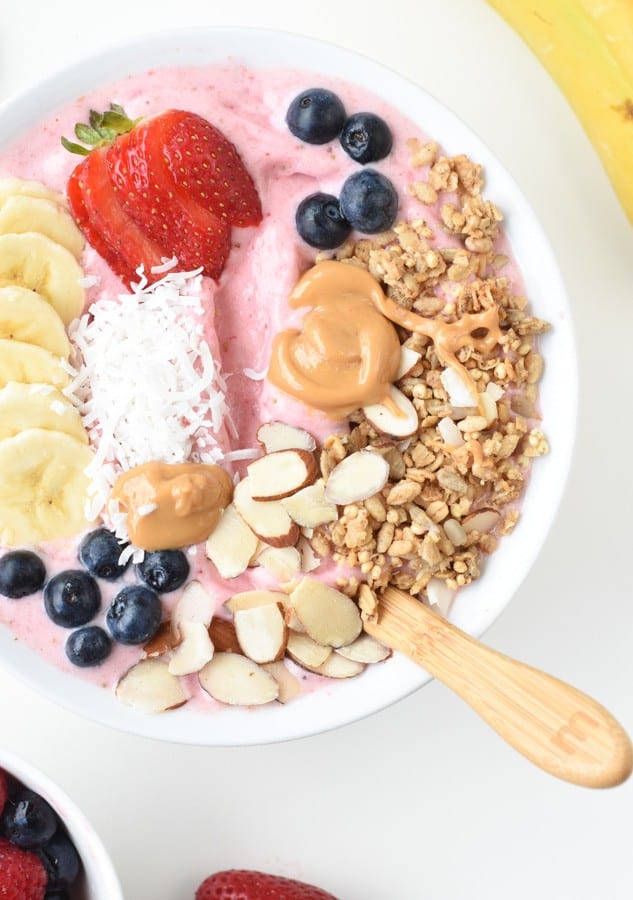 What's A Banana Smoothie Ball?
A Banana Smoothie Ball is a thicker smoothie, served in a ball with pieces of fresh fruits for a delicious nutrient-loaded breakfast.
Who doesn't love a smoothie bowl for breakfast? It's like serving ice cream for breakfast with all the benefits of adding healthy breakfast toppings you have in the pantry.
So let's see how you can make this banana strawberry smoothie bowl at home.
How To Make Strawberry Banana Smoothie Bowl
This is the easiest recipe ever to start the day with a healthy breakfast.
Smoothie Bowl Ingredients
All you need to make a thick, creamy smoothie bowl are 3-ingredients:
Frozen Ripe Bananas – peel, cut them in chunks, and place them in an airtight container in the freezer the day before.
Frozen Strawberries – you can freeze freshly picked strawberries or buy ready frozen strawberries.
Unsweetened Almond Milk – or any non-dairy milk you love like oat milk, coconut milk, or soy milk for a protein boost.
Blending Or Processing
You can make a smoothie bowl in a food processor or a high-speed blender.
Both options work, but I tend to prefer my food processor as the large blade makes it easier to blend the frozen fruits.
Let me share with you how to proceed based on the option you choose.
In A Blender
First, place the frozen fruits and half milk in the blender. Start blending at low speed to form a sort of fruit crumble.
Now add the remaining milk and blend until smooth using the blender tamper tool to push down the fruits into the jug's center.
It takes a few minutes to come together. You can add more almond milk if the blade has difficulties bringing the ingredients together.
However, never add more than 1 tablespoon of extra milk at a time, or you can turn the texture into a thin smoothie.
In A Food Processor
You can also add all the ingredients directly into a food processor. Process on low speed at first.
When the ingredients start to come together into thick ice cream, stop the food processor, remove the lid, and scrape down the sides of the bowl.
Next, repeat the blending scraping process a few times until no more fruit bites show.
Making Thicker Smoothie Bowl
The key is to make a smoothie bowl thick and not runny, is a perfect ratio of frozen fruits to liquid.
You must weigh the frozen fruits in grams or ounces and don't use measuring cups for frozen fruits.
It won't be accurate, and then you will struggle to adjust the amount of non-dairy milk, adding too much, and turning the bowl into a runny smoothie.
Measure frozen fruits by weight
So to make a thick smoothie bowl like nice cream, always aim for this exact combo of ingredients:
6 oz of frozen fruits – any frozen fruits strawberry, banana, pineapple, mango. Don't use fresh fruit for smoothie bowls!
1/2 cup non-dairy milk of choice.
Use starchy fruits
The best fruits to increase the thickness of smoothie bowls are:
Ripe banana
Mango
Dried dates
Add high-protein plant-based ingredients
If you want to make the smoothie bowl a bit thicker, add high protein or high fiber ingredients like:
However, note that adding any of these ingredients will make the smoothie difficult to blend. It means you will have to add more non-dairy milk, 1 tablespoon at a time.
Adjust milk slowly
If your smoothie bowl is difficult to blend, add more non-dairy milk 1 tablespoon at a time, not more!
Blend between each addition, scraping down the jug's sides with the blender tamper or spatula for the food processor.
Patience and slow addition of liquid are the magic ingredients to keep the smoothie bowl thick.
Are Smoothie Bowls Good For You?
Yes, smoothie bowls are healthy breakfasts as long as you add the right smoothie bowl toppings to them.
A smoothie bowl itself is basically fruits and milk of choice. It means it brings you vitamins, fiber, and carbs from fruits and protein from milk.
The best toppings for smoothie bowls are the ones that add complementary nutrition like:
Seeds – most seeds are great sources of plant-based proteins, vitamins, and fiber. They are also gut-friendly and fulfilling. Great seeds to add on top of your smoothie bowl are pumpkin seeds, hemp seeds, sunflower seeds, chia seeds, or golden flaxseeds.
Grains – oats, buckwheat cereals, puffed quinoa all these grains are great sources of plant-based protein and fiber as well to keep you full.
Nut butter
Coconut flakes
Fresh fruits – a smoothie bowl is often topped with fresh fruits like blueberries, raspberries, sliced bananas, and fresh strawberries.
More Vegan Smoothie Recipes
If you love this strawberry banana smoothie bowl recipe, you may also want to try one of my plant-based smoothie recipes below.
Have you made this smoothie bowl strawberry and banana recipe? Share a comment or feedback below! I love to connect with you.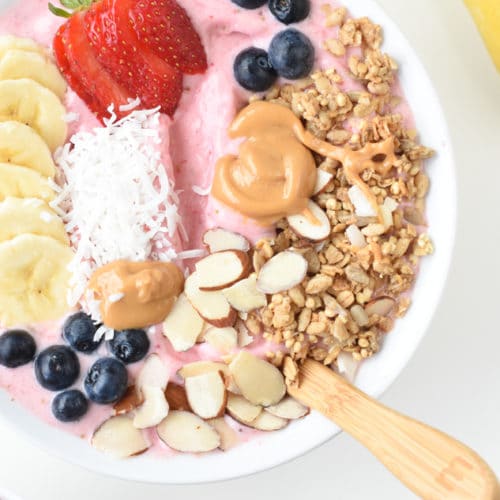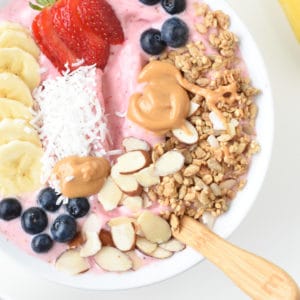 Strawberry Banana Smoothie Bowl
A high-protein vegan smoothie bowl recipe to start the day with a refreshing strawberry banana smoothie.
Pin
Print
Review
Servings: 1 smoothie bowl
Calories: 344 kcal
Instructions
Before you start, I recommend you weigh the frozen fruits instead of using cups. This is a quick tip to make a super thick smoothie bowl.

Add the frozen banana slices and frozen strawberries to the blender along with half the milk. Blend on low speed until it forms an icy fruit crumble. See my picture above in the post for inspiration.

Stop the blender and add the remaining almond milk. Blend again, scraping down the sides of the blender very often with the tamper tool, or stop the blender, scrape the sides with a silicone spatula and blend again. Repeat these actions until it forms a soft-serve texture. If it becomes too liquid, blend in a few more frozen strawberries. If the mixture doesn't blend very well, add more almond milk, only 1 tablespoon at a time, blend and repeat until the favorite texture is achieved.

Serve with your favorite toppings like hemp seeds, pumpkin seeds, homemade granola, oats, sliced almonds, coconut flakes, or more fresh fruits!
Notes
The nutrition panel includes the suggested toppings Protein powder: if you want to add protein powder, add it at the same time you add the remaining milk. Note that you will have to add extra 1-3 tablespoons of non-dairy milk as the protein powder absorbs moisture.
Share on Facebook
Pin Recipe
Nutrition
Serving: 1smoothie bowl | Calories: 344kcal | Carbohydrates: 54g | Protein: 9g | Fat: 14g | Saturated Fat: 2g | Sodium: 203mg | Potassium: 936mg | Fiber: 10g | Sugar: 30g | Vitamin A: 125IU | Vitamin C: 115mg | Calcium: 228mg | Iron: 2mg | Magnesium: 113mg | Phosphorus: 175mg | Zinc: 1mg