This Acai Bowl recipe is a creamy, refreshing smoothie bowl packed with antioxidants and vitamin C.
Plus, it takes under 5 minutes to prepare this easy healthy breakfast, and it's also naturally vegan and gluten-free.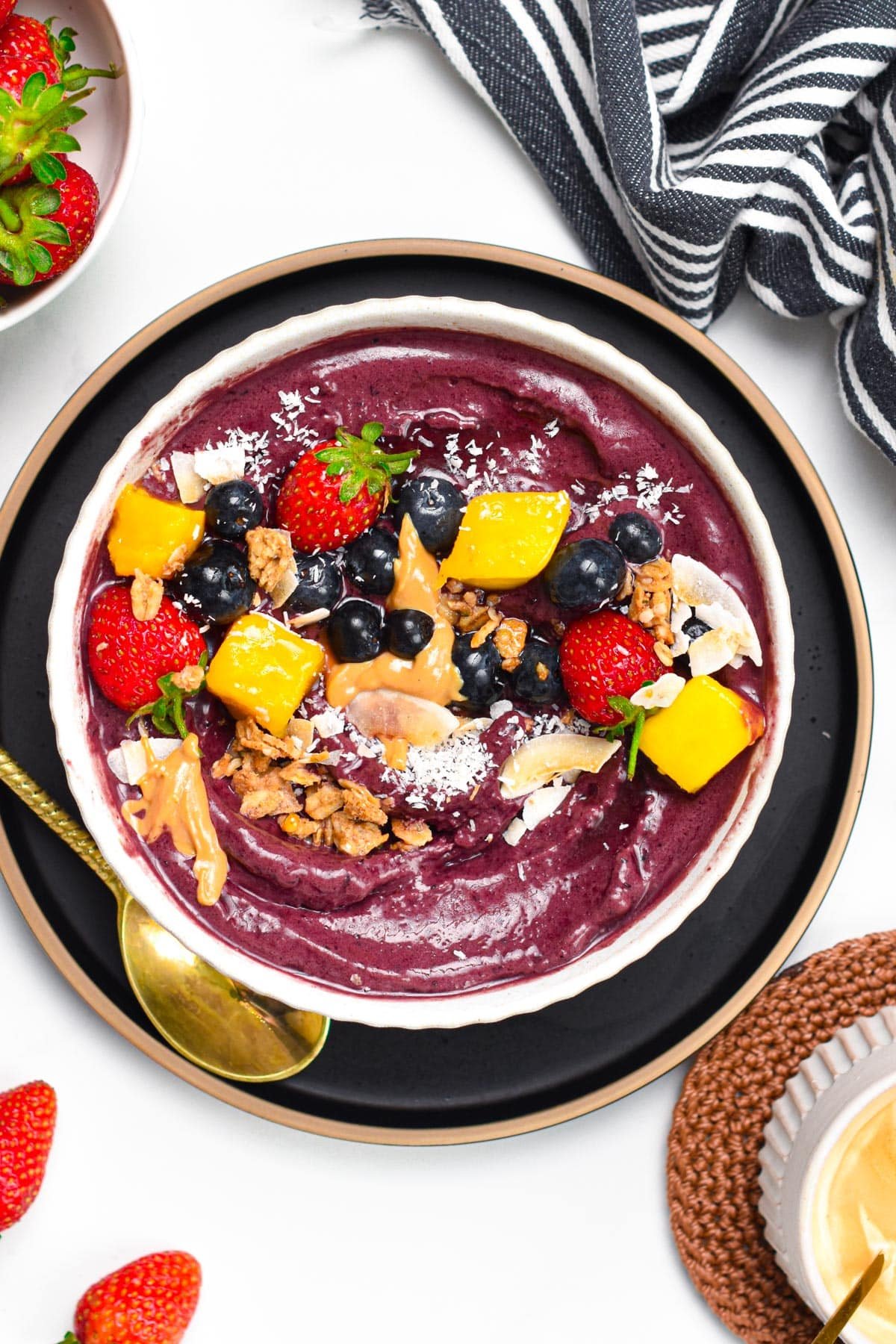 If you have a passion and love for healthy breakfast recipes, you might have tried my pitaya bowl but now is time for something else!
What Is Acai?
Acai berries are small fruits with a dark purple color growing on the acai palm tree in South America.
While acai is not easy to buy fresh, many grocery stores sell frozen acai puree packets, perfect for smoothies and smoothie bowls.
Acai is one of the superfruits we should add more often to our day for many reasons.
First, acai is packed with a high amount of antioxidants. It contains four times more antioxidant properties than blueberries. It means that acai is extremely powerful at protecting against cell damage.
Next, it's packed with vitamins, and studies show that it lowers bad cholesterol.
Finally, acai helps regulate blood sugar levels and is low in natural sugar and carbs.
Therefore, it's a great fruit to incorporate into your day, even on a low-carb diet or if you have diabetes.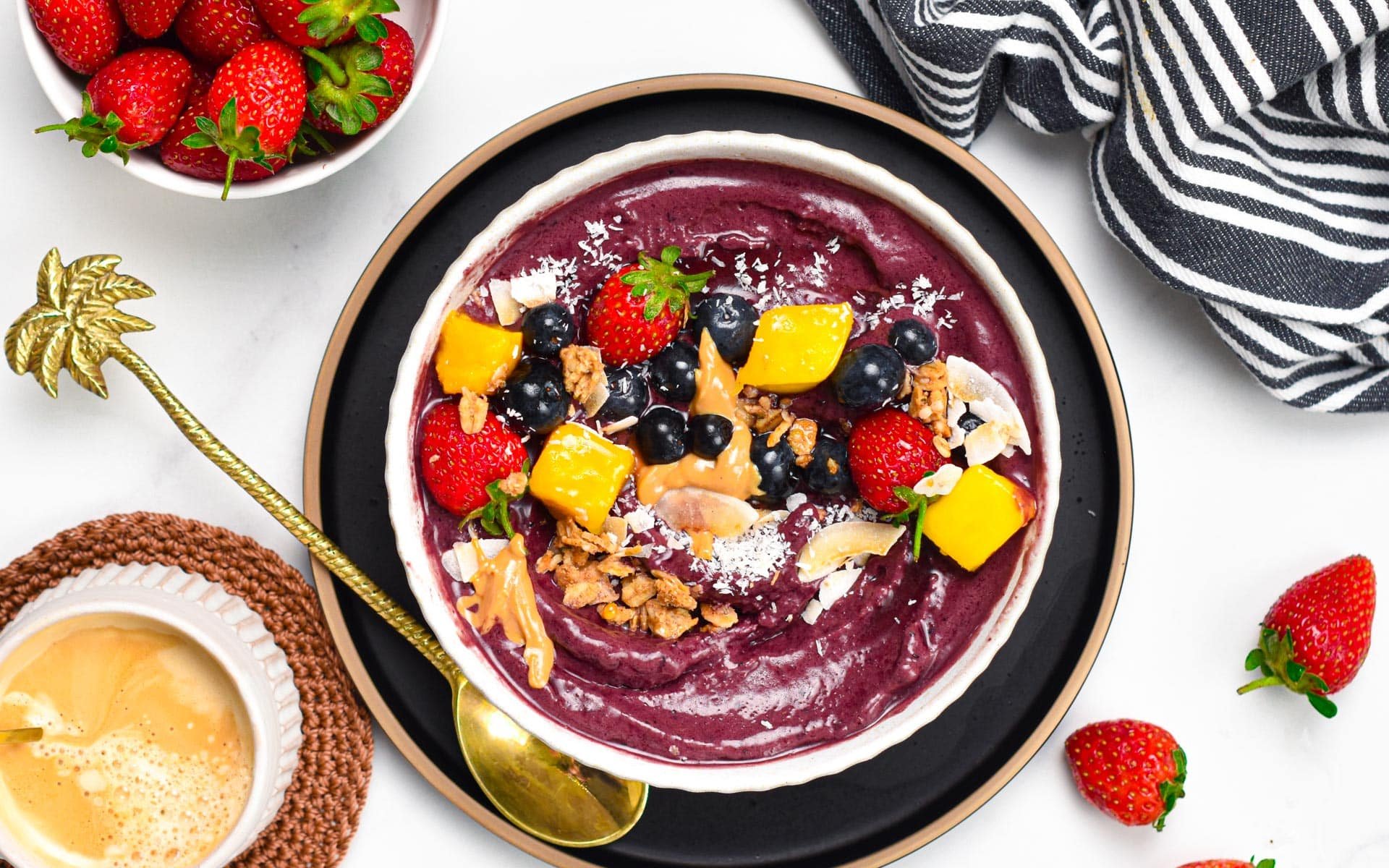 How To Make Acai Bowl Recipe
Acai bowls from your local café can be expensive, and making yours at home is much cheaper and healthier.
Ingredients
All you need to make this easy acai smoothie bowl recipe are:
Acai Puree – I buy frozen packets from the grocery store.
Frozen Mango
Frozen Banana – Pick the fruit you enjoy the most. Acai is low in sugar and slightly bitter, so blending it with a sweeter fruit boost, its sweet flavor naturally.
Frozen Blueberries
Coconut Milk or any non dairy milk you love, including almond milk, oat milk, or soy milk.
Preparation
Simply pour all the ingredients into the jug of your high-speed blender.
Use the tamper attachment to push the ingredients next to the blade while blending on low speed – speed 3 of a Vitamix.
If too thick, add a splash of plant-based milk.
If too liquid, add a few ice cubes or extra frozen fruits.
The acai bowl is ready when all the frozen fruits turn into a thick creamy dark purple ice cream-like texture.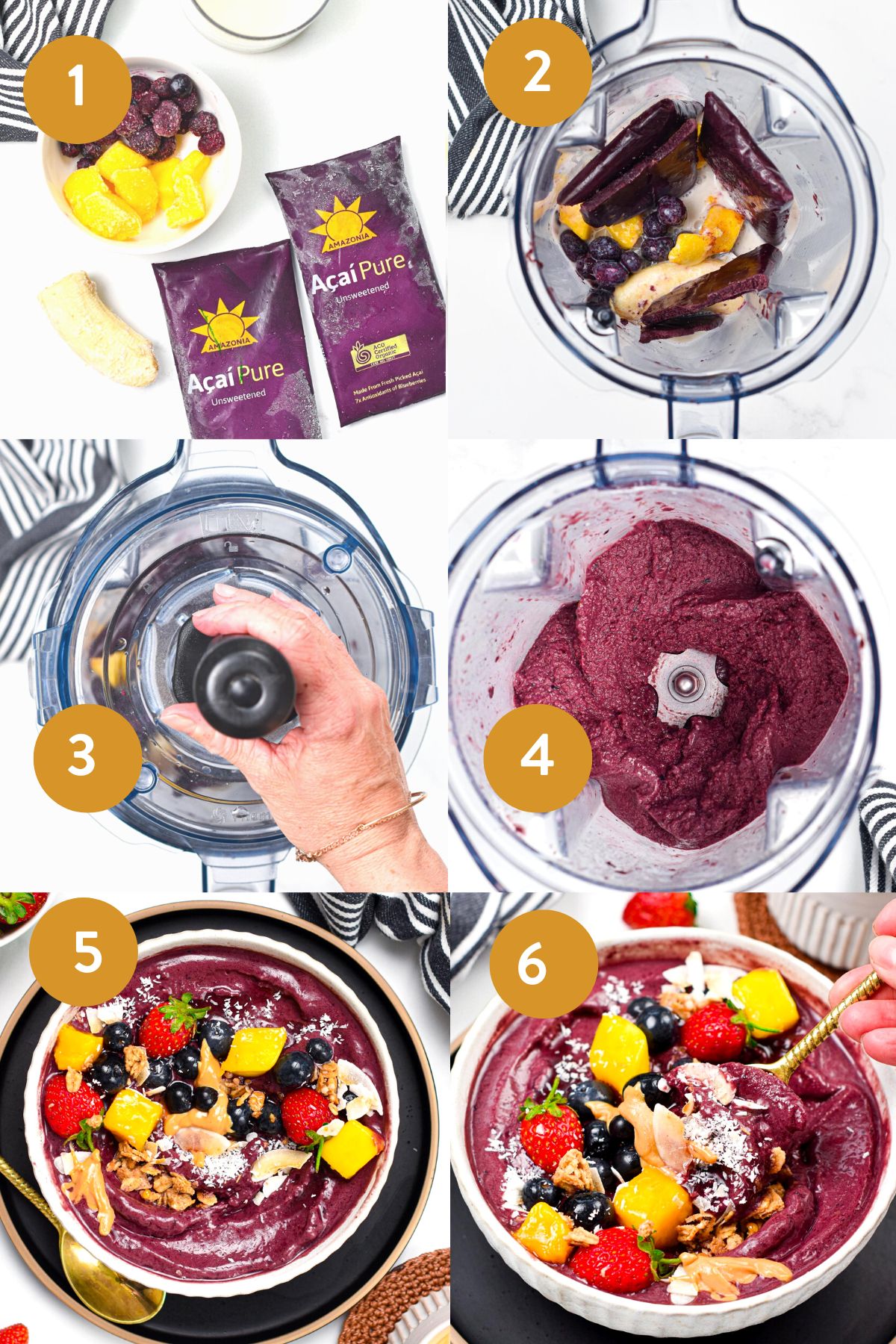 Variations
You can use this basic homemade acai bowl recipe to create a range of flavors and a healthy breakfast.
For example, to boost the fiber and proteins of the bowl, add some acai bowls healthy pairing.
One tablespoon of chia seeds.
Acai powder – 1 to 2 teaspoons.
Vanilla plant-based protein powder – 1 to 2 tablespoons, but you will need to add the same amount of milk, or the texture will be difficult to blend.
Unsweetened cocoa powder – add 1-2 teaspoons.
Serving
Acai bowls must be served immediately or they melt.
Pour the mixture into a large shallow bowl and serve it with your favorite toppings like breakfast granola or fruits.
Below are some ideas to top your acai bowl with extra nutritious food add texture:
Unsweetened shredded coconut flakes
Sliced almonds
Fresh fruits like – blueberries – fresh or frozen, strawberries, banana slices, or kiwi fruits slices.
Drizzle of peanut butter, cashew butter, or almond butter.
Allergy Swaps
If you have food allergies, try some of the swaps below.
Coconut-Free – Replace the coconut milk with oat milk, almond milk, or soy milk.
Banana-Free – You can swap the banana for more frozen mango or use the low-carb option below.
Low-Carb – Acai and blueberries are low-carb fruits. However, mango and bananas are high in sugar. To cut down the sugar, swap these two fruits for frozen zucchini slices and frozen cauliflower. But the smoothie bowl won't be very sweet, so add a few drops of vanilla stevia drops or 1-2 tablespoons of natural sugar-free sweetener like allulose or erythritol to sweeten.
Gluten-Free – The recipe is naturally gluten-free. Make sure your toppings are also wheat-free.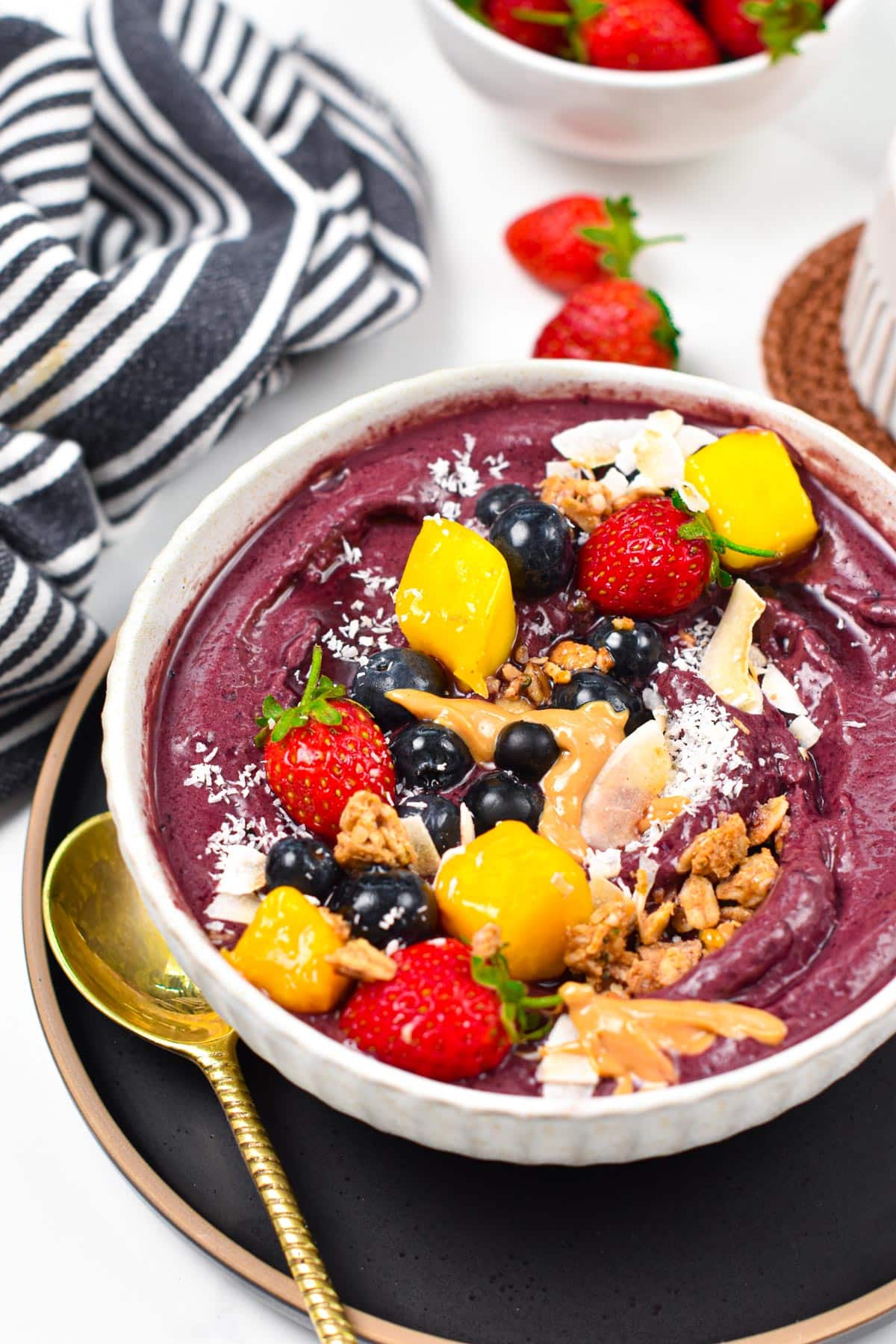 Frequently Asked Questions
Find below the answers to your most common questions about making this acai bowl at home.
Is Acai Bowl A Breakfast Or Snack?
Acai bowls are not only good for breakfast. They are also great as a sweet afternoon snack.
They are low-sugar, fulfilling, and taste like ice cream. As a result, acai bowls are great healthy snacks to fix a sweet craving in the afternoon.
Why Won't The Ingredients Blend?
A smoothie bowl is thick and requires a low amount of liquid. As a result, the ingredients won't blend as well as for a smoothie that contains more liquid.
You must use a tamper tool to push the frozen fruit onto the blade.
If your blender doesn't have this tool provided, stop the blender, and use a silicone spatula to bring the ingredients to the center of the jug. Then, blend again at low speed.
Can I Use A Food Processor?
You can make acai bowl in a food processor but you will have to stop the food processor a few times and scrape the sides of the bowl.
Then, process again until a frothy texture forms.
Can I Add Protein Powder?
You can add up to 1 scoop of protein powder to a smoothie bowl. However, protein powder is highly liquid absorbent so you will need way more milk.
Always add the milk gradually, or it will turn the texture from creamy to liquid.
Can I Halve The Recipe?
No, you can't halve the recipe, or it won't blend at all. However, you can double up the recipe without problems.
Can I Store Leftovers?
It's not safe to refreeze frozen food. As a result, you must eat this acai bowl recipe immediately and discard any leftovers.
More Smoothie Bowl Recipes
If you like smoothie bowls for your morning or afternoon sweet snacks, you'll love these other recipes.
Have you tried this acai bowl for breakfast? Share a comment or review below to let me know how you served yours.
Acai Bowl Recipe
This Acai Bowl recipe is a creamy, refreshing smoothie bowl packed with antioxidants and vitamin C. Plus, it takes under 5 minutes to prepare this easy healthy breakfast, and it's also naturally vegan and gluten-free.
Pin
Print
Review
Servings:
1
smoothie bowl
Ingredients
Optional but recommended for sweeter bowl
Instructions
Add the frozen banana slices, frozen mango cubes, and packets of frozen acai puree to the jug of a high-speed blender.

Add half the milk and blend on low speed (Vitamix speed 3) until it forms an icy fruit crumble.

Stop the blender and add the remaining dairy-free milk. Blend again (Vitamix speed 3), using the tamper attachment of the blender in a swirling motion to help the mixture blend.

Keep pushing the fruits with the tamper tool – this helps create an ice cream bowl without adding more milk. Repeat these actions until it forms a soft-serve texture.

If it becomes too liquid, blend in ice cubes of more frozen mango/banana. If the mixture doesn't blend very well, add more plant-based milk, only one tablespoon at a time, blend, and repeat until the favorite texture is achieved.
Serving
Serve with your favorite toppings like homemade granola, fruits or nuts, and seeds.
Notes
Any non-dairy milk works, including soy milk, almond milk, oat milk, etc.
Protein powder: if you want to add protein powder, add up to 3 tablespoons with the remaining ingredients. Blend and add more milk, one tablespoon at a time if too thick.
Share on Facebook
Pin Recipe
Nutrition
Serving:
1
smoothie bowl
|
Calories:
316
kcal
|
Carbohydrates:
66.5
g
|
Protein:
2.1
g
|
Fat:
2.7
g
|
Saturated Fat:
2.1
g
|
Polyunsaturated Fat:
0.1
g
|
Monounsaturated Fat:
0.1
g
|
Sodium:
11.9
mg
|
Potassium:
423.2
mg
|
Fiber:
3.6
g
|
Sugar:
52.6
g
|
Vitamin A:
756.3
IU
|
Vitamin B12:
1.5
µg
|
Vitamin C:
27.1
mg
|
Vitamin D:
59
µg
|
Calcium:
131.5
mg
|
Iron:
1
mg
|
Magnesium:
46.6
mg
|
Phosphorus:
23.4
mg
|
Zinc:
0.6
mg