This Pitaya bowl is the most delicious frothy smoothie bowl to start the day with vitamin C and feel energized all day.
Plus, this dragon fruit bowl takes barely 5 minutes to make and requires only three ingredients, so even the kids can make this alone.
If you love easy, healthy breakfast recipes packed with vitamins, this recipe is for you!
Smoothie bowl recipes taste just like ice cream without much fat. They are healthy for you but taste like a dessert for breakfast.
So let's see how you can make this easy pitaya bowl in the morning.
How To Make A Pitaya Bowl
Pitaya bowl, also known as the dragon fruit bowl, is a thick, creamy, ice-cream-like fruit bowl. It's a tasty snack or healthy breakfast ready in 5 minutes.
Ingredients
Three simple ingredients are all you need to make a smooth, thick, and creamy smoothie bowl with an ice cream texture.
Frozen Pitaya – You can buy ready-made frozen dragon fruit packets from the grocery store. It's a vibrant pink-purple pitaya puree frozen in bags, but you can also freeze some fresh pitaya flesh in zip-lock bags.
Frozen Banana or frozen mango – any other frozen fruit you love, even frozen berries such as blueberries or raspberries. I love bananas or mangos because they make a smoothie bowl thicker and less icy than berries. Also, light color fruits keep the smoothie bowl bright pink!
Plant-Based Milk of choice – it's up to you to pick your favorite. Soy milk is excellent for boosting the protein content of this easy smoothie bowl without adding expensive protein powder. But coconut milk and almond milk also taste amazing.
Preparation
Add the three ingredients into a high-speed Vitamix-style blender.
Blend on medium speed (speed 3 of a Vitamix blender) and use the tamper attachment to push down and swirl the food to the blade.
Stop when the texture is close to ice cream.
Adjusting
You can't fail this pitaya smoothie bowl recipe. However, you can always adjust the recipe to make it closer to your liking.
Too thick – Add more milk, but watch out. If you add too much milk or add it too quickly, it turns into a red dragon fruit smoothie! So add milk one tablespoon at a time.
Too runny – Add ice cubes or more frozen fruits.
Tips For A Perfect Dragon Fruit Smoothie Bowl
As for my strawberry banana smoothie bowl recipe, the keys to making a thick smoothie bowl are:
Hard Frozen Fruit – Don't use fruit that has been just frozen for a few hours or that turns into liquid too fast when blended.
Weigh The Fruit Frozen – The ratio is simple and always the same. Ten ounces of frozen fruits for 1/2 cup of non-dairy milk.
Use a High-Speed Blender rather than a food processor. Blenders usually come with a tamper attachment to make it easier to push down the fruits next to the blade. As a result, you don't have to stop the blender every 10 seconds to push the food down.
Serving
The best way to serve this pink smoothie bowl is with crunchy toppings like:
Unsweetened Coconut Flakes
Granola – try my peanut butter granola recipe or chocolate granola
Sliced Almonds
Fresh or frozen berries like strawberries, blueberries, or raspberries.
Banana Slices
Peanut Butter or almond butter
Allergy Swaps
Below are some options if you have food allergies. However, this pita bowl is already naturally:
Gluten-free
Dairy-free
Vegan
But for more options, try some below:
Low-Carb – Replace the frozen bananas with frozen zucchini. They have no flavor or color, adding a lovely creamy texture to the smoothie bowl without the carbs. Since you won't have the sweetness of the bananas, add some natural sugar-free sweetener to balance the sweetness. Blend in 1 to 2 tablespoons of erythritol or allulose, for example. Use my grain-free granola as a topping.
Nut-Free – Use soy milk or oat milk, or hemp seed milk.
High-Protein – Use protein milk like soy milk or protein-fortified almond milk. Serve with high-protein seeds and cereals like protein granola and hemp seeds.
Frequently Asked Questions
Here are my answers to your most common questions about this easy pita bowl.
Can I Make An Acai Bowl With This Recipe?
Yes, you can swap the dragon fruit for frozen acai. But they have different levels of sweetness.
Acai is less sweet with an earthy flavor, so you may want to add 1 to 2 tablespoons of maple syrup to make the smoothie bowl sweeter.
Can I Add Protein Powder?
You can add 1 scoop of protein powder, the equivalent of 3 tablespoons of vanilla protein powder, to the bowl.
However, you will need a bit more plant-based milk, or the mixture won't blend very well.
More Breakfast Recipes With Fruits
If you like to eat fruits for breakfast, try some of these other recipes.
Have you made this pita bowl? Share a comment or review below.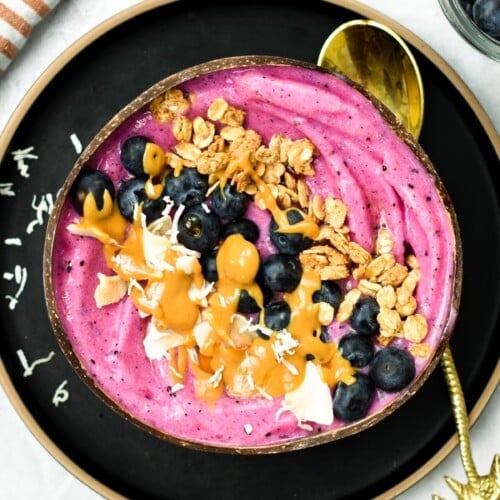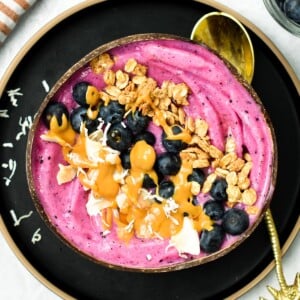 Pitaya Bowl
This Pitaya bowl is the most delicious frothy smoothie bowl to start the day with vitamin C and feel energized all day. Plus, this dragon fruit bowl takes under 5 minutes to make and requires only three ingredients, so even the kids can make this alone.
Pin
Print
Review
Servings:
1
smoothie bowl
Instructions
Before you start, I recommend weighing the frozen fruits instead of using cups. This is a quick tip to make a super thick smoothie bowl.

Add the frozen banana slices and frozen pitaya to the blender along with half the milk. Add any optional ingredients or protein powder (see note) now if used. Blend on low speed (Vitamix speed 3) until it forms an icy fruit crumble.

Stop the blender and add the remaining dairy-free milk. Blend again (Vitamix speed 3 ), using the tamper attachment of the blender in swirl movement to help the mixture blend – it's thick and hard to blend, but pushing the food with the tamper helps create an ice cream bowl without adding more milk. Repeat these actions until it forms a soft-serve texture.

If it becomes too liquid, blend in a few more frozen banana or ice cubes. If the mixture doesn't blend very well, add more almond milk, only one tablespoon at a time, blend, and repeat until the favorite texture is achieved.
Serving
Serve with your favorite toppings like nuts, seeds or homemade granola recipe
Notes
Note 1: You can swap the frozen bananas for frozen mangos.
Note 2: Any non-dairy milk works, including soy milk, almond milk, oat milk, etc.
The nutrition panel includes the suggested toppings.
Protein powder: if you want to add protein powder, add up to 3 tablespoons with the remaining ingredients. Blend and add more milk, 1 tablespoon at a time if too thick.
Share on Facebook
Pin Recipe
Nutrition
Serving:
1
smoothie bowl
|
Calories:
444.4
kcal
|
Carbohydrates:
63.7
g
|
Protein:
7.5
g
|
Fat:
17.5
g
|
Saturated Fat:
3.7
g
|
Polyunsaturated Fat:
3.7
g
|
Monounsaturated Fat:
6.6
g
|
Sodium:
111.2
mg
|
Potassium:
643.9
mg
|
Fiber:
9.1
g
|
Sugar:
37.3
g
|
Vitamin A:
78.5
IU
|
Vitamin B12:
1.5
µg
|
Vitamin C:
10.2
mg
|
Vitamin D:
59
µg
|
Calcium:
104.8
mg
|
Iron:
4.3
mg
|
Magnesium:
128.5
mg
|
Phosphorus:
204.5
mg
|
Zinc:
2
mg