This green zucchini smoothie is a healthy, creamy green smoothie packed with two vegetables for extra vitamins and proteins.
It's a perfect post-workout drink or refreshing snack, 100% dairy-free and gluten-free.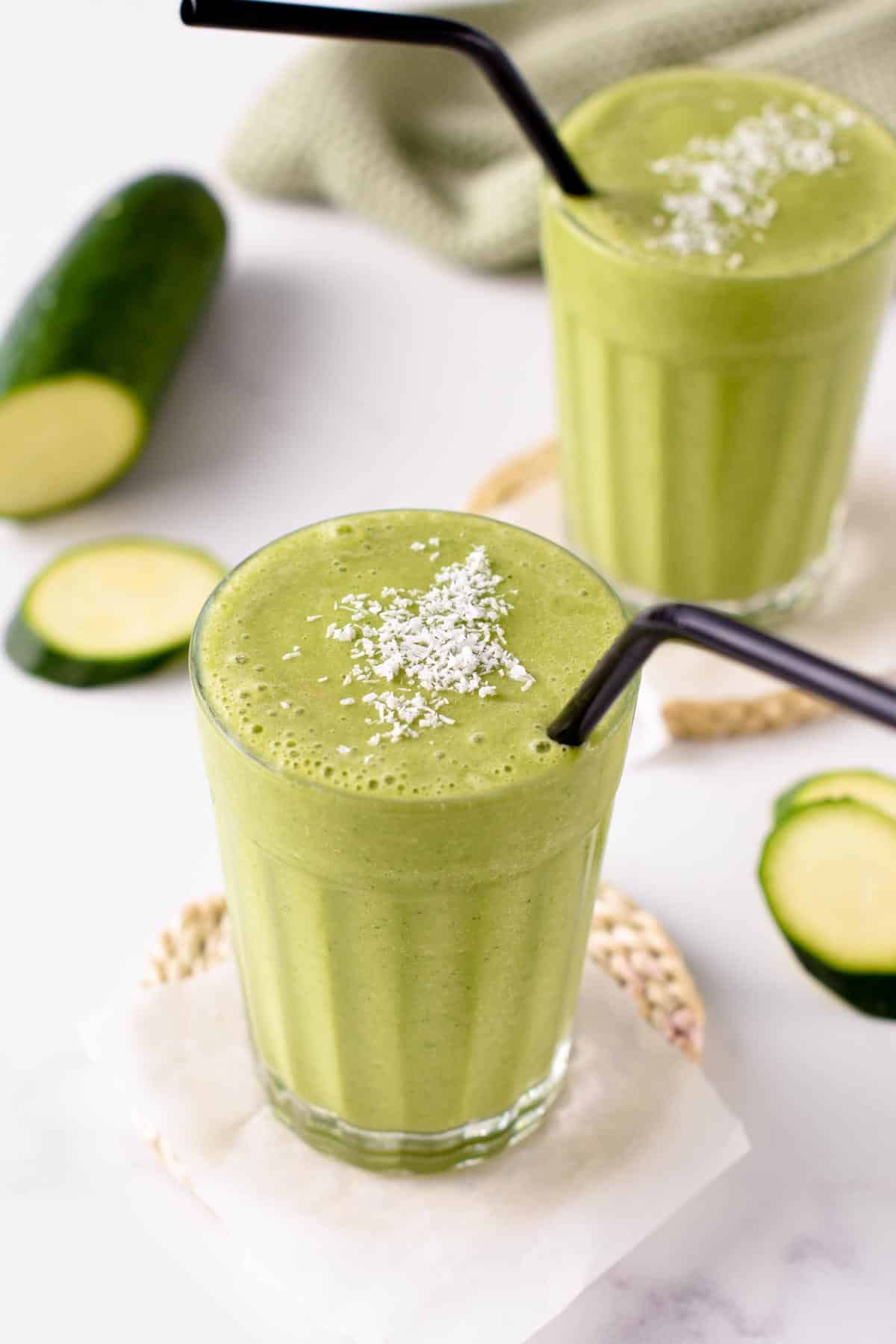 If you have too many fresh zucchinis growing in your garden, trim, slice, and freeze them to make delicious zucchini smoothies.
Did you know that zucchinis are excellent at adding a creamy texture to smoothies?
Plus, they are low-carb, low-calorie, and low-flavors but packed with vitamin C and fiber!
So if you are looking for a great summer zucchini recipe, don't look further and try this easy green smoothie with zucchini.
What's A Zucchini Smoothie?
A zucchini smoothie vis a green smoothie recipe made out of frozen zucchini.
Zucchinis are low-carb, low-calorie vegetables perfect for making thick creamy smoothies with fewer fruits.
As a result, zucchinis smoothies contain less fructose from the fruits but have all the vitamins and nutrients you need from the vegetables.
It's a great way to boost your 5-a-day with a delicious and refreshing drink.
How Does It Taste?
You won't taste the zucchini, I promise!
Frozen zucchini has no flavor in a smoothie, so the drink taste like a banana peanut butter smoothie with added benefits of extra veggies.
How To Make Zucchini Smoothie
Like all other smoothie recipes, this smoothie with zucchini is a crazy simple recipe.
All you need to make a zucchini smoothie are:
Ingredients
Frozen Zucchini Slices – They must be frozen, or the texture of the smoothie won't be creamy or smooth. Keep the skin on the zucchini if you slice them yourself before popping them in the freezer. Most store-bought frozen zucchini slices have their skin on, which brings extra fiber and nutrients.
Almond Milk – Prefer unsweetened almond milk to reduce unnecessary sugar.
Small Banana – See below for a banana-free, low-carb option.
Vanilla Protein Powder – This is optional, but it's a great way to boost the protein content of your smoothie recipe.
Peanut Butter – Use natural peanut butter, almond butter, or any nut butter you love.
Baby Spinach – Baby spinach boosts the vitamins and gives this smoothie a green vibrant color.
Ice Cubes – For perfect frothiness.
Preparation
Place all the ingredients into a high-speed blender jug or Nutribullet.
Close the lid and process on the high-speed setting until creamy, frothy, and smooth.
Taste the smoothie before serving and adjust it by adding some of the ingredients below to boost the sweetness, texture, or protein content.
Add-Ons
You can adjust this zucchini smoothie recipe by adding some of the below ingredients for flavors or for a nutrient boost:
1-2 teaspoons of chia seeds to increase creaminess and proteins.
1-2 teaspoons of maple syrup, strawberries, or blueberries for sweetness.
1-2 pitted dates for sweetness.
1/4 cup of your favorite plant-based Greek yogurt style – we love coconut yogurt for an extra creamy texture. You can also use soy yogurt for more protein.
2 additional tablespoons of plant-based protein powder to boost the proteins and the thickness.
Extra ice cubes for an icier texture.
1-2 teaspoons of cocoa powder to turn the smoothie into a chocolate zucchini smoothie.
2-3 teaspoons of plant-based dark chocolate chips or cacao powder to blend in for more texture and flavor.
Kale for a high-vitamin-C smoothie
Serving
Serve this smoothie in a tall glass with some toppings like:
Unsweetened Desiccated Coconut
Hemp Seeds
Toasted Coconut Flakes
Sliced Almonds
Allergy Swaps
Below I listed the easy food substitutions to make this zucchini smoothie allergy-friendly:
Nut-Free – Use coconut milk, hemp milk, or oat milk. Replace peanut butter with sunflower seed butter or tahini paste.
Sugar-Free Keto-Friendly – Zucchini is a low-carb vegetable and one of the best keto vegetables to thicken a smoothie without bananas. So to remove the banana in this recipe, add 1/3 cup of your favorite low-carb yogurt – pure coconut yogurt is keto friendly – and increase the peanut butter to 2 tablespoons. Since you will miss all the sweetness from the banana, you will have to add 1 or 2 teaspoons of vanilla stevia drops or 2 to 3 tablespoons of sugar-free granulated sweetener like allulose or erythritol.
Frequently Asked Questions
Can I Skip The Protein Powder?
Yes, you don't have to use protein powder in smoothies.
But if you remove it, the texture will be thinner. To balance the texture, you can add 1 tablespoon of cashews, chia seeds, or hemp seeds.
Can I Use Other Milk?
Any plant-based milk works in this smoothie, but some have a stronger flavor, like soy milk.
To keep the smoothie bland, try almond milk, coconut milk, or oat milk.
Can I Skip Peanut Butter?
Yes, you can skip the peanut butter and use other healthy fat seed spreads like sunflower seed butter for a nut-free option or tahini.
Can I Make A Chocolate Zucchini Smoothie?
Yes, you can turn this recipe into a chocolate flavor by adding 1 to 4 teaspoons of unsweetened cocoa powder and extra sweetener to balance the bitterness of the cocoa.
I would recommend adding 1 or 2 pitted dates or 1 or 2 teaspoons of maple syrup, sugar-free if needed.
You can also blend in a few teaspoons of dark chocolate chips and serve with a drizzle of melted chocolate or grated chocolate.
Have you made this zucchini smoothie recipe? Leave a comment or review below to connect with me.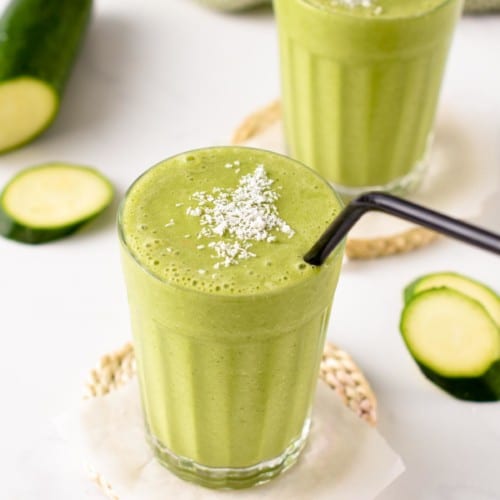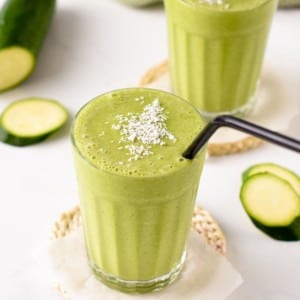 Zucchini Smoothie
This green zucchini smoothie is a healthy, creamy green smoothie packed with two vegetables for extra vitamins and protein. It's a perfect post-workout drink or refreshing snack, 100% dairy-free and gluten-free.
Pin
Print
Review
Servings: 2 Zucchini Smoothie
Calories: 171.6 kcal
Ingredients
Optional – Adjust Sweetness
1-2 teaspoons Maple Syrup - or 1-2 drops natural stevia
Instructions
In the jug of a high-speed blender, add all the ingredients above in the order listed.

Blend on high speed until smooth and creamy. Taste and adjust thickness and sweetness. For a frothier smoothie, add a few ice cubes. For a thin smoothie, add a splash of almond milk. For sweetness, add a few drops of stevia or 1-2 teaspoons of maple syrup. Blend after each adjustment and serve immediately.
Share on Facebook
Pin Recipe
Nutrition
Serving: 1smoothie | Calories: 171.6kcal | Carbohydrates: 19.9g | Protein: 9.4g | Fat: 7.1g | Saturated Fat: 1.2g | Polyunsaturated Fat: 2.5g | Monounsaturated Fat: 2.5g | Sodium: 146.1mg | Potassium: 637.8mg | Fiber: 3.1g | Sugar: 11.6g | Vitamin A: 2026.6IU | Vitamin B12: 1.3µg | Vitamin C: 28.2mg | Vitamin D: 1.4µg | Calcium: 200.1mg | Iron: 2.1mg | Magnesium: 50.8mg | Phosphorus: 69.1mg | Zinc: 0.8mg