Healthy Zucchini Carrot Bread (No Eggs, No Dairy)
This healthy Zucchini Carrot Bread recipe is incredibly moist and flavorful, loaded with shredded carrots, zucchini, fall spices like cinnamon, nutmeg, and crunchy pecans.
Bonus, this healthy carrot bread contains no eggs, no dairy or butter, and wholesome ingredients.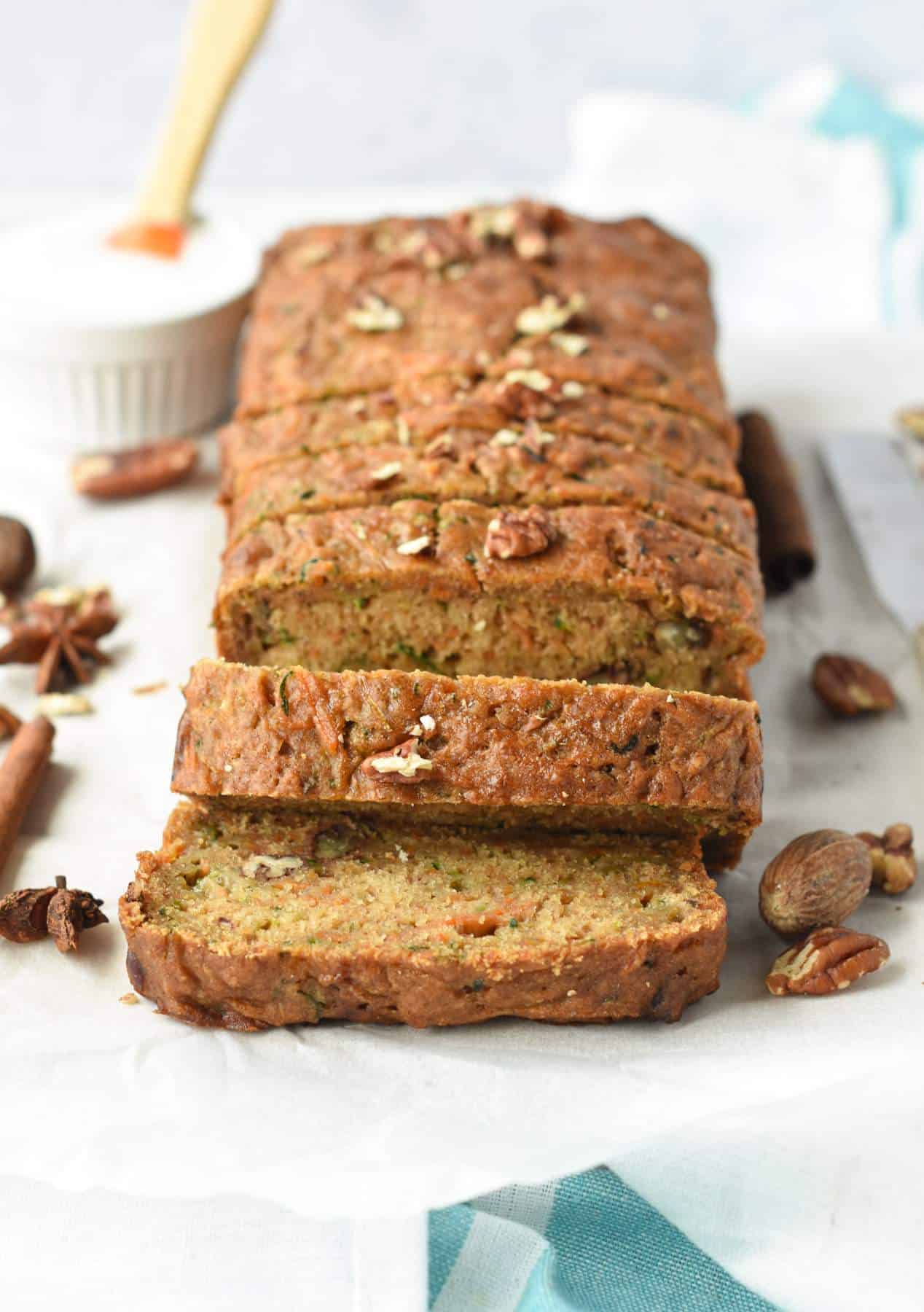 What's Zucchini Carrot Bread?
It's a combination of zucchini bread and a carrot bread recipe.
It results in a super moist bread that tastes like a carrot cake but with zucchini added for extra moisture.
This bread is perfect for adding extra vegetables to your day while enjoying a sweet piece of baked goods.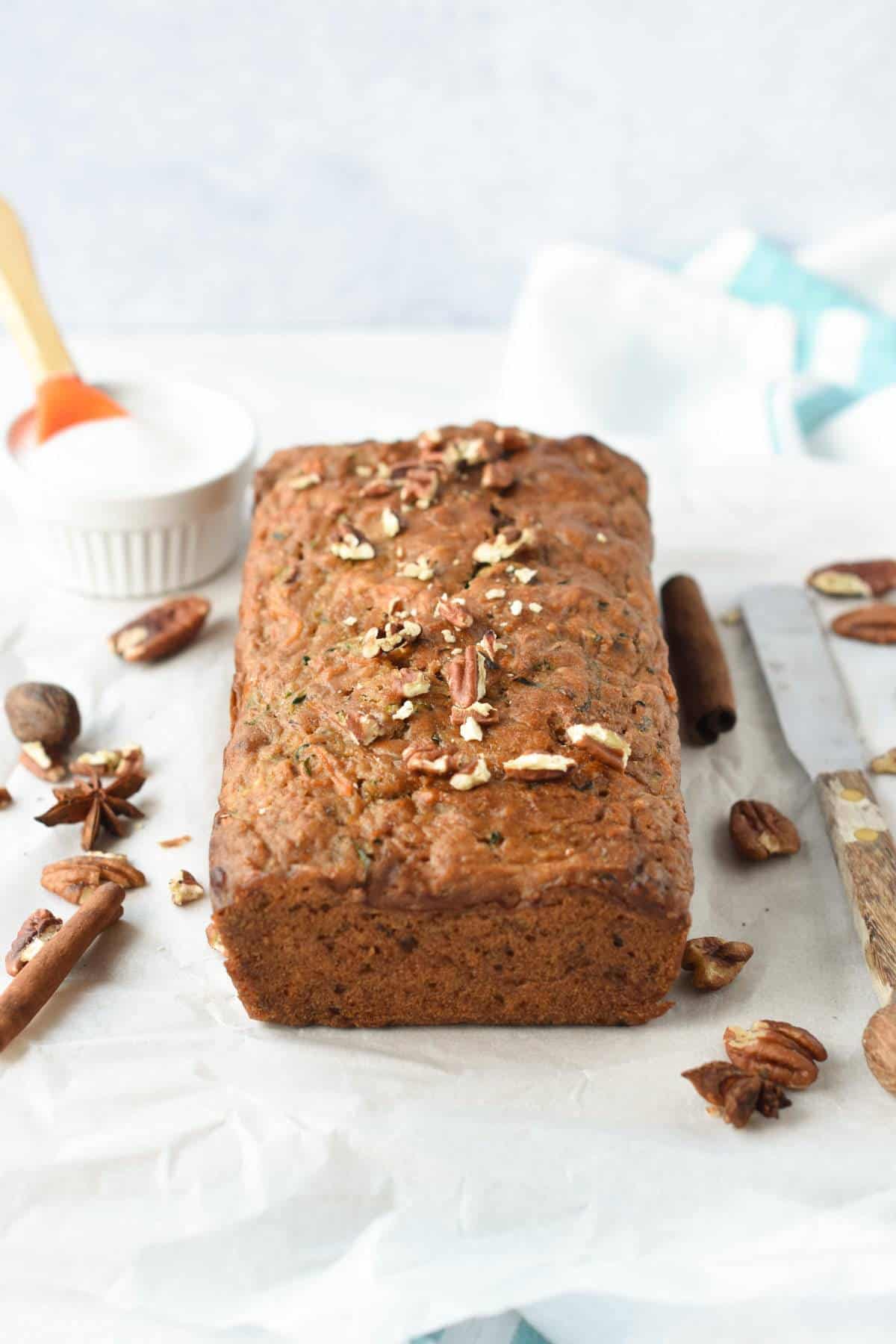 How To Make Healthy Zucchini Carrot Bread
It's super easy to make a zucchini carrot bread in less than 15 minutes.
Ingredients
All you need are a few simple, wholesome ingredients, including:
Shredded zucchinis – keep the skin on for extra nutrients and fibers. Trim ends, and grate as thin as you can to add moisture and texture to the bread. Then, place in a clean kitchen towel and wrap to squeeze out all the zucchini juice. Discard the juice or keep it for another recipe.
Shredded carrots – you don't have to squeeze out the juice of the carrots. Shred them using the same box grater grating attachment and thickness as for your zucchinis.
Flour – you can use all-purpose flour, spelt flour, or all-purpose gluten-free flour.
Apple sauce – this is the magic ingredient to decrease saturated fat in your bread. It acts as an egg replacer, avoids having to add too much oil, and also adds the moist, delicious flavor and texture to this carrot apple zucchini bread.
Light olive oil or canola oil, or melted coconut oil.
Unsweetened almond milk or any dairy-free milk you love.
Unrefined cane sugar, white sugar, or erythritol for a sugar-free diabetes-friendly option.
Soft brown sugar – or coconut sugar or brown erythritol.
Baking powder
Baking soda
Salat
Cinnamon
Nutmeg
Ginger
Chopped pecans. Feel free to swap for any other nuts you love, like walnuts or chopped almonds.
Before starting, prepare a pan: grease a 9-inch loaf pan with coconut oil or olive oil.
Cover the sides with hanging pieces of parchment paper. Set it aside.
Preparing The Vegetables
First, prepare your vegetable. Peel off the skin of the carrots, trim ends, and grate using the smaller attachment of your hand grater. Set aside in a bowl.
Next, shred the zucchinis, but first, trim their ends, and don't peel off your zucchinis. This adds nutrients, fiber, and texture to the bread.
Finally, drain the shredded zucchinis in a kitchen towel to remove all their juice.
Combining Ingredients
In a mixing bowl, combine all the wet ingredients with both sugar.
Whisk applesauce, oil, almond milk, brown sugar, and sugar until well combined. Now, stir in grated vegetables and chopped nuts. Set aside.
Making The Batter
In another large bowl, whisk all the dry ingredients: flour, baking powder, baking soda, cinnamon, ginger, nutmeg, and salt. Set it aside.
Finally, pour the dry ingredients into the wet ingredients and stir well to combine until the batter is smooth and no lumps show.
You can work in 2 additions, adding the dry ingredients progressively to avoid lumps in the batter.
Bake
Pour the batter into a 9-inch loaf pan covered with greased parchment paper.
Let some pieces of parchment paper hang out from the pan to make it easier to unmold the bread later.
Bake the zucchini carrot bread for 50 minutes or until a toothpick inserted in the center of the bread comes out clean.
Cool the zucchini bread recipe down on a cooling rack for at least 3 hours before slicing. This is a great time to prepare your frosting if used.
Frosting
You don't have to frost this bread, but if you want to add a touch of sweetness you can pick one of my two vegan frosting options below.
Both are dairy-free and delicious on top of this carrot bread.
Or you can add a drizzle of 1 cup dairy-free coconut yogurt combined with 1 cup icing sugar.
You can use any chopped nuts or shredded coconut to top the frosting and add extra crispy texture to the carrot bread.
Storage Instructions
This quick bread can be stored in a cake box in the fridge for up to 5 days.
You can also slice the carrot zucchini bread and store it in the freezer for later.
Thaw the slice of bread at room temperature before serving.
Serving ideas
This carrot bread is delicious on its own as a healthy breakfast bread. But you can also serve your bread slice topped with one of the healthy toppings options below.
Peanut butter
Almond butter

Allergy Swaps
If you have some food allergies, I have some options below.
Nut-free – replace the 1/2 cup of chopped nuts with shredded coconut or dark chocolate chips.
Gluten-free – replace the all-purpose flour with a gluten-free all-purpose flour blend that contains added gums.
Sugar-free – replace sweeteners with erythritol.
Applesauce swap – you can replace apple sauce with mashed bananas.
Have you made this carrot zucchini bread recipe? Share a comment or review below!