Vegan Stuffed Zucchini Boats
An easy Vegan Stuffed Zucchini Boat recipe filled with black beans cooked in spicy tomato sauce for a healthy low-carb Mexican dinner.
Bonus, this stuffed zucchini recipe is also gluten-free and dairy-free.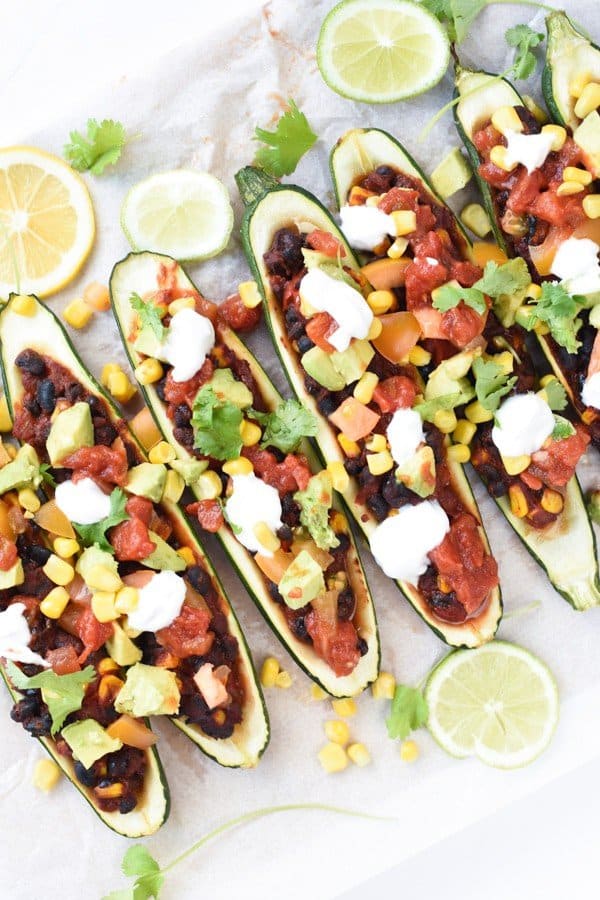 What Are Vegan Stuffed Zucchini Boats?
Vegan stuffed zucchini boats are baked halves of zucchini stuffed with a juicy plant-based protein cooked in tomato sauce.
The most common zucchini stuffing use lentils, taco meat, or black beans cooked in tomato sauce with taco seasoning and vegetables.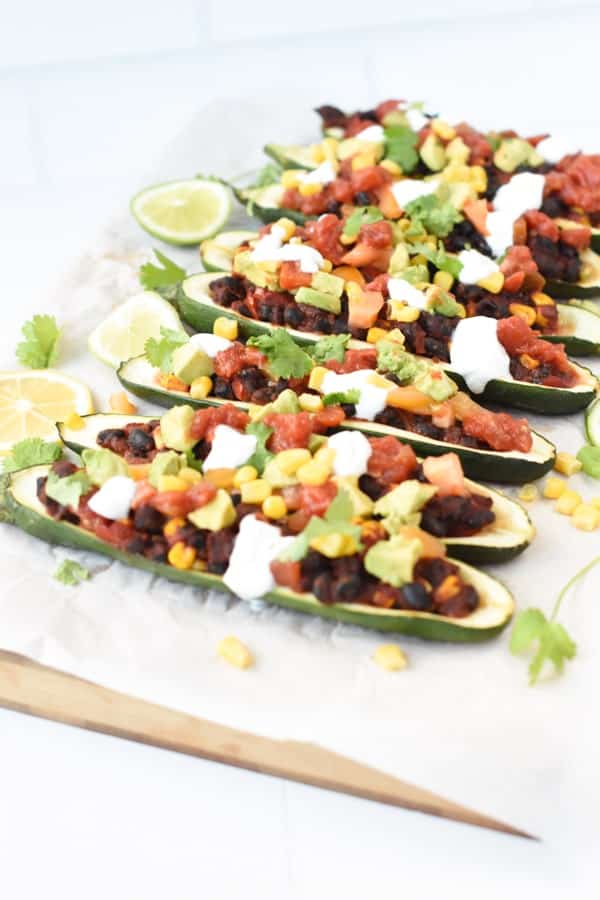 How To Make Vegan Stuffed Zucchini
Ingredients
First, gather all the ingredients for your stuffed zucchini boats.
Zucchinis – I love to use fresh, organic zucchinis.
Black beans – I used canned black beans. One can of 15 oz makes 1 1/4 cups of cooked black beans. Rinse and drain the black bean before cooking. You can also use 1 1/4 cups of cooked black beans from raw black beans.
Corn kernel – fresh, frozen, or canned.
Olive oil – I prefer using locally-sourced extra-virgin olive oil.
Red bell pepper – or any color of bell pepper you love.
Red onion – you can alternatively use yellow onions.
Garlic powder – or fresh, crushed garlic.
Spices – Oregano, Paprika, Cumin, Chili Powder
Tomato Passata and Tomato Paste
Vegetable Broth
Salt and Pepper
Choosing A Pan
Before you start, make sure you select a baking tray that fits the length of your zucchinis. I used a 9-inch x 13-inch baking tray, and I can fit 8 medium-sized zucchini halves on it.
Cover the baking tray with parchment paper and lightly oil the paper with olive oil to prevent the zucchini from sticking to the paper. Set aside.
Preheat the oven to 400°F (200°C) and starts preparing the zucchinis as per below.
Cutting The Zucchinis
First, wash, and cut the zucchinis halfway lengthwise. Keep the skin on, and don't trim the zucchini ends to encase the zucchini is filling properly.
Next, use a teaspoon to scoop out the flesh from the center of the zucchinis. Don't go too deep to avoid breaking the zucchinis boats.
Finally, place the zucchini boats onto a large baking tray, with the zucchini flesh facing up.
Then, sprinkle salt all over the zucchinis and set them aside for 20 minutes to let the zucchinis sweat.
Meanwhile, cook the black bean filling.
Cooking The Filling
In a non-stick frying pan, heat olive oil over medium heat. Then, stir fry diced red onion and red bell pepper until soft and fragrant.
Then, stir in cooked black beans, corn kernel, and spices and keep cooking for 2 to 3 minutes.
Finally, stir in tomato paste, tomato passata, and vegetable broth.
Reduce to medium heat and cook for 8 to 10 minutes until the mixture is thicker and flavorsome.
Adjust with salt and pepper to taste.
Assembling The Zucchini Boats
Now that the zucchinis boats have been in contact with salt for 20 minutes, you should spot some water all over their surface.
So use absorbent kitchen paper to pat dry the zucchini boats and remove the excess water.
Finally, use a spoon to fill each zucchini with the cooked black beans.
Baking The Zucchinis
Cover the baking sheet with a piece of foil and bake for 20 to 30 minutes or until the zucchinis are tender.
Storing Stuffed Zucchinis
These stuffed zucchinis can be stored for up to 4 days in an airtight container in the fridge. You can also freeze the zucchini and thaw them in the fridge before serving.
To rewarm your vegan meal, pop the zucchini in the microwave or a non-stick saucepan. Cover with a lid and cook until hot.
Frequently Asked Questions
Can I Add Vegan Cheese?
Sure, you can add vegan parmesan cheese or vegan cheddar cheese after 20 minutes of baking.
Then, return to the oven for up to 30 minutes in total or until the cheese is melted.
How Should I Serve The Zucchini Boats?
This is a great recipe for a low-carb, healthy Mexican dinner.
These zucchini boats make excellent party food served as taco shells topped with:
Diced avocado
A dollop of vegan coconut yogurt
Salsa sauce
More corn kernel
Fresh cilantro
Hot sauce
You can also serve this recipe as a healthy vegan meal with a side like:
Can I Use Other Beans?
Sure, you can swap black beans for many other cooked beans, including:
Butter beans, also known as cannellini beans
Chickpeas
Peas
Cooked brown lentils
Can I Skip The Beans?
If you don't like beans or can't digest them, you can also make my Vegan Birria Tacos jackfruit filling or my TVP Taco Meat to stuff your zucchini boats.
It's super tasty and can be used for everything.
More Vegan Meal Recipes
Below I listed more easy vegan meals recipes to try:
Have you made these black bean-stuffed zucchini boats and loved the recipe? Share a comment or review below. I love to hear your feedback on my vegan recipes.
Vegan Stuffed Zucchini Boats
These easy, stuffed zucchini boats with black beans are perfect for a healthy, low-carb Mexican dinner.
Pin
Print
Review
Servings:
8
zucchini boats
Shop My Tools
Instructions
Prepare the zucchinis
Preheat the oven to 400°F (200°C). Spray olive oil all over a large baking dish that fits the length of the zucchinis. I used a 9-inch x 13-inch baking dish that will fit 8 medium zucchinis halves.

Cut the zucchinis in halves lengthwise, don't peel, don't cut sides, or the filling runs out when baked later.

Use a teaspoon to scoop out the flesh of the zucchinis carefully. Don't go too deep, or you can break the zucchini halves. For tips, scroll up in this post to watch my step-by-step pictures.
Prepare the dish
Place each zucchini half next to each other on the baking dish. Sprinkle 1 teaspoon of salt all over the zucchini halves and set aside 20 minutes to 'sweat' the zucchinis.

Meanwhile, cook the black bean filling. In a large skillet, warm olive oil, add the diced onions and cook for 1 minute until fragrant. Stir in diced red bell pepper, and cook for an extra 1-2 minutes until softened.

Stir in cooked black beans, corn kernel, and spices: garlic powder, cumin, oregano, paprika, salt, chili powder. Cook for 1 minute, stirring often.

Stir in tomato passata, vegetable broth, and tomato paste. Simmer for 5 minutes, occasionally stirring until the sauce has thickened.

Use a spoon to fill the hollowed zucchini boats with the vegan filling.

Cover the pan loosely with foil and bake for 10-15 minutes or until zucchinis are cooked through.

Serve with basmati rice or quinoa on the side and top each zucchini half with diced avocado, cilantro, fresh coconut yogurt.
Share on Facebook
Pin Recipe
Nutrition
Serving:
1
zucchini boat
|
Calories:
110
kcal
|
Carbohydrates:
18
g
|
Protein:
6
g
|
Fat:
3
g
|
Saturated Fat:
1
g
|
Polyunsaturated Fat:
1
g
|
Monounsaturated Fat:
1
g
|
Sodium:
276
mg
|
Potassium:
719
mg
|
Fiber:
5
g
|
Sugar:
7
g
|
Vitamin A:
742
IU
|
Vitamin C:
39
mg
|
Calcium:
45
mg
|
Iron:
2
mg
|
Magnesium:
61
mg
|
Phosphorus:
127
mg
|
Zinc:
1
mg