These Vegan Enchiladas are quick and easy Mexican dinners packed with plant-based proteins and vegetables.
It's a healthy vegetarian recipe that is also easy to adapt to a gluten-free diet.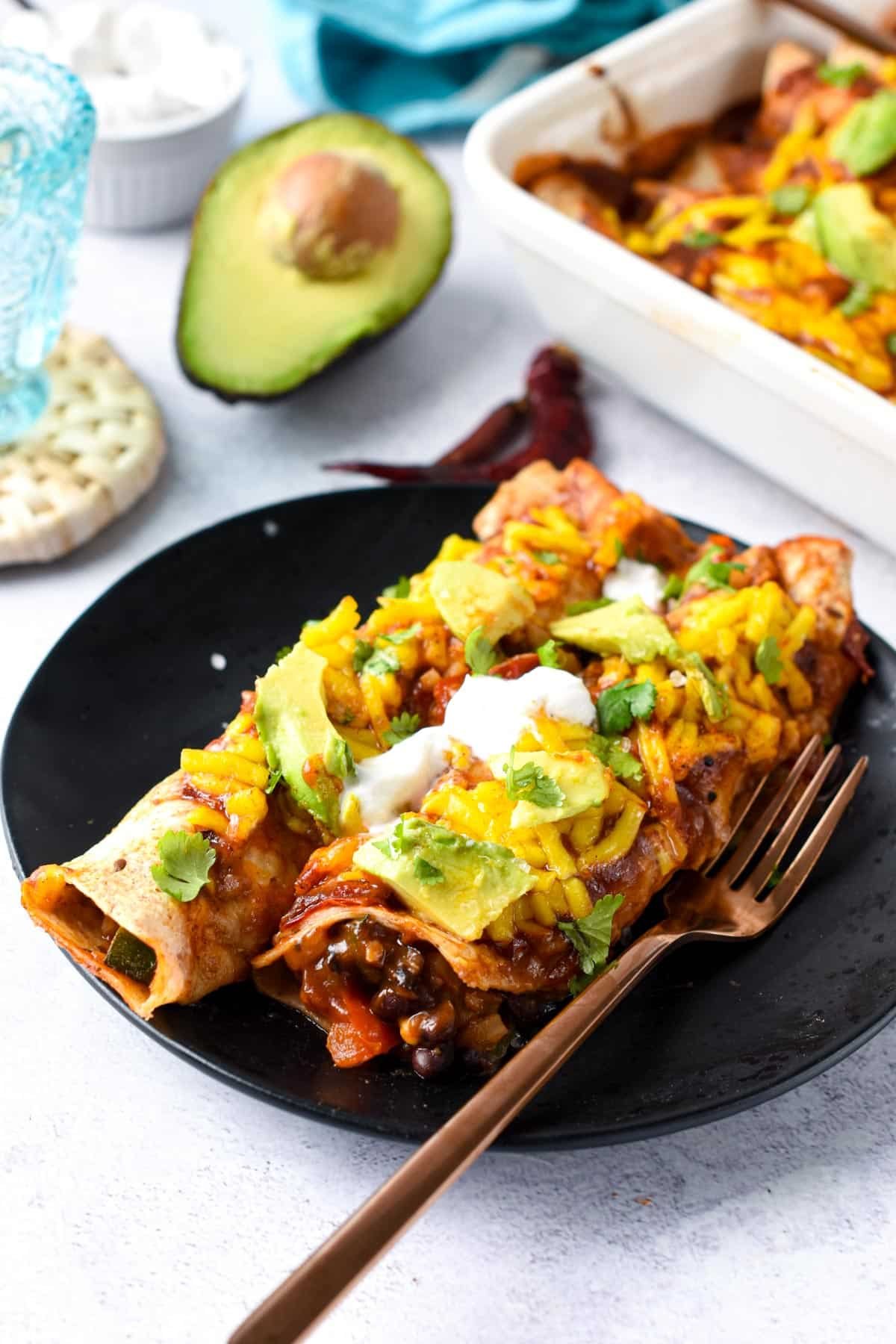 This vegan Mexican dinner is a great way of adding many vegetables to your plate.
What Are Vegan Enchiladas?
Vegan Enchiladas are meat-free baked tortillas filled with beans and vegetables, topped with enchilada sauce and vegan cheese.
It's a healthy plant-based dinner recipe for Mexican food lovers.
How To Make Vegan Enchiladas
It's very easy to make enchiladas with no meat, using a bunch of Mexican-style vegetables and beans.
Ingredients
The ingredients you need for this vegan dinner are:
Olive Oil
Red Onions – Finely chopped.
Enchiladas Sauce – I use a store-bought healthy sauce with low added sugar, but you can also make homemade enchilada sauce if preferred.
Cauliflower Rice – Fresh or frozen and thawed. To make fresh cauliflower rice, place the cauliflower florets in a food processor and pulse them into a rice-like texture.
Red Bell Pepper – Deseeded and diced.
Yellow Bell Pepper – Deseeded and diced.
Corn Kernels or chopped zucchinis, if in season or for a corn-free option.
Canned Black Beans – drained and rinsed.
Taco Seasoning – You can buy a ready-to-use mix or make your own taco seasoning.
Salt and Pepper
Tortillas – You can use any variety you like, including corn tortillas, wheat tortillas, wholewheat or low-carb tortillas. You can also make your own using my Quinoa Tortillas, my Chickpea Flour Tortillas, my Vegan Gluten-Free Tortillas, or my Red Lentil Tortillas.
Shredded Vegan Cheese – like cheddar-style cheese for the best Mexican flavors.
Preparing The Filling
First, in a large non-stick skillet, warm olive oil over medium heat.
Add diced red onions, stir, and cook until fragrant and translucent.
Add the cauliflower rice, stir it, and cook for a few minutes and roast.
Stir in the diced bell peppers and diced zucchini and keep cooking for 2 to 3 minutes.
Finally, stir in the black beans, cauliflower rice, taco seasoning, salt, and pepper.
Stir and cook until the vegetables are tender, the beans are warm, and no liquid is left in the pan, or it will make soggy enchiladas. It takes between 3 to 5 minutes.
Remove the skillet from the heat and set it aside.
Assembling The Enchiladas
Slightly grease a 9-inch x 13-inch baking dish with olive oil.
At the bottom of the dish, spread 1/2 cup of enchilada sauce.
To fill the first tortillas, place the tortilla in front of you, and using a tablespoon, spread two tablespoons of enchilada sauce in the center of the tortillas.
Next, use a slotted spoon to bring 1/2 cup of filling to the center of the tortillas.
Make sure you don't have watery filling due to vegetables releasing too much water, or the enchiladas will be soggy.
Spread the filling lengthwise in a cylinder shape for easy rolling.
Finally, top with two tablespoons of shredded vegan cheese on top.
Wrap tightly to form a roll and place into the prepared baking dish with their sealed side down.
Repeat the steps above until all the tortillas are filled and no more filling mixture is left.
Place each prepared tortilla in the baking dish next to the other. They must touch each other, as seen in the picture.
Spread the remaining enchilada sauce on top of the rolled tortillas and sprinkle the remaining vegan cheese.
Baking Enchiladas
Preheat the oven to 350°F (180°F).
Bake in the center rack of the oven, uncovered, for about 20 to 30 minutes or until the tortillas are crispy, the enchilada sauce is bubbly, and the vegan cheese is melted.
Serving Vegan Enchiladas
It's always a bit tricky to serve enchiladas because they are large and break easily when you take them out of the dish.
To serve them with ease, use two wide tools, like wide-slotted spatulas.
Serve two tortillas for an adult and serve warm with some of your favorite Mexican food toppings like:
Vegan Sour Cream – coconut yogurt is also a great option.
Taco Dip
Avocado
Cilantro
Guacamole
Hot sauce
Storage Instructions
You can store these vegetarian enchiladas in the fridge in a sealed container for up to 4 days.
Rewarm in a microwave-safe container or in a warm oven until warm in the center.
You can freeze enchiladas leftover too for up to 3 months in an airtight container. Thaw in the fridge the day before eating.
Allergy Swaps
Below I listed some food allergy swaps for you if needed.
Gluten-Free – Most of the ingredients in this recipe are free from gluten-free, except for the tortillas. Pick corn tortillas or gluten-free certified tortillas to avoid gluten in the recipe. You can also make my Vegan Gluten-Free Tortillas.
Low-Carb – Swap the black beans for a low-carb vegetarian protein like crumbled tofu, soy curls, or rehydrated soy proteins. Swap the corn kernel for a low-carb diced vegetable like zucchini or more bell pepper. Finally, pick low-carb tortillas.
Vegan – Pick a vegan cheese variety. The remaining ingredients in the recipe are vegan-friendly.
Veggie Swaps – If some of the vegetables are not in season, you can use others. For example, zucchini can be swapped for another red bell pepper color, a can of corn kernels, or steamed sweet potato cubes.
Bean Swaps – You can replace the black beans with red kidney beans, pinto beans, or chickpeas. As long as your beans are pre-cooked, the cooking time won't change.
Frequently Asked Questions
Can I Make Low-Carb Vegetarian Enchiladas?
Yes, you can use this recipe to make a low-carb vegetarian dinner.
Simply use low-carb tortillas, and replace black beans with a low-carb protein, like rehydrated textured soy or crumbled tofu.
Both are vegan, low-carb protein that works really well in these enchiladas.
What Are The Best Tortillas For Enchiladas?
The best tortillas are corn tortillas because they hold their shape better than wheat-based tortillas.
However, any tortilla, including wholewheat tortillas or low-carb tortillas, will work in the recipe.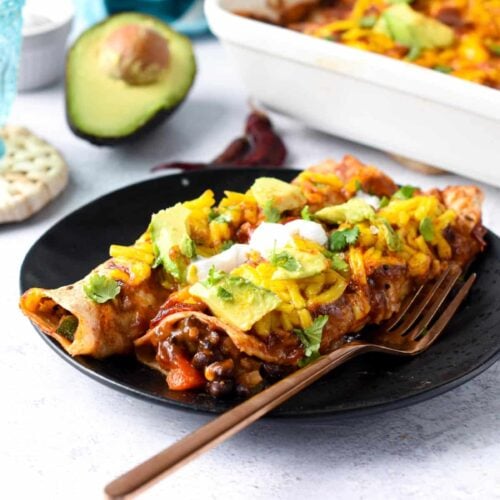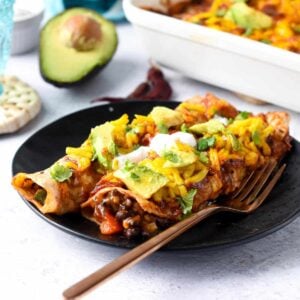 Vegan Enchiladas
These Vegan Enchiladas are an easy and healthy family dinner. Crispy tortillas filled with a combination of black beans, cauliflower, bell pepper, and red onion for a delicious vegan dinner.
Pin
Print
Review
Servings:
8
tortillas (8 inches)
Shop My Tools
Instructions
Preheat the oven to 350°F (180°C). Slightly oil a 9-inch x 13-inch baking tray. Set aside.

In a large non-stick pan, over medium heat, warm olive oil. Add the diced red onion and cook for about 2 minutes, until fragrant and softened.

Stir in the cauliflower rice, and cook for 2-3 minutes. Then, add the diced red bell pepper, diced yellow bell pepper, and diced zucchini. Stir and cook until the vegetables have softened, about 4-5 minutes uncovered.

Stir in the drained cooked black beans, taco seasoning, salt, and pepper. Stir and cook for 5 minutes until the beans are warm and the liquid released by the vegetables has evaporated.

Remove pan from heat. Set aside.
Assemble enchiladas
Spread 1/2 cup of enchiladas sauce all over the bottom of the baking dish – I used the back of a spoon to spread it easily.

To fill the tortillas, place in front of you all the filling ingredients in line. You will need 8 tortillas, 1 cup of enchilada sauce, all the vegetable filling, and 1 cup of vegan shredded cheese.

Place the first tortillas in front of you, fill in the center with 2 tablespoons of enchilada sauce and 1/2 cup of the cooked vegetable mixture – make sure you use a slotted spoon to avoid adding liquid from the vegetables or the tortillas get soggy. End with 2 tablespoons of shredded cheese.

Wrap and roll tightly – you can close the sides if you like to secure the filling in the tortilla, it's up to you.

Place the rolled tortilla on the prepared baking dish, sealed side down.

Repeat the step above with the remaining tortillas and place each prepared tortilla next to each other in the pan. You should fit 8 tortillas. If you have leftover filling, you can store it in an airtight container in the fridge or bake it in another baking dish filling more tortillas.

Spread the remaining cup of enchilada sauce all over the rolled, filled tortillas. Sprinkle the remaining cup of shredded cheddar cheese on top.

Bake uncovered for 20-30 minutes, or until the cheese is melted, the tortillas crisp on the sides, and the sauce is bubbly.
Serving
Serve immediately with a dollop of vegan sour cream, cilantro, hot sauce, and avocado.
Storage
Store in an airtight container in the fridge for up to 3 days or freeze for up to 3 months and thaw in the fridge the day before.
Share on Facebook
Pin Recipe
Nutrition
Serving:
1
tortilla
|
Calories:
309.9
kcal
|
Carbohydrates:
41
g
|
Protein:
8.8
g
|
Fat:
12.3
g
|
Saturated Fat:
3.5
g
|
Polyunsaturated Fat:
1.2
g
|
Monounsaturated Fat:
3.1
g
|
Sodium:
1238.9
mg
|
Potassium:
398.6
mg
|
Fiber:
7.6
g
|
Sugar:
8.6
g
|
Vitamin A:
1059.4
IU
|
Vitamin C:
68.6
mg
|
Calcium:
89.6
mg
|
Iron:
3
mg
|
Magnesium:
43.3
mg
|
Phosphorus:
141.4
mg
|
Zinc:
0.8
mg