This Sofritas recipe is the easiest copycat of Chipotle Sofritas, perfect for creating homemade meat-free burrito bowls, quesadillas, or tacos.
Plus, this Sofritas recipe is also super easy, ready in less than 30 minutes, gluten-free, vegan, and low carb!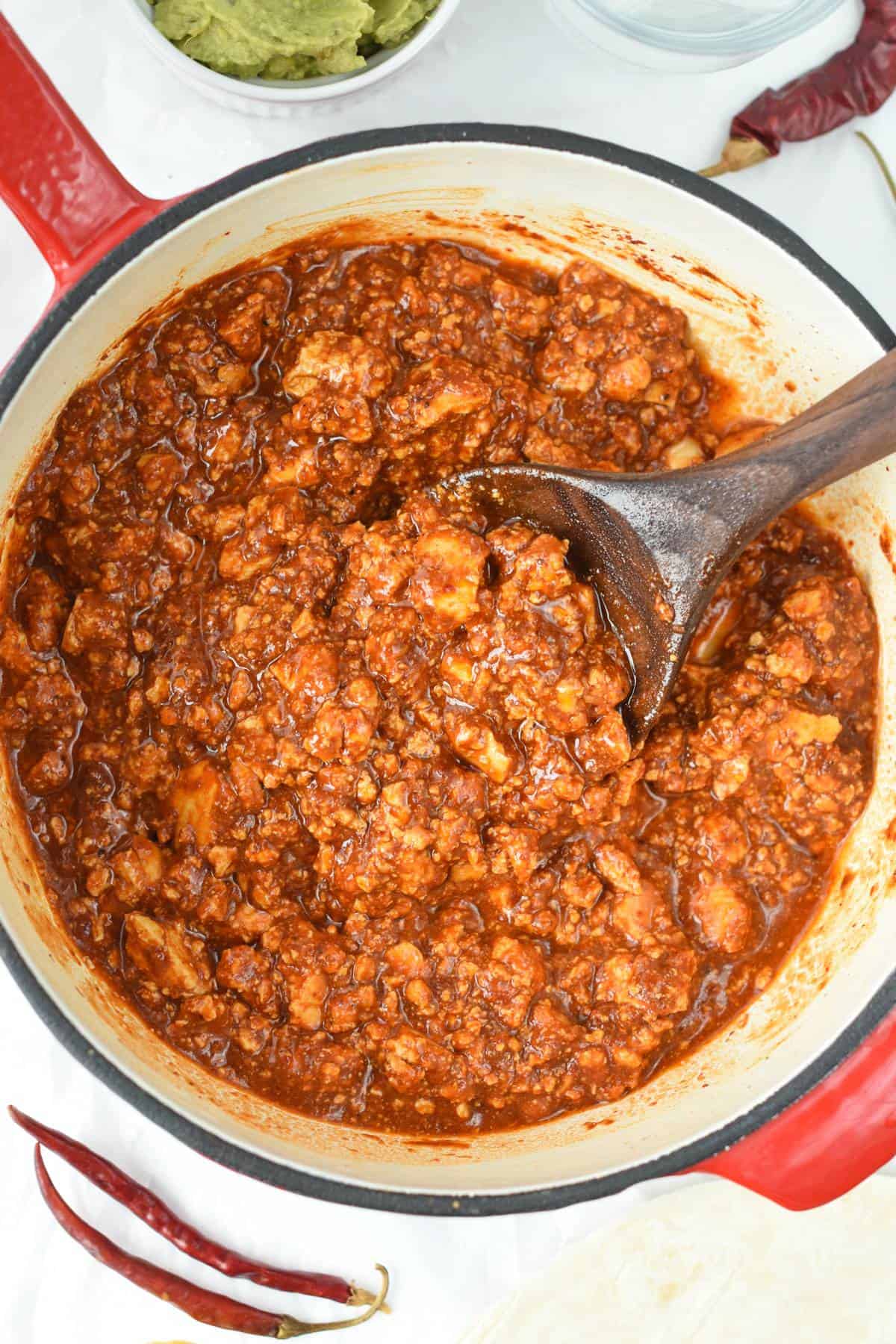 What Are Sofritas?
Sofritas is a popular meat-free filling served at Chipotle. It's delicious vegan meat for tacos, burritos, or to make taco bowls.
It's made of stir-fried shredded firm Tofu cooked in a spicy sauce made of chipotle chilies and a blend of spices.
How To Make Chipotle Sofritas
It's super easy to make a Sofritas recipe at home.
Some recipes use oven-roasted fresh poblano peppers but here I am sharing a much easier, straightforward version of Sofritas that everyone can make in just 15 minutes.
Ingredients
All you need to make this recipe are a few simple ingredients:
Extra-firm tofu – it's very important to use extra-firm tofu or at least firm tofu for this chipotle Sofritas recipe. If you use a softer kind of tofu, your Sofritas will be watery.
Olive oil – or any oil you love like melted coconut oil or avocado oil.
Cornstarch or arrowroot flour – this is used to coat the tofu scramble and make it crispy.
Salt
Dried Ancho pepper – deseeded, slightly dry roasted in a pan. This is the best option to replace the classic fresh Poblano pepper. It makes the Sofritas spicier and much faster to cook.
Chipotle sauce – I am using the La Morena brand.
Chipotle Peppers in Adobo sauce – I used the same brand as above. It consists of marinated chipotle.
Cumin
Smoked paprika
Garlic
Lime Juice or lemon juice.
Maple syrup or Coconut sugar. This is optional, but it balances the spices in the dish.
Tomato paste
Vegetable broth
Pressing The Tofu
First, open the tofu block and wrap it into some absorbent paper towel or a clean kitchen towel.
Next, place the block on a chopping board and top up with a heavy weight – a cookbook, for example. This makes a homemade tofu press.
Wait at least 20 minutes or until the tofu has released all its excess water.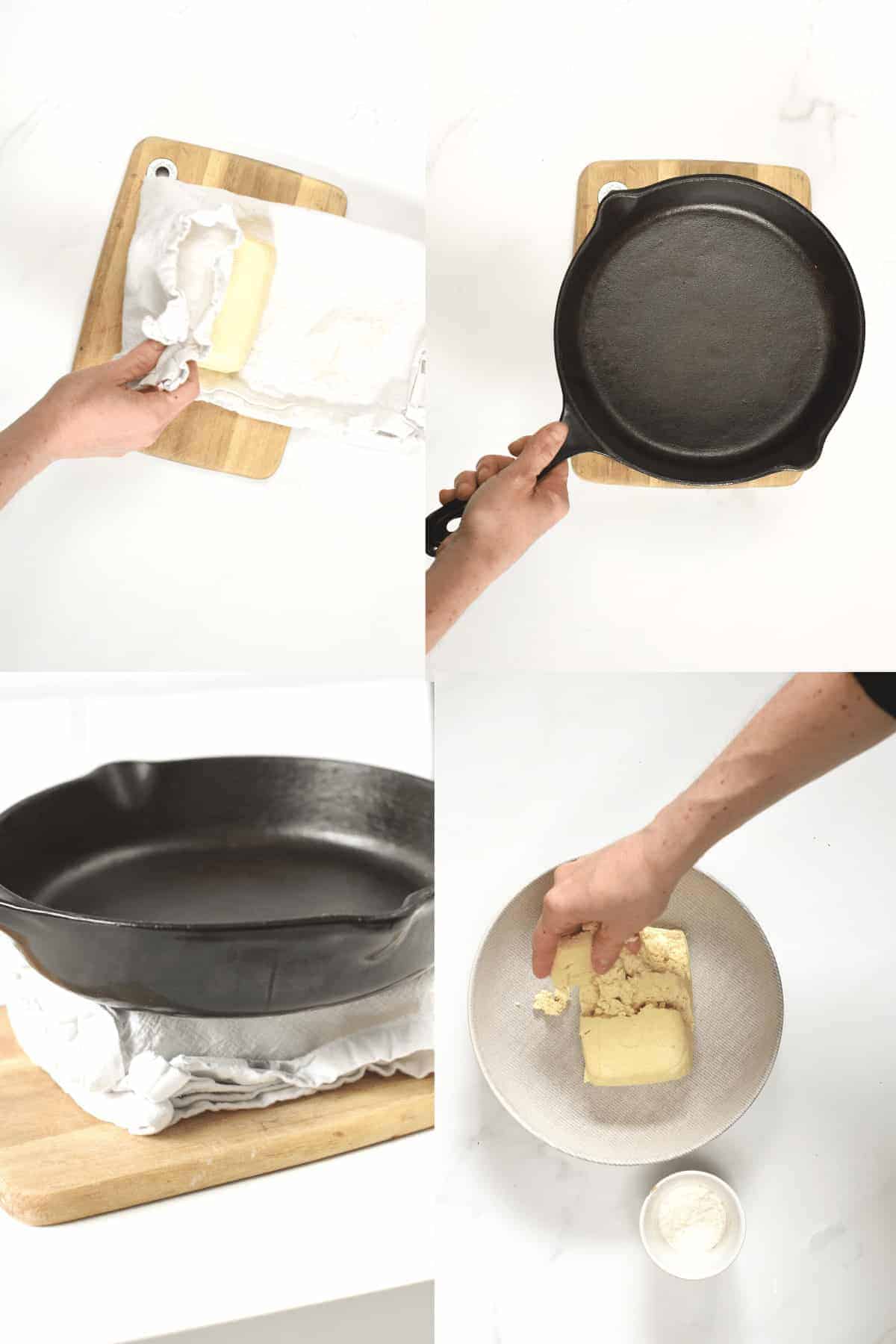 Scrambling the tofu
After that time, remove the weight on top of the tofu block. Scramble the tofu into tofu chunks of small size, similar to ground meat.
Then, place the tofu pieces into a mixing bowl and sprinkle salt and cornstarch on top. Stir to coat until sticky and gummy.
Next, warm some olive oil in a large skillet over medium-high heat.
Stir fry the shredded tofu for 2-3 minutes or until golden brown.
Making the sauce
While the tofu is cooking, make the Sofritas sauce.
First, slice the Ancho dried chili peppers. Next, remove their stem and the seeds inside.
Then, in a cast iron or non-stick pan, cook the chili peppers for 1 or 2 minutes on each side with no oil until fragrant, then transfer to the blender jug.
In a blender or food processor add all the remaining sauce ingredients including the 1/2 cup water vegetable broth and blend until thick and smooth.
Assembling the Sofritas Sauce
Finally, pour the sauce over the cooked tofu and simmer for 15 minutes or until the sauce has thickened.
If too thick to your liking, add an extra 1/4 cup of water or vegetable stock.
Stir with a wooden spoon to make sure it's evenly distributed and that all the flavors have blended well.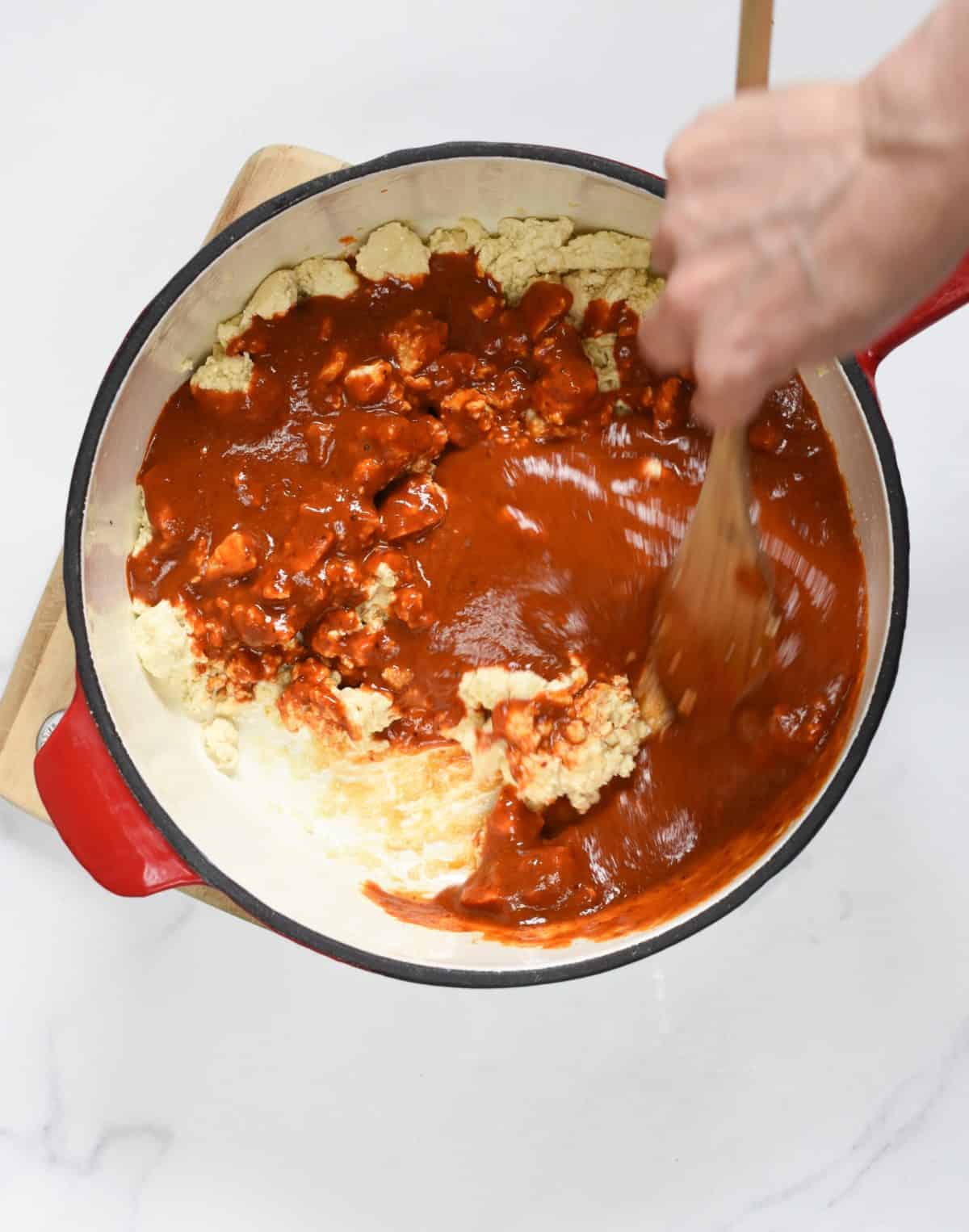 Serving Sofritas
There are many ways you can serve Sofritas: plain or with black beans.
If you love black beans or just want to add a boost of plant-based protein, then stir a drained 14-ounce can of black beans in the pan.
Serving Suggestions
Serve Sofritas as a:
Burrito bowl – on top of cooked rice, with corn, salsa, a drizzle of lime juice, and lettuce.
Tacos – use lettuce leaves or my gluten-free coconut flour tortilla recipe or fill with the Sofritas meat-free filling. Top up with crunchy vegetables like shredded lettuce, chopped red onion, cabbage, or tomatoes.
Burritos – wrap in corn tortillas and place the burritos into a large 9×13-inch baking dish. Top up with salsa sauce and vegan cheese. then broiled in oven 350°F (180°C) until hot. Serve with a dollop of coconut cream, homemade guacamole, and fresh cilantro.
As a dip for my Vegan Cornbread Recipe.
Storage Instructions
This Sofritas recipe is perfect for making ahead vegan dinners as it stores for up to 4 days in the fridge or in the freezer for up to 3 months.
Place the leftover Sofritas in an airtight container and freeze or refrigerate until ready to use.
If frozen, thaw the container in the fridge the day before serving.
Frequently Asked Questions
What Are Sofritas At Chipotle?
Sofritas is a meat-free filling recipe served at Chipotle as a meat alternative for vegans and vegetarians.
What Meat Are Sofritas?
Sofritas look like meat but it's a recipe made with shredded tofu cooked in a rich tomato sauce and a blend of spices.
What Does Sofritas Mean?
Sofritas is a Spanish term that describes a dish that has been gently fried.
How Can I Make Spicy Sofritas?
You can make this recipe even spicier using more dried chilies or more chipotle peppers in the Adobo sauce.
Fill free to increase one or the other depending on your taste.
Can I Make A Thicker Sauce?
Some people find the authentic Sofritas Chipotle restaurant too runny.
If it happens to be the case with this Sofritas recipe, remove the lid from the frying pan and simmer for longer until the liquid evaporates and the sauce thickens.
You can also stir in a dollop of extra tomato paste to thicken the sauce.
More Vegan Dinner Recipes
I love to create vegan dinner recipes. Below I listed our favorites for you to try: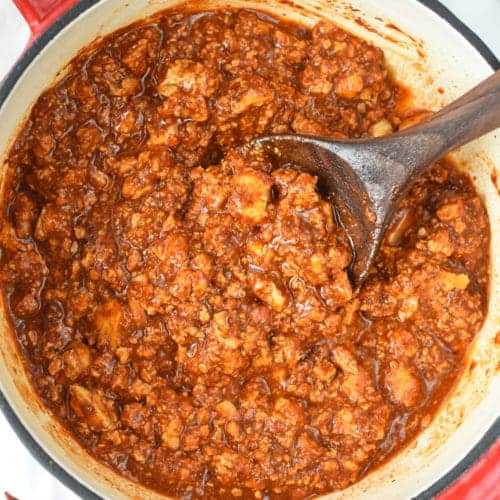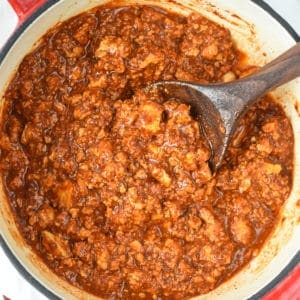 Sofritas (Copycat But Better)
A copycat Chipotle Sofritas recipe made with simple ingredients for delicious, meat-free burritos or tacos.
Pin
Print
Review
Servings: 6 servings
Calories: 112.5 kcal
Instructions
Wrap the tofu block in absorbent paper and place it on a chopping board. Add on top a heavy book or anything flat and heavy to put pressure on the tofu block, so it releases its extra moisture.

Press the tofu for 20 minutes.

Remove the weight on top of the tofu. Pat dry the tofu one more time in a clean towel, then scramble it into small pieces.

Place the tofu scramble in a shallow bowl and sprinkle one tablespoon of cornstarch and salt. Stir to evenly coat, and the cubes look sticky.

Warm 2 tablespoons of olive oil in a large non-stick frying pan over medium-high heat.

Add the tofu scramble in a single layer and sizzle for a few minutes on one side then stir and keep cooking until all the tofu scrumble is golden-brown and crispy. Season with salt.
Sauce
Slice the dried Ancho chili peppers, remove their stems and the seeds inside. Discard seeds and stem. Then, in a cast iron or non-stick pan, cook the chili pepper for 1 or 2 minutes on each side with no oil until fragrant, then transfer to the blender jug.

In the blender, add the remaining sauce ingredients: chipotle pepper in the Adobo, chipotle sauce, crushed garlic, tomato paste, cumin, paprika, lime juice, maple syrup, water, and vegetable broth. Blend until smooth and thick. Set aside in a bowl.

When the tofu is cooked, add the Sofritas sauce.

Simmer for 15 minutes, don't put a lid on the pan, keep cooking until the sauce is slightly thick. If too thick, thin out with a splash of water or vegetable broth.

Serve with salt, pepper, and a drizzle of lime juice.

Use to fill taco shells or on top of a buddha bowl.
Share on Facebook
Pin Recipe
Nutrition
Serving: 1serving | Calories: 112.5kcal | Carbohydrates: 9.7g | Protein: 5.4g | Fat: 6.1g | Saturated Fat: 0.9g | Polyunsaturated Fat: 1.2g | Monounsaturated Fat: 3.7g | Sodium: 605mg | Potassium: 198.8mg | Fiber: 0.6g | Sugar: 5.7g | Vitamin A: 239.2IU | Vitamin C: 3.9mg | Calcium: 38.2mg | Iron: 1.3mg | Magnesium: 24.4mg | Phosphorus: 76.7mg | Zinc: 0.5mg