Protein Bowl (25g Plant-Based Proteins)
This Protein bowl recipe is a healthy quinoa bowl loaded with crispy tofu coated in almond sauce and crunchy vegetables and packed with 25 grams of protein for a meat-free protein lunch.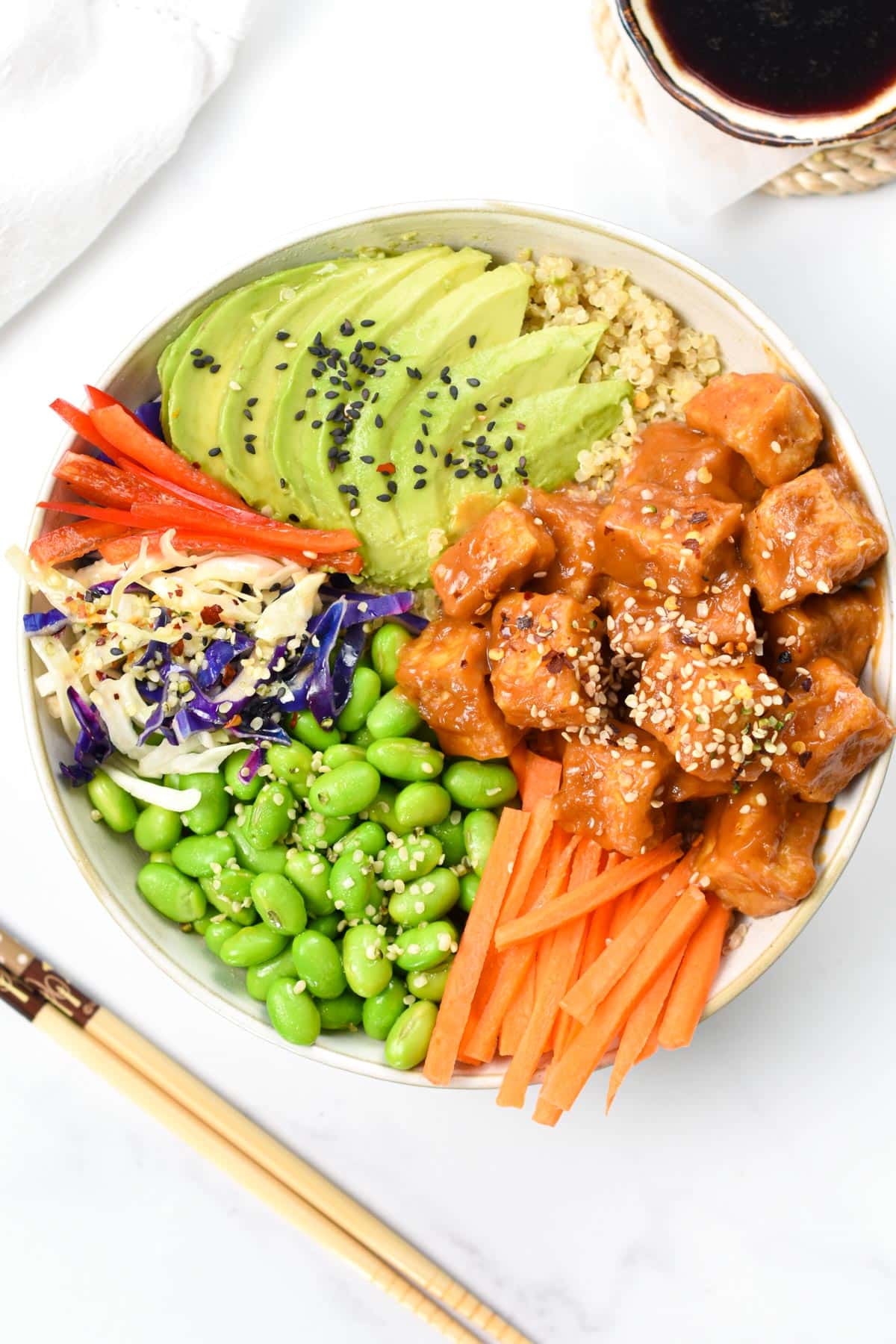 Why Should You Have A Protein Bowl?
The most common question we all have about a vegan lifestyle is how to get enough proteins.
This vegan protein bowl is a perfect answer to that question with a recipe that everybody will love!
It's a great protein lunch to serve to non-vegan friends and convince them that vegan lunches can be delicious and protein loaded.
How To Make A Protein Bowl
There are many ways to make a protein bowl because it mostly depends on the flavors you are after.
You can make a Mexican protein bowl using black beans, rice, or this buddha bowl-inspired version using the ingredients below.
Ingredients
So this is a Japanese-inspired protein bowl made of tofu and a delicious almond butter sauce.
Let's see what you need to make this vegan protein bowl.
Protein Bowl Base
The base of the bowl is made of cooked quinoa, a complete plant-based protein, and our favorite choice when it comes to bowl recipes.
It contains all the amino acids you need in proteins. Follow my instructions on how to cook quinoa in a rice cooker to make fluffy quinoa that doesn't stick to your pan every time.
Bowl Protein Toppings
The toppings combine three high-protein ingredients, firm tofu, edamame, and seeds.
To make crispy tofu for the bowl, you need.
Firm Tofu – Tofu is a great vegan ingredient that can be used as a meat replacement in recipes like Crispy Orange Tofu, Tofu Red Curry, or Vegan Butter Chicken.
Sesame Oil – Sesame oil brings delicious sesame fragrances to the dish.
Cornstarch – You can skip this ingredient, but the tofu won't be as crispy without it.
Garlic Powder
Ground Ginger
Edamame – This is another great vegan protein source along with tofu and quinoa. Edamame is the beans that are then turned into tofu or soy sauce.
Hemp Seeds – Hemp Seeds are a great source of protein and don't contain any psychoactive substance.
Sesame Seeds
Protein Dressing
A protein bowl would be bland without a dressing.
So we serve our bowl with a high-protein sauce made of almond butter. Almond butter is high in healthy fat and vegan proteins.
Almond Butter
Soy Sauce
Chili Flakes
Garlic Powder
Coconut Milk
Soy Sauce or tamari sauce, if you want gluten-free ingredients.
Rice Vinegar
Maple Syrup
Some Crunchy Vegetables
Finally, play with any raw vegetables you have in the fridge to add some crunch and freshness to the bowl.
We used:
Carrot
Cabbage
Red bell pepper
But you can also use:
Cucumber
Tomatoes
Zucchini ribbons
Preparing The Tofu
First, open the tofu, wrap it in absorbent kitchen paper, and press it by placing it on a plate and adding heavy weights like cookbooks on the top.
Wait for 10 minutes to extract all the water from the tofu block.
Meanwhile, whisk all the tofu marinade in a bowl: sesame oil, soy sauce, ginger, garlic powder, and cornstarch.
When the tofu is drained enough, cut into cubes and place in the marinade. Stir to coat evenly and set aside 10 minutes to flavor.
Preheat the oven to 350°F (180°C). Line a baking sheet with parchment paper and lightly oil the paper.
Cooking Quinoa
Meanwhile, cook the quinoa in a rice cooker or saucepan following the instructions on your quinoa packaging.
Baking The Tofu
Now, place the tofu cubes onto the baking sheet and bake for 25 to 30 minutes, flipping halfway until crispy.
You can also air fry the tofu for 15 minutes at 400°F (200°C) for a faster option.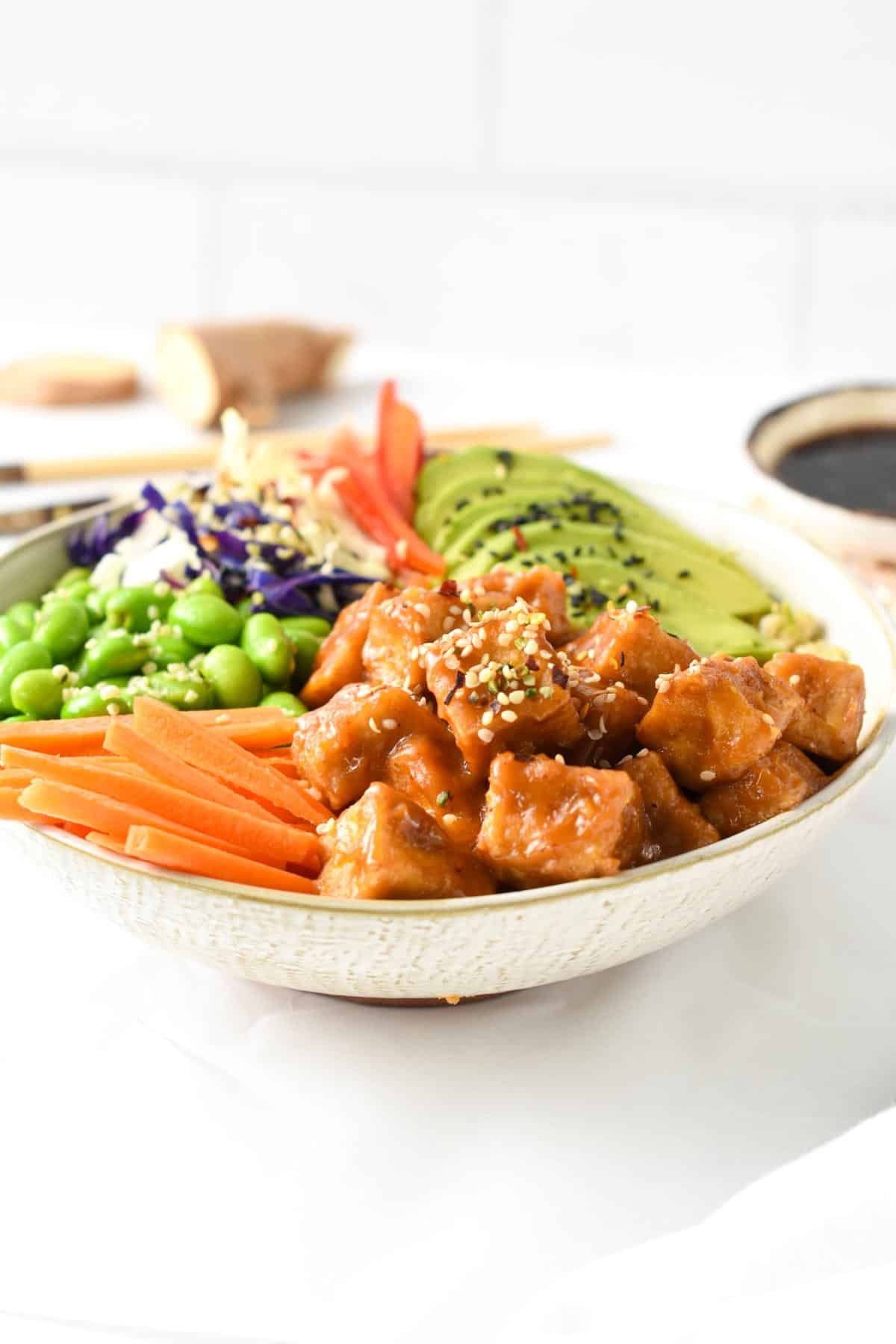 Protein Dressing
In a non-stick saucepan whisk all the protein dressing ingredients together.
Bring over low-medium heat and cook, stir until warm and thick.
Stir in the baked tofu to evenly coat with the almond dressing.
Assembling The Vegan Protein Bowl
To assemble your plant-based bowl, start by adding the warm quinoa at the bottom of a shallow bowl.
Top with crispy tofu coated with the almond butter sauce. Then, add the crunchy vegetables and lukewarm edamame.
Serve with hemp seeds and sesame seeds on the top for a boost of protein.
Storage Instructions
You can store this bowl in the fridge in a sealed container for up to 3 days.
It's the perfect high-protein lunch to meal prep many days of plant-based lunches to take out.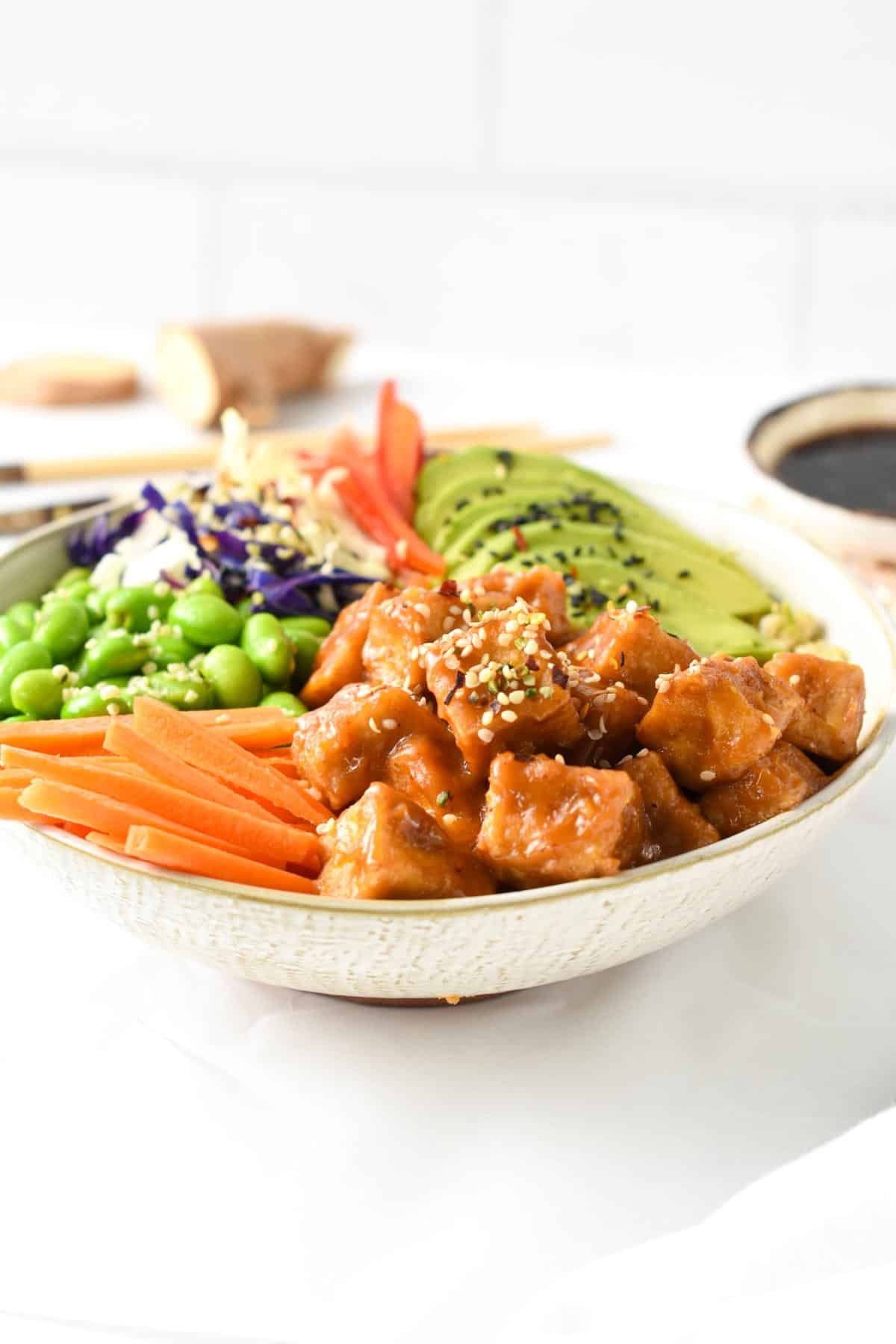 Allergy Swaps
Below are some common allergy swaps to make this bowl even if there are some ingredients you can't eat:
Gluten-Free – Most of the ingredients in this bowl are gluten-free apart from the soy sauce that sometimes contains wheat. You can use tamari sauce instead or gluten-free soy sauce.
Nut-Free – Swap the almond butter for sun butter.
Seed-Free – Replace the seeds with crushed nuts like crushed peanuts or almonds they are great protein sources.
Coconut-Free – Replace the coconut milk with water or almond milk or any plant-based milk you like.
Frequently Asked Questions
Below are the answers to your most frequent questions about this protein bowl.
I Don't Like Quinoa, What High-Protein Grain Can I Use?
There are other options for this protein bowl.
In order of protein content from high to low:
Cooked Buckwheat
Cooked High-Protein Pasta like edamame noodles or black bean noodles
Cooked Brown Rice
Cooked White Rice.
Can I Eat The Protein Bowl Cold?
Yes, you can store leftovers and eat this bowl cold or just rewarm the quinoa and tofu before assembling.
Can I Decrease The Calories Of My Bowl?
The most important calorie intake in the bowl is quinoa and oil.
You can remove the oil in the almond dressing and decrease the quinoa. Increase your protein by adding more tofu instead.
More High-Protein Vegan Recipes
Below are some more high-protein plant-based recipes for you to try:
Did you try this high-protein lunch recipe? Share a comment or review bowl to connect with me.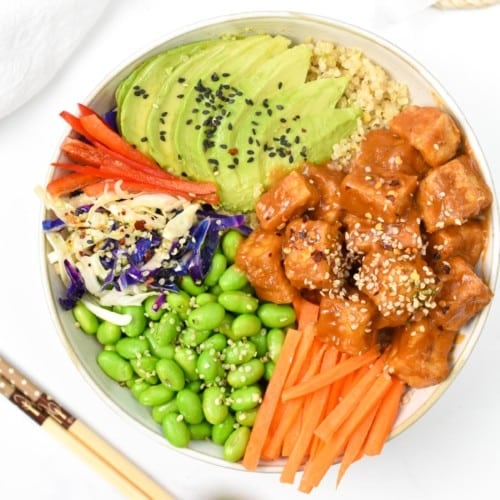 Protein Bowl
This Protein Bowl recipe is a healthy quinoa bowl loaded with crispy tofu coated in almond sauce and crunchy vegetables and packed with 25g of protein for a meat-free protein lunch.
Pin
Print
Review
Instructions
Preheat the oven to 350°F (180°C). Line a baking sheet with oiled parchment paper. Set aside.

Cook 1 cup quinoa following the packaging instructions or follow my tutorial on how to cook quinoa in a rice cooker to help you.

Wrap the tofu in absorbent kitchen paper, place it on a plate, and top it with heavy weight like a cookbook. Wait 10 minutes.

Meanwhile, in a mixing bowl whisk tofu marinade: sesame oil, cornstarch, garlic powder, and ginger.

Cut the drained tofu into cubes and place in the bowl with the marinade, stir to coat. Set aside 10 minutes.

Arrange tofu cubes on the baking sheet, don't touch cubes, and bake for 25-30 minutes, flipping them halfway, until crispy and golden.

Meanwhile chop all the vegetables thinly: cabbage, red bell pepper, and carrots. Set aside.

Cook edamame following packaging instructions. I simply cover frozen edamame with boiling water, drain and use lukewarm in the recipe. Set aside.

In a non-stick saucepan add all the almond butter dressing ingredients, bring to low-medium heat and whisk gently to combine and cook until thick.

Stir the baked tofu cubes into the thick sauce.

To assemble the bowls, divide evenly the cooked quinoa at the bottom of each bowl (3/4 cup each) then top with an even amount of tofu (100g each) and raw vegetables.

Sprinkle seeds on top for a boost of crunch and proteins.
Storage
Store leftover in the fridge in a sealed container for up to 3 days.
Share on Facebook
Pin Recipe
Nutrition
Serving:
1
bowl
|
Calories:
495.5
kcal
|
Carbohydrates:
48.3
g
|
Protein:
24.8
g
|
Fat:
23.8
g
|
Saturated Fat:
2.6
g
|
Polyunsaturated Fat:
10.1
g
|
Monounsaturated Fat:
9.5
g
|
Trans Fat:
0.003
g
|
Sodium:
525.7
mg
|
Potassium:
625.2
mg
|
Fiber:
9.3
g
|
Sugar:
8.7
g
|
Vitamin A:
661.6
IU
|
Vitamin B12:
0.1
µg
|
Vitamin C:
29.4
mg
|
Vitamin D:
3.8
µg
|
Calcium:
253.3
mg
|
Iron:
5.5
mg
|
Magnesium:
169.5
mg
|
Phosphorus:
408.8
mg
|
Zinc:
2.8
mg