This TVP Taco Meat recipe is a delicious meat-free alternative for taco nights, ready in 15 minutes.
Bonus, textured soy proteins are not very expensive, so it's a great low-cost, high-protein vegan meal.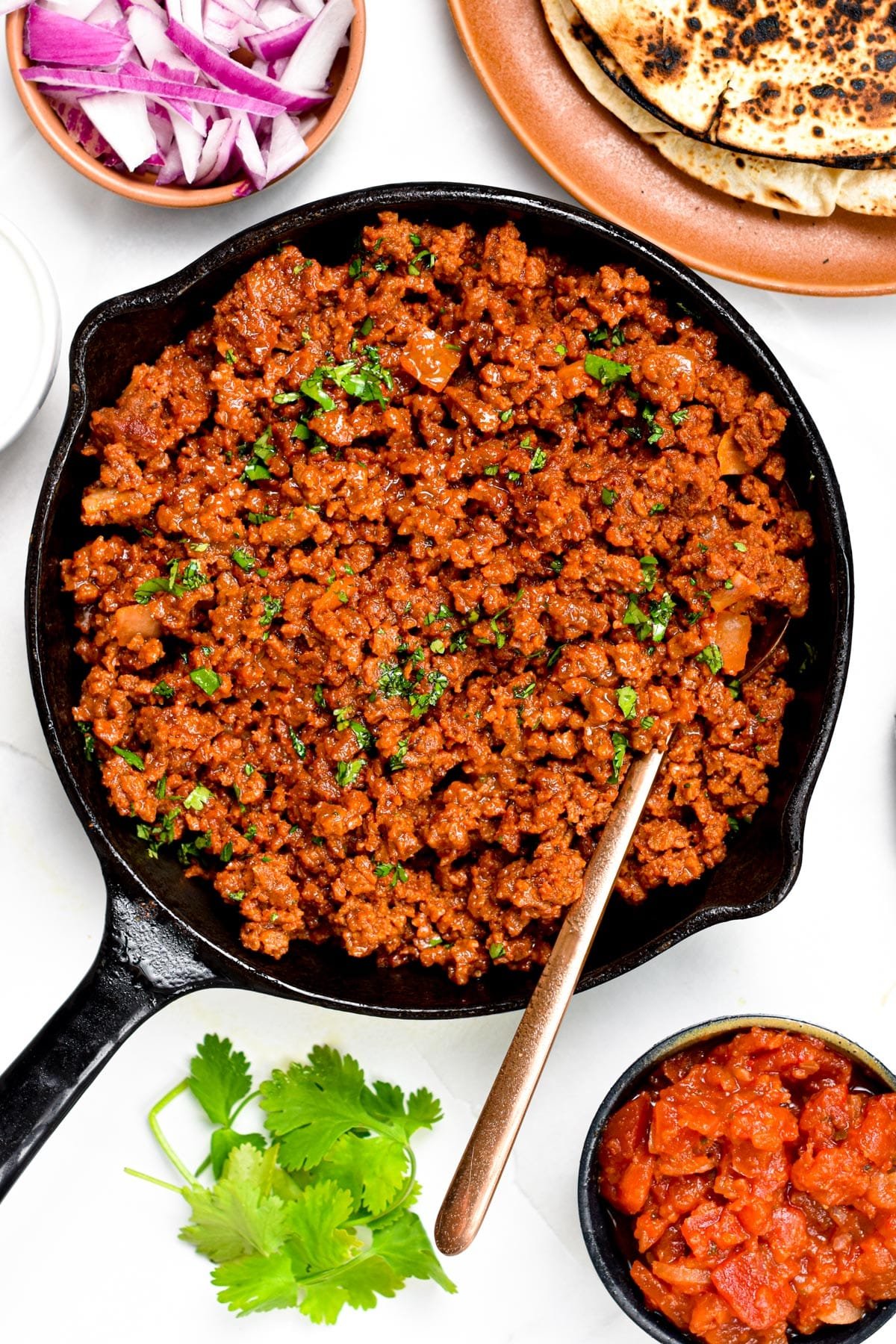 We love taco night and when we don't use lentils or black beans in tacos, we love TVP, Textured Vegetable Proteins.
It tastes like ground meat, looks like ground beef, but it's so much healthier for you and only made from one ingredient. Soy.
How To Make TVP Taco Meat
It's so easy and quick to make delicious juicy, meaty taco meat with soy proteins that you will make this recipe over and over again.
Ingredients
All you need to make flavorsome vegan taco meat from soy textured proteins are:
TVP – Also sold as Soy Textured Protein.
Olive Oil or avocado oil
Yellow Onion, finely chopped
Garlic
Vegetable Broth
Cauliflower Rice or broccoli rice. This is optional, but it adds vegetables to the recipe and an extra firm ground texture. You can make your own by pulsing florets in a food processor or use frozen ready-made veggie rice.
Cumin
Paprika
Oregano
Low-Sodium Soy Sauce or Tamari sauce – this adds an umami flavor making the ground taste meaty.
Chili Powder
Tomato Paste
Water
Salt – Add only at the end if not salty enough. I found that vegetable broth and tamari are often enough.
Preparation
In a non-stick frying pan, warm olive oil over medium high heat. Add onion and garlic, and cook until fragrant and slightly golden.
Stir in the TVP, cauliflower rice (if used), and all the spices: cumin, paprika, oregano, and chili powder. Stir and cook for one minute or until fragrant.
Add the tomato paste, vegetable stock, water and stir well to combine and coat the ingredients with the liquids.
Cover the pan and reduce to low heat and let it simmer for 3 to 4 minutes or until the TVP absorbs the liquid.
Uncover, bring back to medium heat, and keep cooking until the mixture dries out and the liquid evaporates.
Add-Ons
This recipe has endless possibilities and you can add so many vegetables or ground nuts to it for a boost of nutrients.
For example, try stirring 1/2 cup to 1 cup of the below ingredients after frying the onions:
Cauliflower Rice
Chopped Red Bell Pepper
Corn Kernel
Broccoli Rice
Ground Walnuts
Spices
You can adjust the flavor of the taco meat by adding some of the below ingredients.
For a cheesy flavor, stir in 1-2 tablespoons of nutritional yeast.
Spicy – stir in 1-2 teaspoons of hot sauce.
Jalapeno slices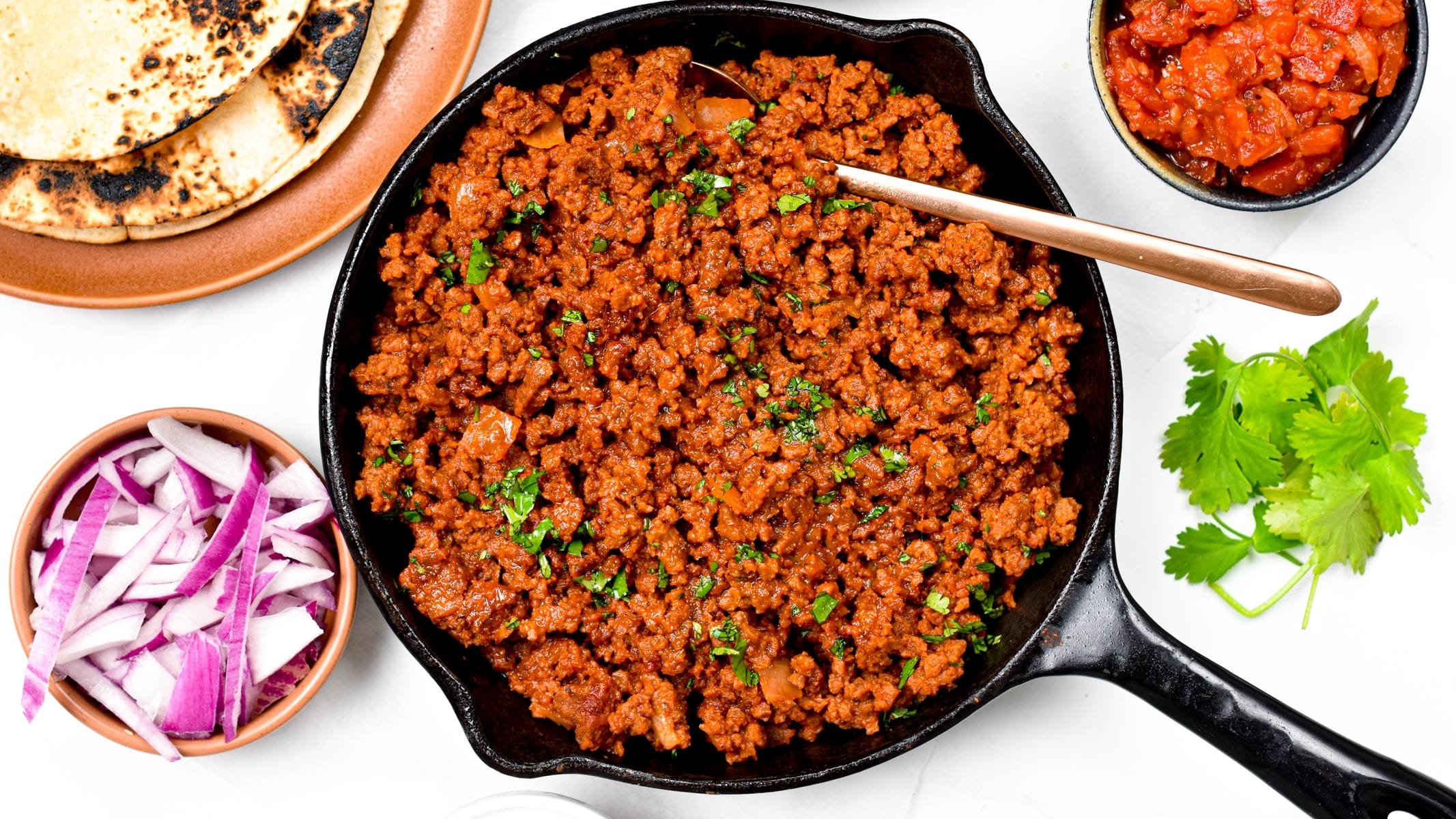 Serving
This recipe makes the most tasty TVP vegan tacos and they are perfect to fill any of your favorite taco base like:
Or make loaded nachos by adding this ground on top of corn tortillas chips. Use my air fryer tortilla chips recipe to make your own.
Vegan TVP Taco Topping Ideas
The best toppings for these tacos are vegetables, dairy-free cheese, and sauce.
Some of the best fillings to add with a TVP taco are:
Corn
Vegan Sour Cream or coconut yogurt
Fresh Cilantro
Fresh Slices of Red Onion
Guacamole
Fresh Avocado Slices
Jalapenos Slices
Vegan Cheese like vegan cheddar
Storage Instructions
Store TVP taco meat leftovers in the fridge for up to 3 days in an airtight container.
If you like to meal prep, place the cooked TVP meat in a sealed glass box with some coconut jasmine rice on the side, for example.
Then, freeze the portions for up to one month.
Rewarm the TVP meat in a saucepan or microwave before serving.
Allergy Swaps
Here are some options if you need to swap the ingredients in this recipe.
Gluten-Free – The recipe is naturally gluten-free, using tamari sauce or coconut aminos.
Low-FODMAP – skip the onions.
Oil-Free – You can simply dry-fry the TVP and cauliflower rice in dry spices then cook it with the remaining liquid ingredients.
Frequently Asked Questions
Below I answered your most common questions about this recipe.
What Is TVP?
TVP stands for Textured Vegetable Protein, and it's also called textured soy protein.
It has a ground texture, like ground meat, and can be white or brown if caramel coloring is added to it.
It's a healthy vegan protein source because soy is a complete protein containing all the essential amino acids your body needs to thrive.
Plus, when rehydrated with broth or water, TVP looks like ground meat, so it's the perfect meat-free option for everyone starting a plant-based diet.
Is TVP Healthy?
Yes, TVP is made from only one ingredients: soy.
It's a very clean source of proteins for vegans and vegetarians that is also cheaper than any processed vegan meat alternatives.
Can I Use Ready-Made Taco Seasoning?
Yes, you can use taco seasoning from the grocery store, but skip all the dry spices and salt in the recipe.
Replace it with two teaspoons of taco seasoning.
Where Can I Buy TVP?
TVP is usually sold in the organic aisle or vegetarian section of grocery stores.
Otherwise, you can buy TVP from a health food store or online.
Have you tried this TVP taco meat recipe? Share a comment or review below to connect with me.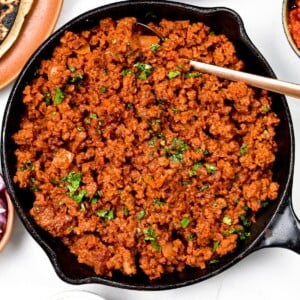 TVP Taco Meat
This TVP Taco Meat recipe is a delicious meat-free alternative for taco nights, ready in 15 minutes. Bonus, textured soy proteins are not very expensive, so it's a great low-cost, high-protein vegan meal.
Pin
Print
Review
Save
Saved Recipes
Servings:
6
tacos (1/2 cup)
Shop My Tools
Instructions
In a large skillet or Dutch oven, heat olive oil and stir-fry the onion and garlic until fragrant – about 1 minute.

Stir in TVP, cauliflower rice if used, and all spices: cumin, garlic powder, paprika, oregano, and salt chili powder. Cook, stir for 1 minute until spices are fragrant.

Stir in tomato paste, vegetable broth, water, and tamari sauce.

Reduce heat, and simmer for 3 minutes, covered, stirring once in a while or until TVP absorbs the broth.

Remove the lid and keep cooking for 3-4 minutes until the mixture is dryer and TVP fluffier.

Taste and add more salt if desired.
Share on Facebook
Pin Recipe
Nutrition
Serving:
1
serving
|
Calories:
110.8
kcal
|
Carbohydrates:
13.4
g
|
Protein:
11.4
g
|
Fat:
1.6
g
|
Saturated Fat:
0.3
g
|
Polyunsaturated Fat:
0.2
g
|
Monounsaturated Fat:
1
g
|
Sodium:
645.6
mg
|
Potassium:
338.4
mg
|
Fiber:
4.9
g
|
Sugar:
6.4
g
|
Vitamin A:
482.2
IU
|
Vitamin C:
19.2
mg
|
Calcium:
86.9
mg
|
Iron:
3.3
mg
|
Magnesium:
17.7
mg
|
Phosphorus:
41.2
mg
|
Zinc:
0.3
mg