Air Fryer Tortilla Chips (3 Flavors)
The crispiest Air Fryer Tortilla Chips, ready in 8 minutes, quick to make in large batches for a delicious healthy party food much healthier than store-bought chips!
Bonus, these tortilla chips are made with only 3 ingredients so it's a quick healthy snack!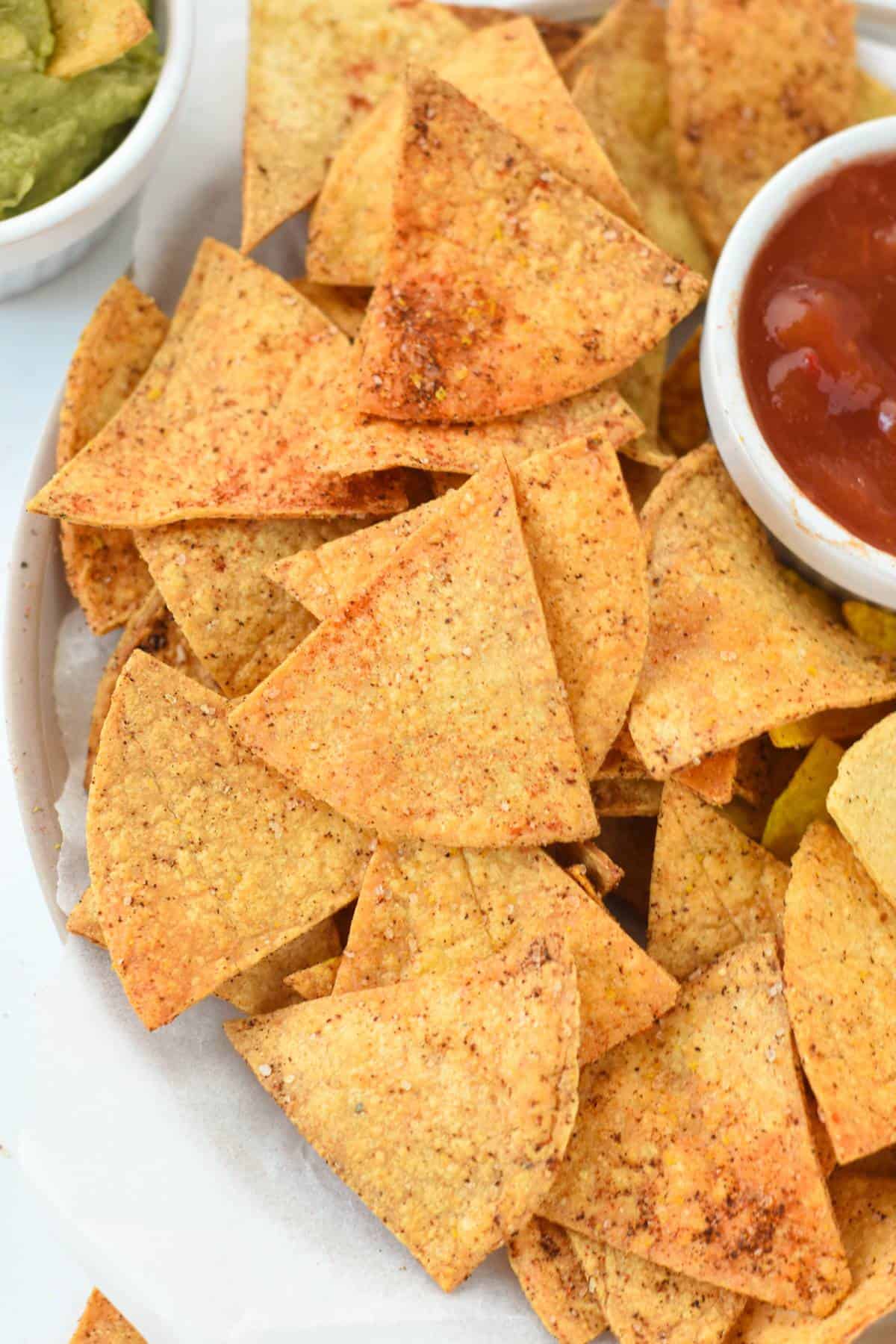 How To Make Tortilla Chips In An Air Fryer
There's nothing easier than making crispy chips in your air fryer.
Ingredients
All you need for these homemade tortilla chips: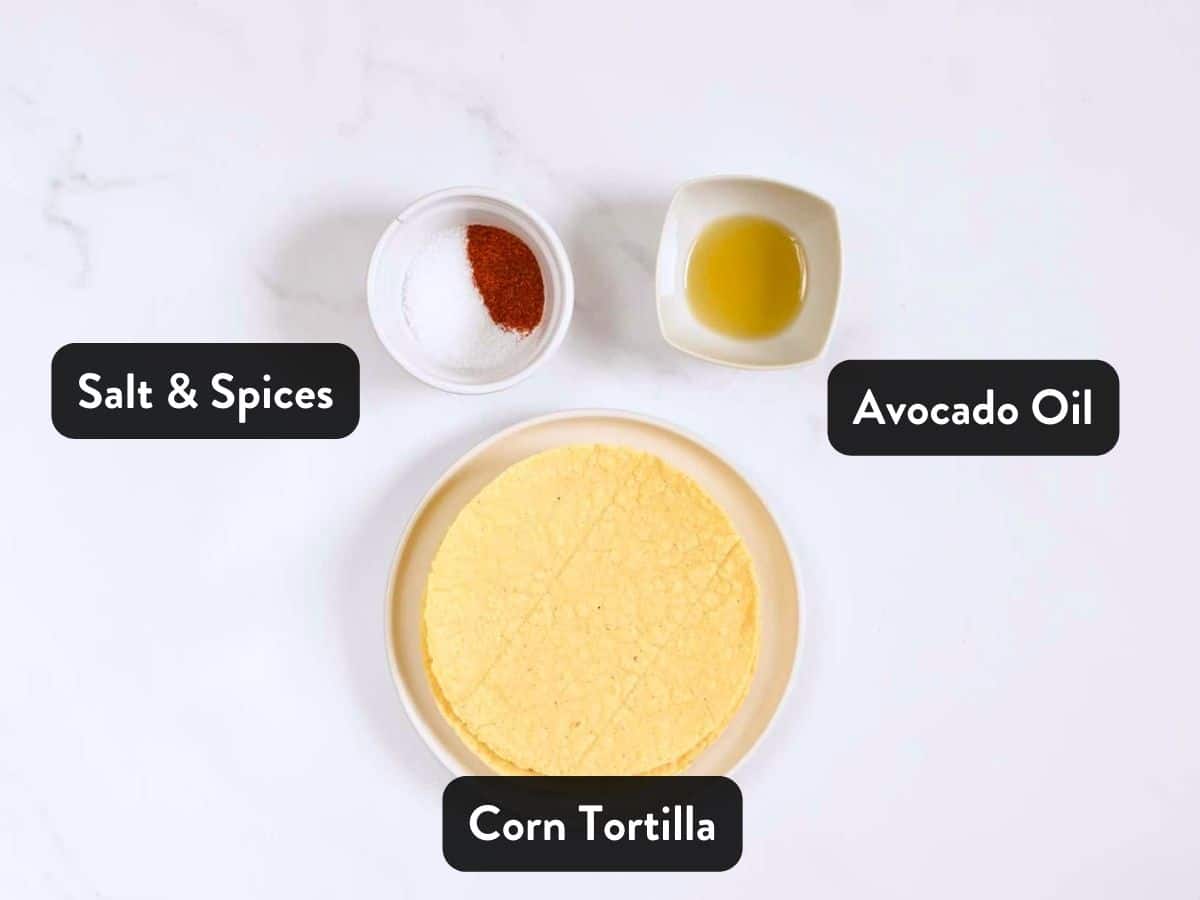 Yellow Corn Tortilla – it can also be white corn tortillas, wheat-based tortillas, or whole wheat tortillas. Actually, any kind of tortillas wrap makes great crispy chips. Then, depending on your food allergy or taste preference, you can pick a gluten-free tortilla or high fiber, low-carb tortilla brand. You can also use flour tortillas if you can't find corn tortillas.
Avocado oil – that's the best oil for your air fryer simply because avocado oil has a high smoke point. It means it's a stable oil at high temperatures – meaning it's better for your health.
Salt
Now, of course, we all love flavored tortilla chip recipes so let me share some tasty spices you can add to the recipe:
Smoked Paprika
Garlic Powder
Onion Powder
Italian Herbs
Taco Seasoning
Garlic-Infused Oil – if you can find garlic-infused avocado oil, or olive oil, go for it! This gives the chips the best flavor.
Nutritional Yeast – this adds a nacho cheese flavor without adding dairy to the recipe. Plus, it adds a good bunch of vitamin B to the blend.
Making Tortilla Chips
Cutting The Tortilla Wraps: First, place the 6 tortilla wraps in a stack on a chopping board and cut them into triangles with a kitchen knife or pizza cutter.
Prepare The Spices: Combine the spices in a small mixing bowl.
Coating: Next, in a large mixing bowl, combine oil, salt, and spices of your choice. Then, place the cut tortilla chips in the bowl and toss to cover the chips with the mixture evenly.
Laying In The Basket: I know that many recipes will tell you to place your tortilla chips in a single layer, but I won't! You don't have to waste time air frying the chips in a single layer at all!
Air fryers pulse air in a convection movement that goes easily through light food like tortilla chips.
Fast Method – Air Frying A Large Batch
So my tip is to air fry half of this recipe batch at a time. Set the air fryer to 400°F (200°C), no preheating required, and set the cooking time for 4 minutes.
Open the basket after that first time, and remove any chips that are eventually cooked already. Give a good shake to the chips in the basket.
Close the basket again and keep air frying for 3 or 4 minutes until crispy and golden.
If some chips cook faster than others, remove them from the basket.
Slow Method – Air Frying A Small Batch
Most recipes recommend laying the chips in a single layer in the basket. It makes the tortilla chips flat, with a perfect shape. But also, it takes way longer to air fry the whole batch.
For this method, set the air fryer to 350°F (180°C). Then, air fry the chips in a single layer in the basket for 4 or 5 minutes in total or until the chips are golden and crispy.
Should I use foil or parchment paper with my air fryer?
You don't need to use foil or parchment paper for these tortillas as they are easy to transfer.
Read when to use parchment paper in an air fryer and whether using foil is safe with an air fryer.
Flavoring
I highly recommend adding a boost of flavor to the air-fried nachos when they are still hot.
Sprinkle extra flavoring on top of the hot tortilla chips like:
You can also make sweet tortilla chips by sprinkling cinnamon sugar instead of salt and spices.
Cool on a plate at room temperature. Meanwhile, air fry the remaining batch of tortilla chips.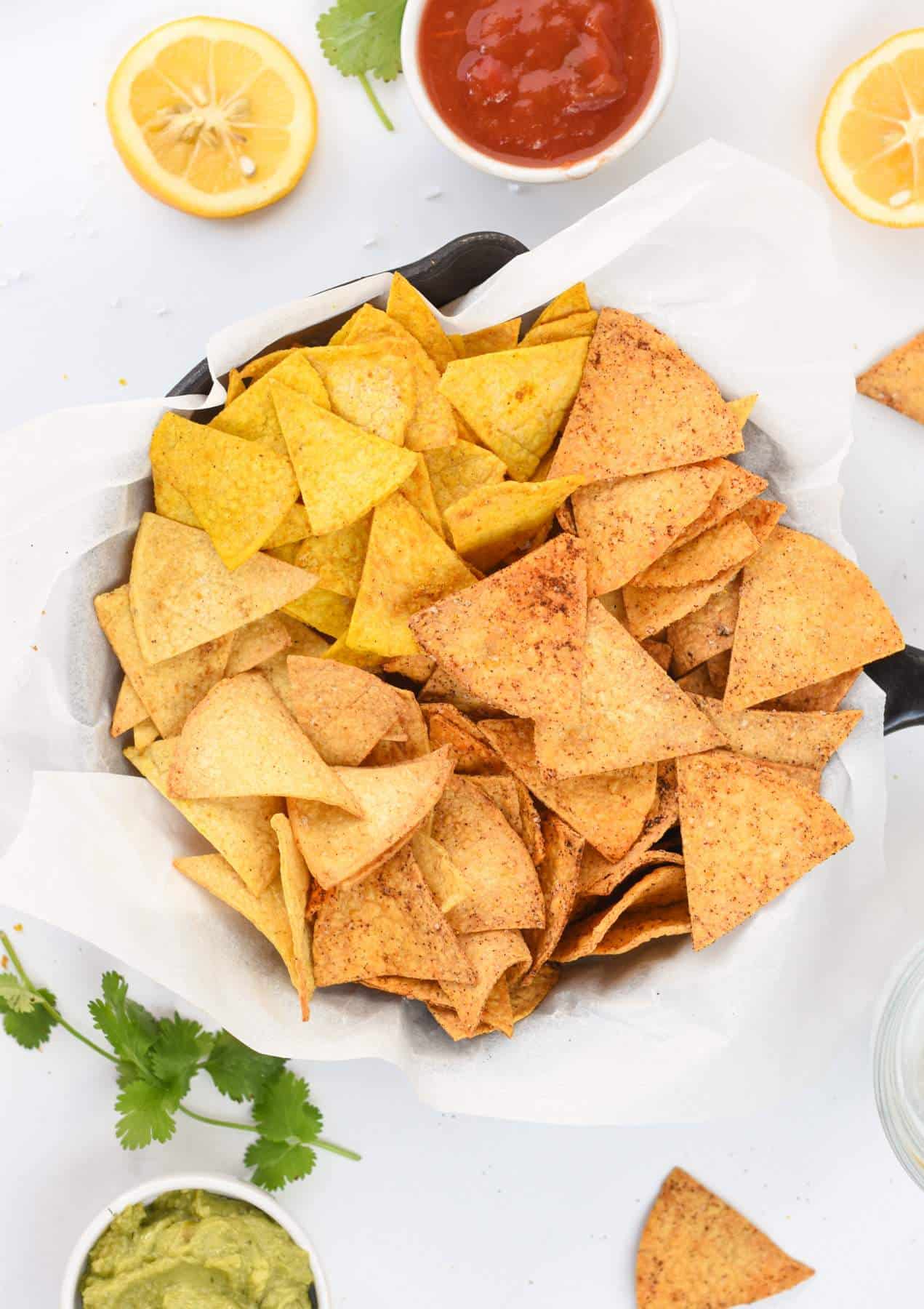 Serving Tortilla Chips
Of course, tortilla chips are always better with dips. So, serve these tortilla chips with your favorite dips like:
Marinara sauce
Guacamole
Salsa sauce or Pico de Gallo
You can also use this tortilla chips recipe to make your own loaded nachos or nacho bowls by cooking my Vegan Birria Tacos as a hearty dipping sauce or my TVP Taco Meat.
It's also delicious served on a Mexican platter with my Vegan Cornbread Recipe and Vegan Birria Tacos With Jackfruit.
Storage Instructions
These homemade air fryer nacho chips can be stored for up to 4 days in the pantry in a sealed box or airtight container.
You can also freeze in bags and thaw at room temperature before serving.
Frequently Asked Questions
Can I Use A Cooking Spray?
Some recipes use a cooking spray to cover the chips with oil, but I personally don't like this option for air fryer tortilla chips.
In fact, cooking sprays contain additives that are not good for you or the air fryer basket.
Many air fryer baskets lose their non-stick layer using store-bought cooking spray.
Then, it's hard to measure how much spray you need, and you often end up with under-covered or over-covered chips.
As a result, the chips don't cook the same way. Some are ultra-dry and unflavored, and others oily.
Air Fryer Tortilla Chips vs. Oven-Baked Tortilla Chips
Air fryers are the new trend, and when it comes to homemade tortilla chips, they beat an oven on so many levels!
– Cook a large batch in 8 minutes max
– No preheating required
– No parchment paper needed
– Easy cleaning
– Minimal oil
More Appetizer Recipes
I love to create homemade appetizers as healthy and easy party food for the weekend. Below I listed more appetizer recipes you may want to try:
Have you made these air fryer tortillas chips? Share a comment or review below to let me know how it went!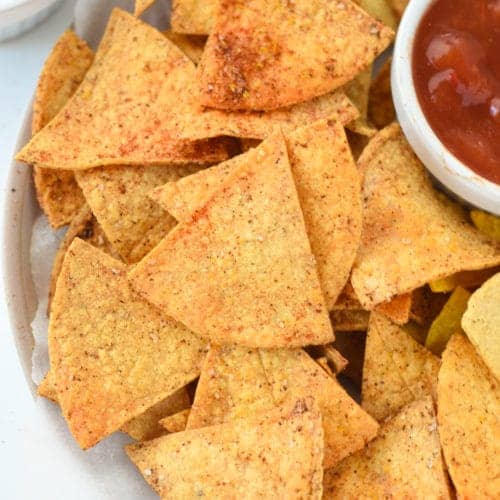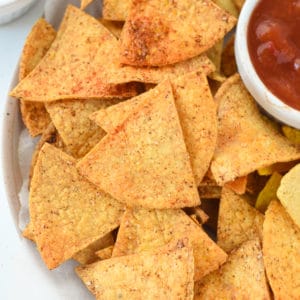 Air Fryer Tortilla Chips
An easy recipe to make quick 3-ingredient Air Fryer Tortilla Chips in less than 10 minutes!
Pin
Print
Review
Servings:
6
servings (6 chips each)
Ingredients
Classic flavor
6

Yellow Corn Tortillas

-

or wheat tortillas or white corn tortillas

1

tablespoon

Avocado Oil -

or olive oil

½

teaspoon

Salt
Instructions
Stack the tortillas on top of each other. Cut the tortilla wraps into 6 triangles, so you get 36 triangular chips – look at my pictures above in this post for visual help.

In a small mixing bowl, whisk oil, salt, and spices of choice based on the flavor you choose. Set aside.

Place the tortilla chips in a large mixing bowl, pour the oil mixture on top and gently toss the tortilla chips in the mixture using your finger, rubbing the chips to coat with flavored oil. They won't be perfectly coated on all parts, and that's ok. You don't want to use more oil to keep them healthy!

Now you have two options. If you have an XXL air fryer basket, you can air fry half the recipe batch at once. The tortillas chips won't be as flat but will have different shapes. Some will be curly.

Air frying small batch: air fry chips, placing them in a single layer in the basket. Set air fryer to 350°F (180°C). Air fry for 6-8 minutes or until golden and crispy – I like to check after 6 minutes and remove the one already crispy. If not crispy after that time, keep air frying until crispy and golden on the edges.

Air frying large batch: place half the batch in the air fryer basket. Set air fryer to 400°F (200°C). Air fry for 6-8 minutes in total shaking basket every 2 minutes, unsticking chips that may stick together. Keep air frying/shaking basket every 2 minutes until all chips are crispy.

Cool the cooked chips on a wire rack and air fry the remaining batch, following the same instructions.
Share on Facebook
Pin Recipe
Nutrition
Serving:
1
serving (6 chips)
|
Calories:
13.8
kcal
|
Carbohydrates:
2.1
g
|
Protein:
0.3
g
|
Fat:
0.5
g
|
Saturated Fat:
0.1
g
|
Polyunsaturated Fat:
0.1
g
|
Monounsaturated Fat:
0.3
g
|
Sodium:
34.4
mg
|
Potassium:
13
mg
|
Fiber:
0.3
g
|
Sugar:
0.1
g
|
Vitamin A:
27.6
IU
|
Vitamin C:
0.1
mg
|
Calcium:
4
mg
|
Iron:
0.1
mg
|
Magnesium:
3.4
mg
|
Phosphorus:
14.3
mg
|
Zinc:
0.1
mg