Lentil Taco Meat Ready in 15 minutes
An easy lentil taco meat recipe to use as a meat replacement on your taco night! Bonus, it takes just 15 minutes to make a batch of this vegan lentil taco meat, and it's also gluten-free and packed with plant-based iron.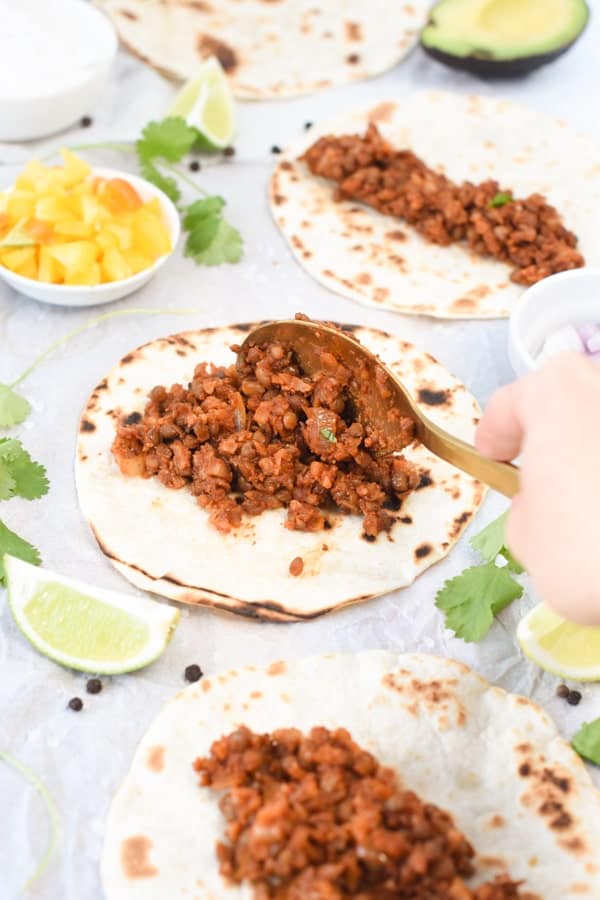 How to make lentil taco meat?
Lentil taco meat is the easiest, healthy meat replacement recipe you can whip at home in less than 15 minutes. It's also very cheap to make and perfect for anyone who starts a vegan diet and looks for a tasty, filling protein meal.
All you need to make lentil taco meat are:
Cooked lentils – use canned brown lentils. This is the faster way to make this recipe. Of course, you can also use raw brown lentils or raw green lentils, soak them overnight and cook following the packaging instructions. But this is time-consuming, and the nutrition properties will be pretty similar. So if you are hungry for a healthy dinner, use canned lentils!
Olive oil
Onion
Cauliflower rice – I used frozen ready-made cauliflower rice. You can also use a fresh head of cauliflower and pulse in your food processor with the S blade attachment to make your own. Another option is to make lentil walnut taco meat and replace cauliflower with finely chopped walnuts.
Vegan Worcestershire sauce or tamari sauce.
Tomato paste
Vegetable broth
Cumin
Salt
Paprika
Oregano
Chili powder
Salt
Garlic powder
In a large frying pan, heat olive oil under medium heat. Stir fry onion until fragrant and golden. Then, stir in cooked, drained canned lentils and cauliflower rice – fresh or frozen.
Add all the spices and stir fry for 2 minutes until fragrant.
Finally, pour the vegetable stock, tomato paste, and vegan Worcestershire sauce. Reduce heat, and simmer for about 5 minutes, occasionally stirring until the mixture thickens.
How to use lentils as a meat substitute
You can use this taco lentil recipe as a meat substitute for any Mexican dish like :
But also to replace meat in vegan lasagna, spaghetti, or to stuff a spaghetti squash recipe.
Which lentil color should I use?
To make lentil taco meat, you must use cooked lentils. It can be:
Cooked green lentils
Cooked brown lentils
Red split lentils – not my favorite choice because precooked red lentils often turn mushy if cooked for too long in a sauce.
How to cook lentils
You can cook raw green or brown lentils on a stovetop or slow cooker.
As a general rule, you need 3 cups of water or vegetable stock per cup of dry lentils.
Place the raw lentils into a large saucepan, cover with cold liquid. Bring to a boil, cover tightly, and reduce heat. Simmer until the lentils are tender – depending on lentils varieties, it can take between 15-20 minutes.
Red split lentils cook way faster – more around 8-10 minutes.
Frequently Asked Questions
Do lentils have more iron than meat?
Lentil is very much comparable to meat when it comes to iron:
1 cup of cooked lentils has 6.6 mg of iron.
1 cup cooked ground beef 6.5 mg of iron.
However, iron from animal sources is made of 40% heme iron and 60 % non-heme iron, compared to plants that are made at 100% of non-heme iron.
Studies have shown that non-heme iron is not as readily absorbed as heme iron. So while lentils are great sources of plant-based iron on a vegan diet, it is not as well absorbed as meat iron.
Since lentils are 100% made of non-heme iron, you have to eat a larger amount of cooked lentils than cooked beef to reach the same level of iron intake.
Also, to improve iron absorption, it's important to pair lentils with vitamin-C-rich food, like tomato sauce or orange juice.
Can lentils replace meat?
You can absolutely replace meat with lentils in most meat-based recipes. It has a similar texture as ground meat, and when seasoned with the right spices, it tastes like beef.
How to store taco lentil meat?
Lentil taco meat store for up to 5 days in an airtight container in the fridge. You can also freeze the mixture and thaw the day before using it in any recipe.
Can I replace The Cauliflower With something else?
You can replace cauliflower rice with many other options. Some people are sensitive to cauliflower, so below, I listed some IBS-friendly replacements to cauliflower. Choose from one of those:
Chopped walnuts
Sunflower seeds
Cooked quinoa – quinoa is a complete plant-based protein and a great addition to lentil taco meat to boost the protein profile of the recipe.
Cooked brown rice
Hemp hearts
If you are after a spicier recipe, try my Vegan Birria Tacos!
Vegan tortillas bread recipe
Below I listed my favorite homemade vegan tortillas and tacos recipe to fill with this taco meat recipe and enjoy a vegan taco night.
You can also eat this lentil taco meat onto tortilla chips to make loaded nachos.
Made this vegan lentil taco meat recipe? Share a review or comment below!
Your friend, Carine
Lentil Taco Meat
An easy lentil taco meat recipe, delicious in any Mexican dishes to fill tacos or burritos.
Pin
Print
Review
Save
Saved Recipes
Servings:
8
tacos (1/4 cup lentil meat)
Ingredients
2

teaspoons

Olive Oil

½

Yellow Onion -

diced

1 ¼

cup

Cooked Brown Lentils

-

equivalent 1 can 15 oz, rinsed, drained

1 ¼

cup

Cauliflower Rice

-

fresh or frozen, see note to make your own*

1

teaspoon

Cumin

1

teaspoon

Salt

½

teaspoon

Garlic Powder

½

teaspoon

Paprika

½

teaspoon

Oregano

¼

teaspoon

Chili Powder

¼

cup

Vegetable Broth

3-4

tablespoons

Vegan Worcestershire Sauce

-

or tamari sauce

½

cup

Tomato Paste
Instructions
In a large skillet, heat olive oil and stir fry the onion until fragrant - about 1 minute.

Stir in cooked, drained, canned brown lentils and cauliflower rice and stir fry for 1 minute.

Stir in spices: cumin, garlic powder, paprika, oregano, salt chili powder.

Stir in tomato paste, vegetable broth, and vegan Worcestershire sauce.

Reduce heat, simmer for 5-6 minutes or until the mixture thickens. The longer you cook the lentils, the thicker and dryer the sauce will be. For a smoother sauce, stop heat around 3-4 minutes.
Notes
Cauliflower rice: I used ready-made frozen cauliflower rice. To make your own from fresh cauliflower, cut cauliflower florets and pulse in a food processor using the S blade attachment until it forms a 'rice' like texture. Cauliflower rice swap: replace by finely chopped walnuts for an IBS-friendly option. Cooking raw brown lentils: scroll up in this post to check my tips on cooking raw lentils.
Share on Facebook
Pin Recipe
Nutrition
Serving:
1
serving (1/4 cup lentil meat)
|
Calories:
75
kcal
|
Carbohydrates:
13
g
|
Protein:
4
g
|
Fat:
1
g
|
Saturated Fat:
1
g
|
Polyunsaturated Fat:
1
g
|
Monounsaturated Fat:
1
g
|
Sodium:
522
mg
|
Potassium:
426
mg
|
Fiber:
4
g
|
Sugar:
4
g
|
Vitamin A:
306
IU
|
Vitamin C:
18
mg
|
Calcium:
31
mg
|
Iron:
2
mg
|
Magnesium:
25
mg
|
Phosphorus:
89
mg
|
Zinc:
1
mg