Tempeh Meatballs Vegan Greek Meatballs
Tempeh Meatballs are easy 1-bowl vegan meatballs with delicious Greek flavors.
They are delicious, gluten-free, vegan meatballs to make Greek meatballs, gyros, or salads.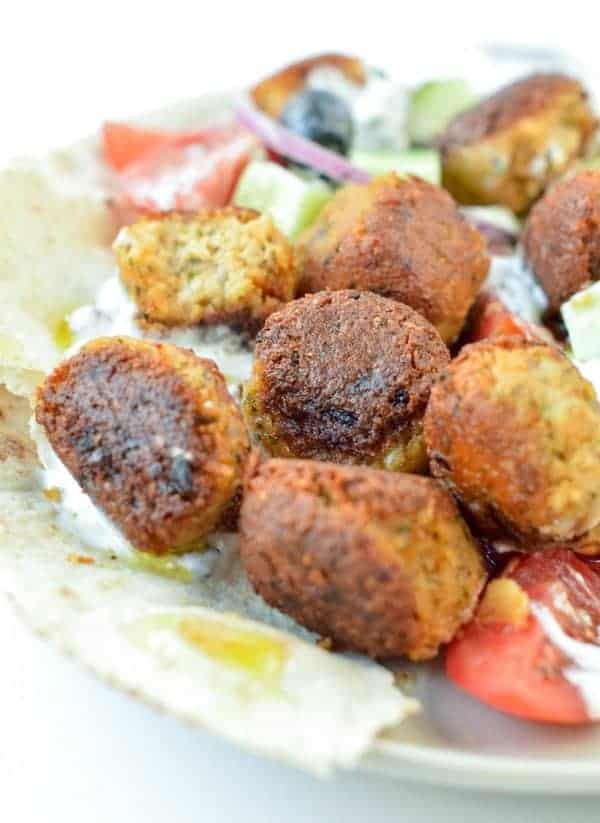 What Is Tempeh?
Tempeh is made of fermented soybeans using a fungus called tempeh starter.
It has a dense and firm texture compared to tofu. The fermentation process binds the soybeans into a hard block and adds up protein, fiber, and vitamins.
It has a strong earthy flavor, perfect for creating vegan meat-substitute recipes with flavors and texture.
Also, most tempeh you can buy is fortified in vitamins B12. It's a great nutritional addition for people on a vegan diet as vitamin B12 is quite rare in plant-based foods.
How To Make Tempeh Meatballs
Tempeh meatballs can be flavored with any combo of spices. However, if you've been reading me for a while, you know I am French, and I have a passion for Mediterranean flavors.
Ingredients
Greek tempeh meatballs are the most flavorsome made with only 10 simple ingredients:
Tempeh – I used vitamins B12-fortified organic tempeh.
Red Onion – you can also use yellow or white onion, but the best flavors come from red onions in this recipe.
Garlic – I prefer fresh crushed garlic, but if you only have garlic powder, it works as well.
Parsley – I used Italian flat parsley.
Mint Leaves – Fresh mint leaves will give much better flavors than dried leaves.
Dried Oregano
Salt
Tomato Paste – Tomato Paste is slightly thicker than Tomato Passata,
Vegetable Stock
Tabasco or chipotle sauce – this is optional but great to spice up the meatballs.
Making A Tempeh Meatballs Salad
Tempeh meatball salad makes a delicious vegan, low-carb lunch. Simply combine the vegetables below into a plate or glass container:
Diced cucumber
Tomatoes – cut in quarters.
Black olives
Red onions sliced
Lemon juice – simply squeeze fresh lemon juice on your salad and olive oil if desired.
Hot tempeh meatballs – add the hot meatballs on top of the salad with mint coconut yogurt sauce.
If you intend to take away the salad, store the meatballs separately from the salad.
Rewarm the meatballs in a warm saucepan or sandwich press before serving them on top of the salad.
Sauce Options
There are plenty of delicious sauces to drizzle or dip your meatballs. The best choices are :
Mint coconut yogurt sauce – this tastes like Greek tzatziki sauce. It's thick and creamy with a delicious mint, lemon, and garlic flavor. It's ready in 2 minutes. See the recipe below.
Vegan aioli or mayonnaise
BBQ sauce
Tomato sauce
Vegan cheese sauce – my vegan nacho cheese sauce pairs really well with these meatballs!
More Vegan Lunch Recipes
If you liked these meatballs, try the following recipes:
If you enjoy this recipe, save this on Pinterest for later. If you made it, don't forget to leave me a review below!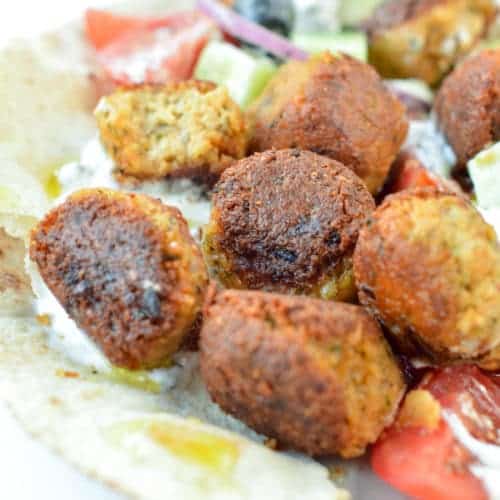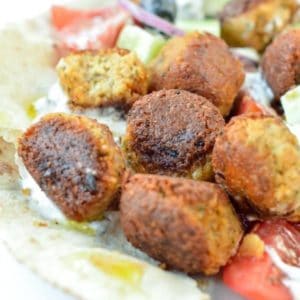 Tempeh Meatballs
Tempeh meatballs are easy 1-bowl vegan meatballs with delicious Greek flavors. They are delicious gluten-free vegan meatballs to make Greek gyros or salads.
Pin
Print
Review
Ingredients
Mint Coconut yogurt sauce
To fry the meatballs
4

tablespoons

Grapeseed Oil

-

or high smoke point oil of your choice
Instructions
In a food processor, using the S blade attachment, add all the meatballs ingredients except the chickpea flour!

Blend on high speed for 20 seconds or until the tempeh starts to turn into a paste, but you still have bits of food.

Stop the food processor, scrape down the side of the bowl and add the chickpea flour. Blend on high speed for 10-15 seconds to combine. Don't overdo it. This will keep some tiny bits of food and give more texture to the meatballs. Don't worry. The recipe will also work if you blend for too long. You will just lose some texture. Otherwise, you can also transfer the meatball batter to a mixing bowl and stir in the chickpea flour with a spoon.

Take one tablespoon of meatball batter and roll it between your hands. Place the balls onto a plate and repeat until you form 18 meatballs.

Warm 2 tablespoons of grapeseed oil on a frying pan. When the oil is very hot, add the meatballs and fry evenly, using a tong to rotate the meatballs into the oil and fry on all the sides.

Add more oil as they fry, up to 4 tablespoons in total. It takes between

8-12 minutes

to perfectly fry the meatballs.

Serve immediately on top of a salad of your choice or in a Lebanese flatbread with diced cucumber, quarters of tomatoes, black olives, red onions slices, and a generous amount of mint coconut yogurt sauce.
Storage and freezing
Store the meatball, cooked or uncooked, in the fridge for up to 3 days. Make sure you store them in an airtight container to prevent them from drying. If uncooked, fry as usual. If already cook, rewarm in a hot oven for

5-10 minutes

at 150°C (300°F).

Freeze the meatballs in an airtight container. Place a piece of parchment paper at the bottom of the container to prevent the meatballs from sticking to the storage box. Leave half a thumb of space between each meatball. Defrost for 3-4 hours before frying or baking.
Coconut yogurt sauce
In a small mixing bowl, whisk all the ingredients together until it forms a creamy sauce.

Store in the fridge for at least

1 hour

, to enhance the flavor or serve immediately if desired.

Sore up to 1 week in the fridge in a glass mason jar.
Keep warm
If you fry the meatballs ahead, you can keep them warm in the oven. Place the fried meatballs on a baking tray. Place them in a hot oven at about 120°C (250°F) for a maximum of

30 minutes

to prevent them from drying out.
Notes
Baking your meatballs
The meatballs can be baked at 200°C (400°F), and the texture will be softer and less juicy. Place the meatballs on a baking tray covered with parchment paper. Bake for 20-25 minutes, rotating the meatballs halfway to bake them evenly.
Flour options
You can replace chickpea flour with the same amount of all-purpose flour or oat flour. The outside of the meatballs is slightly crumbly if you use oat flour.
Keto options, replace by 1/2 cup of almond flour.
The nutrition panel is for one meatball, including the frying oil.
Serving size
4 to 6 meatballs is a good serving size for a salad or gyros
Share on Facebook
Pin Recipe
Nutrition
Serving:
1
meatball
|
Calories:
83
kcal
|
Carbohydrates:
3
g
|
Protein:
3.1
g
|
Fat:
6.8
g
|
Fiber:
1.4
g
|
Sugar:
0.4
g