Vegan Spicy Black Bean Burger recipe with Sweet Potato
This vegan spicy black bean burger recipe is the easiest vegan gluten-free sweet potato black bean burger recipe with delicious Mexican spices.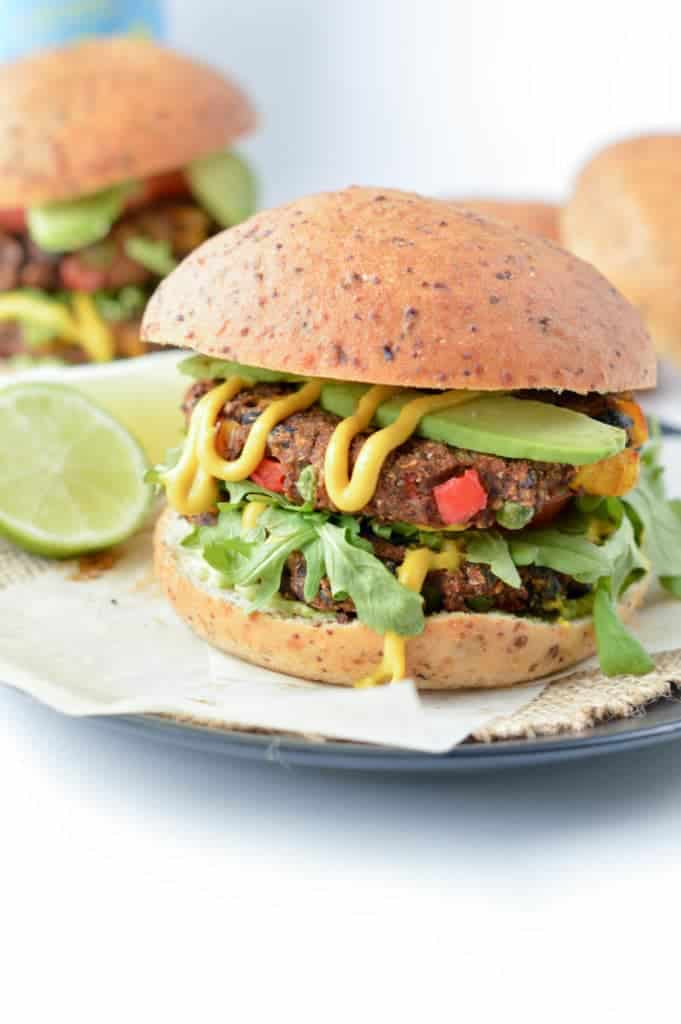 How To Make Black Bean Burger Patties
To make eggless black bean burger patties, you need to use a few starchy ingredients to bind the black bean patties together.
This recipe uses a combination of cooked sweet potatoes and rolled oats to create flavorsome, vegan burger patties that hold perfectly together.
Plus, these sweet potato patties are vegan gluten-free, and full of Mexican spices to create a delicious spicy vegan black bean burger.
Ingredients
Let's see the 6 simple ingredients you need to make these sweet potato bean burgers:
Black beans – one of the best plant-based proteins with 13 grams per 100 grams cooked (22g/100g raw). It also covers 28% of your daily needs in iron and 44% of magnesium DRI.
Sweet potatoes – this is your binder, and it replaces eggs to make black bean patties vegan while adding vitamins A and fibers.
Rolled oats – this adds texture to the patties, fiber, and protein.
Flour – you can use any flour. Brown rice flour or all-purpose gluten-free flours are great alternatives.
Onion
Spices – this is a Vegan Spicy black bean burger recipe, so there are lots of dry spices involved, including:

Garlic powder
Onion powder
Ground cumin
Smoked paprika
Salt
Chili powder
Cilantro
Of course, you can make this recipe without any additional ingredients, but boosting your vegan black bean sweet potato patties with veggies makes it even better!
It adds texture and protein to your meal. The ingredients I like to add to this sweet potato black bean veggie burger are
These vegetables create a rainbow patty that not only looks delicious but tastes amazing with real bites and chunks of food.
You can add these vegetables raw or stir-fry in a saucepan with a splash of olive oil under medium heat.
Baking The Sweet Potatoes
First, you need to cook the sweet potato to turn its flesh into a puree. The most flavorsome option is to roast the sweet potatoes in the oven.
Line a baking sheet with parchment paper and preheat the oven to 400°F (200°C). Cut the sweet potato lengthwise and place it on the prepared tray, flesh down.
Bake until fork-tender, then cool completely before scraping out the sweet potato flesh.
Blending All Ingredients
Next, add the sweet potato puree, cooked black beans, spices, onion, rolled ats, and flour into a food processor.
Process all the ingredients on medium/high speed until it sticks together and forms a sweet potato burger batter that can be shaped into patties easily.
Adding Veggies
Finally, add some crunchy vegetables if you feel like it into the batter. Use a spatula to stir in corn, peas, and diced capsicum into your vegan black bean burger recipe.
Don't process the added veggies using the S blade attachment of the food processor. It would turn the vegetables into a mash.
Shaping Black Bean Patties
A black bean burger patty batter is slightly sticky but pretty easy to shape with your hands into balls. First, divide the entire batter into 6 even balls.
Then, place each ball onto a baking sheet covered with oiled parchment paper and press each ball into a flat patty (about 0.4 inches, 1 cm).
Don't press the vegan patties too thin, or they can be dry.
Baking The Veggie Burgers
Baking – oil-free option
This is my favorite option because the patties come out crispy, they hold perfectly together, and are not greasy.
You can bake the patties onto a lightly oiled baking sheet covered with parchment paper. This is the best way to minimize oil and create a crispy patty.
I still recommend greasing the piece of parchment paper, or the patties are difficult to flip.
Frying
This option can break the patties, so it's not my favorite.
But if you don't have an oven, you can fry these black bean patties in a large frying pan in healthy hot oil.
I recommend avocado oil for frying food since it has a higher smoke point. F
Fry on one side for about 3-5 minutes, then flip on the other side and cook until crispy.
Assembling Black Bean Burgers
You can serve this Vegan Spicy black bean burger recipe with some of the ingredients below :
Avocado slice
Lettuce
Tomato slices
Vegan burger sauce – some sauces are naturally vegan like Dijon mustard or ketchup, but you can also find
Vegan cheese – there are delicious dairy-free cheese slices available at the grocery store. They melt really well onto hot vegan burger patties.
Making Vegan Patties Ahead
You can cook the sweet potato the day before and store your sweet potato flesh in the fridge to make the patties the next day.
Another idea is to make the burger patty batter the day before, store it in a sealed container in the fridge, and shape/bake the patties just before serving.
Storage Instructions
This recipe makes 6 burger patties that you will most probably cook altogether.
You can store the baked black bean patties in a sealed container in the fridge for up to 3 days or freeze them.
I recommend freezing the patties individually into silicone bags, for example, making it easier to thaw just one patty at a time.
You don't have to thaw the frozen patties before using them.
Simply warm olive oil in a medium saucepan and cook on low heat until hot in the center and crispy on the sides.
Allergy Swaps
We all have different dietary restrictions or ingredients shortage at home, so below, I listed some options to adapt the recipe to your needs
Black beans – the recipe also works with cooked, can red kidney beans. I didn't try other bean options in this recipe
Rolled oats – if you can't tolerate rolled oats, you can use quinoa flakes or millet flakes in this recipe. Both options are gluten-free
Flour – the recipe works very well with all-purpose flour, whole wheat flour, or brown rice flour if gluten-free
Onion – brown or red onion tastes great in this recipe. They are less spicy but still delicious
Cilantro – some people don't appreciate the flavor of coriander or cilantro. You can swap this with dried parsley or basil
More Vegan Meal Recipes
I love creating easy vegan dinner recipes that everyone loves. Below I listed some other delicious vegan recipes you may want to try.
Love this recipe? Share a review or comment below or join me on Instagram for more vegan recipe inspirations.
Your friend, Carine
Vegan Spicy Sweet Potato Black Bean Burgers
Ingredients
Black bean patties
½

cup

Baked Sweet Potato -

about 1 small orange sweet potato

1 ½

cup

Black Beans -

cooked, drained, rinsed (15 oz, 400 g), divided

¼

cup

Gluten-Free Rolled Oats

-

or millet flakes

¼

cup

Flour of Choice -

All-purpose or gluten-free all-purpose or brown rice flour

1

small

Onion -

finely diced

½

teaspoon

Garlic Salt

½

teaspoon

Onion Powder

1

teaspoon

Smoked Paprika

1

teaspoon

Ground Cumin

⅛

teaspoon

Chili Powder

½

teaspoon

Dried Cilantro

-

(also known as coriander) dried – optional if you don't appreciate the flavor
Vegetables – optional
¼

cup

Corn Kernel

-

canned or frozen

¼

cup

Green Peas

-

fresh or frozen

¼

cup

Red Peppers

-

cubed
Instructions
Preheat the oven to 400°F (200°C)
Bake the sweet potato
Cut the sweet potato in half lengthwise, place onto a baking sheet covered with parchment paper, flesh down. Use a fork to pick holes all over the sweet potato skin. Bake for

20-30 minutes

or until soft.

Carefully remove from the oven using oven mittens and scoop out the sweet potato flesh. Wait until it is fully cool down before using it in the recipe. You can also prepare the mashed sweet potato a few days before and store it in the fridge.
Make the black bean sweet potato patty batter
Add the cooled and cooked sweet potato flesh into a food processor, 3/4 cup black beans, and process for 15-30 seconds on medium speed to combine and form a mash.

Add rolled oats, flour, onion, all dry spices, and process again for 30 seconds until it forms a thick and sticky batter.

Transfer the burger mixture to a medium bowl and stir in the remaining black beans and some additional vegetables if you like: corn, peas, red bell pepper.

Cover two large baking sheets with parchment paper, lightly oil the paper with avocado oil.

Split the patty batter into 6 even balls and place each ball on the baking paper leaving 4 inches of space.

With your hand palm, press/flatten each ball into burger patty – thickness of your choice. I love mine 1 cm, 0.4 inches thick. The thinner, the crispier, and the faster they cook.

Bake at 400°F (200°C) for

25-30 minutes

or until crispy on the sides.

Remove from oven, and serve as a burger patty into a vegan burger bun. I recommend tomato ketchup and Dijon mustard sauce along with avocado slices, tomato slices, and lettuce.

Store in the fridge for up to 3 days in an airtight container. Rewarm in a lightly oiled frying pan or the oven for

8 minutes

at 300°F (150°C).
Freezing
Freeze your vegan black bean patties in an airtight container. Make sure they don't overlap, or it gets difficult to thaw individually. Otherwise, place a piece of parchment paper between each patty to prevent them from sticking together. Rewarm in a hot frying pan or the oven.
Share on Facebook
Pin Recipe
Nutrition
Serving:
1
patty
|
Calories:
118
kcal
|
Carbohydrates:
23
g
|
Protein:
6
g
|
Fat:
1
g
|
Saturated Fat:
1
g
|
Sodium:
216
mg
|
Potassium:
270
mg
|
Fiber:
5
g
|
Sugar:
2
g
|
Vitamin A:
1990
IU
|
Vitamin C:
11
mg
|
Calcium:
22
mg
|
Iron:
2
mg