Black Bean Brownies (Vegan, 1-Bowl)
These Black Bean Brownies are simple fudgy brownies loaded with protein from plant-based ingredients.
One serving of these decadent, chocolate-loaded brownies contains twice more protein than a regular brownie recipe thanks to the black beans! Plus, the recipe is gluten-free and vegan.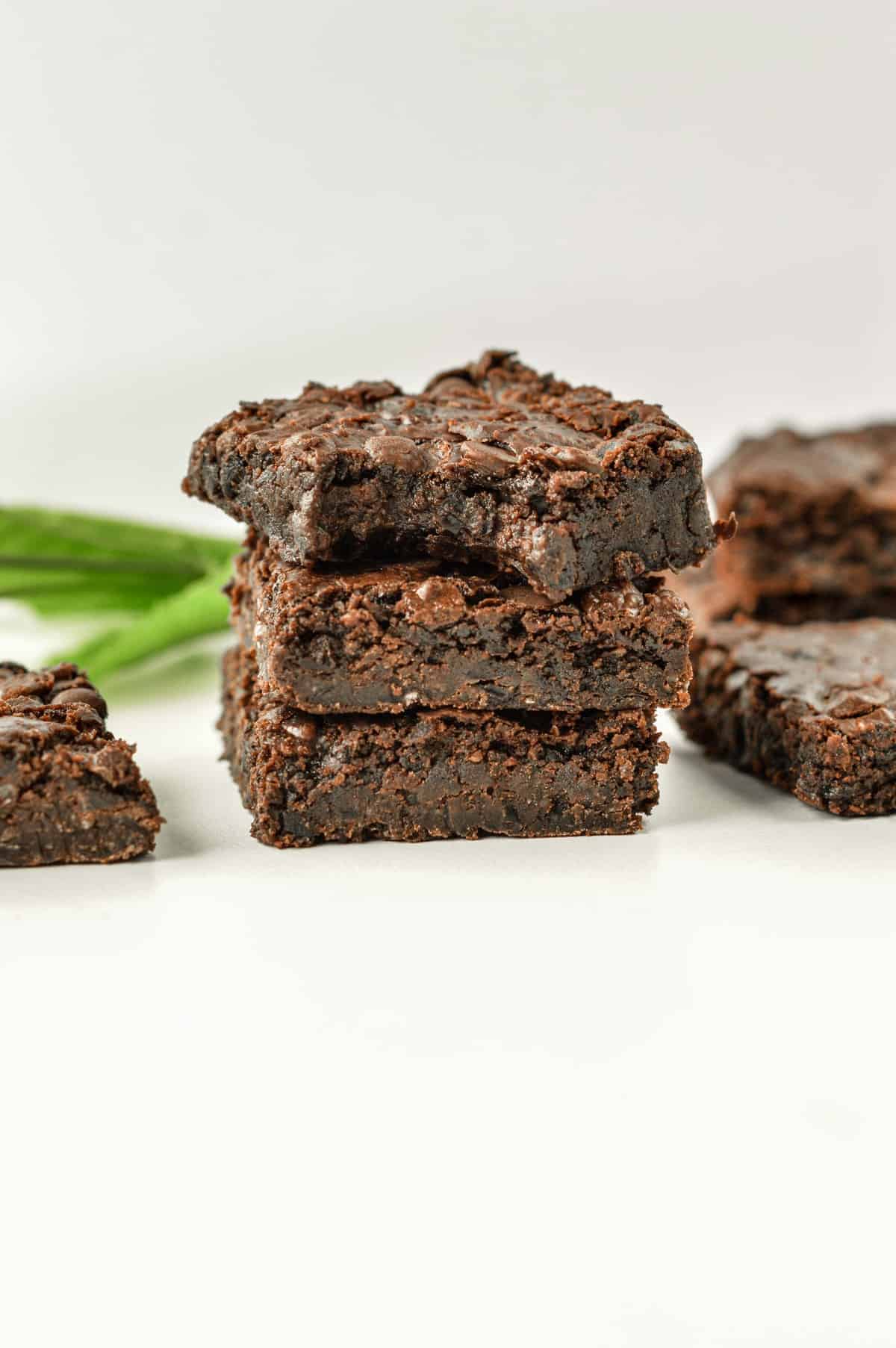 What Are Black Bean Brownies?
Black Bean Brownies are a fudgy of my vegan brownies made with black beans as the main ingredient to make a protein-loaded dessert.
Black beans are high in protein and a great source of iron which is particularly useful on a vegan diet.
As a result, black beans brownies are an excellent vegan dessert to indulge in sweet treats while bringing powerful nutrients to your body.
How To Make Black Bean Brownies
This recipe is super simple to make, it's one of my fastest brownie recipes.
All you need to make these is a food processor and 5 minutes.
Ingredients
You only need these simple ingredients to make these decadent fudgy black bean brownies perfect every time:
Black Beans – I recommend canned black beans. You can soak raw black beans overnight, but if you don't like to wait, go for canned black beans. Make sure you drain and rinse them well before using them in this brownie recipe.
Maple Syrup – or brown rice to lower the glycemic index or even Monk fruit sugar-free syrup if you want sugar-free black bean brownies.
Coconut Oil – or any nut or seed oil you like. Vegetable oils would work as well.
Oat Flour – Read how to make oat flour at home. You can also use all-purpose flour or gluten-free flour.
Flaxseed Meal – the tiny amount used in this recipe had the best chew to the brownies. You can also use ground chia seeds.
Unsweetened Cocoa Powder – or cacao powder.
Baking Powder
Baking Soda
Dark Chocolate Chips – this is optional. You can also use walnuts, pecan, or vegan sugar-free chocolate chips to decrease sugar.

Instructions
The trick to making fudgy black bean brownies is to be patient!
Before going into more details, let me share 3 tips to always get brownies with the best fudgy texture.
Don't over-bake – the best baking time is 15 minutes on convection mode or 18 minutes on regular mode. The brownie should be cracked on top but still soft in the center.
Cooldown at room temperature in the brownie pan – you must cool down your brownies for 15 minutes in the pan. That is during this step that the magic happens.
Refrigerate – this last step is not optional. Pop up your brownies for 10 minutes in the fridge. This will set the brownie, avoid crumbly brownies and deliver the best fudgy texture.

Preparing The Batter
Before starting the batter, preheat your oven to 350°F (180°C) and line your 8-inch x 8-inch brownie pan with lightly oiled parchment paper to make it easy to release.
Rinse the canned black beans in a sieve and discard the water.
If you want to use raw black beans, you will have to soak them overnight in water to soften them. If you were to place them in your food processor raw, you might break it.
Combine the black beans, coconut oil, and maple syrup in the bowl of a food processor. You can also use a blender, but it might take a bit longer and the taste might not be as good.
Blend on the high-speed setting for 45 to 60 seconds until a thick and consistent batter forms. It doesn't need to be smooth or runny.
Add the other dry ingredients, but leave the chocolate chips out for the moment: oat flour, cocoa powder, flaxseed meal, baking powder, and baking soda. The order doesn't matter.
Blend again on the medium-speed setting for about 30 seconds until the batter becomes consistent.
Remove the blade of the food processor and incorporate most of the dairy-free chocolate chips with a spatula.
Baking The Brownies
Transfer the Black Bean Brownie batter to the prepared brownie pan and spread it to a consistent height with a spatula or wooden spoon.
Sprinkle the remaining chocolate chips on top of the batter.
Bake the vegan brownies for 15 minutes at 350°F (180°C) on the convection mode of your oven or for 18 minutes at 350°F (180°C) on the regular baking mode.
Like any brownies, these brownies should start crackling on the top while the center should still be moist and soft but not runny.
Cooling Down
Remove the black bean brownies from the oven and let them cool down in the pan for 15 minutes. This is crucial to ensure that the brownies hold together.
Then, use the overhanging pieces of parchment paper to lift the whole brownies and transfer them to a cooling rack.
Let them cool down for another 10 minutes in the fridge or 30 minutes at room temperature.
Slice the brownies into 12 squares before sharing them!
Decoration
Once the brownies are ready, you can decorate them with a touch of peanut butter on top.
Storage Instructions
You can store brownies in the fridge in an airtight container for up to 4 days or two days at room temperature.
Otherwise, you can freeze brownies in silicone bags. Defrost the 3 hours before at room temperature.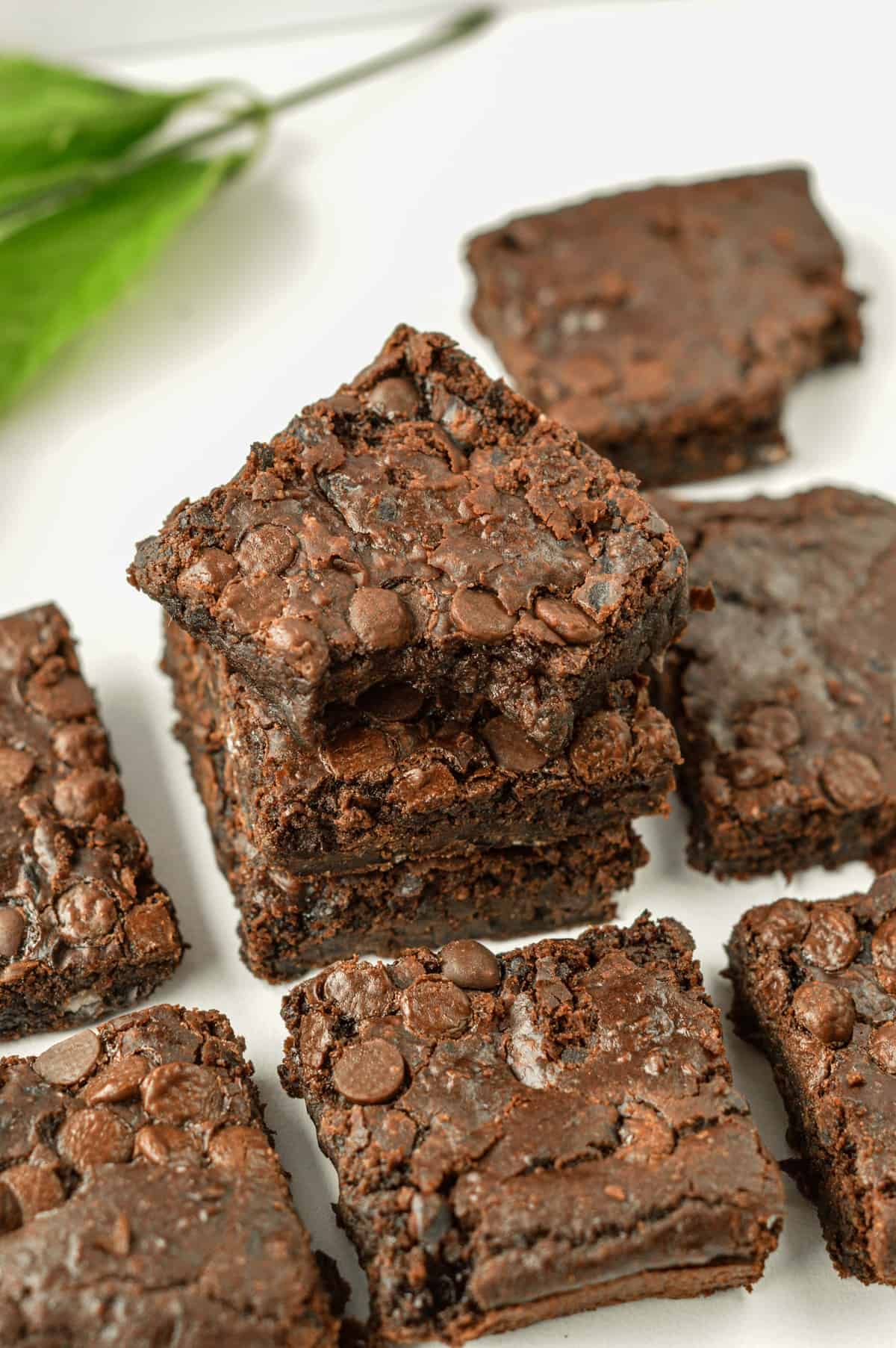 Frequently Asked Questions
Can I Swap The Oat Flour?
Yes, you can replace the oat flour with another flour like gluten-free oat flour, all-purpose flour, chickpea flour, or gluten-free flour.
Avoid coconut flour as it's much more moisture absorbent and would make dryer brownies.
Can I Swap The Maple Syrup?
You can swap the pure maple syrup for agave syrup, rice syrup, golden syrup, date syrup, or sugar-free syrup.
But don't swap it for a crystal sweetener.
Can I Swap The Coconut Oil?
Yes, you can use any oil for this recipe. However, olive oil will bring some olive flavor that might be a bit overpowering.
Are Black Bean Brownies Healthier Than Regular Brownies?
Yes, black bean brownies contain less sugar, more protein, and more iron than regular brownies.
What Are The Benefits Of Using Black Beans In Brownies?
Not only do black beans bring a healthy dose of protein, but they also contain iron, fiber, minerals (magnesium, phosphoric, zinc, potassium, sodium), and quality carbs.
Read the nutrition panel below for a full breakdown of the finished recipe.
Can You Taste The Black Beans In The Recipe?
No, black beans once cooked are quite tasteless, so they bring their benefits without leaving any black bean flavor.
Can I Use Another Sort Of Beans?
You can make brownies with other beans, but the recipe is different. Try my Chocolate Chickpea Brownies for a chickpea version!
Can I Add Vanilla?
Yes, you can add a few drops of pure vanilla extract into the batter for a slightly different taste.
Can I use a different pan?
If you don't have an 8×8 inch pan, you could use another pan, but what matters for the perfect texture is the depth of your batter.
An 8-inch square pan gives you the exact height needed to be crispy on the top while gooey inside.
If you made a thicker batter, the middle might still be runny. If you were to use a larger pan and a thinner batter, the brownies would be overcooked.
Have you tried this easy black bean brownie recipe yet? Share a picture with me on Instagram! I will be excited to see your creation and reshare in my story.
Your friend, Carine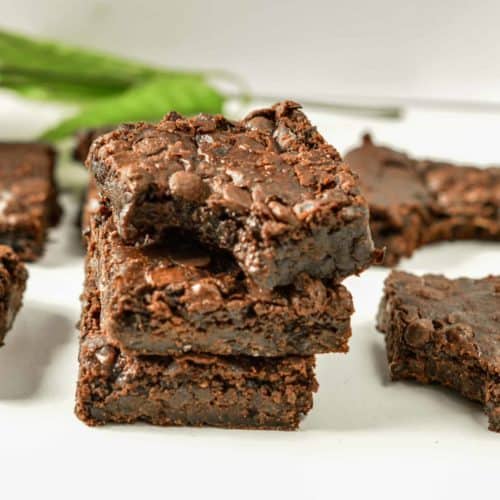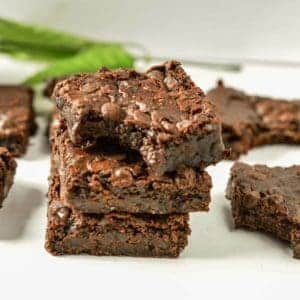 Black Bean Brownies
These Black Bean Brownies are a fudgy vegan brownie recipe loaded with proteins from black beans and a decadent, chewy batter.
Pin
Print
Review
Ingredients
Liquid ingredients
1 ½

cup

Black Beans -

15 oz canned black beans, raised, drained

½

cup

Maple Syrup -

or brown rice syrup or monk fruit syrup if sugar free

¼

cup

Coconut Oil -

melted, or almond oil or avocado oil
Instructions
Preheat oven to 350°F (180°C).

Line an 8-inch x 8-inch brownie pan with parchment paper. Set it aside.

In a food processor, add the canned black beans, coconut oil, and maple syrup.

Blend on medium/high speed for

45 seconds

or until it forms a consistent batter. You will still notice some pieces of black beans skin, and that is OK.

Add the dry ingredients except for the chocolate chips: oat flour, unsweetened cocoa powder, flaxseed meal, baking powder, and baking soda.

Blend on medium speed for 30 seconds or until the batter is thick and consistent.

Remove the blender blade, pour in dark chocolate chips, and incorporate into the batter using a spatula.

Transfer the brownie batter into the prepared pan and spread evenly using a spatula.

Bake for

15 minutes

on convection mode or for

18 minutes

or regular mode. You know the brownies are ready when the top is set, cracked, and the center is not jiggly but still soft.

Remove from the oven and cool down for

15 minutes

into the pan. This step is crucial to ensure the brownies hold and don't crumble, so don't skip this step.

Lift out the parchment paper from the pan to release your brownie and transfer onto a cooling rack.

Place the brownies immediately for

10 minutes

in the fridge (not longer) to set and create the most amazing fudgy texture.

Remove from the fridge and slice into 12 squares.
Storage
Store the brownies into an airtight container for up to 4 days in the fridge or 2 days at room temperature. You can freeze your brownies, defrost them 3 hours before serving.
Share on Facebook
Pin Recipe
Nutrition
Serving:
1
square
|
Calories:
154.2
kcal
|
Carbohydrates:
21.6
g
|
Protein:
3.4
g
|
Fat:
7.1
g
|
Saturated Fat:
5.2
g
|
Polyunsaturated Fat:
0.4
g
|
Monounsaturated Fat:
0.5
g
|
Sodium:
43.3
mg
|
Potassium:
153.8
mg
|
Fiber:
3.2
g
|
Sugar:
10.5
g
|
Vitamin A:
1.3
IU
|
Vitamin C:
0.1
mg
|
Calcium:
42.2
mg
|
Iron:
1.3
mg
|
Magnesium:
34.7
mg
|
Phosphorus:
70.6
mg
|
Zinc:
0.6
mg