Peanut Butter Banana Brownies
These Vegan Peanut Butter Banana Brownies are made in one bowl with a perfect crispy and crackly top and fudgy center. Plus, these banana brownies are also healthy since they are 100% refined-sugar-free, gluten-free, and of course, vegan!
How to make peanut butter banana brownies?
There is nothing easier than these vegan banana brownies with peanut butter. All you need is a food processor and 5 minutes to create the batter and make the most chocolatey peanut butter banana brownies!
Wet ingredients
This healthy banana brownie recipe is made with simple, wholesome ingredients. First, add all the wet ingredient into a food processor and blend until smooth and no more lumps shows.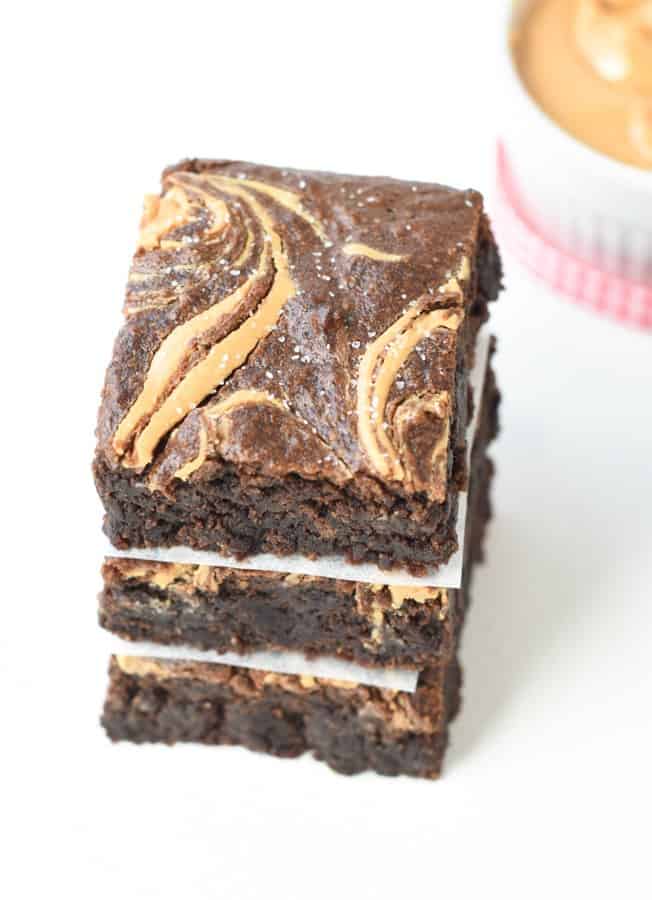 You need the wet ingredients below:
Ripe bananas – I recommend weighing the peeled banana in grams/oz or cups. Peel your bananas, mash with a fork and place the mashed bananas into a measuring cup or bowl to weigh. This ensures the best brownie texture, so be precise. In fact, this recipe is egg-free, and bananas act as an egg replacer – you won't need flax eggs! If you skip the bananas, the brownie batter can be runny and the brownies fragile.
Natural peanut butter – it means peanut butter with no additives: no added oil, no added sugar. This is the best option to make healthy vegan peanut butter brownies. Another option is to use almond butter or sunflower seed butter if you have a nut allergy.
Coconut oil – you can use refined coconut oil to avoid coconut flavor in your brownie.
Vanilla extract
Dry ingredients
Next, stop the food processor, remove the lid, and add in the dry ingredients below.
Flour – all-purpose wheat flour or oat flour works well in this recipe. You can use gluten-free all-purpose flour as long as it contains xanthan gum.
Unsweetened cocoa powder
Baking powder
Salt
Finally, close the lid and blend again until a smooth batter forms. If some flour sticks to the side of the food processor bowl, scrape down the sides with a spatula and blend again until well combined.
Add some chocolate chunks or chips!
If you want to enhance the chocolate flavor of your brownies, remove the food processor blade, add vegan chocolate chips and stir with a spatula.
Don't blend the chocolate chips with the food processor blade. This breaks the chips into tiny pieces.
Filling the brownie pan
Line an 8-inch x 8-inch square baking pan with parchment paper and grease lightly with oil spray or coconut oil.
Then, pour the brownie mixture into the pan and spread evenly to cover the pan.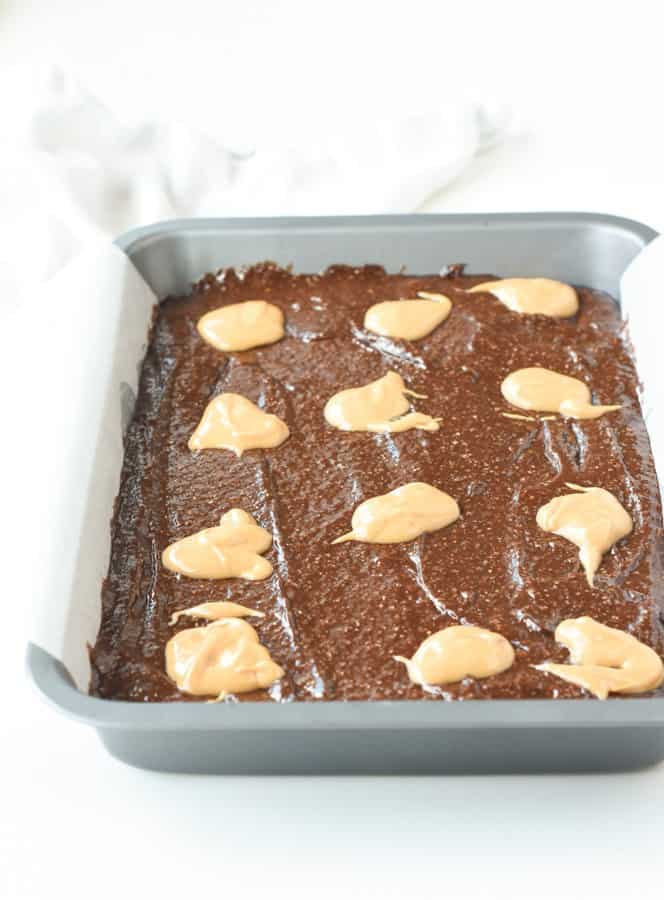 How to make the swirl on the peanut butter brownies?
First, add peanut butter and coconut oil to a small bowl and stir to combine. Then, drop small dollops of the peanut butter mixture all over the pan.
Finally, use a skewer or knife tip to swirl the peanut butter dollops into the brownie batter.
Place the skewer in the center of the peanut butter dollop and tear it from the center to the outside, creating a swirling movement at the same time.
Repeat for each dollop of peanut butter until the top of the brownies is beautifully covered with peanut butter swirls.
How long to bake brownies?
These simple vegan brownies with banana peanut butter swirl bake within 20-30 minutes at 180C (350F).
You know brownies are cooked through when the top crackles and when the batter doesn't jiggle if you slightly shake the pan.
Cool your vegan brownies down in the pan for 10 minutes, then pull the hanging pieces of parchment paper to release the brownies.
Finally, transfer the brownies onto a cooling rack.
How to cut brownies?
This peanut butter banana brownie recipe serves 16 brownies pieces. First, cut the brownie is 4 even squares. Finally, cut each square into 4 pieces again to obtain 16 even brownie pieces.
Vegan brownie serving ideas
You can serve these healthy vegan brownies plain or topped with some of the followings dairy-free toppings:
Whipped coconut cream
Melted chocolate
Raspberries
How to store banana brownies?
Even if this is an egg-free and dairy-free brownie recipe, it's better to store your banana brownies in the fridge.
It stores for up to 5 days in a sealed container or freezes really well. Frozen brownies can be thaw at room temperature the day before on a plate placed on your kitchen countertop.
Also, brownies get fudgier in the fridge, so I highly recommend this option for an extra fudgy texture.
More vegan banana recipes
I love baking with bananas, and below I listed my other favorites vegan banana recipes, including banana bread, banana cookies, and more!
Don't forget to check all my Ripe Banana Recipes ideas for more ways to use those ripe bananas!
Made this simple vegan peanut butter brownie recipe? Share a review or comment below, or join me on Instagram to share a picture of all the conscious plant kitchen foodies in your Instagram story!
I love to hear your feedback on my recipes.
Your friend, Carine
Vegan Peanut Butter Banana Brownies
Healthy, gluten-free vegan banana brownies with peanut butter.
Ingredients
Wet ingredients
2

large

Ripe Bananas

-

(7.4 oz)

½

cup

Melted Coconut Oil

½

cup

Natural Peanut Butter

1

teaspoon

Vanilla Extract
To decorate
¼

cup

Natural Peanut Butter
Instructions
Preheat oven to 180°C (350°F). Line an 8-inch x 8-inch brownie pan with parchment paper. Set aside.

In a food processor with the S blade attachment, add ripe banana pieces, coconut oil, peanut butter, and vanilla extract.

Blend on high speed until smooth and well combined with no lumps.

Stop the food processor, add in unsweetened coconut sugar, cocoa powder, flour, salt, and baking powder.

Blend again until consistent, thick chocolatey batter forms.

Transfer the brownie batter onto the prepared pan.

Use a spoon to add dollops of peanut butter on top of the batter.

Use a skewer to swirl the peanut butter into the brownie batter and create a swirl effect.

Bake for 20-25 minutes or until the batter is set - if you move the pan the batter won't jiggle or move.

Cool for 10 minutes in the pan, then pull out the hanging pieces of parchment paper to transfer the brownie onto a cooling rack.

Cool completely - about 1 hour at room temperature - before cutting into 16 squares.
Storage
Store brownies in an airtight box in the fridge for up to 5 days or freeze.
Share on Facebook
Pin Recipe
Nutrition
Serving:
1
square
|
Calories:
214
kcal
|
Carbohydrates:
22
g
|
Protein:
4
g
|
Fat:
14
g
|
Saturated Fat:
7
g
|
Sodium:
126
mg
|
Potassium:
221
mg
|
Fiber:
2
g
|
Sugar:
11
g
|
Vitamin A:
18
IU
|
Vitamin C:
2
mg
|
Calcium:
19
mg
|
Iron:
1
mg