Peanut Butter Banana Brownies
These Vegan Peanut Butter Banana Brownies are one-bowl blender brownies with a perfect crispy and crackly top and fudgy center.
Plus, these banana brownies are also healthier since they are 100% refined-sugar-free, gluten-free, and of course, vegan!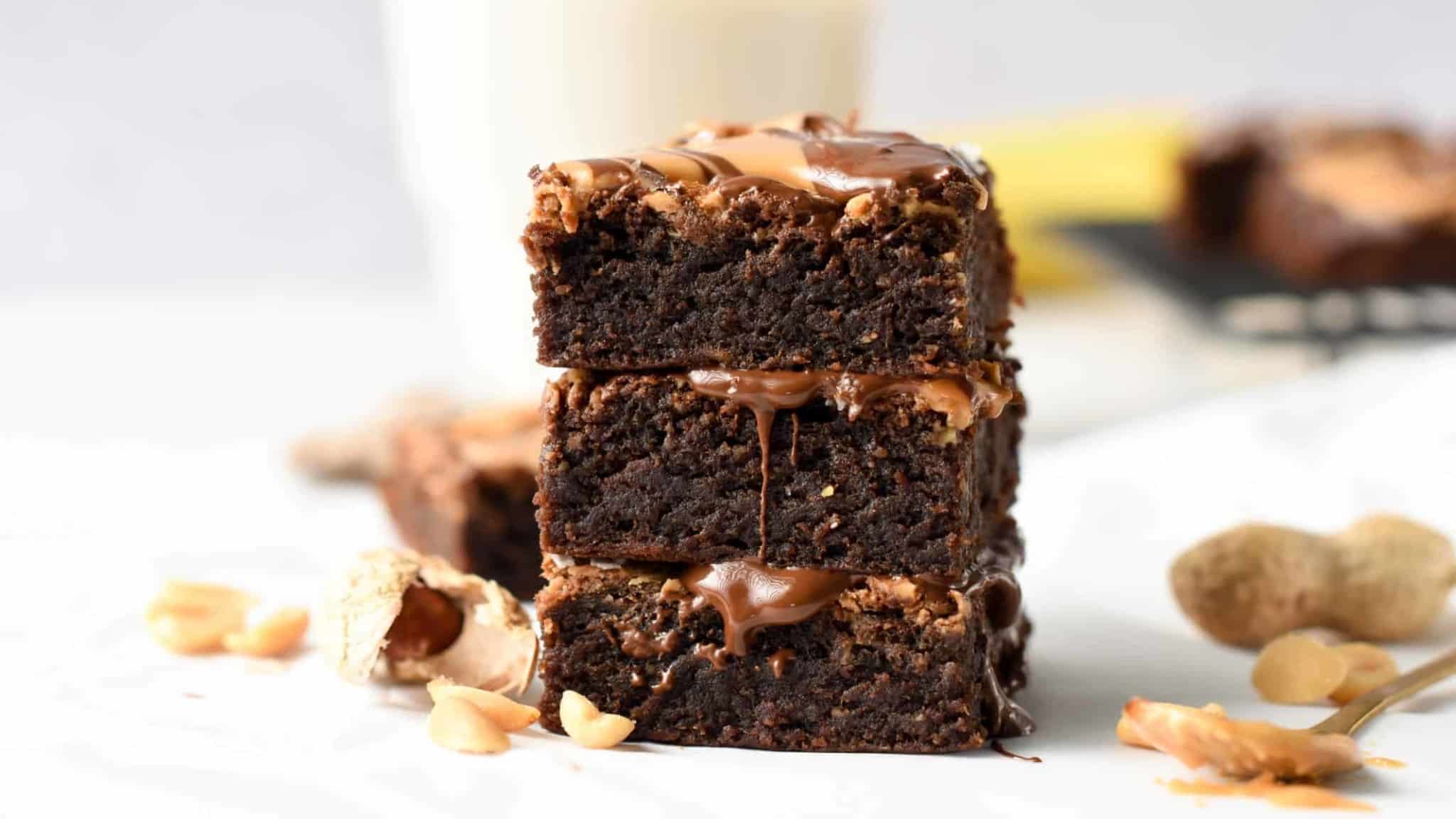 This recipe is similar to my vegan brownies, but with a moister, softer texture and a mild banana taste.
Are Banana Brownies Vegan?
No, classic banana brownies aren't vegan because they almost always contain eggs and butter.
To make them vegan-friendly, you have to make a completely different recipe.
How To Make Peanut Butter Banana Brownies
There is nothing easier than these vegan banana brownies with peanut butter.
All you need is a food processor and 5 minutes to create the batter and make the most chocolatey peanut butter banana brownies!
Ingredients
You need the wet ingredients below:
Ripe Bananas – I recommend weighing the peeled banana in grams/oz or cups. Peel your bananas, mash them with a fork and place the mashed bananas into a measuring cup or bowl to weigh. This ensures the best brownie texture, so be precise. In fact, this recipe is egg-free, and bananas act as an egg replacer – you won't need flax eggs! If you skip the bananas, the brownie batter can be runny and the brownies fragile.
Natural Peanut Butter – it means peanut butter with no additives: no added oil, no added sugar. This is the best option for making healthy vegan peanut butter brownies. Another option is to use almond butter or sunflower seed butter if you have a nut allergy.
Coconut Oil – you can use refined coconut oil to avoid coconut flavor in your brownie. Light olive oil can be used to decrease saturated fat.
Vanilla Extract
Old-Fashioned Rolled Oats or all-purpose flour – both options work with the same quantity but be careful not to blend all-purpose flour. If you do, the brownie will be extremely dense and gummy.
Unsweetened Cocoa Powder
Coconut Sugar or any granulated sweetener you love. You can also play with the quantity, adding an extra 1/4 cup for a sweeter brownie.
Baking Powder
Salt
Making The Banana Peanut Butter Brownie Batter
Oat Option
First, add all the ingredients into a high-speed blender: ripe banana, peanut butter, coconut oil, vanilla extract, oats, cocoa powder, sugar, baking powder, vanilla, and salt.
Blend the vegan banana brownie ingredients on the high-speed setting of a blender until they come together and form a smooth thick batter.
You might see some grainy bits of oats, and that's ok as long as it's not big chunks.
Flour Option
If using all-purpose flour instead of oats, blend all the ingredients except the flour.
Set aside your flour in a large bowl and stir with the blended ingredients for your banana brownie batter.
You can use gluten-free all-purpose flour as long as it contains xanthan gum.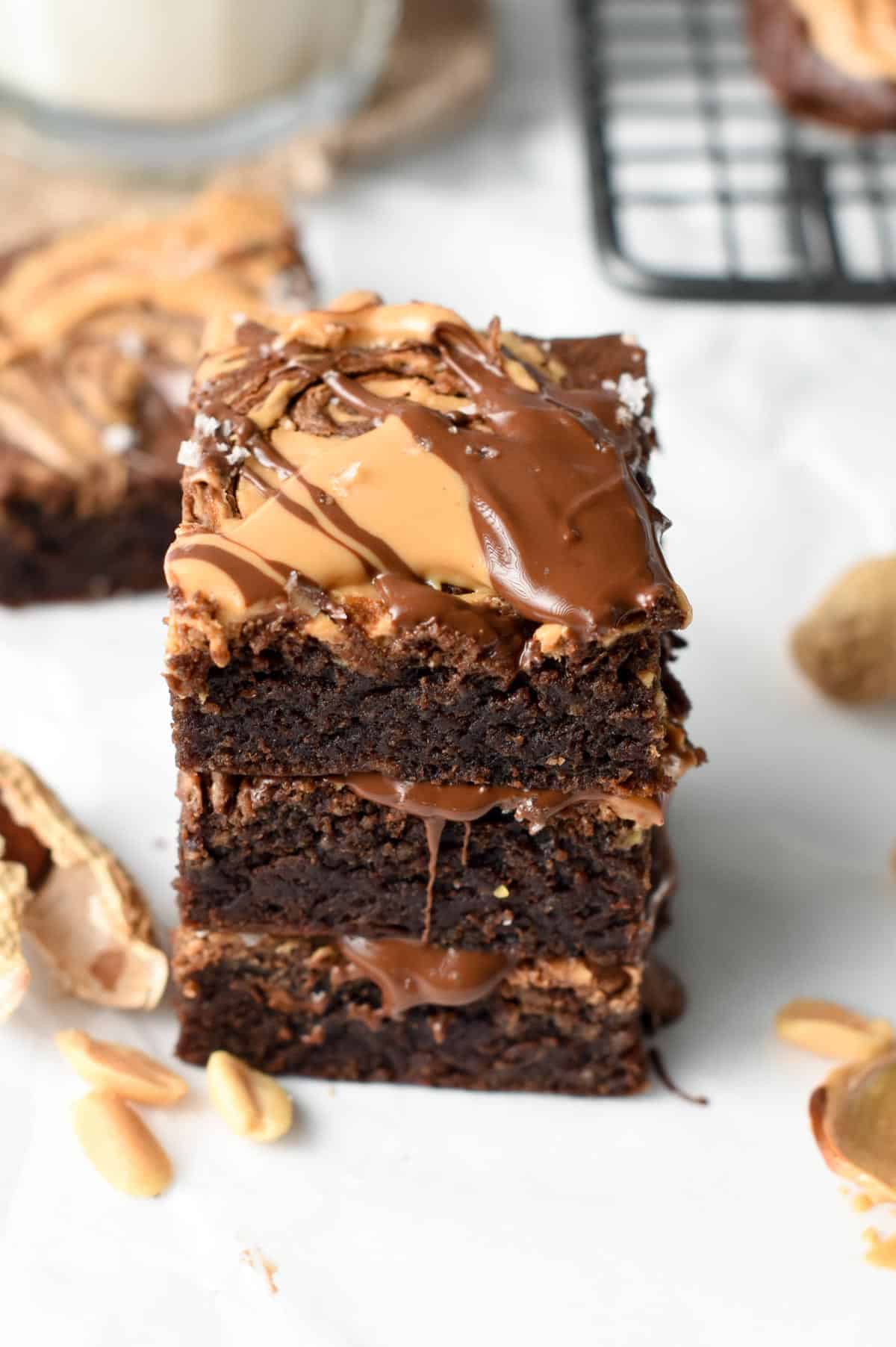 Banana Brownie Add-Ons
These banana brownies are even better with some addition to the batter. Try adding 1/3 cup of:
Vegan dark chocolate chips for a boost of sweetness and enhance the chocolate flavor.
Walnuts
Pecans
Don't blend the added ingredients to avoid breaking the chocolate chips into pieces.
Instead, use a silicone spatula to gently incorporate the chocolate chips or nuts in the batter, and avoid the blade of the jug as much as you can.
Baking Peanut Butter Brownies
Line an 8-inch x 8-inch square baking pan with parchment paper and grease lightly with oil spray or coconut oil.
Then, pour the brownie mixture into the pan and spread it evenly to cover the pan.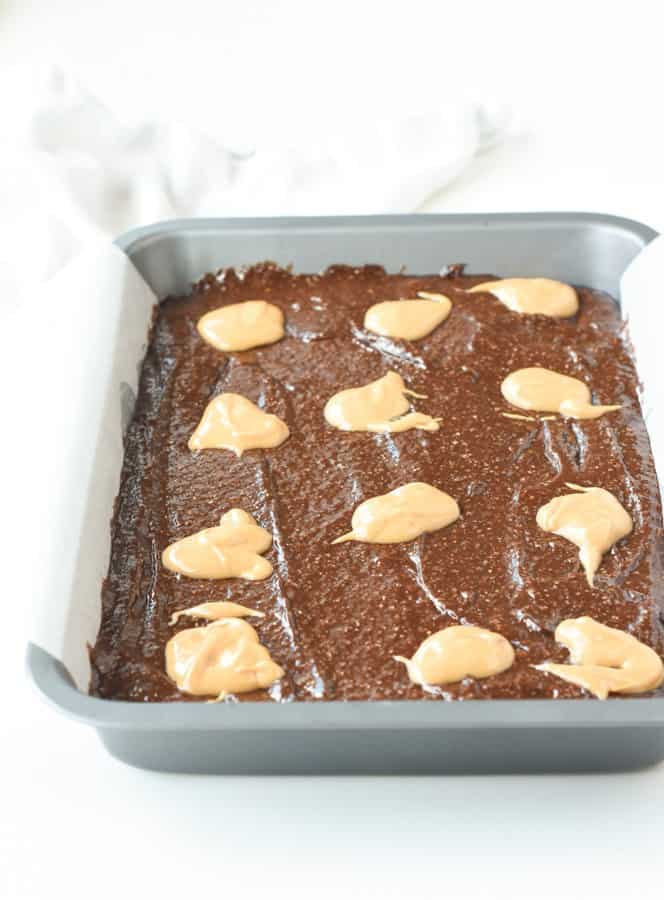 Making The Peanut Butter Swirl
First, add peanut butter and coconut oil to a small bowl and stir to combine. Then, drop small dollops of the peanut butter mixture all over the pan.
Finally, use a skewer or knife tip to swirl the peanut butter dollops into the brownie batter.
Place the skewer in the center of the peanut butter dollop and tear it from the center to the outside, creating a swirling movement at the same time.
Repeat for each dollop of peanut butter until the top of the brownies is beautifully covered with peanut butter swirls.
Banana Brownie Baking Time
These simple vegan brownies with banana peanut butter swirl bake within 20 to 30 minutes at 350°F (180°C).
You know brownies are cooked through when the top crackles and when the batter doesn't jiggle if you slightly shake the pan.
Cool your vegan brownies down in the pan for 10 minutes, then pull the hanging pieces of parchment paper to release the brownies.
Finally, transfer the brownies onto a cooling rack.
Cutting The Vegan Brownies
This peanut butter banana brownie recipe serves 16 brownie pieces.
First, cut the brownies into 4 even squares. Finally, cut each square into 4 pieces again to obtain 16 even brownie pieces.
Vegan Brownie Serving Ideas
You can serve these healthy vegan brownies plain or topped with some of the followings dairy-free toppings:
Whipped coconut cream
Melted chocolate
Raspberries
Storage Instructions
Even if this is an egg-free and dairy-free brownie recipe, it's better to store your banana brownies in the fridge.
It stores for up to 5 days in a sealed container or freezes really well.
Frozen brownies can be thawed at room temperature the day before on a plate placed on your kitchen countertop.
Also, brownies get fudgier in the fridge, so I highly recommend this option for an extra fudgy texture.
More Vegan Banana Recipes
I love baking with bananas, and below I listed my other favorite vegan banana recipes, including banana bread, banana cookies, and more!
Don't forget to check all my Ripe Banana Recipes ideas for more ways to use those ripe bananas!
Made this simple vegan peanut butter brownie recipe? Share a review or comment below, or join me on Instagram to share a picture of all the conscious plant kitchen foodies in your Instagram story!
I love to hear your feedback on my recipes.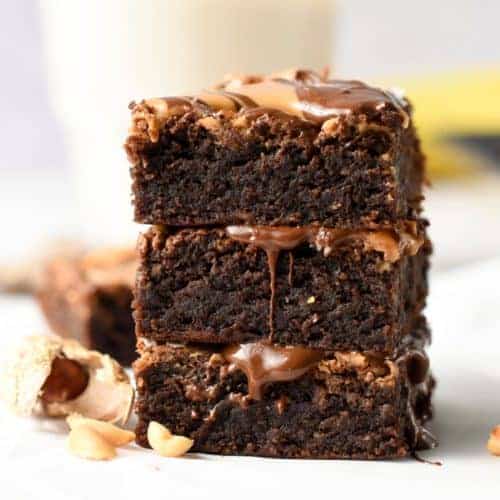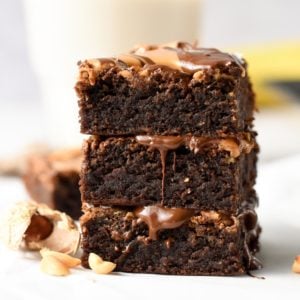 Vegan Peanut Butter Banana Brownies
These healthy, gluten-free vegan banana brownies with peanut butter are a delicious sweet dessert with a strong chocolate taste and a moist texture.
Pin
Print
Review
Servings: 16 slices
Calories: 178.6 kcal
Instructions
Preheat the oven to 350°F (180°C). Line an 8-inch x 8-inch brownie pan with parchment paper. Set aside.

In a high-speed blender, add ripe banana pieces, coconut oil, peanut butter, vanilla extract, coconut sugar, unsweetened cocoa powder, salt, baking powder, and rolled oats. If you want to use all-purpose flour, don't add in the blender, or the brownie will be ultra gummy. Set aside in a bowl and blend the remaining ingredients

Blend on high speed until smooth and well combined with no lumps. You may have to stop the blender a few times, scrape down the side of the jug, and repeat, or use the tamper attachment tool to push ingredients next to the blade.

If you used all-purpose flour, transfer the batter onto the bowl with flour, stir to combine, and form a thick batter.

Transfer the brownie batter onto the prepared pan.

Use a spoon to add dollops of peanut butter on top of the batter.

Use a skewer to swirl the peanut butter into the brownie batter and create a swirl effect.

Bake for 20-25 minutes or until the batter is set – if you move the pan the batter won't jiggle or move.

Let the brownies cool down for 10 minutes in the pan, then pull out the hanging pieces of parchment paper to transfer the brownie onto a cooling rack.

Cool completely – about 1 hour at room temperature – before cutting into 16 squares.
Storage
Store brownies in an airtight box in the fridge for up to 5 days or freeze.
Share on Facebook
Pin Recipe
Nutrition
Serving: 1square | Calories: 178.6kcal | Carbohydrates: 14.4g | Protein: 3.7g | Fat: 13.4g | Saturated Fat: 7g | Polyunsaturated Fat: 1.7g | Monounsaturated Fat: 3.6g | Sodium: 112mg | Potassium: 163.6mg | Fiber: 1.9g | Sugar: 6.7g | Vitamin A: 10.9IU | Vitamin C: 1.5mg | Calcium: 17.9mg | Iron: 0.6mg | Magnesium: 37mg | Phosphorus: 72.9mg | Zinc: 0.6mg