3-Ingredient Banana Cookies (Vegan)
These easy 3-ingredient banana cookies are soft, chewy, easy banana drop cookies, 100% vegan, refined sugar-free, and oil-free.
Bonus, these cookies made with banana are ready in less than 15 minutes, and they are perfect for a kid's lunchbox.
A very healthy banana cookie recipe that doesn't need butter and sugar, but only 3 simple, wholesome ingredients.
What Is The Best Banana Size For Baking?
The key to making the best banana cookies is first to select the perfect banana size.
These 3-ingredient banana cookies use a medium-sized banana, and it is important to weigh or measure your banana to check it's the right size.
If your bananas are too small, the cookies will be very dry, and on the other side, a large banana will make the cookies wet and chewy.
Learn more about how to start your vegan journey with our beginner's guide to the vegan diet!
Let's see how to select the right banana size for cookie recipes. If the recipe calls for:
A small banana: 6-inch to 7-inch long, with a weight of about 100 grams.
A medium banana – between 7-inch and 8-inch long, with a weight of 118 grams. This is the most frequent banana size used in banana cookie recipes. It is the average size of most bananas and what we recommend using in banana cookie recipes.
A large banana – between 8-inch and 9-inch long, with a weight of 136 grams.
An extra-large banana – more than 9-inch long with a weight of 152 grams or more.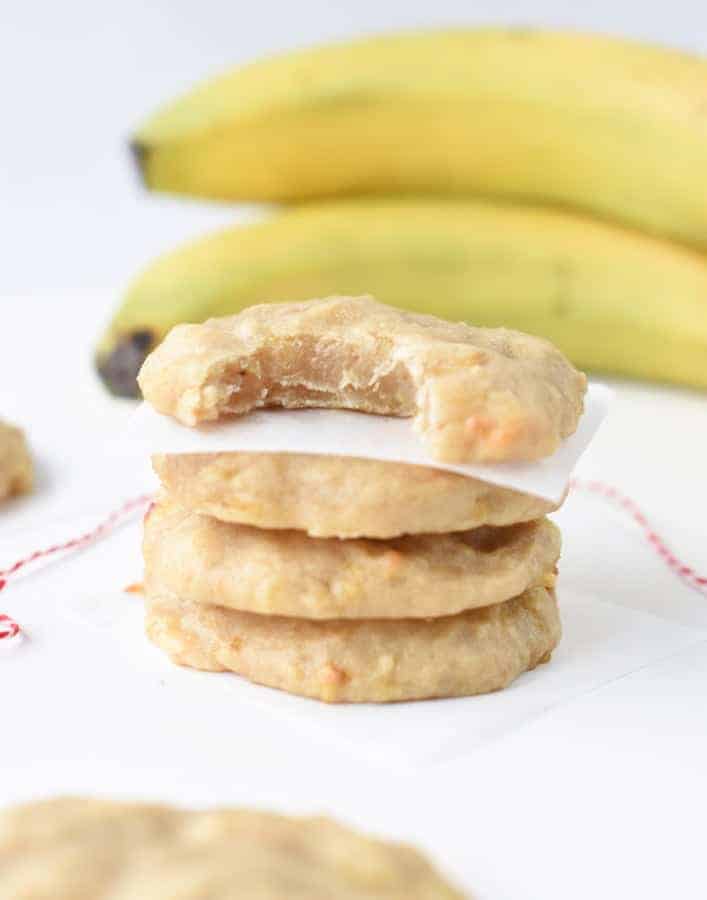 How Ripe Should My Bananas Be?
This banana cookie recipe uses fresh bananas. Since the cookie dough already contains an added sweetener, we don't recommend using a ripe or very ripe banana to avoid an overly sweet cookie.
Below are some tips for selecting the perfect banana ripeness. It depends on the recipe, of course.
Some recipes like a banana bread recipe will call for a ripe banana. Use the ripening guide below to help you select bananas!
Underripe – skin is yellow with green tips. These bananas won't deliver flavor or sweetness in baking.
Fresh banana – skin is entirely yellow. The flesh is firm. These bananas deliver flavor and light sweetness in banana smoothies. They are great for baking if the recipe already calls for a large amount of sugar or liquid sweetener.
Ripe bananas – skin has lots of black-brown sport. The flesh is soft, and the banana has a strong banana flavor. This level of ripeness is the most popular in banana bread recipes.
Very-ripe banana – skin has large black areas, and the flesh turns dark/brown. These bananas are very sweet, better baked, and not raw in a smoothie. Very ripe bananas deliver a strong banana flavor and sweetness, and they are great for banana bread recipes or banana cookies recipes that don't use added sugar.
How To Make Easy Banana Cookies
This is an easy banana recipe with few ingredients. It's made in under 25 minutes with just 3 pantry ingredients.
Ingredients
These are the easiest banana cookies you will ever make!
All you need are the 3 simple ingredients below:
Banana – you don't even need ripe bananas for this recipe. Fresh bananas work well. It is actually the best option, or this banana cookie recipe can be too sweet.
Maple syrup or any liquid sweetener you love. If you are using ripe bananas, you can replace the maple syrup with unsweetened almond milk to make banana cookies with no sugar added. This is a great option to make baby banana cookies and introduce solid food to babies without adding sugar into the recipe. Note that the recipe won't work with crystal sugar like brown sugar, coconut sugar, or white sugar. You must use a liquid sweetener to reach a good consistency.
Flour – all-purpose flour or white spelt flour for healthy banana cookies. In fact, spelt is higher in fiber and nutrients and a healthier option to bake with. Unfortunately, you can't use oat flour or almond flour in this recipe. The amount required will be way different, and it is a new recipe to create. This said, if you want a banana oatmeal cookie, try my other recipe, these banana breakfast cookies will be perfect for you.
Instructions
First, mash the banana on a flat surface like a chopping board or a plate using a fork. It is ok to keep some banana bites in the recipe.
Then, combine the mashed banana with maple syrup or unsweetened almond milk for kids' finger food with no sugar added.
Finally, stir in the flour until you obtain a sticky batter, similar to a banana bread batter.
Shaping The Cookies
These are banana drop cookies. It means you are dropping dollops of cookie dough a the baking sheet.
Don't try to shape or roll the dough into cookie dough balls. It is too wet and sticky to do so.
Then, place each dollop onto a cookie tray, covered with oiled parchment paper.
Press each cookie to flatten into a round shape if you like. The thicker, the chewier and softer they will be.
Baking Banana Cookies
Preheat the oven to 350°F (180°C) before starting the recipe. Then bake for 12 minutes at 350°F (180°C) or until slightly golden on top.
These are vegan banana cookies which means they don't use eggs or butter, and therefore their color is light and white.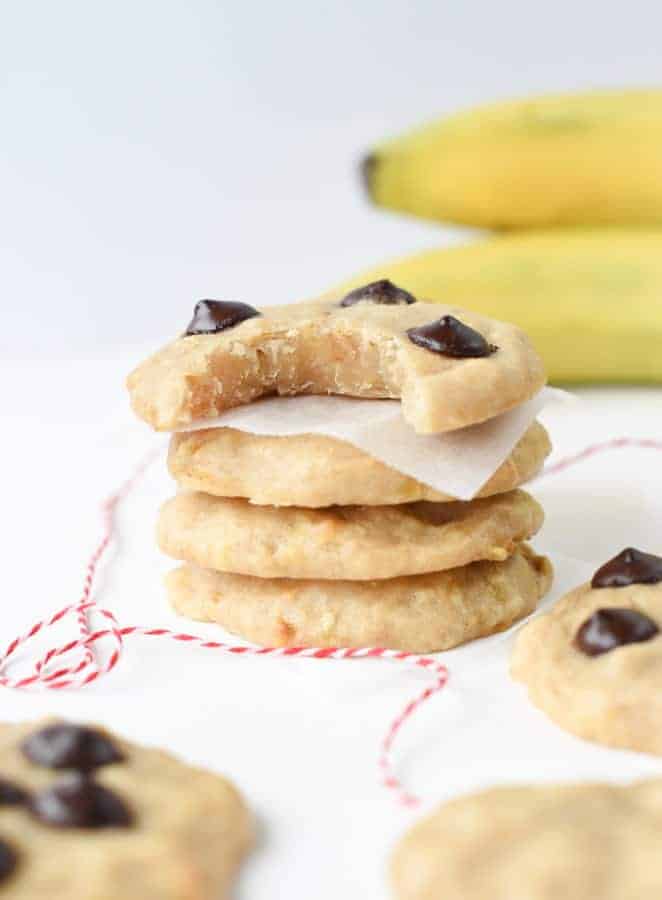 Banana Bread Drop Add-ons
These are soft, chewy banana bread cookies. It means that they have all the flavors of banana bread with the chew of a soft cookie.
There are many ways to boost the flavors of this easy banana cookie recipe.
For example, you can add some of the ingredients below into the cookie dough to make it even more flavorsome:
Dark chocolate chips – add 1/3 cup of chocolate chips, and use vegan chocolate chips to make vegan banana chocolate chip cookies.
Chopped walnuts – add 1/3 cup finely chopped walnuts or pecan nuts.
Baking soda – add 1/8 teaspoon baking soda or 1/4 teaspoon baking powder for a fluffier cookie.
Spices – add 1/2 teaspoon cinnamon, 1/4 teaspoon allspices, or nutmeg to boost the fall flavors of your cookies.
Salt – add 1/4 teaspoon salt.
Vanilla extract – add 1 teaspoon vanilla extract or vanilla essence.
More Vegan Banana Recipes
I have plenty of great recipes using a banana as the main ingredient. You may want to try the recipes below too!
Don't forget to check all my Ripe Banana Recipes ideas for more ways to use those ripe bananas!
Made these 3-ingredient banana cookies? Share a picture with me in the comment section below or on Instagram.
Your friend, Carine
3-Ingredient Banana Cookies
These easy, soft, chewy banana cookies are 100% egg-free, oil-free, and dairy-free and are made with few ingredients.
Pin
Print
Review
Servings: 10 cookies
Calories: 128 kcal
Ingredients
2 medium Bananas - fresh (or ripe but the cookie will be much sweeter) 118 g, 4.2 oz each banana, unpeeled banana
⅓ cup Maple Syrup - or agave syrup or liquid syrup you like
1 cup Spelt Flour - or all-purpose flour
Adds on – optional but recommended
Instructions
Preheat the oven to 350°F (180°C). Line a baking tray with parchment paper, and lightly oil the paper with oil. Set aside.

Before you start, make sure you are using a medium-size banana. A medium-sized banana weighs about 118g/4.2 oz unpeeled.

In a medium-size mixing bowl, mash the banana into a puree. It is ok if there are a few lumps.

Stir in maple syrup, then stir in flour until it forms a wet, sticky cookie dough, similar to banana bread dough.

Scoop out dollops of cookie dough on the prepared tray, leaving 1 thumb space between each cookie. The cookie won't expand in the oven.

Slightly spread the dough with the back of a spoon into a round cookie shape if desired.

Bake 12 minutes or until slightly golden on the top.

Store in the fridge in an airtight box for up to 3 days.
Notes
Gluten-free option: use an all-purpose gluten-free flour blend. Banana size: you need 2 medium-sized bananas for this recipe. A medium-sized banana, unpeeled weighs about 118 grams / 4.2 oz. It represents 1 cup + 1/3 cup mashed banana.
Share on Facebook
Pin Recipe
Nutrition
Serving: 1cookie | Calories: 128kcal | Carbohydrates: 26g | Protein: 2g | Fat: 2g | Saturated Fat: 2g | Cholesterol: 1mg | Sodium: 77mg | Potassium: 160mg | Fiber: 1g | Sugar: 11g | Vitamin A: 15IU | Vitamin C: 2mg | Calcium: 39mg | Iron: 1mg