These chocolate banana cookies are the best fudgy, chewy chocolate brownie cookies made with only 3 ingredients!
This chocolate cookie recipe is also 100% flourless, egg-free, and sugar-free.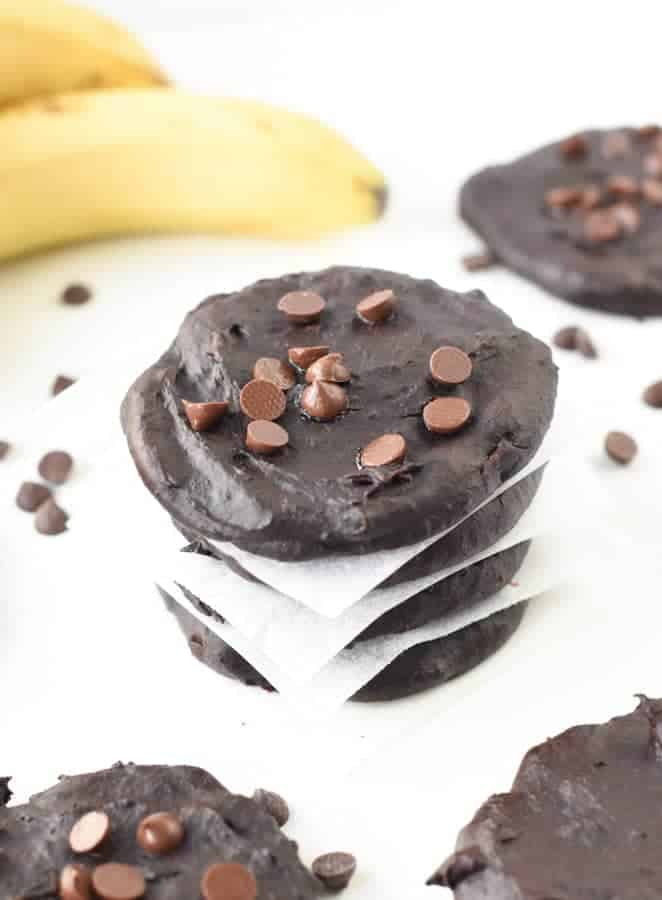 What should you do with your overripe bananas?
The first answer is often banana bread, but if you don't feel like baking for hours, my vegan banana bread recipe might not be your best option.
That is why you will love this 20-minute egg-free chocolate cookie recipe!
They make use of a good amount of overripe bananas, use only 3 ingredients, and they are healthy!
Why You'll Love These Cookies
This fudgy chocolate cookie recipe is for health-conscious people.
In fact, these vegan banana cookies are made with only 3 wholesome ingredients, no added sugar and no flour.
Therefore, the recipe is also gluten-free and paleo-friendly.
How To Make Chocolate Banana Cookies
Let us see the 3 ingredients you need to make these easy vegan chocolate cookies.
Ingredients
Overripe Bananas – Pick bananas with yellow skin and a few dark spots.
Unsweetened Cocoa Powder
Natural Peanut Butter with no added oil and no added sugar. If you watch the saturated fat or you want to make paleo chocolate cookies, swap the peanut butter for the same amount of almond butter or sunflower seed butter.
Choosing The Bananas
It is very easy to make these vegan chocolate peanut butter cookies. However, this is a no-sugar-added cookie recipe, only sweetened with bananas.
Therefore, it is important that you pick a very ripe banana for this recipe, or the cookies won't be sweet enough.
A very ripe banana is easily recognizable as it has:
Many dark spots and marks on the banana skin
A strong banana smell
Soft banana flesh – if you press the banana, your finger easily goes through.
Weighing The Peeled Banana
Banana cookie recipes are tricky to make because they often call for a medium banana, but not all medium bananas have the same weight.
Their weight doesn't vary much, but in a 3-ingredient chocolate cookie recipe, it can impact the cookie texture a lot!
So if you have a kitchen scale, peel the bananas and weigh them. This recipe requires 300 grams/ 10.5 oz of peeled, very ripe banana flesh.
Using A Food Processor
This recipe works way better in a food processor. In fact, the food processor blade creates a smooth, fudgy chocolate cookie dough without banana bites.
This is the key to making chewy, fudgy, flourless chocolate cookies with a brownie-like texture.
Simply place all the ingredients into the bowl of a food processor and use the S-blade attachment.
Blend on medium-high speed until shiny and smooth cookie dough forms.
You will have to stop the food processor every 30 seconds, scrape down the sides of the bowl and repeat to make sure each banana chunk is pulsed into a creamy batter.
Without A Food Processor
You can make this recipe without a food processor. It is a bit more work, and the texture won't be as smooth because it's difficult to mash the overripe banana into a puree that has no lumps.
First, mash your bananas as much as you can to see barely any lumps. Then, stir in the fresh, natural peanut butter, and finally, stir in the unsweetened cocoa powder.
The batter is sticky and a bit more difficult to work without the food processor, but if you use a fresh runny jar of peanut butter it will come out great.
Boosting The Sweetness
You don't need to add any sweetener to this recipe as long as you have used overripe bananas.
But, if your bananas are not ripe enough, I recommend you add some of the following ingredients into the food processor to boost this vegan chocolate cookie recipe's sweetness:
Maple syrup – add a maximum of 2 tablespoons of liquid sweetener. Too much liquid will make the batter too runny.
Coconut sugar – add 1/4 cup of coconut sugar, white sugar, or unrefined cane sugar.
Chocolate chips – adding 1/4 cup to 1/3 cup of vegan chocolate chips into the cookie dough. Make sure you stir in the chocolate chips with a spatula, not the food processor blade, to avoid breaking the chips into pieces. You can use sugar-free dark chocolate chips to make healthy banana chocolate chip cookies.
Vanilla extract – add 1/2 teaspoon of vanilla extract or vanilla stevia drops.
Add a drizzle of melting chocolate on top – if you baked the cookies and noticed that they are not sweet enough, drizzling melted chocolate on top is my tip to enhance the overall sweetness. Choose 70% dark chocolate to keep it healthy and low in sugar.
Baking The Banana Chocolate Cookies
First, preheat the oven to 350°F (180°C). Line a large (or 2 small) baking sheet with parchment paper and oil the paper with coconut oil or an oil spray.
Then, add dollops of cookie dough onto the prepared sheet, leaving one thumb of space between each cookie. It's up to you to spread the cookie dough or not.
I love to use the back of a spoon to expand the dough and make large hand size cookies, but the thicker, the fudgier they are.
Bake the cookies for 9 to 11 minutes or until the surface is set, slightly hard, but the cookies are still soft. Cool completely on a rack before eating.
Add-Ons
If you want to customize this recipe there are many healthy add-ons you can stir into the cookie dough, like:
Baking powder and salt – add 1/4 teaspoon baking powder to make them fluffier and 1/4 teaspoon salt to enhance their chocolate flavor.
Chocolate chips – 1/4 cup to 1/3 cup of any chocolate chips you love.
Rolled oats – turn this into a breakfast cookie and stir in 1/3 cup of instant oats or rolled oats.
Coconut – add up to 1/2 cup of unsweetened desiccated coconut.
Nuts – add up to 1/3 cup chopped walnuts, pecans, or peanuts.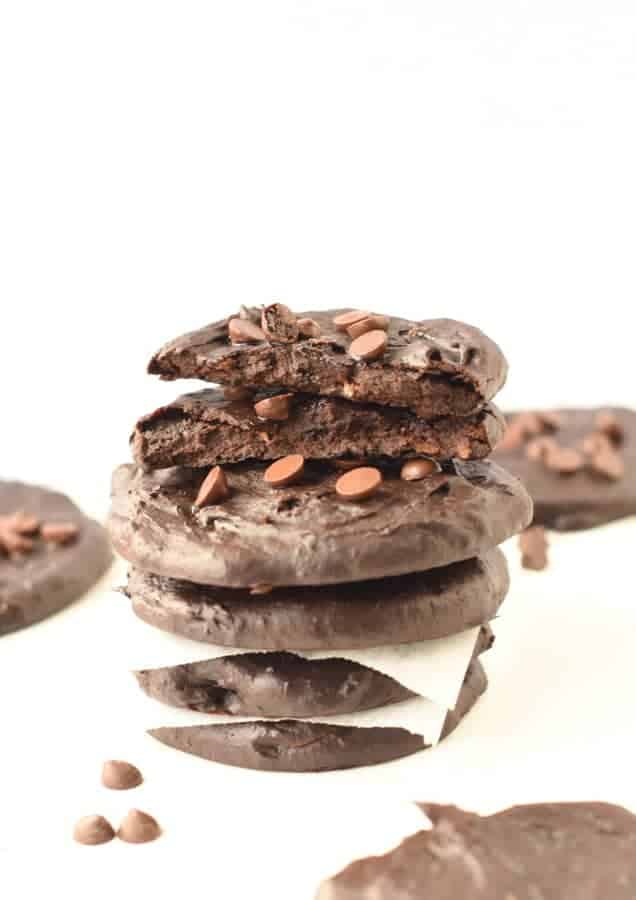 Frequently Asked Questions
How Do Banana Chocolate Cookies Taste?
These eggless chocolate cookies are chewy, fudgy, flourless chocolate cookies.
It means they remain soft and fudgy like brownies. Since the recipe is mainly made of overripe bananas and cocoa, they have a strong banana chocolate flavor.
You won't feel the peanut butter much if it is your concern!
Can I Freeze Banana Cookies?
Yes, you can freeze these cookies in ziplock bags or airtight container and thaw them 3 hours before eating on the countertop.
More Vegan Banana Recipes
If you love baking with bananas, you will want to try one of these vegan recipes:
Don't forget to check all my Ripe Banana Recipes ideas for more ways to use those ripe bananas!
Made these easy 3-ingredient gluten-free chocolate cookies? Share your review and comment with me below or join me on Instagram to share your picture! I love to see your creations.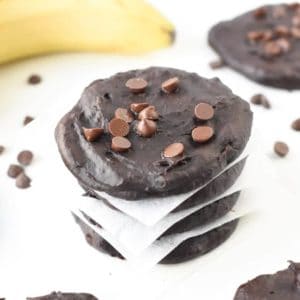 Chocolate Banana Cookies
These healthy banana chocolate chip cookies are egg-free, flourless, and sugar-free!
Pin
Print
Review
Servings:
8
large cookies
Instructions
Preheat oven to 350°F(180°C). Line one large cookie sheet with parchment paper. Lightly oil the paper with oil spray or coconut oil. Set aside.

Peel off the ripe bananas, very ripe bananas with lots of black spots on the skin are the best as this recipe is sugarless. For precision, weigh the peeled banana. You need 10.5 oz or 300g.

Roughly cut the banana into pieces and place them into a food processor with the S-blade attachment.

Add fresh runny peanut butter and unsweetened cocoa powder.

Process on medium/high speed until it forms a shiny, smooth, and sticky chocolate cookie batter. You may have to stop the food processor every 30 seconds, scrape down the sides of the bowl with a spatula and repeat until evenly combined and no more banana pieces show.

If you want to add chocolate chips, add them now and stir into the batter using a spatula, not the food processor blade, to avoid breaking the chips.

Scoop dollops of cookie batter using 2 tablespoons and release each dollop onto the prepared baking sheet, leaving 1 thumb of space between each cookie. The cookies won't expand while baking.

You can spread out the cookie or leave them thick, as you prefer. I like to use the back of a spoon to gently spread the batter and shape large cookies.

Repeat until you have used all the cookie dough and form 8 cookies.

Bake for 9-11 minutes maximum to keep the cookies soft and fudgy.

Remove from the oven and cool them for 5 minutes on the cookie sheet.

Slide a spatula under each cookie to transfer them onto a cooling rack.

Cool to room temperature before eating.

Store up to 3 days in a cookie jar in the fridge or freeze in zip bags and thaw at room temperature 3 hours before eating.
Notes
Peanut butter swap: you can replace peanut butter with sunflower seed butter or almond butter. Make sure you are using fresh, natural seed or nut butter with no added oil or sugar. How to increase the sweetness? If your bananas are not very ripe, the cookies can't be sweet enough to your liking. Add 1/4 cup of any sugar (coconut, white or brown) into the batter or sugar-free erythritol or a few vanilla stevia drops to boost the sweetness.
Share on Facebook
Pin Recipe
Nutrition
Serving:
1
cookie
|
Calories:
140
kcal
|
Carbohydrates:
15
g
|
Protein:
6
g
|
Fat:
9
g
|
Saturated Fat:
2
g
|
Sodium:
76
mg
|
Potassium:
320
mg
|
Fiber:
4
g
|
Sugar:
6
g
|
Vitamin A:
24
IU
|
Vitamin C:
3
mg
|
Calcium:
16
mg
|
Iron:
1
mg