Learn how to make oat flour at home from oats. Plus, we answer all your oats questions, like which oat I should use to make oat flour or how to store oat flour.
But first, let's answer some basic facts about oats to make sure you choose the right oats to make homemade oat flour.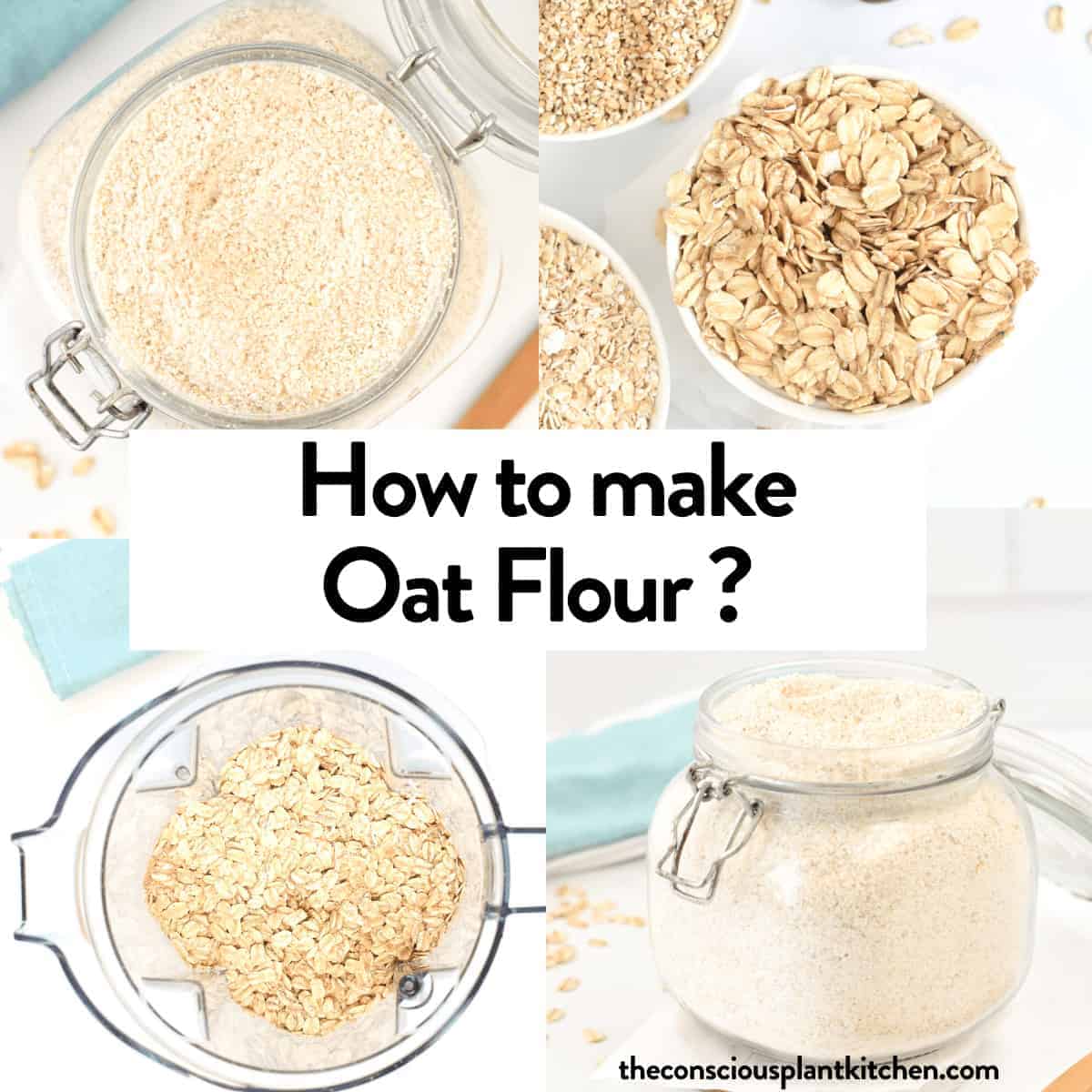 What Are Oats?
Oats are healthy whole grains used in many healthy breakfast recipes to make overnight oats or pancakes using oat flour.
Oats have an amazing nutrition profile. It's not only a high-fiber grain but also loaded with plant-based protein and is ideal for preparing fulfilling plant-based breakfast recipes.
Are Oats A Grain?
Yes, oats are considered whole grains. Oat kernel contains 3 different parts: the oat bran, the oat germ, and the endosperm.
In your local store, you can buy oats in 6 different forms:
Steel-cut oats
Rolled oats
Quick-cooking oats
Instant oats
Oat bran
Oat flour
What Is Oat Flour?
Oat flour is basically ground oats, flour made from old-fashioned oats or quick-cooking oats.
Most oat flour recipes use one or the other type of oats.
A few people use steel-cut oats that make an oat flour too high in fiber and, therefore very liquid absorbent.
How To Make Oat Flour At Home
It's very easy to make oat flour at home. All you need is a blender or food processor.
Next, choose between rolled oats – also called old-fashioned oats – or quick-cooking oats.
Finally, add at least 3 cups of this ingredient to the high-speed blender and blend for about 45 seconds or until it turns into flour.
That's it! You just made oat flour with one simple ingredient.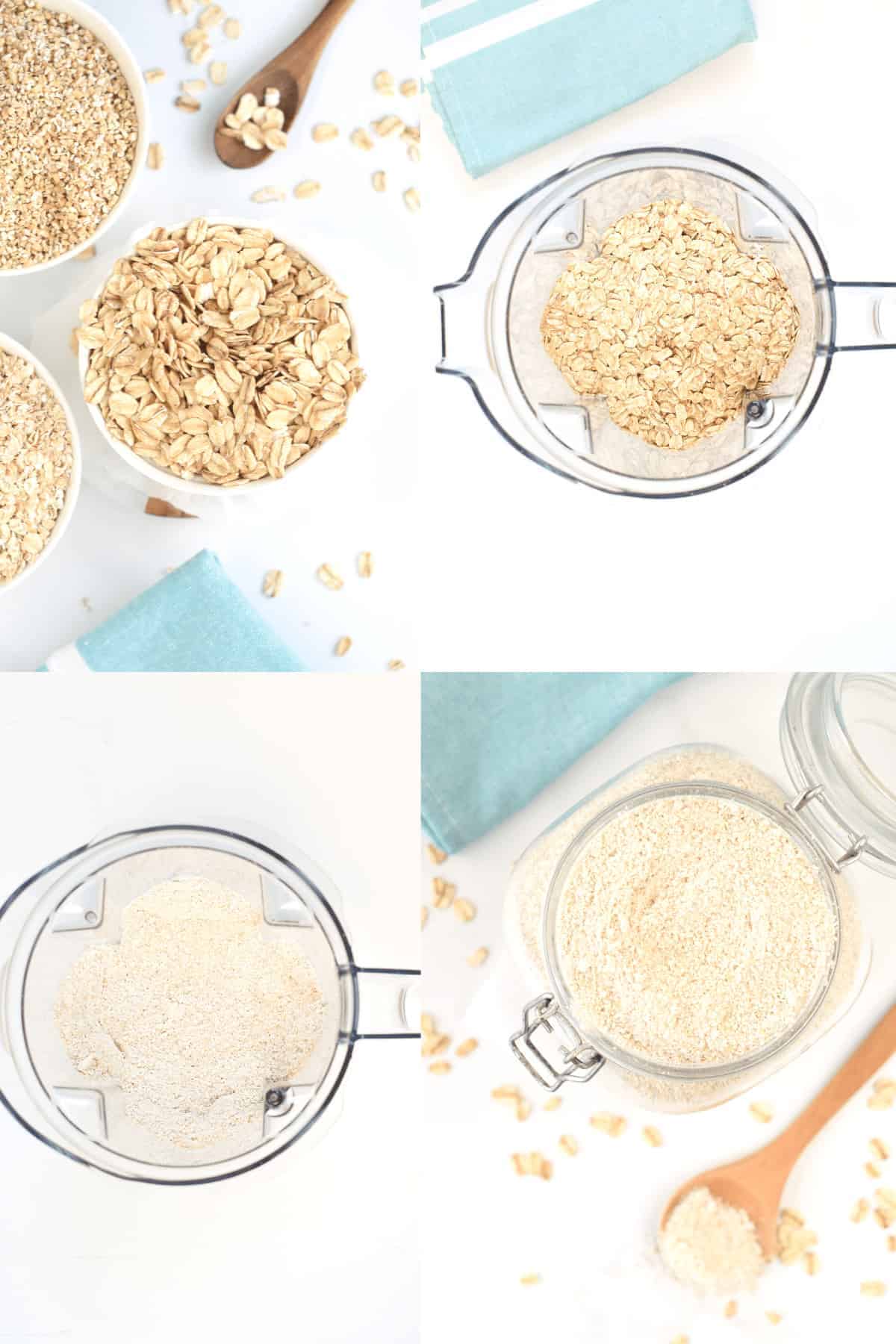 How To Make Oat Flour From Steel-cut Oats
To make oat flour from steel-cut oats, you must use a high-speed blender.
In fact, steel-cut oats have a strong outer layer, and they won't turn into oat flour in a food processor. Steel-cut also oats contain way more fiber than rolled oats.
So if you are making oat flour from steel-cut oats, it will be way more liquid absorbent than oat flour made from rolled oats.
It means that in a recipe that calls for oat flour, you may have to use only 1/2 cup of oat flour made from steel-cut oats to reach the same texture.
How To Store Oat Flour
You can store homemade oat flour in a sealed glass mason jar, in the pantry, or in the fridge for up to 6 months.
You can also freeze oat flour in zipped bags and thaw it the day before using it.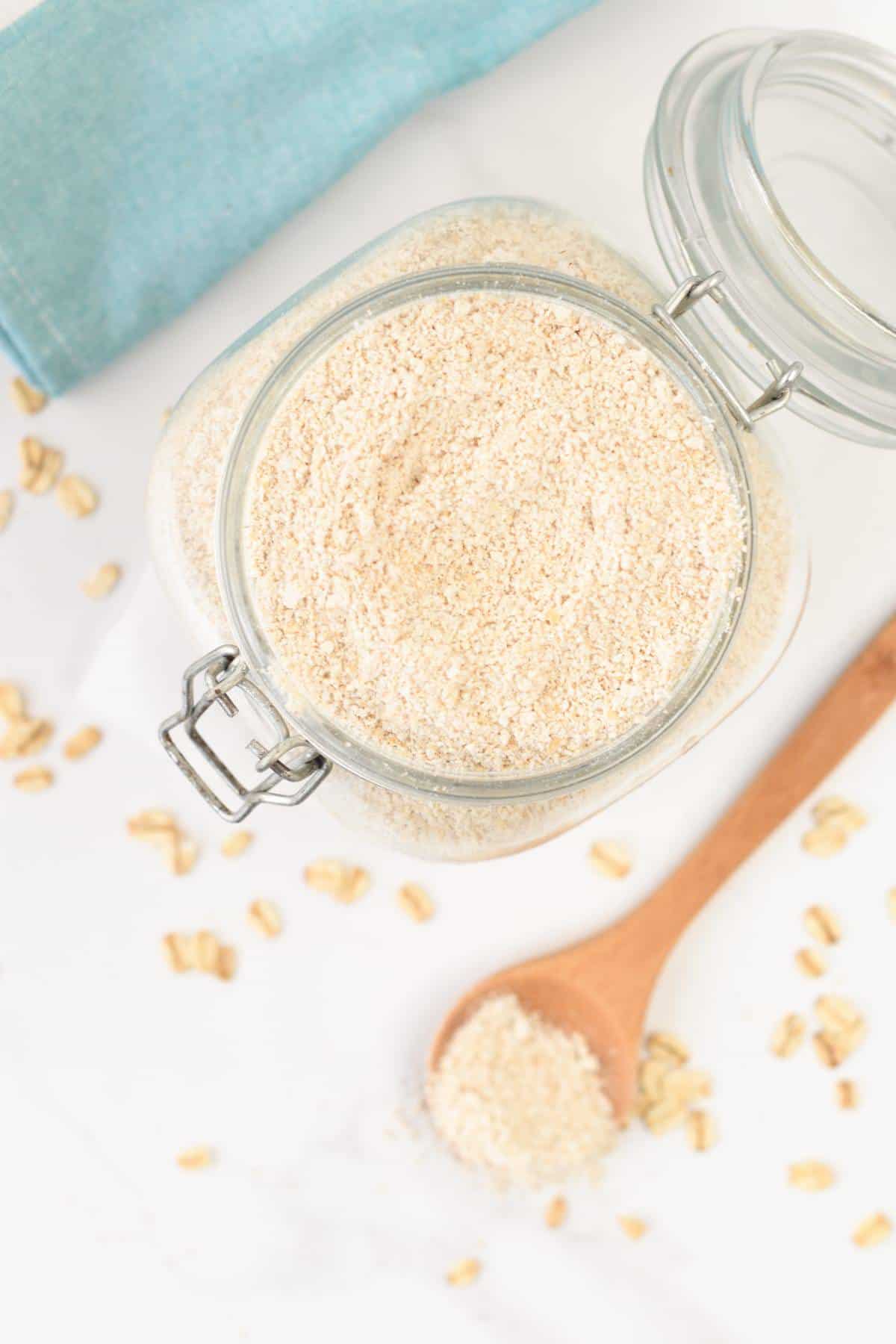 Frequently Asked Questions
Is Oat Flour Healthy?
Oat flour is a healthy flour made from oats, a whole grain high in plant-based proteins and fiber. Oat flour contains a high amount of soluble fiber that keeps the digestive system healthy and stabilizes blood sugar levels.
The nutrition fact for 100 grams (3.5 ounces) of oat flour made of rolled oats are:
Calories: 307 kcal
Protein: 11g
Carbs: 55g

Fiber: 8g
Sugar: 1g
Net carbs: 47g

Fat: 5g
In comparison, all-purpose flour contains only 10 grams of protein, 2 grams of fiber, and 76 grams of carbs per 100 grams.
It means that all-purpose flour spikes blood sugar levels faster than oat flour and doesn't have the fulfilling properties of oat flour.
Does Oat Flour Have Gluten?
Oat is a naturally gluten-free grain but is often contaminated in the facility where it's processed because it uses the same machine as wheat-based products.
So if you make oat flour from oats that the manufacturer guarantees as gluten-free, your oat flour will be gluten-free.
What Are Steel-Cut Oats?
Steel-cut oats are oat kernels without their bran that have been cut into two or three pieces.
It's coarse in texture and must be cooked for a long time, about 30-40 minutes, to make a porridge. Steel-cut oats are the healthier version of oats, containing the most fiber.
What Are Rolled Oats? Are Old-Fashioned Oats Rolled Oats?
Rolled oats are also called old-fashioned oats in some countries.
They are made from oats that have been steamed and flattened between rollers.
Rolled oats are great for making no-bake oatmeal bars or oatmeal breakfast bars. They have a chewy heartier texture than instant oats.
What Are Quick-Cooking Oats? Are Rolled Oats The Same As Quick Oats?
Quick-cooking oats are not the same as rolled oats. Like rolled oats, they have been rolled thinly and steamed, but quick oats are then cut into small pieces.
They cook faster than rolled oats or steel-cut oats, but they still have a good amount of fiber and high nutrition profile.
What are instant oats?
Instant oats are the highly processed version of oats, and consequently, they contain less fiber than rolled oats or steel-cut oats. It's the one used in packaged oatmeal, often mixed with added sugar or flavoring.
Are oats gluten-free? Do oats have gluten?
Yes, pure oat kernels are gluten-free and safe for people intolerant to gluten. However, oats are often contaminated with gluten because it's often processed in the same factory as wheat-based grains.
If you are gluten intolerant or celiac, choose certified gluten-free oats for your recipes.
What are oat brans?
Oat brans are the outer layer of the oat kernels. It's removed in the process of making rolled oats or steel-cut oats. Oat brans are low in carbs, and since they contain mostly fiber, they are a keto-friendly oat ingredient for keto recipes.
How much oat flour equals regular flour?
In most recipes that call for oat flour, you can substitute oat flour for all-purpose flour with the same amount.
It means that 1 cup of oat flour can be replaced with 1 cup of all-purpose wheat flour or gluten-free flour blend.
Is oat flour keto?
No, oat flour is high in carbs and not keto-friendly. However, oat bran is keto-approved.
Recipes With Oat Flour
Below I listed my most popular oat flour recipes, including baked goods and how to make pancakes with oat flour!
Have you made some oat flour at home using my step-by-step recipe? Leave me a comment below to tell me which recipe you baked with it.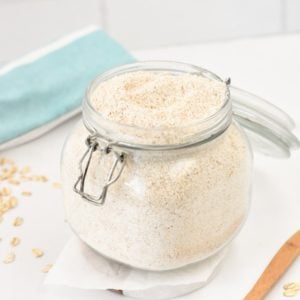 Oat Flour Recipe
An easy oat flour recipe to make your own oat flour at home and use in any recipe.
Pin
Print
Review
Servings: 3 cups
Calories: 307 kcal
Instructions
Place 3 cups of old-fashioned oats, also called rolled oats, into the clean, dry jug of a high-speed blender. You can also use a food processor, but the process will take a bit longer to form oat flour.

Blend on high speed, speed 6-7 of a Vitamix, for about 30 seconds. Stop, check the consistency. If it is coarse, keep blending to a maximum of 1 minute. It should form a fine flour, as seen in the picture above.

For food processors, blend up to 1 minute 30 seconds on high speed.
Storage
Store homemade oat flour in a sealed jar, in a cooled, dry, and dark place like the pantry, or the fridge. Place the oat flour in an airtight container. It can be plastic, metal, or glass. It stores well for up to 6 months and can be frozen and thawed the day before use.
Share on Facebook
Pin Recipe
Nutrition
Serving: 1cup | Calories: 307kcal | Carbohydrates: 55g | Protein: 11g | Fat: 5g | Saturated Fat: 1g | Polyunsaturated Fat: 2g | Monounsaturated Fat: 2g | Sodium: 5mg | Potassium: 293mg | Fiber: 8g | Sugar: 1g | Calcium: 42mg | Iron: 3mg | Magnesium: 112mg | Phosphorus: 332mg | Zinc: 3mg
Your friend, Carine