Vegan Peanut Butter Mug Cake – Healthy
This moist Vegan Peanut Butter Mug Cake is the best vegan snack to fix your cake cravings in a minute.
A simple healthy mug cake recipe for plant-based food lovers!
What's A Healthy Mug Cake?
A healthy mug cake is a simple recipe cooked in 90 seconds in the microwave and made with simple, wholesome, and nutrient-loaded ingredients.
This mug cake uses oat flour as the base of the batter for a gluten-free mug cake.
Why You'll Love This Mug Cake
This healthy mug cake is absolutely delicious, and it is:
Gluten-Free
Dairy-Free
Egg-Free
Ready In 5 Minutes
Only 6 Wholesome Ingredients
How To Make Vegan Peanut Butter Mug Cake
If you are new to microwave mug recipes, let me guide you through simple tips to success.
Mug size
It is one of the most important parts of baking in a mug, choosing the right mug. In fact, you must use at least an 8-ounce (250 ml) coffee mug to ensure the best cake texture.
If your mug is too small, the batter will overflow, and you will end up with half the batter out of the mug.
Microwave power
Not all microwave ovens work at the same power. Like regular ovens, they have different levels of energy.
In order to make the best cake in a mug, you must set your microwave to 800W power, which is a very standard power.
If you are not sure about your microwave power, always start baking the cake for only 70 seconds, stop and check the texture and return to the microwave in 10-second bursts to get your favorite cake texture.
As a general rule, when the cake rises, stop the microwave in the following 10 seconds, and the texture should be the best!
Enjoy immediately
Cake baked in the microwave must be served immediately. In fact, microwave dry cake batter very quickly and consequently they won't store very well.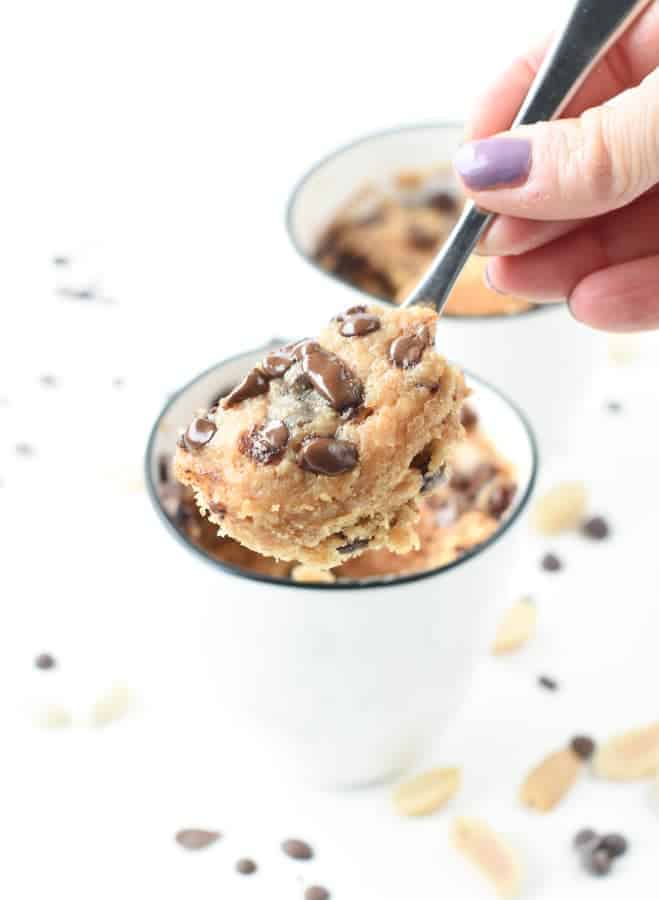 Vegan Peanut Butter Mug Cake Ingredients
All you need to make this single-serve peanut butter cake are 8 ingredients.
Peanut butter – the best is natural peanut butter with no added sugar and no added oil. You can also use almond butter to boost your plant-based protein intake and reduce saturated fat. But overall, any nut butter you love works in the recipe as long as the jar is fresh. For a nut-free option, sunflower seed butter or tahini is great. Pure Peanut Butter is always vegan so pick one with only peanuts!
Baking powder or half the amount of baking soda if preferred. However, baking soda won't rise the cake as much and can leave a bitter aftertaste.
Oat flour – make your own oat flour following my tutorial. It is the best healthy option to make this vegan mug cake recipe. However, spelt flour or all-purpose flour work too, but the cake will be dryer.
Maple syrup or any liquid sweetener you like, agave syrup, or rice syrup.
Unsweetened almond milk – or any non-dairy plant-based milk you like, oat milk and soy milk work too.
Vanilla extract or vanilla essence.
Vegan dark chocolate chips – this is optional, but the cake batter is pretty bland with the chips, and I highly recommend this addition.
Making Healthy Mug Cake Batter
I recommend preparing the batter directly in the mug using a small whisk to combine the ingredients together and avoid lumps.
First, combine maple syrup, peanut butter, and vanilla.
Then, add the almond milk at room temperature, not cold, or it will form flour lumps.
Finally, whisk in the oat flour until it creates a smooth light brown cake batter. Feel free to add the vegan chocolate chips at this time.
The last step consists of placing the mug in the center of your microwave and bake at 800W for 70-90 seconds, or 10 seconds after the cake rises.
Baking Time And Tips
A cake baked in the microwave is cooked 10 seconds after it rises.
It means that you will stop the microwave within 10 seconds after seeing the cake reaching its maximum height.
Then, the cake will slightly deflate and keep cooking as the mug is very hot.
That's why it is better to start with a 70-second baking time on high power (800W).
If you really like your cake denser or firmer, simply return to the microwave and bake by an extra 10-second burst until it reaches your favorite texture.
Serving Mug Cake
It is better to serve this peanut butter cake immediately.
Of course, wait 1 or 2 minutes before digging in, or you may burn yourself.
Also, if you have a strong sweet tooth, you can top your cake with delicious toppings like:
A scoop of vegan ice cream
Extra vegan dark chocolate chips
Whipped coconut cream
a drizzle of jam – for the PB&J combo lovers!
Made this vegan snack recipe and want to share a picture of your lovely cake with me? Join me on Instagram.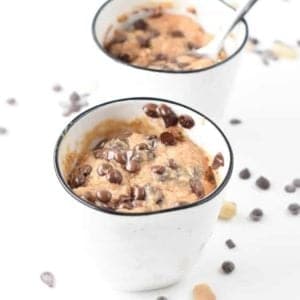 Vegan Peanut Butter Mug Cake
A moist healthy vegan peanut butter mug cake with chocolate chips.
Pin
Print
Review
Servings: 1 mug cake
Calories: 441 kcal
Instructions
In a microwave-safe coffee mug (minimum size 1 cup/250ml), whisk together peanut butter, maple syrup, and vanilla until smooth.

Whisk in almond milk, at room temperature, baking powder, and ultra-fine oat flour (or flour of choice) until it forms a light batter with no lumps.

Stir in vegan dark chocolate chips if desired, or keep the batter plain.

Sprinkle few extra chocolate chips on top if desired.

Microwave on high power (800W) for about 70 seconds or stop the microwave 10 seconds after you see the cake rising to its maximum height. Remove from the microwave carefully. It is hot! Check the texture. It should be moist and soft, and the top should deflate. If it is not cooked to your liking after that time, return to the microwave and cook again by 10-second bursts until done – no more than 90 seconds in total. Note that the longer you microwave the mug cake, the denser it will be.

Serve immediately with a dollop of vegan ice cream or plain.
Baking option
Preheat oven to 350°F (180°C)

Grease an oven-proof ramekin with oil, add the cake batter and bake for 12-15 minutes until cooked through.

Serve immediately with toppings of your choice.
Share on Facebook
Pin Recipe
Nutrition
Serving: 1mug cake | Calories: 441kcal | Carbohydrates: 43g | Protein: 12g | Fat: 25g | Saturated Fat: 10g | Cholesterol: 1mg | Sodium: 612mg | Potassium: 451mg | Fiber: 4g | Sugar: 23g | Calcium: 199mg | Iron: 1mg