This Oatmeal Mug Cake is a healthy snack baked in the microwave and made from healthy oat flour and rolled oats.
It's ready in 90 seconds and 100% egg-free, dairy-free and vegan-friendly.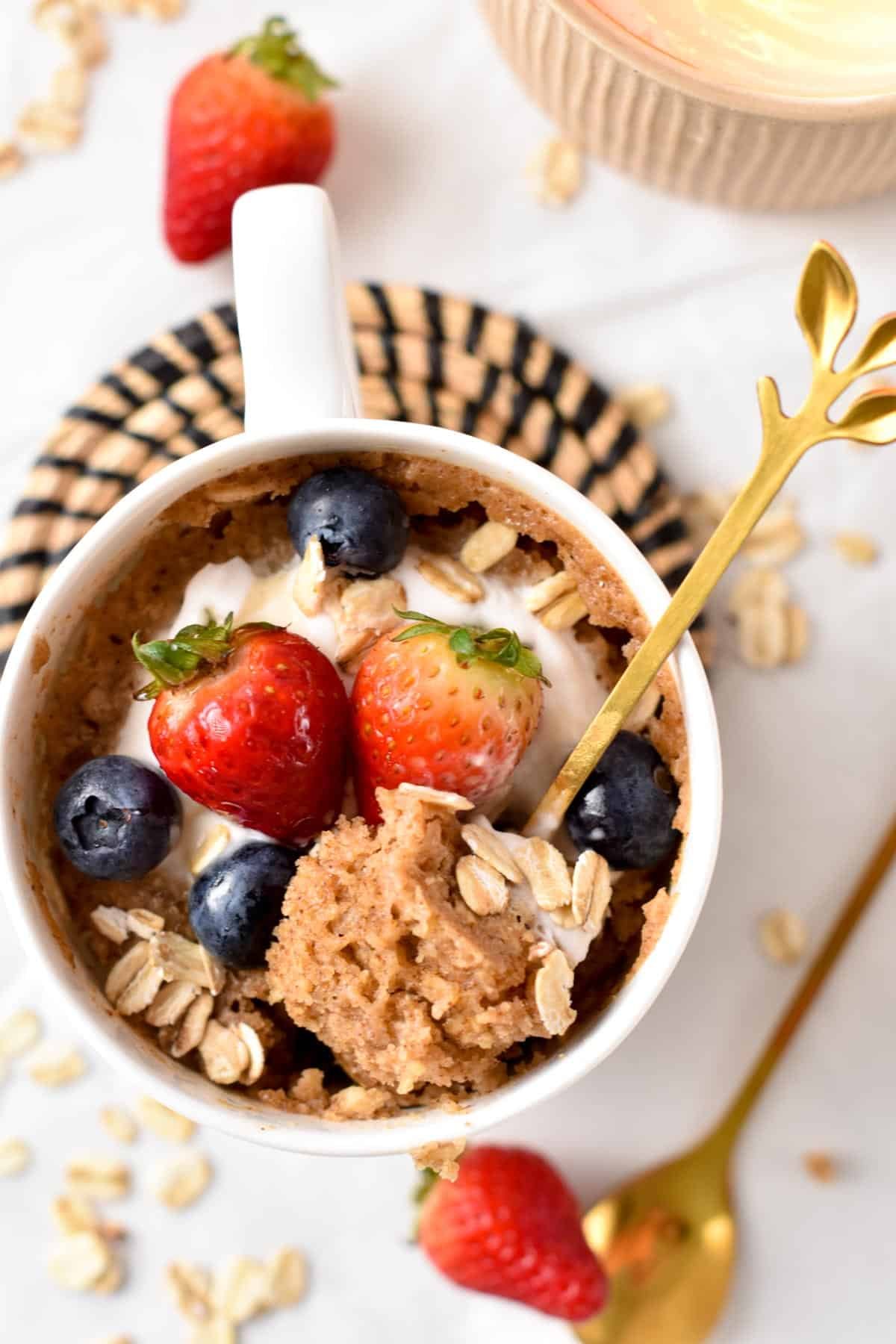 I love mug cake recipes! I have many of them already, such as my vegan vanilla mug cake, matcha mug cake, or Oreo mug cake.
I love the simplicity of whipping a few ingredients, baking in my microwave or air fryer, and getting a single-serve cake to enjoy.
My kids can also make these mug cakes recipes by themselves and it's so rewarding for them.
Let's see how to make this healthy mug cake with oats.
How To Make Oatmeal Mug Cake
It's easy to make this Oat mug cake recipe for a quick healthy snack. Let me show you how.
Ingredients
All you need to make this easy oat mug cake are:
Oat Flour – You can also use all-purpose flour. It gives the mug cake a texture closer to real cakes, but I find oat flour healthier and love the flavor.
Quick Oats or rolled oats. I like quick oats with oat flour. Together, they bind better and create a delicious cake texture, less fragile than with old-fashioned rolled oats.
Avocado Oil or mashed banana or applesauce for an oil-free option.
Almond Butter or peanut butter, or tahini.
Unsweetened Almond Milk or oat milk, soy milk, or any plant-based milk.
Maple Syrup or any liquid sweetener you love, including coconut nectar or agave syrup.
Baking Powder
Vanilla Extract
Salt
Preparation
In a 12-ounce coffee mug, stir all the dry ingredients together with a fork: oat flour, quick oats, baking powder, and salt.
Then stir in the liquid ingredients: almond milk, avocado oil, vanilla extract, and maple syrup.
Place the mug cake in the center of the microwave, set the microwave to its highest powder (900W), and microwave for 90 seconds.
You can also air fry the recipe. Make sure you use an air fryer safe ramekin and air-fry for 8 minutes at 350°F (180°C).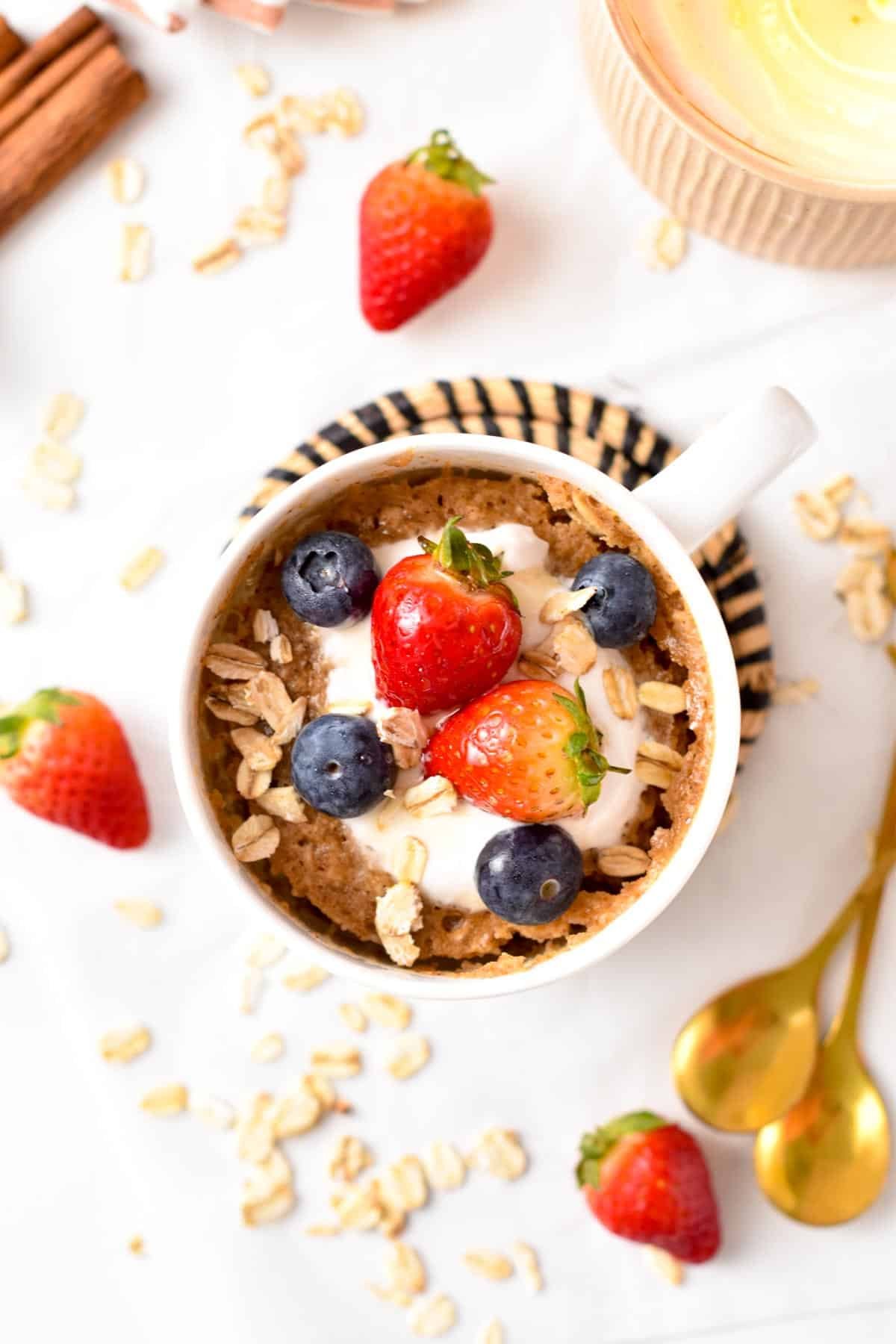 Choice of Flour For Texture
This mug cake won't rise much, and the crumb is a bit crumbly if you use oat flour.
This is because the recipe contains no gluten. If you use all-purpose flour, the cake rises more, and the texture is more bouncy and compact, like a real cake or muffin.
Optional Add-On
Feel free to stir in some of the below ingredients in the mug cake batter before cooking.
1-2 tablespoons of chocolate chips
Unsweetened shredded coconut
Chopped nuts
Serving
You can serve this mug cake plain or with some delicious toppings like:
A drizzle of maple syrup
Vegan Dark chocolate chips
Fresh or frozen berries like blueberries, raspberries or strawberries
Unsweetened coconut whipped cream
Chopped nuts
Coconut yogurt
Storage Instructions
You can't store mug cakes cooked in the microwave for more than one hour. After that time, their taste and texture change, and it's not very good.
You can eventually mix the dry ingredients the day before and store them in a sealed mason jar in the pantry.
For the liquid ingredients, mix and store them in the fridge. The next day, assemble the ingredients and microwave just before eating.
Allergy Swaps
Below are some allergy swap ideas to adapt this healthy mug cake recipe to your dietary requirements.
Oil-Free – You can replace oil with the same amount of mashed bananas, dairy-free yogurt, apple sauce, or mashed sweet potato puree.
Sugar-Free – You can replace the maple syrup with natural sugar-free sweeteners like Monk fruit-based syrup.
Gluten-Free – Pick a gluten-free certified oat brand and make homemade oat flour.
Nut-Free – Use soy milk, oat milk, or hemp milk. Also, swap the almond butter for sunflower seed butter or tahini.
Frequently Asked Questions
Below are the answers to your most common questions about this oat mug cake recipe.
Can I Double The Recipe?
Yes, you can double the recipe, but you must bake the recipe as a single-serve recipe.
It means you must place each serving in one ramekin or mug and microwave one at a time.
Can I Bake Mug Cake?
Yes, you can preheat the oven to 350°F (180°C). Grease an oven-safe ramekin with avocado oil and fill it with the batter.
Bake on the center rack until a pick inserted in the center of the mug cake comes out clean after about15 minutes.
Can I Make Ahead Oat Mug Cakes?
You can make this recipe ahead only if you bake or air fry the recipe. Microwaved cakes last for one hour at most. After that time, their taste and texture get weird.
More Mug Cake Recipes
If you like vegan mug cakes, you'll love these other recipes:
Did you try this mug cake with oats? Share a comment or review below to connect with me.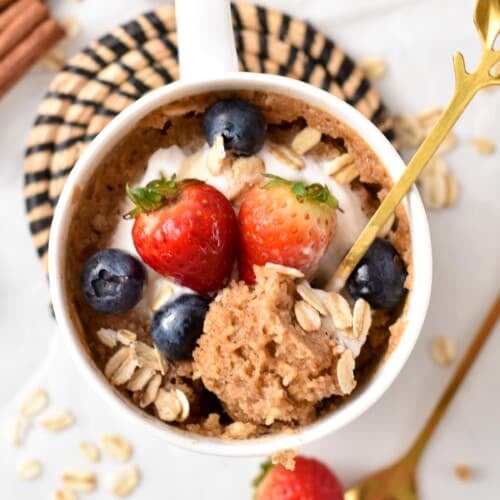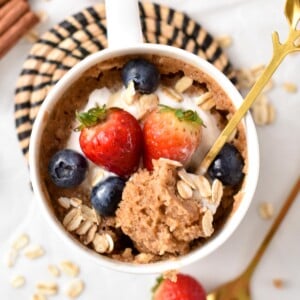 Oatmeal Mug Cake
This healthy Oatmeal Mug Cake recipe is perfect for breakfast or a quick snack.
Pin
Print
Review
Shop My Tools
Instructions
In a microwave-safe coffee mug (minimum size 1 cup/250ml), whisk with a fork oat, flour, quick oats, baking powder, and salt. If using old-fashioned oats, use all-purpose flour for the best texture.

Whisk in almond milk, almond butter, avocado oil, vanilla extract, and maple syrup. The batter should be thick and liquid.

Stir in vegan dark chocolate chips if desired, or keep the batter plain.

Microwave on high power (800W+) for about 90 seconds or stop the microwave 10 seconds after you see the cake top drying. The mug cake will barely rise as there's no gluten. Remove from the microwave carefully. It is hot! Check the texture. It should be moist and soft, a bit crumbly if you use oat flour but cooked in the center. If it is not cooked to your liking after that time, return to the microwave and cook again in 10-second bursts until done. Note that the longer you microwave the mug cake, the denser and dryer it will be.

Let the mug cake cool down for a few minutes before serving it in its mug.

Serve with fruits, maple syrup, and dairy-free yogurt.
Baking option
Preheat the oven to 350°F (180°C).

Grease an oven-proof ramekin with oil, add the cake batter and bake for 12-15 minutes until cooked through. Insert a toothpick in the center to check the baking time. If clean, it's ready to remove from the oven and serve.

Serve immediately with toppings of your choice.
Notes
Note 1: For a cake-like texture, use all-purpose flour. For a healthier cake with a fluffier texture and more crumbly and fragile, use oat flour. Note 2: Using old-fashioned oats with all-purpose flour wouldn't bind very well with oat flour in this microwave recipe. Note 3: Any liquid sweetener can be used, like coconut nectar, date syrup, etc. Note 4: Any non-dairy milk work in this recipe, including oat milk, soy milk, etc. Note 5: Replace the oil with the same amount of mashed banana, apple sauce, or pumpkin puree.
Share on Facebook
Pin Recipe
Nutrition
Serving:
1
mug cake
|
Calories:
453.7
kcal
|
Carbohydrates:
46
g
|
Protein:
9.4
g
|
Fat:
26.3
g
|
Saturated Fat:
2.9
g
|
Polyunsaturated Fat:
5.3
g
|
Monounsaturated Fat:
16.1
g
|
Sodium:
510.8
mg
|
Potassium:
326.1
mg
|
Fiber:
5
g
|
Sugar:
13.7
g
|
Vitamin A:
0.2
IU
|
Calcium:
217.2
mg
|
Iron:
2.6
mg
|
Magnesium:
136.3
mg
|
Phosphorus:
318.6
mg
|
Zinc:
2
mg