90-Second Matcha Mug Cake
This fluffy single-serve 90-second Matcha Mug Cake can fix your cake cravings in no time and lets you enjoy delicious Matcha green tea flavors.
Bonus this green tea mug cake is also egg-free, dairy-free, and vegan-friendly.

What's A Match Mug Cake?
A Matcha Mug Cake is a single-serving cake made in a mug and cooked in a microwave in 90 seconds.
It's a delicious vegan snack that can be done for any cake cravings.
Why You'll Love This Mug Cake
If you love Matcha cake but don't feel like baking an entire cake for yourself, this Matcha green tea mug cake is what you need. It's naturally:
Nut-free
Egg-free
Dairy-free
Vegan
And there's a gluten-free option provided.

How To Make Matcha Mug Cake
It's very easy to make a delicious fluffy mug cake with Matcha flavors.
All you need are a few ingredients, a microwave, and of course, a microwave-safe mug to cook the recipe.
Ingredients
All-purpose Flour – or white whole wheat flour for a healthier twist. You can't make this recipe with almond flour or coconut flour. It wouldn't work.
Green Matcha Powder – use quality Matcha powder for the best flavors and results.
Baking Powder
Granulated Sweetener – can be sugar, unrefined cane sugar, or sugar-free erythritol for a sugar-free mug cake option.
Melted coconut oil – or any oil you have on hands. But watch out, some oils have strong flavors like olive oil or avocado oil, and they mask the Matcha flavor (plus olive oil is not necessarily vegan). It's better to focus on light flavor vegetable oils like canola oil if you don't like coconut oil.
Unsweetened almond milk or any plant-based milk you love.
Vanilla extract
Whisk dry ingredients
First, prepare a tall microwave-safe coffee mug to whisk all your ingredients together. I recommend a 12-oz tall mug.
Such a height prevents the cake batter from overflowing while baking in the microwave.
The trick to making a delicious Matcha mug cake is to perfectly whisk the Matcha powder and the other dry ingredients together before adding any liquid.
In fact, green tea powder often forms lumps in its bag, so whisking fast and well breaks them and makes the cake more flavorsome with no bits of Matcha powder.
You can use a Matcha bamboo whisk or a regular kitchen whisk for this.
Next, whisk in the liquid ingredients, making sure the melted coconut is not too hot, or the cake would come out chewy and packed.
This happens because hot liquids over-activate the gluten in the flour.
Baking in the microwave
When the batter is smooth, place the mug in the center of the microwave and set the power to 800W.
Microwave the mug cake for about 80-90 seconds or until it rises and the center is set, not wet but still bouncy if touched with your finger.
You can return the mug cake in the microwave in 10-second bursts if undercooked in the center.
Cooking time
The cooking time varies a lot based on:
The size of your mug
The power of your microwave
The ingredient swaps you made like if you used gluten-free flour.
If unsure, start baking for 60 seconds and add 10 seconds of baking time until the mug cake is set.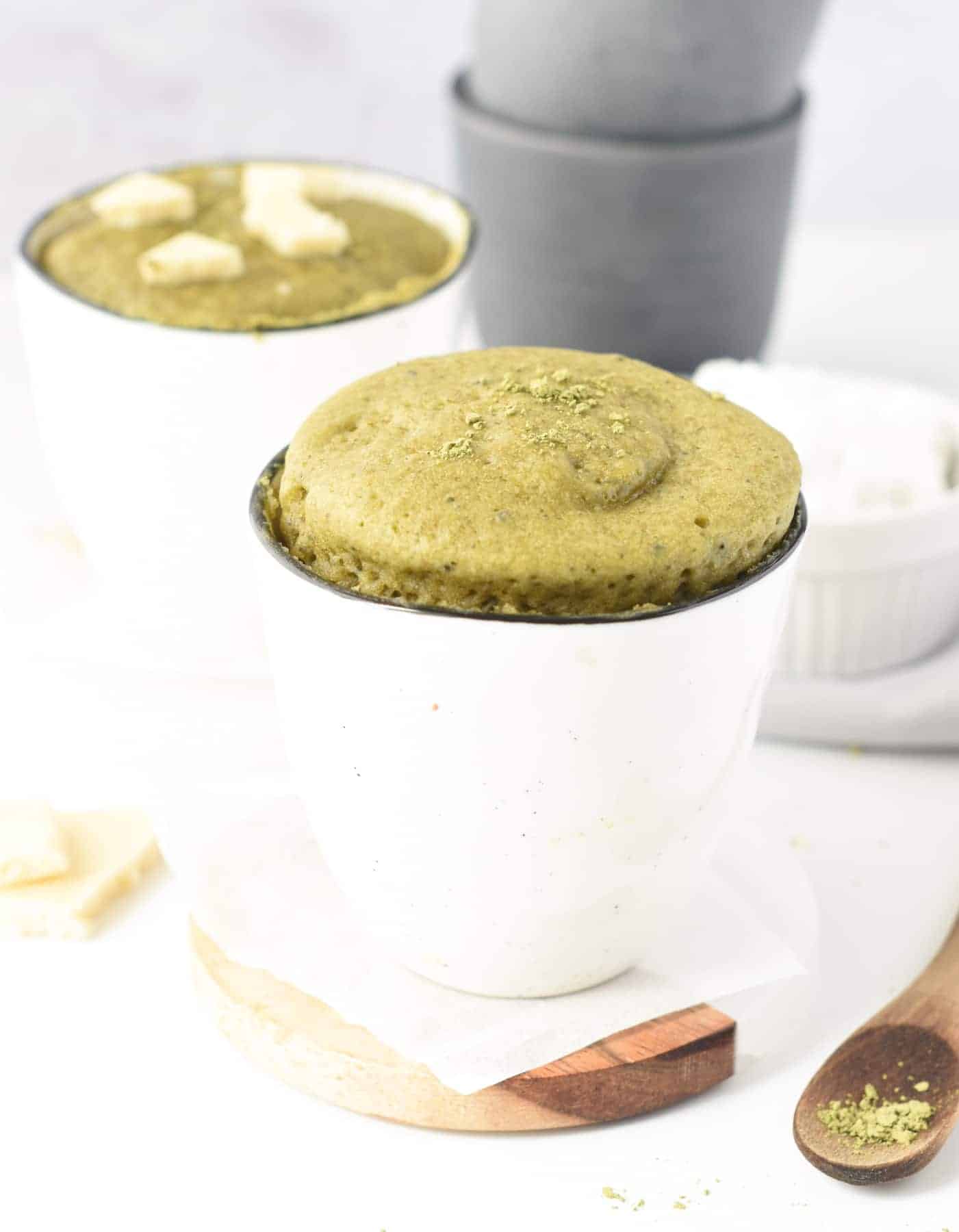 Serving ideas
Of course, any mug cake recipes are always better topped with something creamy or sweet. The best combo to serve this Matcha mug cake with are:
Coconut yogurt
Chocolate chips especially white chocolate chips. Not all white chocolates are vegan, of course, so check the nutrition panel for any dairy.
Dairy-free cream cheese

More Mug Cake Recipes
Mug cakes are convenient single-serving cakes to fix a quick sweet craving.
Below I listed more vegan mug cakes for you to try, including chocolate mug cake, vanilla mug cake, and more flavors to satisfy all your sweet cravings!
Have you made this vegan Matcha mug cake recipe? Share a comment or review below,
Your friend, Carine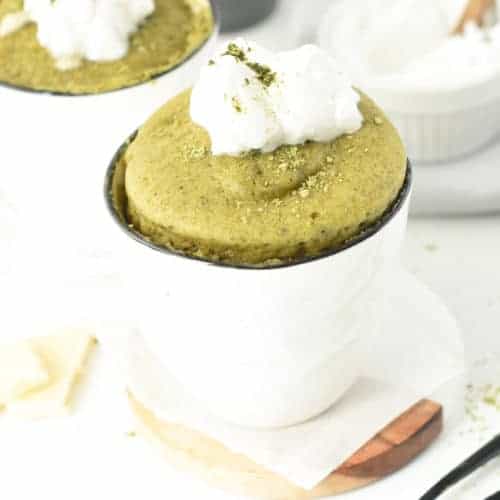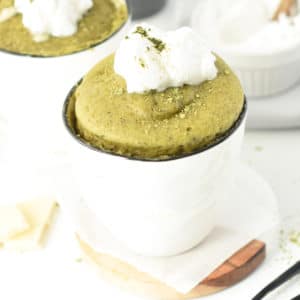 Matcha Mug Cake
An easy single-serve Matcha Mug Cake recipe made with no eggs or dairy, with a light, fluffy, and delicious Matcha Green tea flavor.
Pin
Print
Review
Save
Saved Recipes
Shop My Tools
Instructions
Prepare a tall microwave-safe 12-oz coffee mug or with a minimum height of 2 inches (5 cm) to prevent the mug cake batter from overflowing.

In the mug, add flour, baking powder, sugar, Matcha powder, and whisk until the Matcha powder is well combined with the dry ingredients, and almost no lumps are seen.

Whisk in almond milk, melted coconut oil, and vanilla until it forms a smooth batter with no lumps.
Microwave Baking
Bake in the microwave for 90 seconds at 800W. If your microwave works at lower power, you may have to increase baking time by 20-second bursts. If your mug is low and wide, your mug cake will bake faster, and you may have to bake only 60 seconds first, then adjust baking by 20-second bursts as well.
Oven baking
Bake at 350°F (180°C) for

10-12 minutes

in an oven-safe greased ramekin.
Notes
Note 1: You can replace white flour with white whole-wheat flour or all-purpose gluten-free flour containing gum, but this last option makes the mug cake less fluffy, heavier. The recipe won't work with almond flour or coconut flour. Note 2: Any granulated sweetener work like sugar-free erythritol, white sugar, coconut sugar, unrefined cane sugar. Don't use liquid sweeteners. They make the mug cake dense and gummy. Note 3: Any milk work in this recipe, including oat milk, soy milk, etc. Note 4: Any oil work in the recipe, including olive oil, avocado oil, or canola oil. Some oils are strong in flavor and may alter the Matcha flavor.
Share on Facebook
Pin Recipe
Nutrition
Serving:
1
mug cake (whole recipe)
|
Calories:
343.5
kcal
|
Carbohydrates:
48.9
g
|
Protein:
5.3
g
|
Fat:
14.8
g
|
Saturated Fat:
12.2
g
|
Polyunsaturated Fat:
0.6
g
|
Monounsaturated Fat:
1.1
g
|
Sodium:
165.5
mg
|
Potassium:
46.5
mg
|
Fiber:
1
g
|
Sugar:
25.6
g
|
Vitamin A:
200
IU
|
Calcium:
117.7
mg
|
Iron:
2.2
mg
|
Magnesium:
7.3
mg
|
Phosphorus:
54.6
mg
|
Zinc:
0.2
mg