Vegan Chocolate 90-Second Mug Cake
This easy vegan chocolate mug cake is a delicious fudgy chocolate cake ready in 90 seconds using your microwave!
It's a quick snack to fix your chocolate cake cravings in no time.
You know how much I love vegan mug cake recipes, right? I already shared my vegan vanilla mug cake or peanut butter mug cake before, and you love them both.
Today I am back with the best vegan chocolate mug cake ever!
How To Make A Chocolate Cake In A Mug
Mug cakes are the easiest cake to make in less than 5 minutes, preparation included. They require only basic ingredients and a microwave oven for baking.
Ingredients
All you need to make this chocolate vegan mug cake recipe are:
All-purpose flour – I tested the recipe with standard wheat flour and all-purpose gluten-free flour. Both options work, but the cake is dense and not as fluffy using a 1:1 all-purpose gluten-free flour blend.
Unsweetened cocoa powder
Coconut sugar – or unrefined cane sugar or erythritol for a sugar-free option. Of course, regular sugar works too. But I always prefer to use unrefined sugar options. They are healthier and higher in nutrients.
Olive oil – use light olive oil or avocado oil. Both are healthy low-saturated-fat oils to bake with and keep the mug cake fudgy, not dense or dry. Coconut oil works as well, but the coconut flavor is not always appreciated. I didn't try the recipe oil-free, but I recommend using 1 tablespoon of mashed banana or applesauce to replace oil if you want to try it oil-free.
Baking powder
Vanilla extract
Chocolate chips – make sure they are vegan. Most dark chocolate chips contain added milk, so it is better to double-check the ingredient list.
Combining The Dry Ingredients
First, bring all the dry ingredients into a small bowl: flour, sugar, cocoa powder, baking powder, and salt.
Then, use a whisk to combine. This prevents lumps.
Stirring in wet ingredients
Now add in almond milk, olive oil, and vanilla, and whisk again until the batter is smooth with no lumps. Finally, stir in chocolate chips to make a vegan chocolate chip mug cake.
This is optional, but the extra chocolate chips in the batter add a boost of sweetness and gooey texture too. I don't recommend skipping this part.
Transferring into a microwave-safe mug
You must use a tall coffee mug to prevent the mug cake from overflowing in the microwave. Make sure the coffee mug is suitable for the microwave too.
Finally, sprinkle some extra chocolate chips before baking for a boost of chocolate flavor.
Cook Mug Cake In Microwave
That's the tricky part! First, check the power of your microwave.
Most microwaves run between 600W and 1200W. This recipe is baked at 900W, the most popular microwave heat.
It takes 90 seconds to perfectly cook this chocolate mug cake at this power.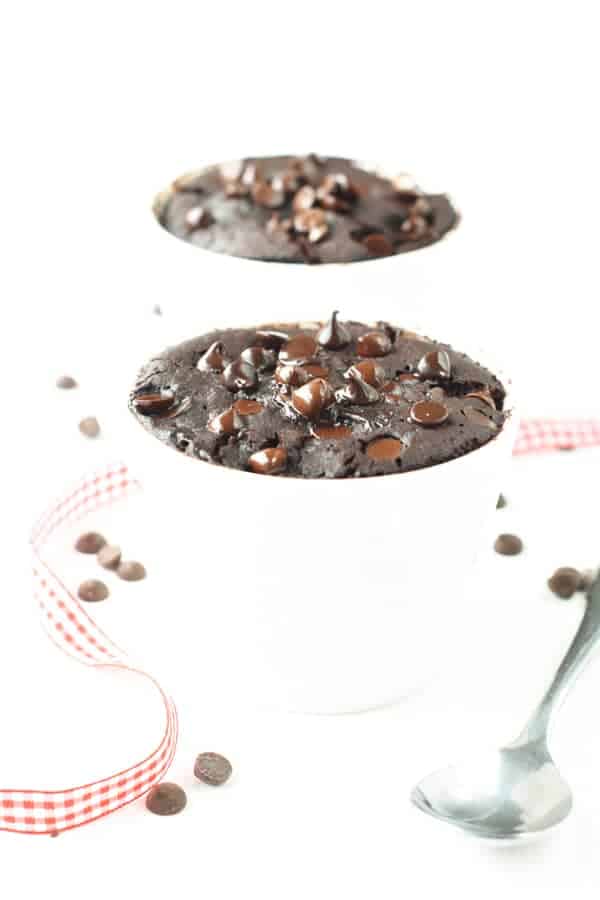 What if I don't' know my microwave power?
If you are unsure of your microwave power, always start microwaving the cake for 60 seconds. Then, check the texture.
If still wet in the center, return to the microwave in 15-second bursts until set. You may also want to keep the center slightly moist to achieve a molten lava cake.
Cook time
As a general rule, this is some cooking time recommendation based on the microwave power you are using.
At 900W – microwave for 90 seconds
At 1200W – microwave for 60 seconds
At 600W – microwave for 90 seconds, then test the texture. You may enjoy the chocolate lava center or want to return it to the microwave for an extra 20 seconds to set.
Baking Mug Cakes In The Oven
If you don't have a microwave at home, you can use your oven for baking this recipe.
First, make sure you are using an oven-proof ramekin. Fill the ramekin to 3/4 level and place it in the center rack of a preheated oven at 350°F (180°C).
Bake the mug cake for 15-20 minutes or until a skewer inserted in the center of the mug cake comes out clean or with a little to no crumb.
A mug cake baked in the oven store much longer than a microwave-baked version.
You can store this cake in the pantry for 2-3 days, covered with a silicone lid to prevent the top from drying out.
Storing Mug Cakes
Unfortunately, you can't store mug cakes baked in your microwave. Microwave is a fast cooking process that dehydrates food quickly.
While it is a convenient method to cook a cake in less than 2 minutes, it allows dry out the ingredients quickly.
Therefore, a mug cake shouldn't be baked in advance and eaten straight away from the mug to enjoy its best texture.
However, you can make the mug cake batter ahead, store it in the fridge, and microwave it just before serving.
Serving Vegan Mug Cake
A microwave mug cake is better served immediately, straight away from the mug.
You can also flip it over a plate too, but it won't look as beautiful. The best vegan toppings are:
Vegan ice cream
Vegan whipped coconut cream
A dollop of peanut butter or almond butter
More Vegan Mug Cake Recipes
I love vegan mug cake recipes! They are fast, convenient, and delicious. You can find more vegan mug cakes:
Made this vegan chocolate mug cake? Share a review or comment below or join me on Pinterest for more vegan recipes inspiration!
Your friend, Carine
Vegan Chocolate Mug Cake
An easy vegan chocolate mug cake ready in 90 seconds using your microwave!
Pin
Print
Review
Servings: 1 serving
Calories: 357 kcal
Instructions
In a small mixing bowl, whisk flour, unsweetened cocoa powder, coconut sugar, baking powder, and sea salt until combined.

Add olive oil, almond milk, and vanilla. Whisk until smooth.

Stir in chocolate chips if desired.

Transfer the batter into a tall microwave-safe coffee mug and sprinkle a few extra chocolate chips on top.

Microwave for 80-90 seconds at 900W or until cooked on top, not runny in the center. You can return to the microwave by 10 seconds burst if undercooked. Also, if your microwave works at lower power, you may have to increase baking time by 20 seconds bursts. If your mug is low and wide, your mug cake will bake faster, and you may have to bake only 60 seconds first, then adjust baking by 20-second bursts.

Enjoy immediately, mug cakes baked in the microwave don't store well.
Notes
Sugar-free option: replace sugar with the same amount of erythritol and use sugar-free chocolate chips. Gluten-free flours: you can use all-purpose gluten-free flour, but the cake won't rise! Gluten is the active ingredient that raises the cake when combined with baking powder, so any gluten-free flour will make this cake flat and dense.
Share on Facebook
Pin Recipe
Nutrition
Serving: 1mug cake | Calories: 357kcal | Carbohydrates: 61g | Protein: 6g | Fat: 15g | Saturated Fat: 8g | Sodium: 922mg | Potassium: 152mg | Fiber: 6g | Sugar: 33g | Calcium: 169mg | Iron: 5mg