Vanilla Vegan Mug Cake (No Egg, No Milk)
The ultimate Vanilla Vegan Mug Cake! This vegan mug cake recipe is an egg-free vanilla mug cake recipe ready in 2 minutes in the microwave.
If you are craving a fluffy vanilla cake, this recipe will fix it quickly!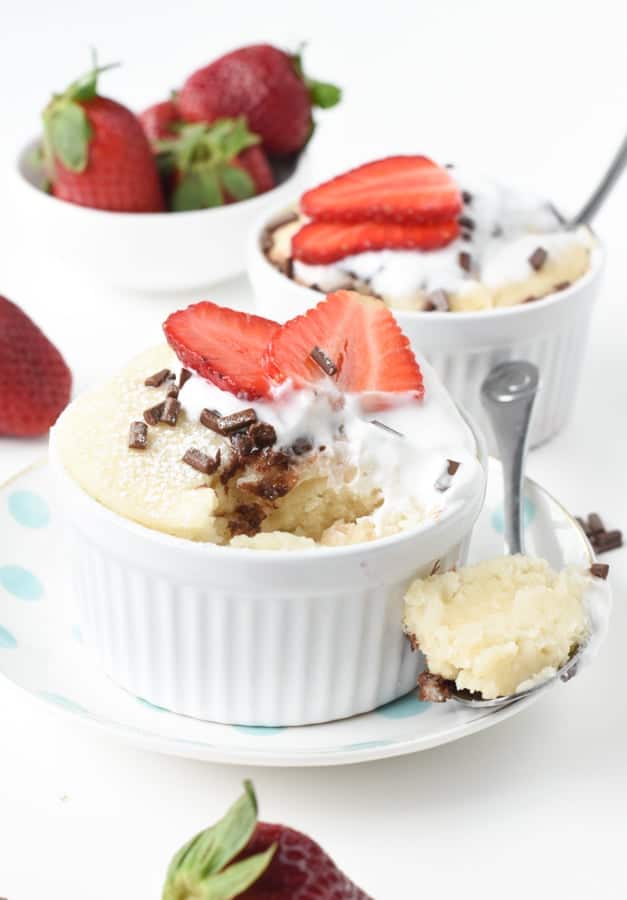 What's A Vegan Mug Cake?
A vegan mug cake is, as its name implies, a cake baked in a mug and made with plant-based ingredients.
What makes mug cakes so awesome and so popular is that they are one-bowl, no-preparation cakes cooked in a microwave.
You literally have to toss the ingredients in a mug, stir, and put it in the microwave!
Now it doesn't mean you should not follow a recipe! It's critical to have the perfect ratio of wet and dry ingredients to make a good mug cake. But once you have it, it's easy as pie!
How To Make A Vanilla Mug Cake In The Microwave
Mug cakes in the microwave are very convenient cake recipes to get your baking goodness fix in less than 2 minutes.
To make sure your microwave mug cake always comes out fluffy and moist, there are a few things to consider:
Microwave power – make sure your microwave is on high power 800W. If your microwave can't go that high, you will have to increase the baking time by 20-second bursts.
Mug size – always use a regular size coffee mug diameter of 8cm (3 inches) and a minimum height of 5 cm (1.9 inches). If you were using a wider microwave-safe ramekin, you would have to decrease the baking time. Otherwise, the mug cake would come out dry.
Baking time – the perfect baking time for a microwave mug cake is 90 seconds in an 800W microwave power and regular coffee mug. However, if you have to change any of these parameters, I recommend starting baking the mug cake for only 60 seconds. Check the texture and keep baking in 20-second bursts until the center is set, moist and fluffy. This will prevent overbaking the mug cake, resulting in a chewy dry cake that won't taste good.
How To Make A Vanilla Mug Cake From Scratch
There is nothing easier than making your own vegan vanilla mug cake. It is the perfect 90-second vegan dessert to fix any sweet craving.
All you need is to combine all the ingredients directly into your coffee mug.
Ingredients
You don't even need to use a separate bowl, which is great! The main ingredients you need to make an eggless vanilla mug cake are: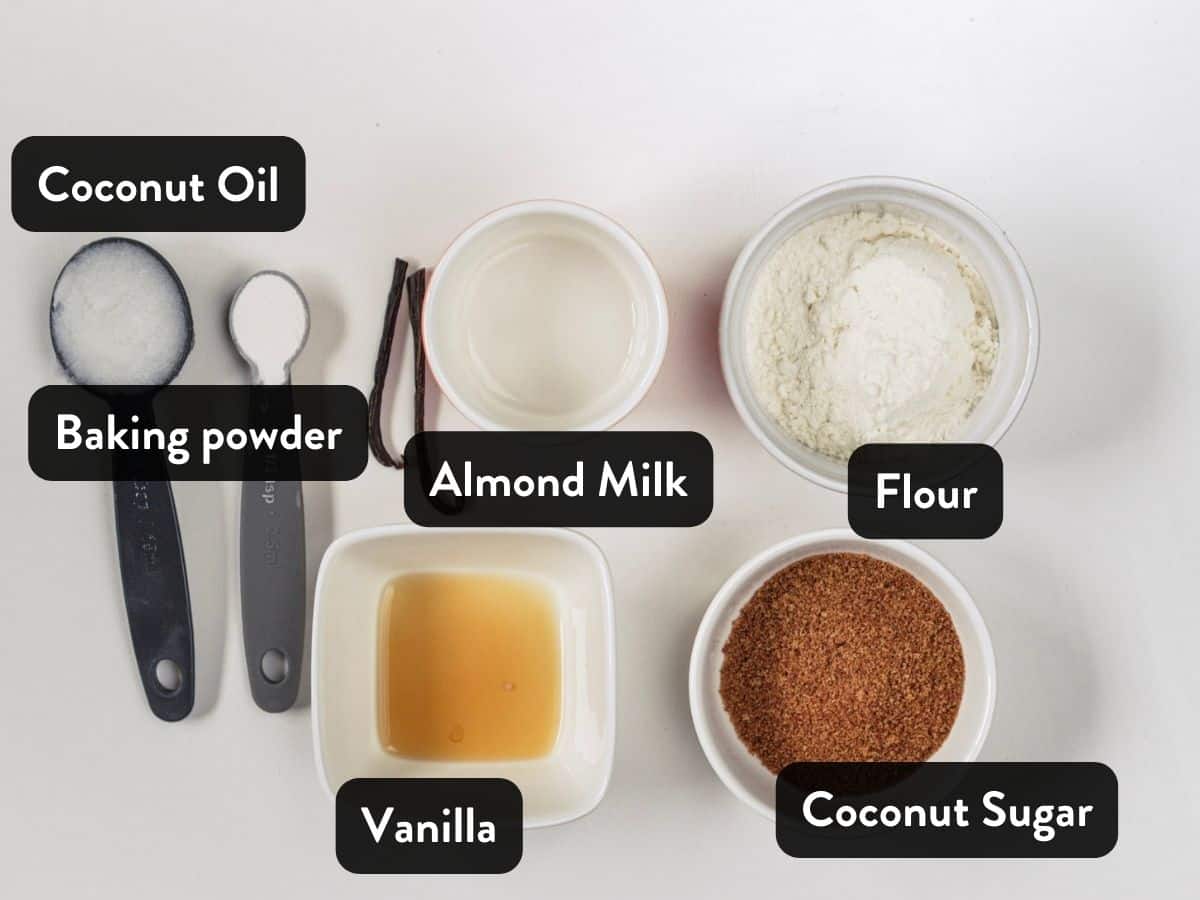 Flour – the recipe works with all-purpose white flour, gluten-free flour blend, spelt flour, or white whole wheat flour. Oat flour works as well, but the batter will be more fragile and less fluffy. However, almond flour or coconut flour won't work in this recipe, so don't be tempted to use them!
Unsweetened almond milk – or any non-dairy milk you love like oat milk, soy milk, or rice milk.
Baking powder – or half the amount of baking soda if preferred.
Vanilla extract or essence
Coconut sugar or white sugar or erythritol for a sugar-free mug cake. I don't recommend using maple syrup or any liquid sweetener in vegan mug cake recipes. They make cakes too heavy and too dense.
Coconut oil – or any light oil like avocado oil, or almond oil. I had great success with apple sauce for an oil-free mug cake option.
Making The Batter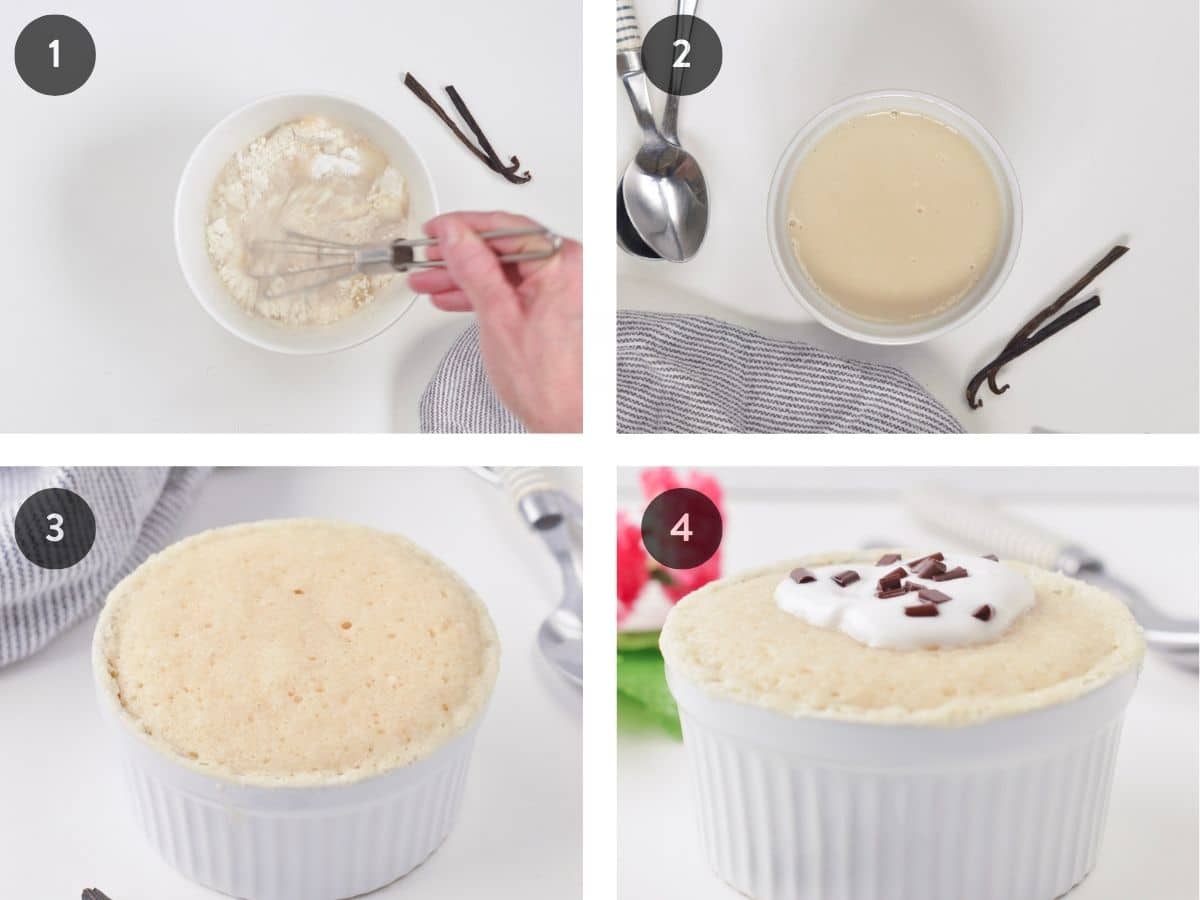 Combine all the Vanilla Mug Cake ingredients ingredients in a bowl.
Mix them with a whisk. Transfer the mixture to a small mug or a ramekin.
Bake your vegan vanilla mug cake in the microwave for 90 seconds at 800W.
Finally, serve directly in the mug making sure you wait 1 or 2 minutes before you dig in! It is very hot in the center, and you don't want to burn yourself.
Serving Vegan Cake In A Mug
This is a light, fluffy single-serving cake, and it truly reminds me of vanilla cupcakes.
It is even better with frosting. The best vegan frosting ideas for mug cake that only take a few minutes to make are:
A dollop of dairy-free coconut yogurt with a pinch of vegan chocolate chips.
A drizzle of nut butter – my favorite is peanut butter or almond butter.
Buttercream Chocolate frosting – beat 2 tablespoons of vegan butter with 2 tablespoons of icing sugar and 1 teaspoon of cocoa powder!
Ice cream – is not a frosting but a delicious and quick way to take your vegan cake in a mug to the next level. Use protein powder ice cream or vanilla ice cream made with non-dairy milk like coconut milk or almond milk. They are delicious, with some vegan chocolate chips on top!
Salt Flakes – add a couple of salt flakes on top of the mug cake for even more flavor.
Boosting Mug Cake Flavors
You can tweak this recipe a lot depending to create different vanilla mug cake vegan recipe flavors using the same recipe. Below are some ideas.
Banana bread mug cake – replace the oil with 1 tablespoon of mashed banana and add a few banana extract drops. This will also be a great option to make an oil-free vegan mug cake.
Chocolate vegan microwave cake – add 2 teaspoons of cacao powder or cocoa powder and a splash more non-dairy milk into the batter. This option will fix any chocolate cake cravings!
Chocolate chip mug cake– add 1 tablespoon of vegan chocolate chips!
Lemon mug cake – swap 2 tablespoons of almond milk with lemon juice.
Cinnamon roll – add 1 teaspoon of ground cinnamon.
Peanut butter mug cake – replace oil with 1 tablespoon of peanut butter or almond butter for less saturated fat. Also, increase non-dairy milk by 1 tablespoon!
Protein mug cake – add 2 teaspoons of protein powder and increase the milk by 2 tablespoons. However, depending on the protein powder brand, this may dry the mug cake batter. Always add more non-dairy milk to achieve a cake batter that looks like regular cake batter, not too dense!
Frequently Asked Questions
Can I Bake This Easy Vanilla Mug Cake?
Using a microwave is not the perfect method for baking food as it can degrade some precious nutrients from the food.
Great news, you can also bake this vanilla mug cake in the oven at 350°F (180°C) for 10-12 minutes.
Make sure to use an oven-proof ramekin!
What Is The Science Behind Mug Cake?
Mug cakes work in the exact same way as regular cakes, but their smaller size makes it happen much faster (10 minutes faster in the oven).
Cooking them in the microwave accelerates this even more as the microwaves make water molecules heat up very quickly which in turns make the gluten coagulate while the baking powder creates bubbles and make the cake rise.
How Many Calories Are In A Mug Cake?
Mug cakes are typically between 250 and 400 calories a piece. My vanilla mug cake below contains 330 calories per serving.
More Quick Vegan Mug Cake Recipes
If you like vegan mug cakes, you'll love these:
Or, if you feel this mug cake is too small for you, try my vegan vanilla cupcake recipe! It serves 12 fluffy, moist vanilla cupcakes ready in 30 minutes.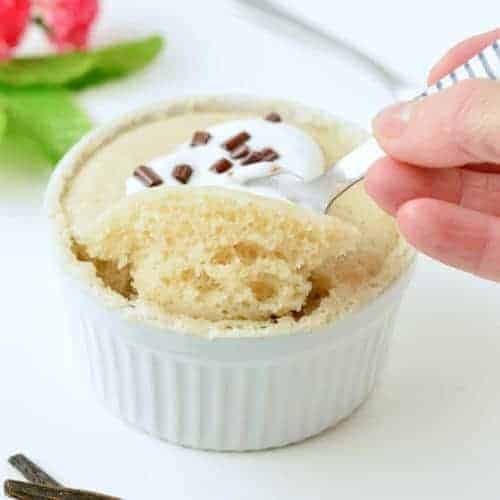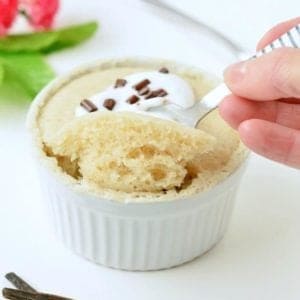 Vegan Vanilla Mug Cake
An easy single-serve vegan vanilla cake recipe, light, fluffy, and delicious.
Pin
Print
Review
Servings: 1 mug cake
Calories: 329.7 kcal
Instructions
In a microwave-safe mug, add flour, baking powder, coconut sugar, almond milk, melted coconut oil, and vanilla. My coffee mug has a diameter of 3 inches (8 cm) and a minimum height of 1.9 inches (5 cm). This prevents the batter from overflowing.

Whisk the ingredients together until it forms a smooth batter with no lumps.

Bake in the microwave for 90 seconds at 800W. If your microwave works at lower power, you may have to increase baking time by 20-second bursts. If your mug is low and wide, your mug cake will bake faster, and you may have to bake only 60 seconds first, then adjust baking by 20-second bursts as well.

Enjoy immediately with dairy-free coconut yogurt and vegan dark chocolate chips on top or plain.
Oven baking
Bake at 350°F (180°C) for 10-12 minutes in an oven-safe greased ramekin.
Notes
Gluten-Free Flour: Some readers have successfully baked this mug cake with a gluten-free flour blend, but it might be much thicker and gummy than with regular flour. Don't expect the same texture or you might be disappointed.
Share on Facebook
Pin Recipe
Nutrition
Serving: 1mug cake (whole recipe) | Calories: 329.7kcal | Carbohydrates: 45.6g | Protein: 3.3g | Fat: 14.8g | Saturated Fat: 12.2g | Polyunsaturated Fat: 0.6g | Monounsaturated Fat: 1.1g | Sodium: 214.5mg | Potassium: 38.2mg | Fiber: 1g | Sugar: 16.9g | Calcium: 117.7mg | Iron: 1.5mg | Magnesium: 7.3mg | Phosphorus: 54.6mg | Zinc: 0.2mg