The ultimate vegan vanilla mug cake! This vegan mug cake recipe is an eggless vanilla mug cake recipe ready in 2 minutes in the microwave. If you are craving a fluffy vanilla cake, this recipe will fix it quickly!
How to make a in the microwave?
Mug cakes in the microwave are very convenient cake recipes to get your baking goodness fix in less than 2 minutes. To make sure your microwave mug cake always comes out fluffy and moist there are a few things to consider:
Microwave power – make sure your microwave is on high power 800W. If your microwave can't go that high, you will have to increase the baking time by 20 seconds burst
Mug size – always use a regular size coffee mug diameter 8cm (3 inches) and minimum height of 5 cm (1.9 inches). If you were using a wider microwave safe ramekin, you would have to decrease the baking time or the would come out dry.
Baking time – the perfect baking time for a , in a 800W microwave power is 90 seconds and regular coffee mug. However, if you have to change any of these parameters, I recommend you start baking the for only 60 seconds. Check the texture and keep baking by 20 seconds burst until the center is set, moist and fluffy. This will prevent overbaking the which often result in chewy dry that won't taste good

How to make a from scratch?
There is nothing easier than making your own vegan vanilla mug cake. Its the perfect 90 second vegan dessert to fix any sweet craving. All you need is to combine all the ingredients directly into your coffee mug. You don't even need to use a separate bowl which is great! The main ingredients you need to make an eggless vanilla mug cake are:
– the works with all purpose white ,

gluten free

blend, or white . works too but the batter will be more fragile and less fluffy. However, or won't work in this , so don't be tempted to use them !
Unsweetened – or any you love like oat milk, or rice milk
– or half amount of if preferred
extract or essence
or erythritol for a or white -free . I don't recommend using or any liquid sweetener in or the will be too heavy and dense.
– or any light oil like avocado oil, almond oil. I had great successes with apple sauce too for an oil-free option
Then bake your vegan vanilla mug cake in the microwave for 90 seconds at 800W. Finally, serve directly in the mug making sure you wait 1 or 2 minutes before you dig in! It is very hot in the center and you don't want to burn yourself.
How to serve your vegan ?
This is a light, fluffy vanilla mug cake and it truly remind me vanilla cupcakes. It is even better with a frosting. The best vegan frosting ideas for mug cake that only take few minutes to make are :
a dollop of dairy-free coconut yoghurt with a pinch of
a drizzle of – my favorite

is

or
buttercream – beat 2 tablespoons of vegan butter with 2 tablespoon of icing and 1 teaspoon of !
– this is not a but a delicious and quick way to bring your to the next level. , made with like coconut or almond are very tasty with some on top!
Can I instead bake this eggless ?
Of course, using a microwave is not the perfect method for baking food as it can degrade some precious nutrients from the food. Great news, you can also bake this vanilla mug cake in the oven at 180C (350) for 10-12 minutes in an oven-proof ramekin!
Some ideas to boost your flavors!
You can tweak this recipe a lot depending to create different vegan mug cake recipe flavor using the same recipe. Below are some ideas.
– replace the oil by 1 tablespoon of mashed banana and add few drops of banana extract. This will also be great option to make an oil free
– add 2 teaspoon of or and a splash more into the batter. This option will fix any cravings !
– add 1 tablespoon of !
Lemon – swap 2 tablespoon of by
– add 1 teaspoon of ground roll
– replace oil by 1 tablespoon of or for less saturated fat. Also, increase by 1 tablespoon !
Protein – add 2 teaspoon of and increase milk by 2 tablespoon. Howver, depending on the brand this may dry the batter. Always add more to achieve a batter that looks like regular batter, not too dense !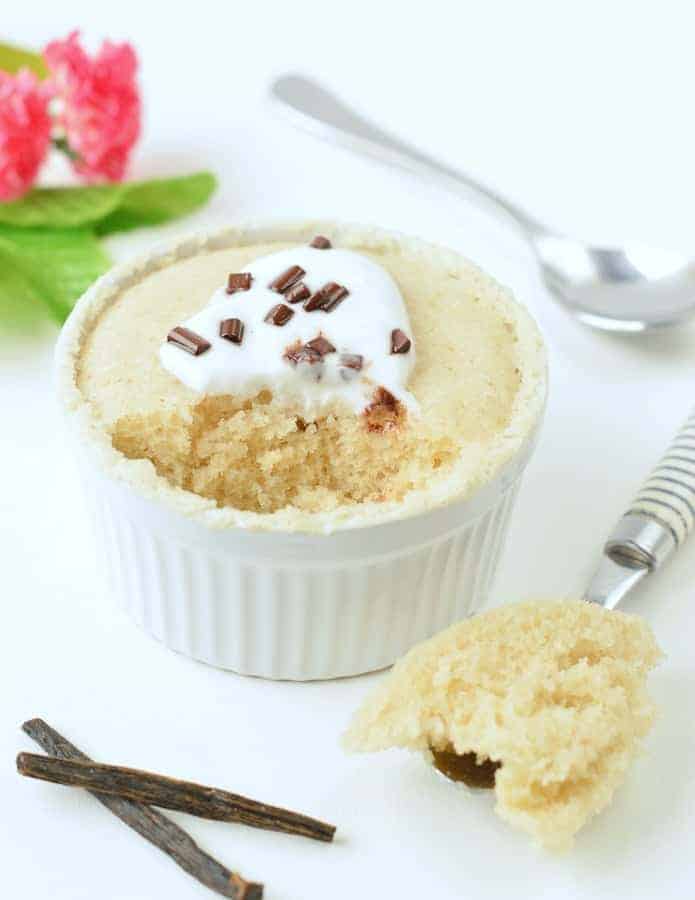 More quick vegan mug cake recipes
Vegan peanut butter mug cake
A moist healthy vegan peanut butter mug cake with chocolate chips
🍽
Serves:
1
Check out this recipe
Vegan mug brownie
The best mug brownie, a vegan 90-second microwave recipe.
🍽
Serves:
2
Check out this recipe
If you made this vegan mug cake recipe make sure you share a comment below and leave me a review! I love to hear your feedback and connect with you. Also, if you want to share a picture of your creation, tag me on Instagram ! I look at all your pictures and I will reply to you!
Your friend, Carine
Vegan vanilla mug cake
An easy single serve vegan vanilla cake recipe, light fluffy and delicious
Instructions
In a coffee mug, add flour, baking powder, coconut sugar, almond milk, melted coconut oil and vanilla. My coffee mug has a diameter of 8 cm (3 inches) and minimum height of 5 cm (1.9 inches) this prevent the batter to overflow.

Whisk the ingredients together until it forms a smooth batter with no lumps.

Bake in the microwave for 90 seconds at 800W. If your microwave works at a lower power, you may have to increase baking time by 20 seconds burst. If your mug is low and wide, your mug cake will bake faster and you may have to bake only 60 seconds first then adjust baking by 20 seconds burst.

Enjoy immediately with dairy-free coconut yoghurt and vegan dark chocolate chips on top or plain.
Oven baking
Bake at 180°C (350°F) for

10-12 minutes

in an oven safe greased ramekin.
Nutrition
Serving:
1
mug cake (whole recipe)
|
Calories:
222
kcal
|
Carbohydrates:
50.5
g
|
Protein:
3.5
g
|
Fat:
0.9
g
|
Fiber:
1
g
|
Sugar:
24.1
g