Banana Protein Mug Cake (14g Protein, Egg-free)
This Banana Protein Mug Cake contains 14 grams of protein per serving, and it's ready in less than 3 minutes for a quick post-workout snack.
Plus, this banana mug cake is also dairy-free and egg-free.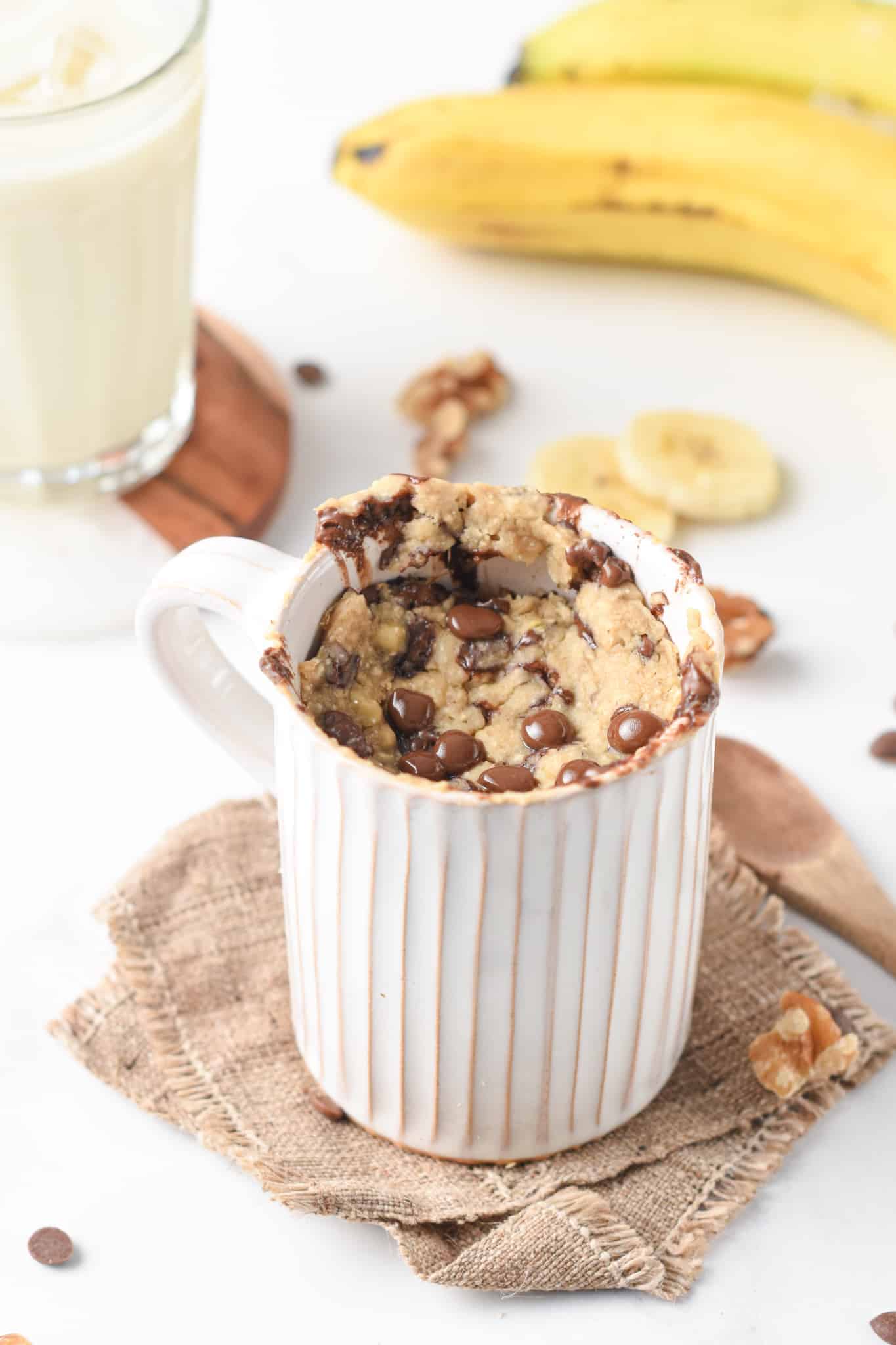 If you crave banana bread but don't feel like baking my protein banana bread recipe, then try this single-serve protein mug cake.
What's A Banana Protein Mug Cake?
A banana protein mug cake is a variation of my healthy mug cake.
It tastes like banana bread, but it's packed with proteins and nutrients.
This banana protein mug cake is naturally:
Egg-free
Vegan
Dairy-free
Gluten-free option provided
How To Make Banana Protein Mug Cake
It's super easy to make a mug cake with banana and protein powder. All you need are a few ingredients:
Ingredients
Mashed banana – it doesn't have to be a ripe banana. Yellow bananas work as well, but the mug cake would simply be less sweet.
Vanilla pea protein powder or any vanilla protein powder you love. We didn't test the recipe with whey protein powder, only plant-based protein powder like pea, almond, or peanut protein powder.
Unsweetened almond milk or any dairy-free milk you like including coconut milk or oat milk.
Oat flour – I don't recommend using any other flour. All-purpose flour makes the mug cake very chewy and dense.
Granulated sweetener – feel free to use any sweetener you like. We used sugar-free erythritol. It's a low-carb natural sweetener with no calories.
Baking powder
Dark chocolate chips – optional but delicious. Feel free to use sugar-free chocolate chips to keep the sugar content low.
Mashing Bananas
First, select your favorite coffee mug to bake this recipe. It must be a tall large, microwave-safe mug. A standard 12-oz mug works the best.
Then, peel and mash the bananas with a fork on a chopping board. I don't think it's easy to mash bananas in a narrow mug cake, so I recommend doing this aside.
Measure the amount called by the recipe – it matters because too much banana makes the mug cake dense, gooey, and too moist.
Stirring Wet With Dry Ingredients
Then, place in the mug cake and stir with almond milk.
Add the dry ingredients on top: oat flour, sweetener, baking powder, and stir to combine. The batter should resemble a cake batter.
Now, stir in the dark chocolate chips if you feel like it.
Microwaving
Place the coffee mug in the center of the microwave and microwave on 900W for 90 seconds or until the mug cake rises past the mug and the sides and center are cooked.
If it's still wet in the middle, return to the microwave in 10-second bursts until cooked through.
Baking
You can obviously bake mug cakes in the oven or air fryer.
Preheat the oven to 350°F (180°C). Pour the mug cake batter into an oven-safe ramekin. The recipe won't rise as much since ramekins are smaller but wider than coffee mugs.
Bake in the center rack of the oven for about 15-18 minutes or until cooked through.
Serving Mug Cake
Mug cakes are always better eaten within 10 minutes. Unfortunately, they dry out with time and don't store very well.
Always let them cool down for 1 minute before eating.
Then, you can serve this banana protein mug cake plain or with some extra toppings that bring out all its banana bread flavors.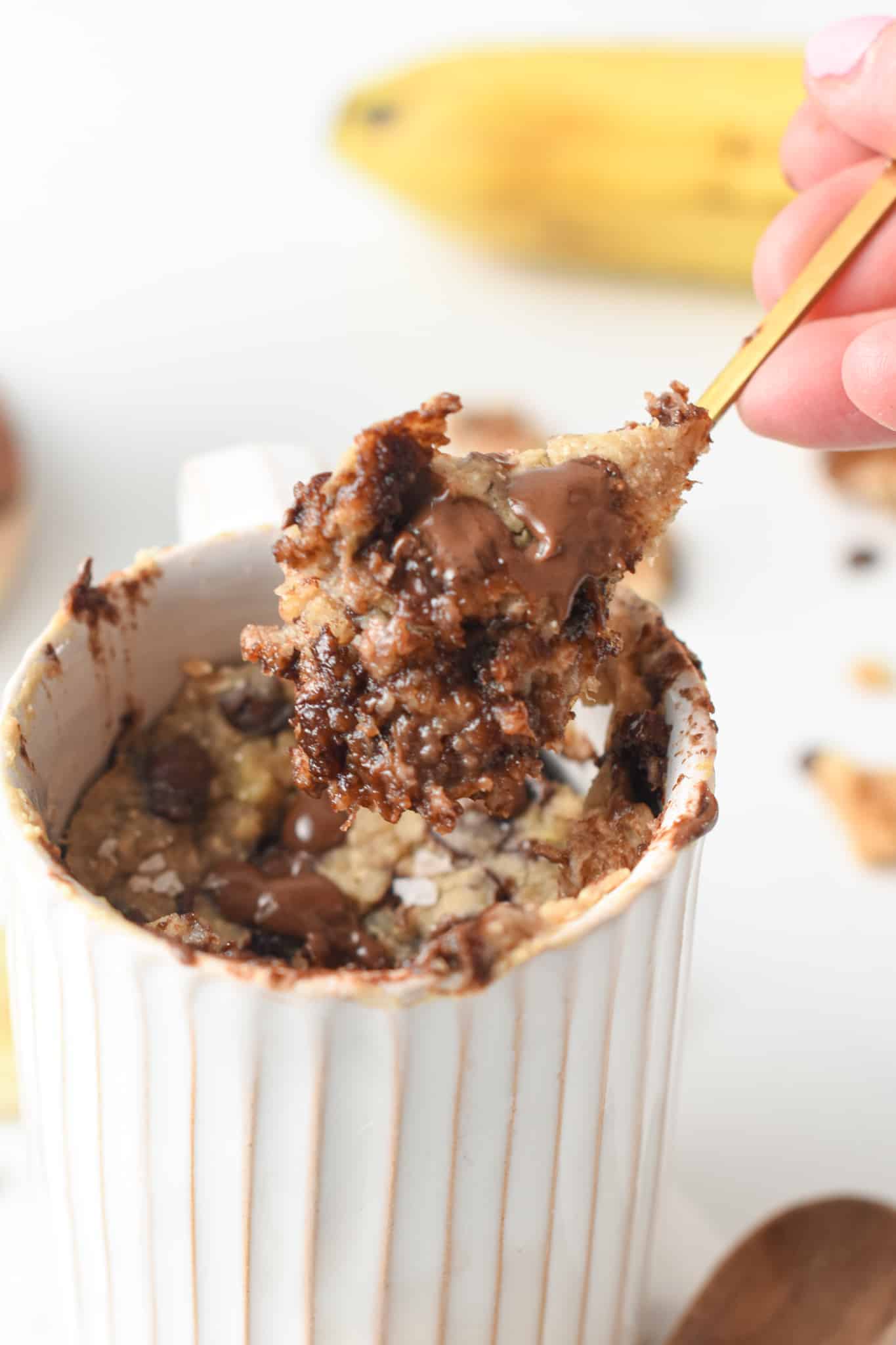 Topping Ideas
The best toppings for this protein mug cake are:
Chopped walnuts or pecan
A drizzle of peanut butter or almond butter
A dollop of coconut yogurt
A pinch of cinnamon
Add-ons
We love adding chocolate chips to this mug cake because chocolate and bananas are such a classic, delicious combo of flavors.
But, feel free to try some other add-ons with less sugar or calories like:
Fresh berries – raspberries, blueberries, boysenberries
Shredded coconut
Cinnamon
Pumpkin spices
Frequently Asked Questions
Can I Swap Oat Flour For Something Else?
Homemade oat flour provides the best texture in this recipe. If you swap it, the texture will be different. For a gluten-free low-carb option, try replacing the 3 tablespoons of oat flour with 2 tablespoons of coconut flour.
Can I Use A Liquid Sweetener?
You can, but the texture will be much moister, and it will take longer to cook.
The best is to use only 1-2 teaspoons of liquid sweetener to avoid changing the consistency too much.
What Can I Use If I Don't Like Bananas?
You can replace the bananas with applesauce, mashed sweet potato puree, or homemade pumpkin puree.
Can I Add Cocoa Powder?
Sure, but don't add more than 1 teaspoon, or the texture will be dry. Otherwise, try my chocolate protein mug cake recipe.
More Recipes With Protein Powder
I love to bake with protein powder. It's a great way to boost your daily protein intake in your treats and keep you full for longer.
Below are my favorite high-protein recipes for you to try.
Have you made this banana protein mug cake recipe? Share a comment or review below to connect with me and let me know how much you like it.
Your friend, Carine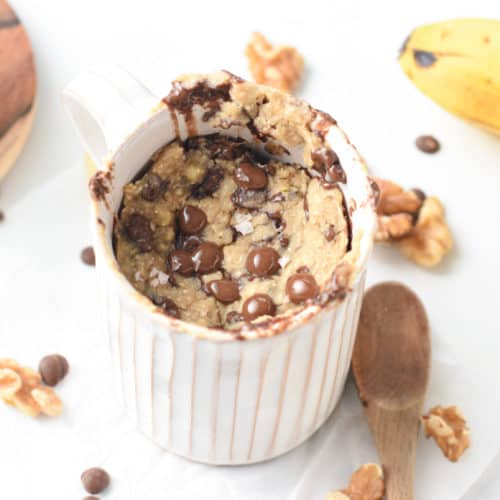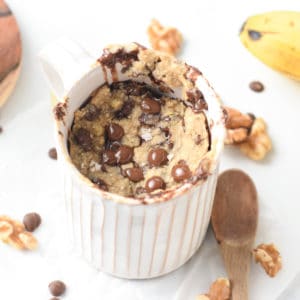 Banana Protein Mug Cake
This Banana Protein Mug Cake contains protein per serving and it's ready in less than 3 minutes for a quick post-workout snack. Plus, this banana mug cake is also dairy-free and egg-free.
Pin
Print
Review
Servings: 1 mug cake
Calories: 248.8 kcal
Instructions
In a microwave-safe coffee mug (minimum size 1 cup/250ml) stir together mashed banana and almond milk.

Whisk together the dry ingredients: oat flour, protein powder, sweetener, and baking powder. Set aside.

Combine the dry ingredients to the wet until a cake batter forms.

Sprinkle a few extra chocolate chips on top if desired.

Microwave on high power (800W) for about 90 seconds or stop the microwave 10 seconds after you see the cake rising to its maximum height. Remove from the microwave carefully, it is hot! Check the texture. It should be moist and soft and the top should deflate. If it is not cooked to your liking after that time, return to the microwave and cook again by 10-second bursts until done – no more than 90 seconds in total. Note that the longer you microwave the mug cake, the denser it will be.

Serve the banana protein Mug Cake immediately.
Baking option
Preheat oven to 350°F (180°C).

Grease an oven-proof ramekin with oil, add the cake batter and bake for 12-18 minutes until cooked through.

Serve immediately with toppings of your choice.
Notes
The nutrition panel is for a mug cake made with chocolate chips and sugar-free erythritol.
Share on Facebook
Pin Recipe
Nutrition
Serving: 1mug cake | Calories: 248.8kcal | Carbohydrates: 34.3g | Protein: 14.4g | Fat: 6.7g | Saturated Fat: 3.3g | Polyunsaturated Fat: 1.1g | Monounsaturated Fat: 1g | Cholesterol: 0.1mg | Sodium: 415.9mg | Potassium: 347.7mg | Fiber: 3.4g | Sugar: 10.5g | Vitamin A: 37IU | Vitamin B12: 0.1µg | Vitamin C: 4.9mg | Calcium: 224.4mg | Iron: 3.9mg | Magnesium: 51.7mg | Phosphorus: 170.3mg | Zinc: 1.1mg