Chocolate Protein Pancakes (No Eggs, 12g Protein)
These Chocolate Protein Pancakes are the easiest, healthy chocolate pancakes to start the day with as much as 12 grams of protein per serving.
Bonus, these pancakes are also dairy-free, egg-free, and a perfect vegan post-workout recipe.
I love making my own breakfast food, from my homemade granola to protein bars. I make everything homemade.
So here is a new protein powder recipe for you, fluffy chocolate protein pancakes!
How To Make Chocolate Protein Pancakes
It's very simple to whip a batch of protein pancakes using chocolate protein powder and a few basic ingredients.
Let me share how to make ultra fluffy protein chocolate pancakes without eggs.
Ingredients
All-purpose flour or spelt flour or all-purpose gluten-free flour. Learn how to measure your flour.
Chocolate plant-based protein powder – I tested the recipe with peanut protein powder and pea protein powder. Both provide amazing results. I am confident that any other plant-based protein powder works as well, including hemp protein powder or soy protein powder. I didn't try the recipe with whey protein powder (it's not vegan), but it should probably work as well.
Yogurt of choice – any non-dairy yogurt works, including soy, almond, or coconut yogurt.
Unsweetened almond milk or any plant-based milk you like.
Apple cider vinegar or lemon juice
Baking powder
Vanilla extract
Unsweetened cocoa powder
Maple syrup or sweetener you love, I prefer a liquid sweetener as it adds more moisture to the pancakes.
Curdling The Milk
First, add the almond milk, yogurt, and apple cider vinegar to a bowl. Stir the batter before setting it aside for 5 minutes for it to curdle and form a creamy dairy-free buttermilk mixture.
Combining Dry Ingredients
Next, in another mixing bowl, add all the dry ingredients: flour, protein powder, cocoa powder, and baking powder.
Whisk to combine the protein powder and flour evenly. If lumps form, pinch them between your fingertips to create a thin, consistent dry ingredients mixture.
Stirring In The Liquids
Finally, pour the milk onto the dry ingredients followed by maple syrup, and vanilla extract.
Whisk until the batter is slightly thick, shiny, and consistent
Cooking
Warm a non-stick crepe pan or pancake griddle over medium heat. Slightly oil the griddle's surface with coconut oil and use a piece of absorbent paper to rub the surface and remove any excess oil.
Pour 2 tablespoons of batter on the hot griddle per pancake. Cook until bubbles forms on top of the pancakes and the sides of the pancakes dry out. It takes roughly 2-3 minutes.
Then gently slide a spatula under the pancake and flip to cook on the other side.
Cook for an extra minute on the other side until the pancakes are cooked through and fluffy
Cool down on a plate or wire rack while you are cooking the remaining pancake batter
Re grease the pan between each cooking session to avoid the protein pancakes sticking to the pan.
Storage
You can make ahead the chocolate protein pancake batter up to 24 hours before cooking and store it in a sealed container in the fridge.
You can also store the cooked vegan chocolate protein pancakes in a zip lock bag in the fridge for later. They last up to 3 days or 3 months in the freezer.
Rewarm pancakes in a bread toaster, hot griddle, or sandwich press.
Serving Ideas
These chocolate protein pancakes are even better served with a homemade chocolate sauce.
To make the sauce, melt the ingredients below in a small mixing bowl in the microwave or a saucepan over medium heat.
Dark chocolate
Coconut oil
Nut butter – can be peanut butter, almond butter, or sunflower seed butter for a nut-free option.
Next, top up the pancakes with fresh fruits. Some of the below go very well with chocolate:
Berries – Strawberries, raspberries, blueberries
Sliced bananas
Kiwifruits

Serving Size
A decent serving is 3 pancakes topped with fruit slices and a dollop of nut butter or chocolate sauce.
You get 12 grams of protein and 216 kcal without toppings for one serving.
Frequently Asked Questions
Can I Use Almond Flour?
No, this recipe has no eggs, and a low-carb flour like almond flour wouldn't work. The batter would remain soft and undercooked.
Can I Use Oat Flour?
Yes, you can use homemade oat flour for this recipe. Replace with the same amount of all-purpose flour.
The texture of the pancakes is slightly denser, less fluffy, and a bit grainy if your oat flour is not fine.
Can I Make Larger Pancakes?
Yes, you can bake up to 1/4 cup of batter at a time, but the pancakes would take much longer to cook.
Plus, if you use oat flour, larger pancakes would be more difficult to flip.
Have you made this healthy recipe for breakfast? Share a review or comment below to connect with me,
Your friend, Carine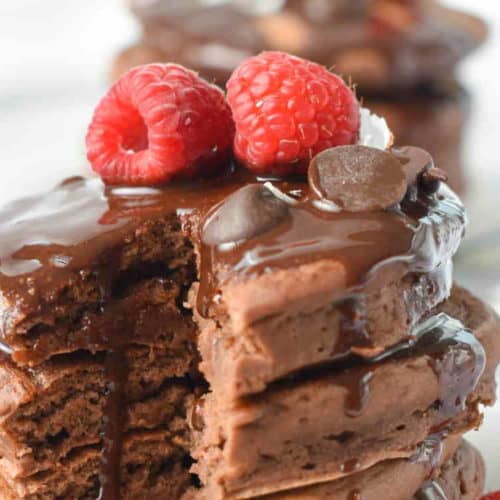 Chocolate Protein Pancakes
A super easy Fluffy Chocolate Protein Pancake recipe made from plant-based protein powder and no eggs!
Pin
Print
Review
Servings: 10 Pancakes
Calories: 72.2 kcal
Instructions
In a mixing bowl, whisk almond milk and apple cider vinegar and set aside while measuring the remaining ingredients.

In another mixing bowl, whisk dry ingredients evenly: flour, protein powder, unsweetened cocoa powder, baking powder, sugar, and salt.

Stir the almond milk mixture into the bowl with the dry ingredients until a thick pancake batter forms with no lump before incorporating the maple syrup, yogurt, and vanilla extract. It should be pretty thick, and that's normal.

Warm a pancake griddle greased with a tiny bit of coconut oil over medium heat.

Scoop 2 tablespoons of pancakes batter per pancake on the griddle and spread in a round shape. If the batter is too thick, thin it out by adding an extra splash of almond milk.

Cook the pancake for 2-3 minutes on low-medium heat until dry on the edges, then flip and cook an extra minute until it puffs.

Cool down on a wire rack and cook the remaining batter.

Serve with vegan toppings you love like peanut butter, maple syrup, chia jam.
Storage
Store leftovers for up to 4 days in an airtight container in the fridge or freeze and thaw at room temperature the day before serving. Rewarm on a hot pancake griddle or in a bread toaster.
Share on Facebook
Pin Recipe
Nutrition
Serving: 1pancake | Calories: 72.2kcal | Carbohydrates: 12.5g | Protein: 4g | Fat: 0.6g | Saturated Fat: 0.1g | Polyunsaturated Fat: 0.2g | Monounsaturated Fat: 0.2g | Sodium: 312.3mg | Potassium: 14.4mg | Fiber: 0.4g | Sugar: 2.5g | Calcium: 104.7mg | Iron: 1.4mg | Magnesium: 3.1mg | Phosphorus: 39.9mg | Zinc: 0.1mg