Buckwheat Porridge (17g Plant-Based Proteins)
This Buckwheat Porridge is a healthy gluten-free oat-free porridge recipe perfect as a high-protein gluten-free breakfast.
Plus, a bowl of buckwheat porridge recipe is packed with 17 grams of protein and 9 grams of fiber.
I love making my protein oatmeal, chia seeds pudding, or overnight oats recipe for breakfast. But sometimes, I like something new, gluten-free, and different from oats.
Buckwheat porridge is the best for it. It has a delicious nutty flavor and a lot of texture and is so fulfilling and comforting as a winter breakfast.
What Are The Health Benefits Of Buckwheat Groats?
Buckwheat groats are an excellent complete protein source for vegans and vegetarians.
The plant-based proteins in buckwheat contain the 21 amino acids your body needs, including the nine essential amino acids that your body is unable to produce.
Next, buckwheat is high in rutin and quercin. Both are antioxidant compounds that protect your body from inflammation.
Finally, buckwheat is high in prebiotics, the non-digestible compounds that feed the bacteria in your guts and contribute to a healthy digestive system.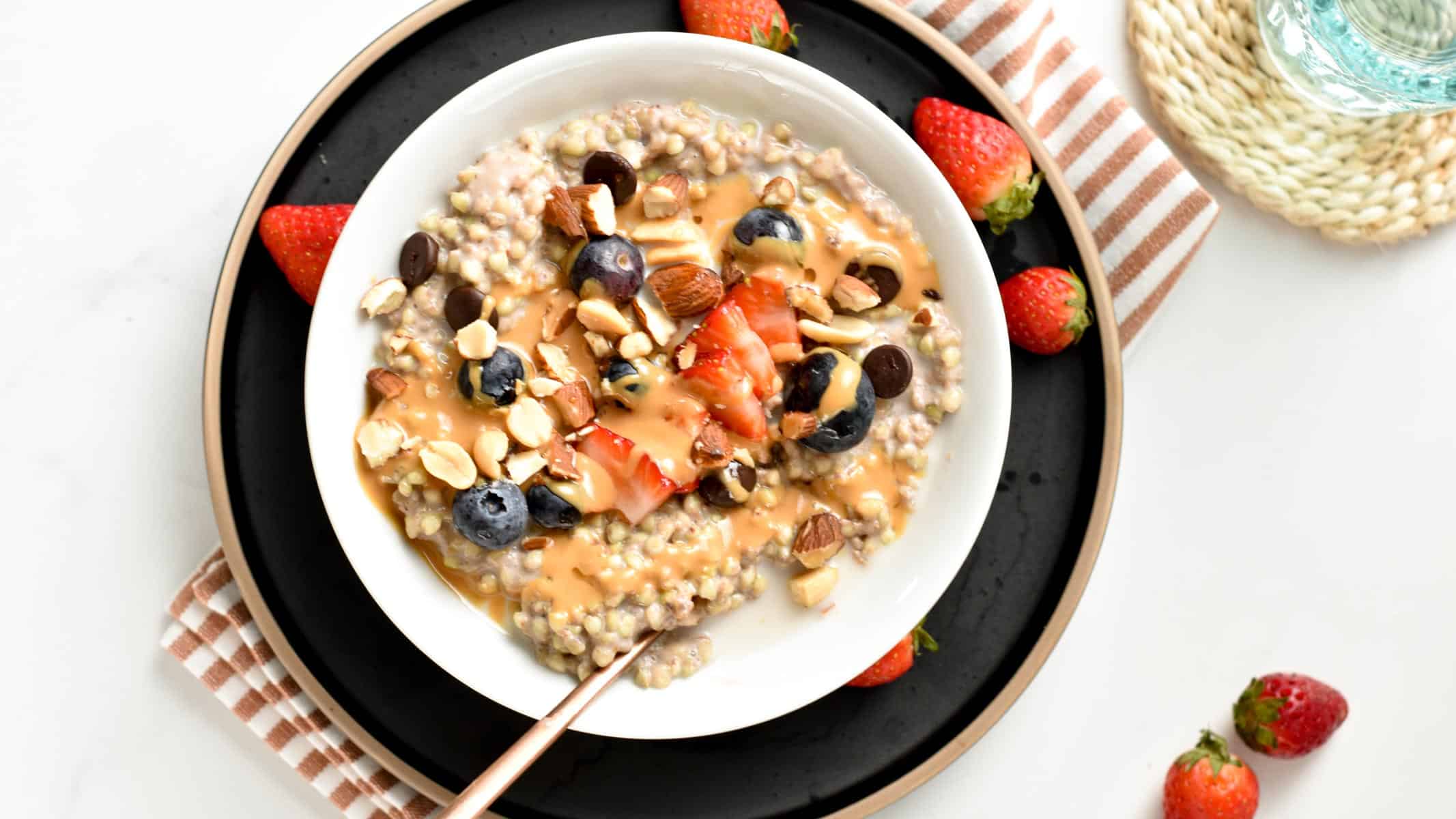 How To Make Buckwheat Porridge
It's very easy to make buckwheat porridge at home.
Ingredients
All you need to make this vegan gluten-free porridge are:
Buckwheat Groats – You can use roasted or unroasted groats. Some people like to soak the groats for 30 minutes in cold water before cooking them. It's a good idea to do so if you are sensitive to high-fiber food. This extra step makes the porridge easier to digest.
Plant-Based Milk – You can use almond milk, coconut milk, soy milk, or any plant-based milk you love. I love creamier milk like soy or coconut milk, making the porridge creamier.
Water
Vanilla Extract
Maple Syrup – It's optional. You can also use any sweetener you love, including diabetes-friendly sweeteners like erythritol or allulose.
Cinnamon
Cooking Buckwheat
Place water, non-dairy milk, and maple syrup in a small saucepan. Bring over medium-high heat, cover the pot and bring to a boil.
Reduce the heat, add buckwheat groats to the pan, cover, and simmer for 8 to 10 minutes, occasionally stirring or until all the liquid is absorbed by the grain.
A thin dark brown residue forms on top of the liquid, and the color gets brownish. That's normal.
Remove from the heat and keep the saucepan covered with the lid on for 2 minutes.
After that time, use a fork to fluffy the groats and serve in a breakfast bowl.
Serving Buckwheat Porridge For Breakfast
The mixture has a color that might seem unappealing after cooking. Place it in a serving bowl and top the cooked groats with 1/4 cup of your favorite dairy-free milk. This turns the bowl color whiter, as seen in the picture below.
Top the bowl with berries, a drizzle of maple syrup, or some of the amazing healthy toppings below:
Hemp Hearts
Chocolate Chips
Desiccated Coconut
Nuts – chopped almonds, walnuts, pecans
A pinch of cinnamon
Nut Butter – drizzle peanut butter or almond butter
Sunflower Seed Butter
Four Amazing Flavors
I recommend playing with the flavors and trying some of the ingredients below to create a range of delicious breakfasts.
Chocolate Peanut Butter Porridge
At the end of the cooking, stir in 1 1/2 tablespoons of unsweetened cocoa powder, and 2 tablespoons of peanut butter and increase the maple syrup by 2 or 3 tablespoons.
Serve with chopped peanuts, chocolate chips, and extra peanut butter. To decrease the saturated fat, feel free to use powdered peanut butter.
Matcha Buckwheat Porridge
First, use coconut milk as plant-based milk as it's the best combo with matcha powder.
Next, sift one tablespoon of matcha powder into the cooked mixture and serve with dairy-free white chocolate chips and raspberries on top.
Protein Powder Buckwheat Bowl
Stir 1 or 2 tablespoons of protein powder at the end and top the bowl with protein-loaded seeds such as hemp seeds or chia seeds.
Pumpkin Spice
For a classic Fall flavor, stir in 2 tablespoons of pumpkin puree in the liquid in step 1.
In the end, flavor the cooked porridge with one tablespoon of pumpkin pie spices. Serve it with chopped pecans, walnuts, diced apples, and more maple syrup.
Storage Instructions
This porridge can be cooked ahead and stored in the fridge for up to in a sealed container to meal prep your healthy breakfast.
The next day, place the amount of porridge in a bowl, drizzle almond milk on top and rewarm in the microwave in 30-second bursts.
Allergy Swaps
Below are some options to adapt this breakfast recipe if you have some allergies to the ingredients listed below.
Grain-Free – Buckwheat is a seed, so this recipe is grain-free.
Gluten-Free – Buckwheat is naturally gluten-free so as long as you use gluten-free toppings, it will be gluten-free.
Nut-Free – Pick nut-free dairy-free milk such as oat milk, hemp milk, or soy milk.
Frequently Asked Questions
Below are the answer to the most frequent questions on making this healthy gluten-free breakfast bowl.
Can I Make Overnight Buckwheat With This Recipe?
Yes, you can stir all the ingredients together, add in the 2 tablespoons of chia seeds and 1/4 cup of additional almond milk.
Then, seal the jar and pop it in the fridge overnight.
Can I Use Buckwheat Flour?
No, buckwheat flour will create a paste without texture. You need the raw buckwheat groats to make this porridge.
More Gluten-Free Breakfast Recipes
Below are some easy vegan gluten-free breakfast recipes for you to try next time.
Did you try this easy buckwheat groats porridge recipe? Share a comment or review below.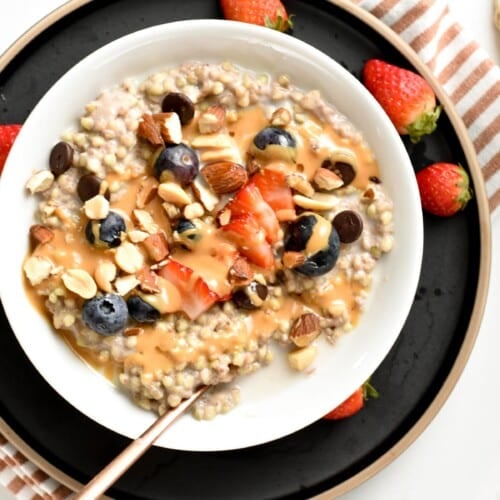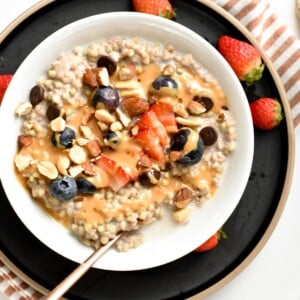 Buckwheat Porridge
This Buckwheat Porridge is a healthy gluten-free oat-free porridge recipe perfect as a high-protein gluten-free breakfast.
Pin
Print
Review
Shop My Tools
Instructions
In a non-stick saucepan, add water, almond milk, maple syrup, and protein powder if used. Whisk to incorporate the powder. Bring the liquid to a boil.

Stir in buckwheat groats, cover with a lid, reduce heat to simmer, and cook 8-10 minutes, stirring occasionally. Cook until all liquid is absorbed. You will notice some brown layer forming on top of the liquid, and that's ok. The color of the cooked mixture won't be appealing as it's brownish in color, but that's normal.

Remove from heat, and stir in vanilla and cinnamon. Cover with a lid and keep aside for 5 minutes.

Remove the lid, and fluff with a fork.
Serving
Serve with 1/4 cup of your favorite plant-based milk on top, giving the bowl a lighter color. Then top up with fresh berries, chopped nuts, chocolate chips, and peanut butter.
Share on Facebook
Pin Recipe
Nutrition
Serving:
1
serving
|
Calories:
396.5
kcal
|
Carbohydrates:
75.8
g
|
Protein:
17.1
g
|
Fat:
4.6
g
|
Saturated Fat:
0.7
g
|
Polyunsaturated Fat:
1.7
g
|
Monounsaturated Fat:
1.7
g
|
Sodium:
236.7
mg
|
Potassium:
447.2
mg
|
Fiber:
9.2
g
|
Sugar:
12.6
g
|
Calcium:
202.7
mg
|
Iron:
2.8
mg
|
Magnesium:
204.7
mg
|
Phosphorus:
345.6
mg
|
Zinc:
2.5
mg