These Buckwheat Waffles are easy, healthy crispy gluten-free waffles for breakfast.
Plus, these waffles are also egg-free and dairy-free and 100% vegan.
What Are Buckwheat Waffles?
Buckwheat Waffles are like classic vegan waffles but made with buckwheat flour.
Buckwheat flour is an amazing flour to use in vegan buckwheat recipes.
Like quinoa, buckwheat is one of these forgotten ancient grains – technically seeds – that is also gluten-free and a nutritional powerhouse loaded with all the essential amino acids.
Buckwheat is a complete protein, ideal for anyone on a vegan lifestyle to load your body with all the amino acids it needs to function.
So after sharing some delicious french buckwheat flour crepes last year, here is a waffle buckwheat recipe for you.
How To Make Buckwheat Waffles
It's so easy to bake with buckwheat that once you try and enjoy its earthy flavor, you won't stop.
Ingredients
All you need to make crispy, light buckwheat flour waffles are a few basic ingredients:
Buckwheat Flour – My buckwheat flour is light in color because the brand I used is made from unroasted buckwheat groats. Some brands are darker in color because they are made of roasted buckwheat groats. Whatever you pick, the amount of flour stays unchanged, and the result will be delicious.
Baking Soda
Baking Powder – it's essential to use both baking soda and baking powder.
Unsweetened Almond Milk – or any plant-based milk like coconut milk, soy milk, oat milk, or cashew milk.
Apple Cider Vinegar – Vinegar adds acidity that helps the baking soda make its effect.
Maple Syrup – Or any other liquid sweetener such as coconut nectar or agave syrup.
Vanilla Extract – For the taste.
Melted Coconut Oil
Making The Waffle Batter
To make the batter, whisk all the dry ingredients into a bowl: buckwheat flour, baking powder, and baking soda.
Then, make a well in the center of the flour and add the almond milk, apple cider vinegar, oil, and vanilla extract.
Whisk to combine evenly and form a smooth, runny slightly thick grey waffle batter.
Preheat the waffle iron and use an oil spray to oil the iron plates.
Cooking Waffles
When the iron is hot and the green light shows, add 1/2 cup of batter per waffle. This is the size for a regular large waffle maker, I use a Tefal iron maker see recipe note for details.
Fill both waffle iron cavities, using a spoon to help spread the batter evenly all over the waffle iron plate.
Close and cook for 2 to 3 minutes then open and check. The waffles should be crispy and light, if not, bake for an extra minute.
Cool down on a wire rack, and the buckwheat flour waffles crisp as they cool down.
Serving
You can serve these buckwheat waffles for breakfast topped with some of the delicious toppings below:
Peanut Butter
Coconut Yogurt
Berries – fresh or thawed
Banana Slices
Vegan Butter
Maple Syrup
Storage Instructions
These vegan gluten-free waffles store well in an airtight container placed in the fridge for up to 4 days.
The precooked waffles lose their crispiness in the fridge. But you can fix that as you rewarm the waffles.
Try a bread toaster, the waffle iron, or your air fryer.
Air fry the waffles for 2-3 minutes at 350°F (180°C) or until they are crispy.
You can also store the waffle batter uncooked in the fridge, in a bowl covered with a silicone lid. The batter will last 2 days uncooked.
Bake the waffle in the morning in the hot waffle iron.
The last option is to freeze the cooked waffles and thaw them at room temperature the day before.
Allergy Swaps
Below I listed some allergy swaps to make this recipe suitable for everyone. But keep in mind that this waffle recipe is already naturally:
Egg-free
Dairy-free
Vegan
Gluten-free – buckwheat flour has no wheat as its name may confuse you. It's fully gluten-free flour.
However, you may want to make the waffles:
Oil-Free – Swap the oil for unsweetened apple sauce or dairy-free yogurt or pumpkin puree.
Sugar-Free – Omit the sugar or replace it with sugar-free pancake syrup or sugar-free crystal sweetener like erythritol.
Vinegar-Free – Swap vinegar with orange juice, lemon juice, or lime juice.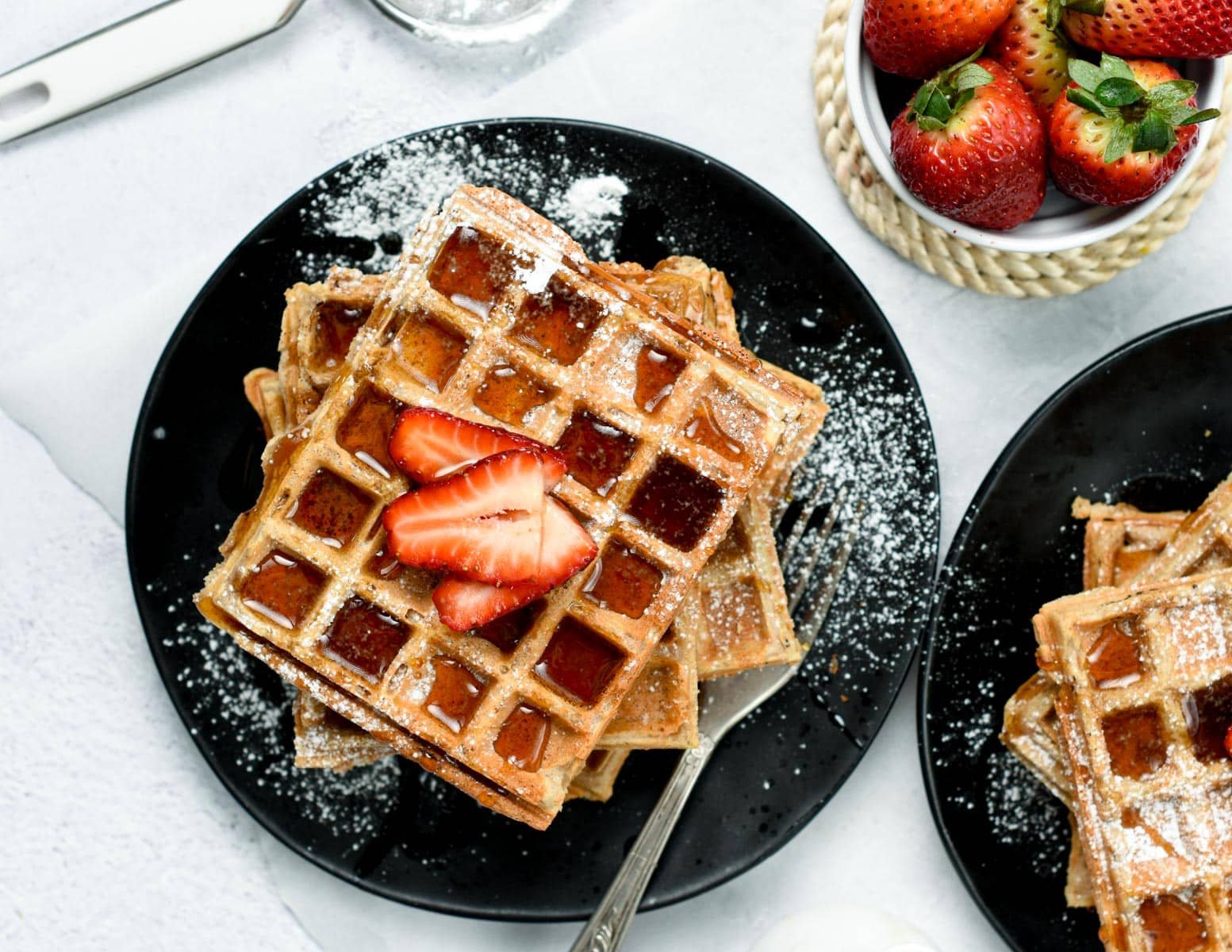 Frequently Asked Questions
Below are the answers to your most frequent questions about baking buckwheat flour waffles.
Can I Replace The Buckwheat Flour With All-Purpose Flour?
Usually, you can swap one by the other following the same ratio, but I didn't try that.
Instead, I recommend you try my vegan waffle recipe it's made with all-purpose flour and has no eggs or dairy as well.
Why Are My Waffles Darker Than Yours?
Some buckwheat flour brands are darker it varies from light grey white to dark grey black depending on how the flour is made.
Some brands use roasted buckwheat groats, and others don't.
Can I Make My Own Buckwheat Flour?
You can grind buckwheat groats in a coffee grinder or high-speed blender such as a Vitamix.
Use the same amount of buckwheat groats, equivalent to the amount of buckwheat flour in this recipe.
You can't make buckwheat flour in a food processor.
Is Buckwheat Flour Gluten-Free?
Yes, buckwheat flour has no gluten.
More Buckwheat Flour Recipes
Below are some more healthy vegan gluten-free recipes to try using your buckwheat flour.
Have you tried this vegan gluten-free waffle recipe? Share a comment or review below.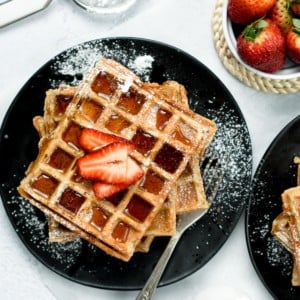 Buckwheat Waffles
These Buckwheat Waffles are crispy, fluffy vegan gluten-free waffles packed with plant-based proteins and delicious as an healthy breakfast
Pin
Print
Review
Save
Saved Recipes
Instructions
In a mixing bowl, whisk together unsweetened almond milk, vinegar, syrup, vanilla, and oil. Set aside.

In another large mixing bowl, stir together all the dry ingredients: buckwheat flour, baking soda, baking powder. Make a well in the center and pour the liquid ingredients in the middle.

Whisk until it forms a smooth, slightly thick batter with no lumps.

Warm a waffle iron under medium heat with a little olive oil or coconut oil.

Pour 1/2 cup of batter onto the warm oiled waffle iron and cook for 3-4 minutes or until crispy and golden brown.

Serve immediately or cool on a rack while you are cooking the rest of the batter. You should be able to make 10 waffles

Serve with toppings of your choice like maple syrup, brown rice syrup, almond butter, dairy-free coconut yogurt, berries, banana slices, etc.
Storage
Store the cooked waffles for up to 2 days in an airtight container in the fridge or freeze in ziplock silicone bags. Defrost at room temperature the day before. You can rewarm the waffles in a toaster.
Share on Facebook
Pin Recipe
Nutrition
Serving:
1
waffle
|
Calories:
101.2
kcal
|
Carbohydrates:
15.7
g
|
Protein:
2.5
g
|
Fat:
3.8
g
|
Saturated Fat:
2.4
g
|
Polyunsaturated Fat:
0.4
g
|
Monounsaturated Fat:
0.6
g
|
Sodium:
120.9
mg
|
Potassium:
114.3
mg
|
Fiber:
1.9
g
|
Sugar:
3
g
|
Calcium:
80.4
mg
|
Iron:
0.8
mg
|
Magnesium:
46.2
mg
|
Phosphorus:
69.5
mg
|
Zinc:
0.6
mg