Buckwheat Blueberry Muffins (No Eggs, No Dairy)
These buckwheat blueberry muffins are healthy vegan, gluten-free blueberry muffins with a moist crumb, juicy blueberries, and a delicious earthy, nutty flavor from buckwheat flour and almond flour.
Bonus, they contain a good bunch of plant-based proteins and no refined sugar.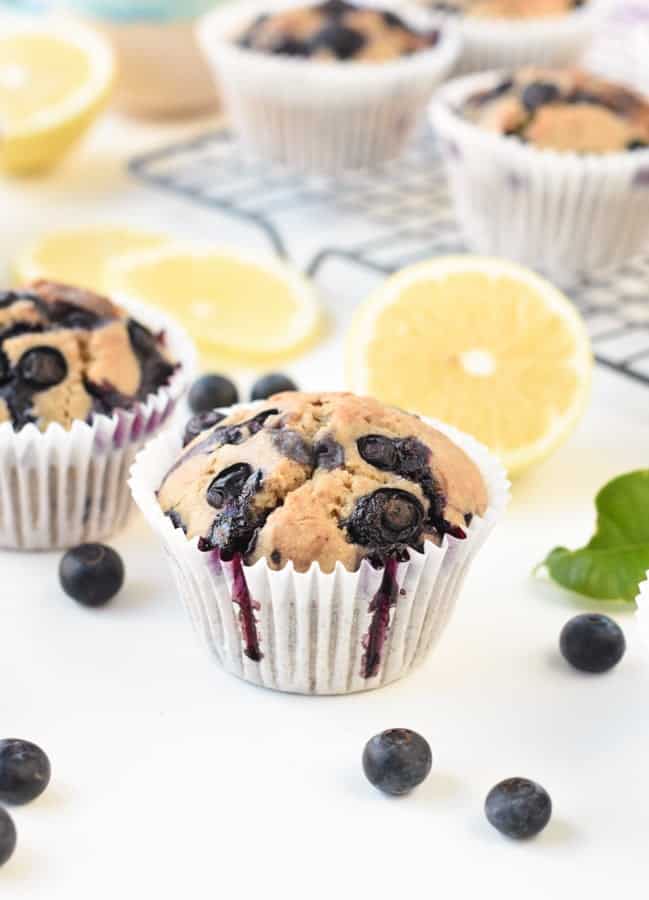 Are Buckwheat Muffins Healthy?
These buckwheat flour muffins are vegan, gluten-free, and refined-sugar-free. They are one the healthiest vegan breakfast muffins ever.
First, buckwheat is one of the best plant-based protein sources like soy or quinoa.
It's called a complete plant-based protein, meaning that it contains all the nine essential amino acids that the body can't produce.
Then, these buckwheat muffins have no refined sugar, keeping the net carbs per serving very low to keep your blood sugar level steady through the day.
Finally, this buckwheat muffin recipe includes almond flour, which adds healthy fat and many important nutrients to a vegan diet like biotin, zinc, manganese, potassium, and calcium.
Therefore, one of these gluten-free buckwheat muffins makes a great recipe for a healthy balanced vegan breakfast.
How To Make Buckwheat Muffins
First, measure all your ingredients precisely into a small bowl to make sure you don't miss any ingredients while making the recipe.
Ingredients
You need a good amount of wholesome ingredients to make these healthy blueberry muffins, including:
Buckwheat flour – the color of buckwheat flour is very different from one country to another. My buckwheat flour here in New Zealand has a light grey color which is why the muffins keep a lightly golden crumb.
Unsweetened almond milk – or any non-dairy milk you love like oat milk or soy milk.
Apple cider vinegar – or lemon juice.
Almond flour – I don't recommend an almond meal in this recipe. It makes the muffins very dense and gritty in texture. The best is to use ultra-fine almond flour.
Unrefined cane sugar or any crystal sweetener you love, like coconut sugar or erythritol, for a diabetes-friendly option. Don't use a liquid sweetener like maple syrup, or the batter will be very dense and heavy.
Baking powder
Baking soda
Cinnamon
Blueberries – fresh or frozen.
Peanut butter – or almond butter, sunflower seed butter, or tahini.
Melted coconut oil or light olive oil to decrease saturated fat or any vegetable oil you like.
Vanilla extract
Preparing Ingredients
Bowl 1: Vegan Buttermilk
First, in a small mixing bowl, prepare the vegan 'buttermilk' by stirring non-dairy milk and apple cider vinegar.
Set aside for 10 minutes until the milk slightly curdles.
Bowl 2: Flour Mixture
Meanwhile, combine all the dry ingredients into a large mixing bowl: buckwheat flour, almond flour, unrefined cane sugar, baking powder, baking soda, and cinnamon.
Bowl 3: Peanut Butter Mixture
Finally, stir the natural peanut butter, melted coconut oil, and vanilla extract until it forms a thick sticky paste.
Combine Bowl 1 And 3
Now whisk the vegan buttermilk into the peanut butter paste until the mixture is well combined and no lumps show.
Making the batter
Now, pour the wet ingredient onto bowl 2 with the flour mixture and stir to form a consistent buckwheat almond flour muffins batter.
Baking Buckwheat Muffins
These gluten-free, vegan blueberry muffins are much denser than regular vegan muffins.
In fact, gluten-free baking use flours that are much heavier due to their amount of fiber or starch. It means it takes a little longer to bake.
First, line a 12-hole muffin pan with paper muffin cups. Then, fill each cup up to 3/4 and add a few extra blueberries on top of each muffin if desired.
Finally, bake at 350°F (180°C) for 30 to 35 minutes or until a pick inserted in the center of the blueberry buckwheat muffin comes out clean.
Cooldown
Place the baked buckwheat breakfast muffins on a cooling rack and wait for a few hours to enjoy their best texture.
Almond Flour Swaps
These vegan blueberry muffins use almond flour to add a lighter texture to the muffins.
You can't make vegan muffins with 100% buckwheat flour, or the texture will be too dense and gummy.
However, if you can't have nuts, you can replace the almond flour with the same amount of:
Oat flour – look for gluten-free certified oats and blend them in a food processor to make your own flour.
Gluten-free flour blend – bob's red mills 1:1 gluten-free flour mix works very well here.
Spelt flour – this is not gluten-free, so not recommended if you want to keep the recipe without gluten.
How To Make Buckwheat Flour
If you can't find buckwheat flour at the grocery store, you can make it yourself at home.
To do so, add at least 2 cups of buckwheat groats into a high-speed blender and blend at high speed until a fine flour forms.
More Vegan Recipes With Buckwheat
I have plenty of other delicious vegan, gluten-free baking recipes for you. Below are my favorites:
Buckwheat Blueberry Muffins
This healthy, moist vegan buckwheat muffin recipe makes gluten-free blueberry muffins from almond flour and buckwheat flour.
Pin
Print
Review
Servings: 12 muffins
Calories: 216.8 kcal
Instructions
Preheat the oven to 350°F (180°C). Line a 12-hole muffin pan with muffin cases or oil each hole with coconut oil. Set aside.

In a small bowl, whish almond milk with apple cider vinegar. Set aside 10 minutes until milk curdle.

In another large mixing bowl, combine all the dry ingredients: buckwheat flour, almond flour, baking powder, baking soda, unrefined cane sugar, and cinnamon. Set aside.

In a medium-sized bowl, combine peanut butter, melted coconut oil, and vanilla until thick creamy paste forms. Add in the almond milk prepared in step 1 and whisk until the mixture is well combined, no nut butter lumps show.

Pour the liquid into the bowl with the dry ingredients and stir to combine.

When the batter is smooth and consistent, stir in the blueberries.

Fill each muffin hole up to 3/4 and press in a few extra blueberries on top of each muffin.

Bake for 25-35 minutes in the center rack of the oven until a pick inserted in the center of the muffins comes out clean.
Storage
Store the muffins in a sealed box for up to 5 days in the fridge or freeze for up to 3 months. Thaw the day before at room temperature.
Share on Facebook
Pin Recipe
Nutrition
Serving: 1muffin | Calories: 216.8kcal | Carbohydrates: 28.2g | Protein: 5.1g | Fat: 11.6g | Saturated Fat: 3.9g | Polyunsaturated Fat: 1g | Monounsaturated Fat: 1.9g | Sodium: 139.6mg | Potassium: 127.3mg | Fiber: 3.1g | Sugar: 15.7g | Vitamin A: 10.2IU | Vitamin C: 1.8mg | Calcium: 80.6mg | Iron: 1.1mg | Magnesium: 43.9mg | Phosphorus: 72.8mg | Zinc: 0.6mg