Vegan Buckwheat Pancakes – Gluten-free
These vegan buckwheat pancakes are healthy vegan, gluten-free fluffy pancakes to start the day.
It's a pancake recipe with no milk, no eggs, 100% vegan, and rich in nutrients using gluten-free buckwheat flour.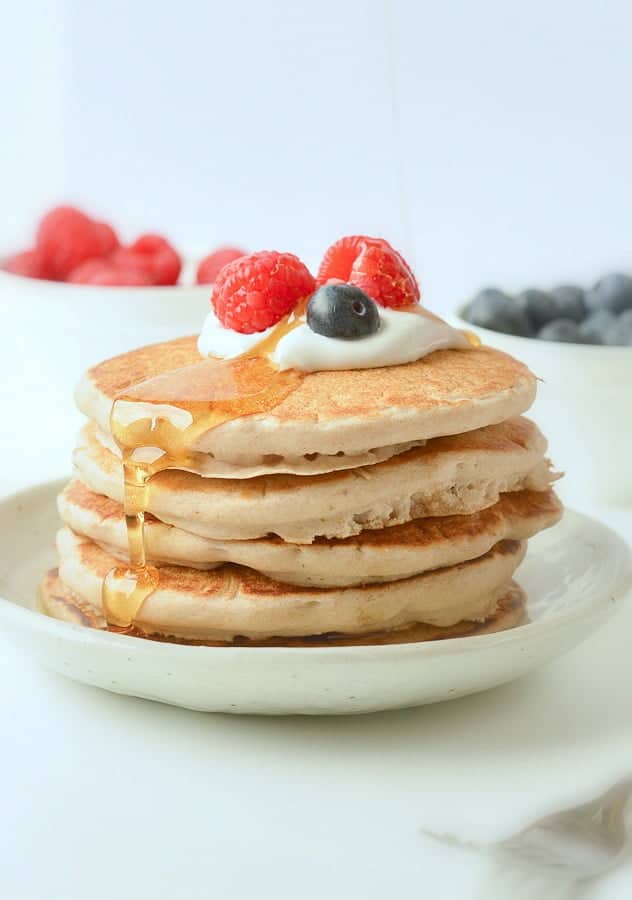 What's Buckwheat Flour?
Buckwheat flour is a gluten-free flour made from ground buckwheat seed, also known as buckwheat groats. Buckwheat flour has a hearty flavor.
It is high in fiber and, therefore, lower in carbs than other regular flour.
The color of buckwheat flour varies depending on the country and brand you use, from light white to grey pale.
Is Buckwheat Healthy?
Buckwheat flour is high in fiber, which means that it slows down the absorption of carbs.
Consequently, it's a fulfilling flour that keeps your blood sugar level stable throughout the day.
It makes buckwheat flour a healthy alternative flour for diabetics, better than white wheat flour. On a vegan diet, buckwheat is a great vegan protein.
How To Make Vegan Buckwheat Pancakes
This vegan buckwheat pancake recipe is very easy to make with only a few wholesome ingredients.
Let's see the ingredients you need to make fluffy vegan buckwheat pancakes :
Ingredients
Buckwheat flour – the color of buckwheat flour varies from brand to brand. It tends to be darker in Europe (e.g. France has a darker buckwheat flour called 'farine de ble noir'), and it is lighter in the US or New Zealand/Australia. Whatever the color of your flour is, the result will be the same, a delicious buckwheat pancake.
Baking powder
Baking soda
Apple cider vinegar – activate the leaving agents and creates vegan buttermilk when combined with plant-based milk.
Unsweetened almond milk – this is the best milk substitute for pancakes. It's light and tasteless. You can also use other plant-based milk, but it makes heavier pancakes if you use soy milk or oat milk. Also, if you can make these pancake recipes with no milk, simply use water!
Liquid sweetener – I love to use unrefined sugar, so the best liquid sweeteners are brown rice syrup, agave syrup, coconut syrup, and maple syrup.
Vanilla extract
Coconut oil or any oil you like, almond oil, or avocado oil are healthy options. You can substitute oil with apple sauce for an oil-free vegan pancake recipe. Note that this will make the pancakes will be a bit denser.
Combining Wet Ingredients
First, whisk all the wet ingredients into a mixing bowl: almond milk, syrup, vanilla extract, and apple cider vinegar.
The vinegar will slightly curdle the dairy-free milk and help the pancakes rise more. Set aside while you combine the dry ingredients together in another bowl.
Dry Ingredients
In a large mixing bowl, add buckwheat flour, baking powder, and baking soda until well combined. The reason you need both baking agents in this recipe, so don't skip one or the other.
In fact, buckwheat flour is a dense, heavy gluten-free flour, and the combination of raising agents is how you make fluffy vegan, gluten-free pancakes.
Whisking Ingredients
Next, pour the wet ingredients into the bowl with the dry ingredients.
Whisk all ingredients together until the batter is thick and smooth, with no lumps.
Cooking Vegan Buckwheat Pancakes
These simple vegan buckwheat pancakes must be cooked in a warm non-stick pan or pancake griddle.
This prevents the pancakes from sticking to the pan, and it makes them easier to flip.
First, warm your non-stick pan over medium heat. Use a piece of absorbent paper dipped in coconut oil to rub onto the pan surface.
Don't add dollops of oil directly to the pan, or you will fry the pancakes.
Another option is to use an oil spray. Spray the entire pan surface between each addition of pancake batter
Flipping
Cook the pancakes over low-medium heat until their color is golden brown – about 2-3 minutes.
Then, slide a flat spatula under the pancake and flip it to the other side.
Cook the pancakes for an extra 1-2 minutes until the center is cooked through.
Repeat
Repeat the cooking steps, greasing the pan between each batter addition to prevent the pancakes from sticking to the pan.
Vegan Pancakes Toppings
The best vegan pancakes toppings for those buckwheat pancakes are:
Liquid sweetener – healthy options are unrefined sweeteners like pure maple syrup, brown rice syrup, apple syrup, or coconut syrup.
Nut butter – almond butter, cashew butter, peanut butter.
Fruits – low-carb fruits like raspberries, blueberries, or strawberries are delicious. Otherwise, use banana slices, peach, or apple sauce.
Others – a pinch of desiccated coconut or sliced almonds on top of the pancake is delicious to add crunch and nutrients.
Frequently Asked Questions
How Do Vegan Buckwheat Pancakes Taste?
These buckwheat pancakes are vegan gluten-free, and therefore they are slightly more dense than vegan wheat pancakes.
However, they are still fluffy for gluten-free pancakes, with a delicious nutty, earthy flavor from the buckwheat flour.
Can I Use Other Flour In This Recipe?
No, this is a simple vegan buckwheat pancake recipe designed to use only buckwheat flour. This recipe won't work with almond flour or wheat flour.
Buckwheat flour is a very special flour with lots of fiber and protein. It can't be swapped for white wheat flour or any other flour with the same ratio.
This will mess up your recipe, resulting in either heavy or fragile pancakes depending on what you swap buckwheat flour for.
Can I Add Fruits To The Batter?
Sure, you can add fruits or chocolate chips to this pancake vegan recipe.
To make vegan blueberry buckwheat pancakes add 1/2 cup of fresh or frozen blueberries to the batter.
Or add 1/4 cup of vegan chocolate chips if you are a chocolate lover!
Storing Vegan Buckwheat Pancakes
This is a great recipe to make your breakfast ahead. You can make ahead the pancake batter and store it overnight in the fridge in an airtight container.
Otherwise, store the cooked pancakes in an airtight container in the fridge for up to 4 days.
These pancakes freeze very well too. You can freeze them in a zip bag, placing a piece of parchment paper between each pancake, so they don't stick to each other.
Thaw pancakes on a cooling rack or a plate at room temperature. Frozen pancakes can be rewarmed in a warm pan or bread toaster.
More Vegan Gluten-Free Breakfast Recipes
If you need more inspiration on vegan, gluten-free breakfast recipes, check out those other breakfast recipes below!
Made these fluffy buckwheat flour pancakes yet? Share a review or comment below! I love to hear back from you or join me on Instagram to share a picture of your pancakes.
Vegan Buckwheat Pancakes
Instructions
In a mixing bowl, whisk together unsweetened almond milk, vinegar, syrup, vanilla, and oil. Set aside.

In another large mixing bowl, stir together all the dry ingredients: buckwheat flour, baking soda, baking powder. Make a well in the center and pour the liquid ingredients in the middle.

Whisk until it forms a smooth, slightly thick batter with no lumps.

Warm a pancake griddle under medium heat with a little olive oil or coconut oil.

Pour 1/4 cup of batter onto the warm oiled griddle, use the back of a spoon if needed to spread batter into a lovely round shape pancake.

Cook until bubbles forms on top and sides are set and dry – about

2 minutes

, then slide a spatula under the pancake and flip on the other side. Cook for an extra 30 seconds on this side.

Serve immediately or cool on a rack while you are cooking the rest of the batter. You should be able to make 11 pancakes.

Serve with toppings of your choice like maple syrup, brown rice syrup, almond butter, dairy-free coconut yogurt, berries, banana slices, etc.
Storage
Store the cooked pancakes for up to 2 days in an airtight container in the fridge or freeze in ziplock silicone bags. Defrost at room temperature the day before. You can rewarm the pancakes in a toaster.
Share on Facebook
Pin Recipe
Nutrition
Serving:
1
pancake
|
Calories:
83
kcal
|
Carbohydrates:
14.7
g
|
Protein:
2.3
g
|
Fat:
2.1
g
|
Fiber:
1.7
g
|
Sugar:
2.7
g