Vegan Buckwheat Pancakes (Gluten-Free)
These vegan buckwheat pancakes are healthy vegan, gluten-free fluffy pancakes, perfect to start the day with a wholesome breakfast.
It's an easy pancake recipe with no milk, no eggs, 100% vegan, and rich in nutrients using gluten-free buckwheat flour.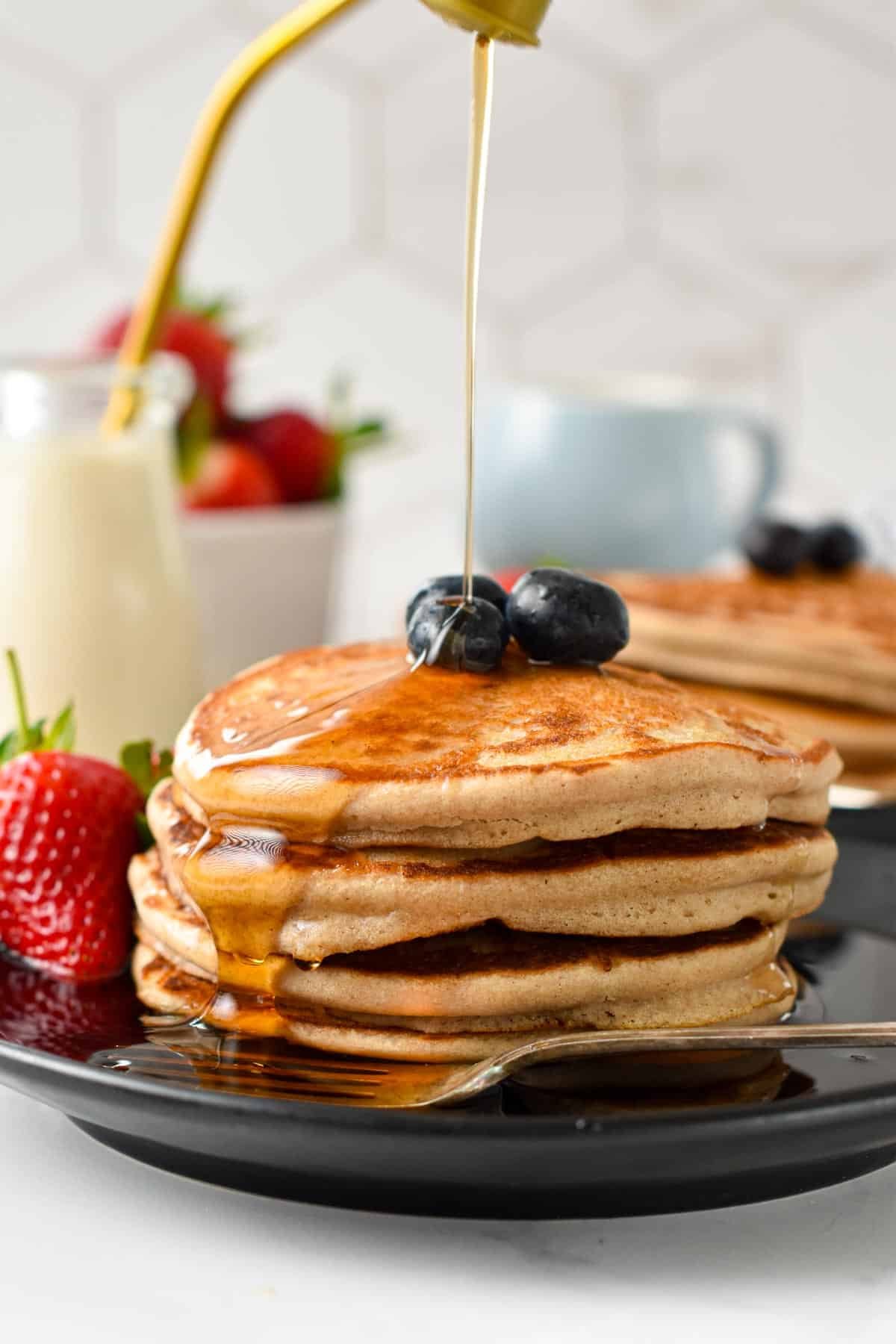 If there's one type of recipe I am an expert at, it's crepes and pancakes. Born and raised in France, where buckwheat flour is mainly used for French buckwheat crepes.
Why You Will Love This Recipe
Buckwheat flour is not only a gluten-free flour but also a healthier flour option than gluten-free all-purpose flour. If you are after a gluten-free pancake recipe that is also naturally nutritious, you must start baking with buckwheat flour.
These buckwheat pancakes are truly fluffy filling, and they will keep you satisfied and energized up to lunchtime. Taste-wise, buckwheat pancakes are absolutely delicious, adding earthy, nutty notes to baked goods.
Expert Tips For Buckwheat Pancakes
While most people think buckwheat flour is bitter and turns food ultra dry and dark, this is untrue. One of the things I learned about buckwheat flour after baking with it for more than 20 years is that all blends are not equal. Some brands add bits and pieces of the back hull from the buckwheat groat. These bits can be more present in some flour brands adding a grittier and darker color to the food you bake with.
That's why the first step to start baking with buckwheat flour is to test and choose the perfect blend. Buckwheat flour should be pale, greyish, and not too gritty to the touch. This is the first step to succeed and deliver fluffy buckwheat pancakes that truly look and taste good.
How To Make Vegan Buckwheat Pancakes
This Vegan buckwheat pancake recipe is super easy to make with only a few wholesome ingredients.
Key Ingredients
Buckwheat Flour – Make sure you pick a light buckwheat flour with a white-grey color, and fine texture, not gritty or ultra dark. The dark blend contains larger pieces of hull and makes the pancakes denser, not fluffy, and very dark in color. The color of buckwheat flour varies from brand to brand. It tends to be darker in Europe (e.g. France has a darker buckwheat flour called 'farine de ble noir' or 'farine de sarrasin'), and it is lighter in the US or New Zealand/Australia.
Baking Powder and Baking Soda – Make sure you use gluten-free baking powder and a fresh batch of each raising agent. The combination of both makes the pancakes ultra fluffy. In fact, buckwheat flour is a dense, heavy, gluten-free flour, and the combination of raising agents is how you make fluffy, vegan, gluten-free pancakes.
Apple Cider Vinegar – The acidity of the vinegar activates the leaving agents and also creates a vegan buttermilk when combined with plant-based milk.
Unsweetened Almond Milk – This is the best milk substitute for buckwheat flour pancakes. It's light and tasteless and therefore, it keeps the pancakes fluffier. You can also use other plant-based milk, like soy milk, oat milk, or coconut milk. But it makes the pancakes slightly heavier pancakes.
Liquid Sweetener – I love to use unrefined sugar, so the best liquid sweeteners are brown rice syrup, agave syrup, coconut syrup, and maple syrup.
Vanilla Extract – For flavor and to cover the light bitterness of the flour.
Coconut Oil – melted and cooled, or choose a light-flavored oil like almond oil or avocado oil for healthy options. You can substitute oil with applesauce for an oil-free vegan, gluten-free pancake recipe. Note that this will make the pancakes dryer.
Combining Wet And Dry Ingredients Separately

First, whisk all the wet ingredients into a mixing bowl: almond milk, maple syrup, vanilla extract, and apple cider vinegar. The vinegar will slightly curdle the dairy-free milk and help the pancakes rise more. Set aside while you combine the dry ingredients together in another bowl.
In a large mixing bowl, whisk buckwheat flour, baking powder, and baking soda until well combined.
Whisking Ingredient and cook on a pancake griddle
Next, pour the wet ingredients into the bowl with the dry ingredients and whisk to combine. The batter should look thick and smooth, with no lumps.
Cooking the Pancakes
These simple vegan buckwheat pancakes must be cooked in a warm, non-stick pan or pancake griddle. First, warm your non-stick pan over medium heat. Use cooking oil spray to oil the entire pan surface between each addition of pancake batter. This prevents the pancakes from sticking to the pan, making them easier to flip. Cook the pancakes over low-medium heat until golden brown – about 2 to 3 minutes. Then, slide a flat spatula under the pancake and flip it to the other side. Cook the buckwheat pancakes for an extra 1 or 2 minutes until the center is cooked through. Repeat the cooking steps, greasing the pan between each batter addition to prevent the pancakes from sticking to the pan.
The Best Gluten-Free Pancake Toppings
The best vegan gluten-free pancake toppings for these buckwheat pancakes are:
Liquid Sweetener – Healthy options are unrefined sweeteners like pure maple syrup, brown rice syrup, apple syrup, or coconut syrup.
Nut Butter – Pour a drizzle of almond butter, cashew butter, or peanut butter on top of the pancake stack.
Fruits – Add some fresh or frozen berries, like raspberries, blueberries, or strawberries. Otherwise, use banana slices or diced apples.
Unsweetened Shredded Coconut – If you can toast the coconut before, it adds an extra nutty flavor that goes amazingly well with the buckwheat flavor.
Sliced Almonds to add crunch and extra nutty flavors.
Vegan Butter – Add a piece of vegan butter on top of warm pancakes it will melt and make the buckwheat pancakes ultra moist and buttery.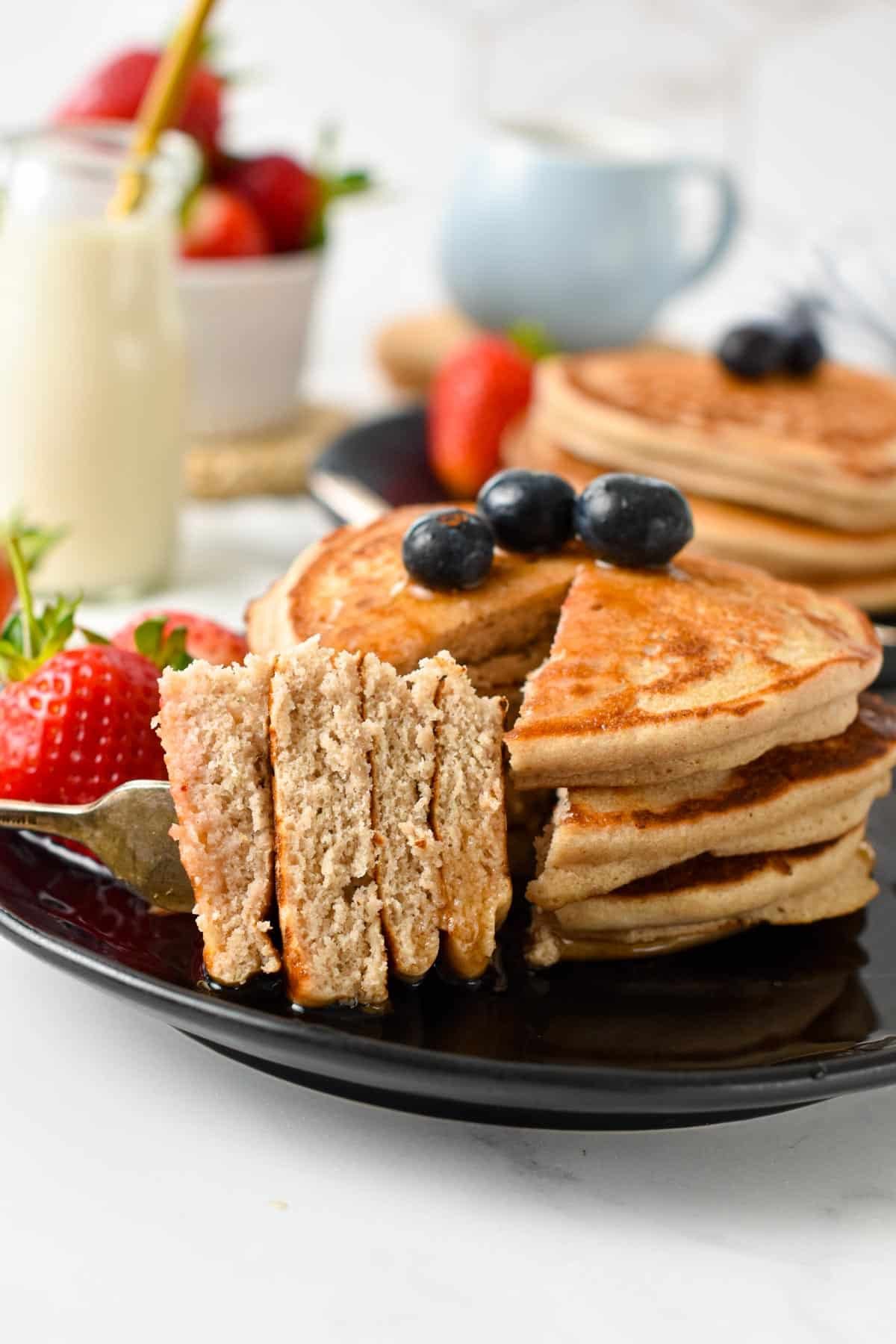 More Vegan Gluten-Free Breakfast Recipes
If you need more inspiration on vegan, gluten-free breakfast recipes, check out those other breakfast recipes below!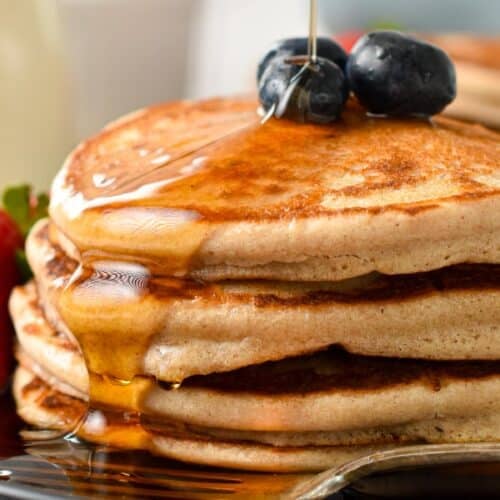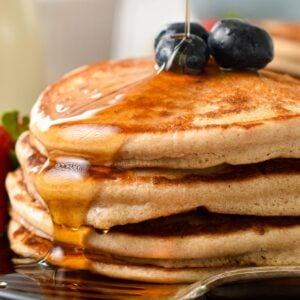 Vegan Buckwheat Pancakes
These vegan buckwheat pancakes are healthy vegan, gluten-free fluffy pancakes, perfect to start the day with a wholesome breakfast. It's an easy pancake recipe with no milk, no eggs, 100% vegan, and rich in nutrients using gluten-free buckwheat flour.
Pin
Print
Review
Servings: 11 pancakes
Calories: 83 kcal
Instructions
In a mixing bowl, whisk together unsweetened almond milk, vinegar, syrup, vanilla, and oil. Set it aside.

In another large mixing bowl, stir together all the dry ingredients: buckwheat flour, baking soda, and baking powder. Make a well in the center and pour the liquid ingredients in the middle.

Whisk until it forms a smooth, slightly thick batter with no lumps.

Warm a pancake griddle under medium heat with a little olive oil or coconut oil.

Pour 1/4 cup of batter onto the warm oiled griddle. Use the back of a spoon if needed to spread batter into a lovely round-shaped pancake.

Cook until bubbles form on top and sides are set and dry – about 2 minutes, then slide a spatula under the pancake and flip on the other side. Cook for an extra 30 seconds on this side.

Serve immediately or cool on a rack while you area cooking the rest of the batter. You should be able to make 11 pancakes.

Serve with toppings of your choice, like maple syrup, brown rice syrup, almond butter, dairy-free coconut yogurt, berries, or banana slices, etc.
Notes
How to Store Vegan Buckwheat Pancakes
Make-ahead: This is a great recipe to make your breakfast ahead. You can make ahead the pancake batter and store it overnight in the fridge in an airtight container.
Fridge: Otherwise, store the cooked pancakes in an airtight container in the fridge for up to 4 days.
Freeze: these pancakes freeze very well, too. You can freeze them in a zip bag, placing a piece of parchment paper between each pancake so they don't stick together. Thaw pancakes on a cooling rack or a plate at room temperature. Frozen pancakes can be rewarmed in a warm pan or bread toaster.
Allergy Swaps
Nut-free – replace almond milk with soy milk, oat milk, or any nut-free milk you love
Oil-free – replace oil with the same amount of unsweetened apple sauce.
Share on Facebook
Pin Recipe
Nutrition
Serving: 1pancake | Calories: 83kcal | Carbohydrates: 14.7g | Protein: 2.3g | Fat: 2.1g | Fiber: 1.7g | Sugar: 2.7g
Frequently Asked Questions
How Do Vegan Buckwheat Pancakes Taste?
These buckwheat pancakes are vegan gluten-free, and therefore they are slightly more dense than vegan wheat pancakes.
However, they are still fluffy for gluten-free pancakes, with a delicious nutty, earthy flavor from the buckwheat flour.
Can I Use Other Flour In This Recipe?
No, this is a simple vegan buckwheat pancake recipe designed to use only buckwheat flour. This recipe won't work with almond flour or wheat flour.
Buckwheat flour is a very special flour with lots of fiber and protein. It can't be swapped for white wheat flour or any other flour with the same ratio.
This will mess up your recipe, resulting in either heavy or fragile pancakes depending on what you swap buckwheat flour for.
Can I Add Fruits To The Batter?
Sure, you can add fruits or chocolate chips to this pancake vegan recipe.
To make vegan blueberry buckwheat pancakes add 1/2 cup of fresh or frozen blueberries to the batter.
Or add 1/4 cup of vegan chocolate chips if you are a chocolate lover!
What's Buckwheat Flour?
Buckwheat flour is a gluten-free flour made from ground buckwheat seed, also known as buckwheat groats. Buckwheat flour has a hearty flavor.
It is high in fiber and, therefore, lower in carbs than other regular flour.
The color of buckwheat flour varies depending on the country and brand you use, from light white to grey pale.
Is Buckwheat Healthy?
Buckwheat flour is high in fiber, which means that it slows down the absorption of carbs.
Consequently, it's a fulfilling flour that keeps your blood sugar level stable throughout the day.
It makes buckwheat flour a healthy alternative flour for diabetics, better than white wheat flour. On a vegan diet, buckwheat is a great vegan protein.