Vegan Buckwheat Crepes (Gluten-Free, Oil-Free)
These Super Easy Vegan Buckwheat Crepes are thin breakfast pancakes with a delicious nutty, earthy flavor from buckwheat flavor.
They are naturally gluten-free, dairy-free, and perfect as a healthy, nourishing breakfast or lunch wrap filled with savory food.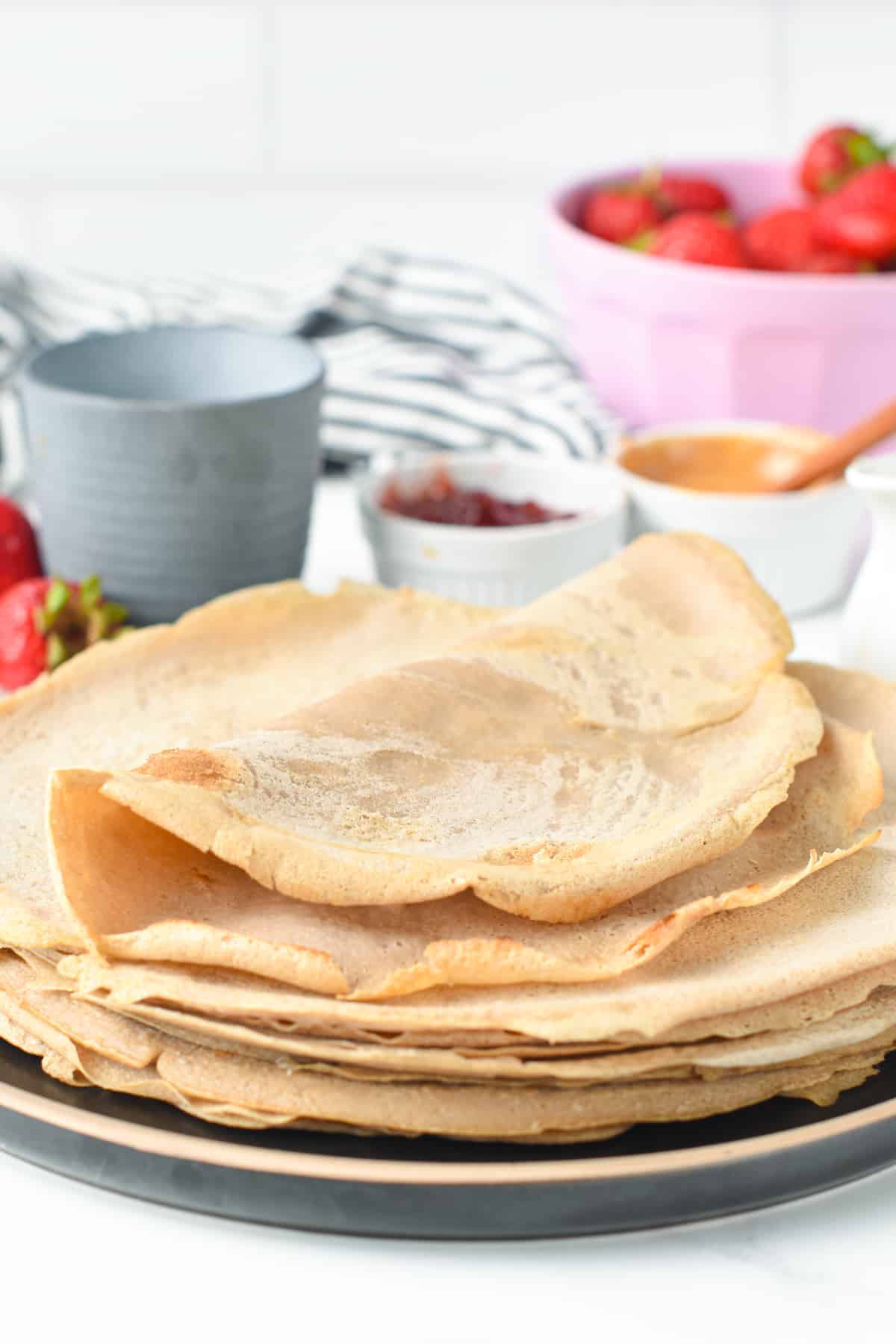 As a French person, I have been baking buckwheat crepes since I am a kid.
Buckwheat crepes are indeed part of the French food culture. It's a typical recipe from the Brittany region, and it's always used as a base for savory crepes filled with cheese and ham and a fried egg on top!
All of these options are far from a plant-based diet, but buckwheat flour is so nourishing and healthy that a vegan buckwheat crepe option is a must!
So here I am sharing my favorite vegan, gluten-free buckwheat crepes! A copycat of the classic French recipe, but without eggs, dairy, or oil!
Are Buckwheat Crepes Vegan?
No, authentic buckwheat crepes contain eggs and sometimes milk.
So they are not a vegan recipe, and it needs a few tweaks to make them plant-based.
How To Make Vegan Buckwheat Crepes
It's very easy to make buckwheat crepes without eggs. The trick is to use more buckwheat flour.
Many recipes will ask for a flax egg or other egg replacer, but it's absolutely unnecessary.
It actually makes the batter fragile because the flax egg stretches the batter too much in the crepe pan and splits the crepe apart.
Ingredients
So here are the basic ingredients you need to make a vegan crepe with buckwheat flour:
Buckwheat Flour – there's a large variety of buckwheat flour on the market, and the color of buckwheat flour varies a lot from country to country. In Europe, buckwheat flour is grey and dark, while in New Zealand, it's light grey, almost pale white. So that's why the color of my crepes is light and golden. But anyway, the color won't change the recipe ratio.
Cold Water – Use tap water. You don't need almond milk to make vegan buckwheat crepes. The water makes the crepes soft, flexible, and crispier on the sides.
Salt
Vanilla Extract – if you want to use the recipe for a sweet crepe.
Sugar – you can add a pinch of coconut sugar or unrefined cane sugar to the recipe to make the batter sweet.
Crepe Batter
To make the buckwheat crepes batter, whisk the wet ingredients into the dry ingredients.
Whisk well to remove any possible lumps and rest the batter for 10 minutes before cooking. This is the number one tip for your crepe to hold and not break in the pan.
Cooking
Next, make sure you use a non-stick crepe pan or non-stick skillet. Buckwheat crepes are thicker than regular crepes and very fragile as well.
If you are not using a non-stick crepe pan, the crepe takes much time to cook and sometimes breaks.
Warm the crepe pan over medium heat, add 1 teaspoon of coconut oil or olive oil to the center of the pan, and tilt to spread.
Remove any excess oil using a piece of absorbent paper to rub the pan surface.
Pour about 1/2 cup of batter into a 10-inch (26cm) pan, and tilt gently, working in rotation movement to evenly spread the crepe batter onto the pan surface.
Return over medium heat and cook for 2 to 3 minutes until the sides are crispy and unstick from the pan.
Flipping
Then, slide a long flat spatula under the crepe and flip to cook an extra minute on the other side.
Transfer the vegan buckwheat crepes to a plate and repeat the above steps with the remaining batter.
Cooling Down
Cool the crepes down on top of each other on a cold plate. You can place a piece of foil on top of the crepes to keep them lukewarm.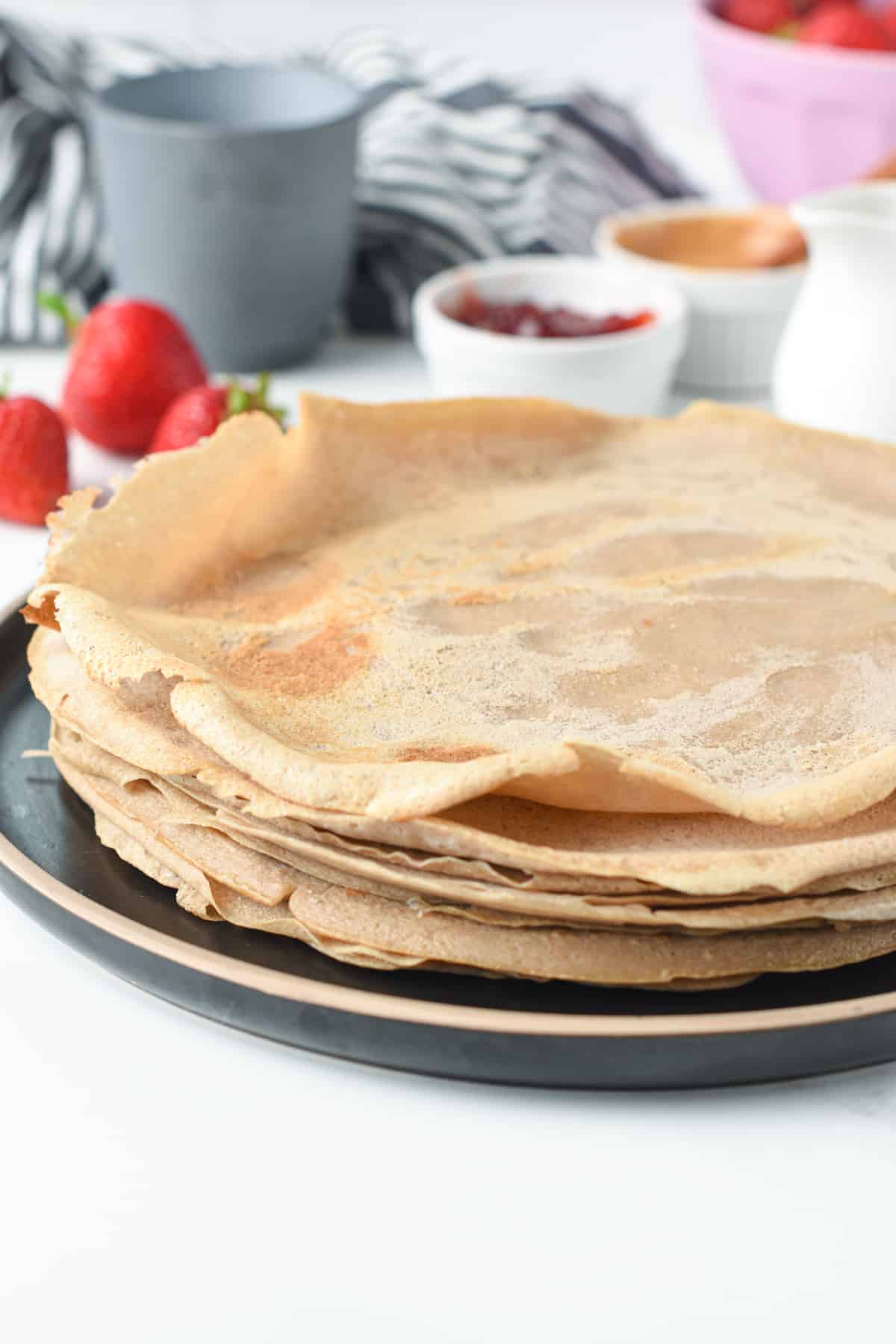 Filling Options
Buckwheat crepes are most of the time served hot with a savory filling. To make savory buckwheat crepes, return the cooked crepe onto the pan, add the ingredients below in order, on half of the crepe:
Vegan cheese
Roasted vegetables – like zucchini, red bell pepper, and mushrooms.
Plant-based proteins you like – crumbled tofu, roasted chickpeas, black bean, cooked textured soy protein.
Sauce – you can add some tomato paste, hummus, and vegan aioli.
Fold the crepe in half and cook until cheese is melted, then serve with lettuce on the side.
For sweet buckwheat crepes, try some of the toppings below:
Peanut butter
Almond butter
Homemade chia seed jam
Sliced almonds
Sliced banana
Berries
Chocolate Spread
Maple syrup
Storage
You can store the crepe batter in a sealed container in the fridge for up to 24 hours. It means you can make ahead the crepe batter the day before and store it in the fridge overnight.
Also, you can store the cooked crepes in the fridge for up to 3 days.
Then, place the crepes on a plate and seal the plate with plastic wrap to prevent the crepes from hardening and drying out.
Frequently Asked Questions
What Can I Do If My Crepe Batter Is Very Dark?
The color of buckwheat flour varies a lot from country to country, but luckily, the color doesn't affect the taste and also doesn't impact the recipe measurements.
Why Does My Crepe Batter Split When I Tilt The Pan?
This happens when the pan is too hot and sometimes for the first crepe, as it takes time for the pan to reach the right temperature.
French people like to say that the first crepe is always a miss! So keep trying, making sure the pan is hot but not burning hot – it should steam!
Why Is My batter Too Thick?
Add some more water, 2 tablespoons at a time. But don't add too much water, or the batter won't hold in the pan.
Can I Swap Buckwheat Flour For Regular Flour?
You can't swap buckwheat flour for all-purpose flour with the same ratio. However, you can use my vegan crepes recipe to use wheat flour.
Is Buckwheat Flour Gluten-Free?
Yes, Buckwheat Flour is 100% gluten-free. Its name contains the word wheat but it's unrelated to wheat.
Does Buckwheat Flour Contain Protein?
Buckwheat flour contains 15 grams of protein per cup, about the same as Wheat Flour.
More Buckwheat Recipes
If you like recipes with buckwheat, you'll love these:
Have you made these vegan buckwheat crepes? Share a comment or review below to tell me how it went,
Your friend, Carine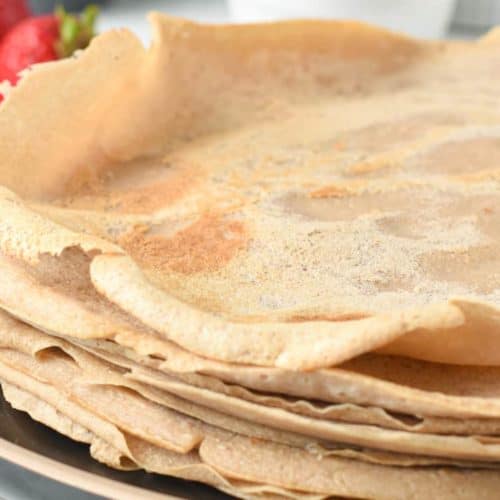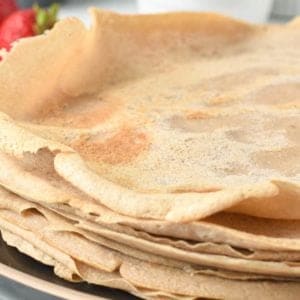 Vegan Buckwheat Crepes
These French Buckwheat Crepes are soft, flexible thin pancakes made of buckwheat flour with a delicious nutty, earthy flavor. They are naturally vegan, egg-free, gluten-free, and perfect to use as a wrap with savory or sweet fillings.
Pin
Print
Review
Servings:
6
crepes (10 inches/26 cm)
Ingredients
2 ½

cups

Raw Buckwheat

-

or Buckwheat flour

3

cups

Cold Water
Instructions
Blender option
Rinse raw buckwheat groats in a sieve under cold water. Add in the jug of your high-speed blender with cold water and salt if desired

Blend on high speed – speed 10 of a Vitamix for 30 seconds or until the batter is smooth – it should look quiet liquid not very thick.

Transfer to a mixing bowl and rest at room temperature before cooking
Mixing bowl option
In a large mixing bowl, add buckwheat flour, salt, and sugar if used. Whisk to combine.

Whisk in cold water and vanilla extract if used. Whisk until smooth, it won't be very thick

Set aside for 10 minutes at room temperature before cooking.
Cooking crepes
Heat a 10-inch Tefal Crepes pan (26 cm) over medium heat, add 1 teaspoon coconut oil in the pan, tilt to spread, or rub onto the surface of the pan with a piece of absorbent paper. Don't keep too much oil on the pan, or the crepe will fry.

Add ⅓ to ½ cup of batter in the pan, tilting the pan and rotating at the same time to evenly spread the batter all over the pan. If the pan is too hot, the batter can split, so make sure the pan is warm, not producing steam that means the pan is overheated.

Cook for 2-3 minutes on one side on medium heat or until the sides of the crepes get crispy and unstick from the pan easily.

Use a long flat spatula to slip under the crepe and flip on the other side.

Cook for an extra 1 minute on the other side and cool down on a plate.

Meanwhile, regrease the pan, and repeat the steps above to cook the remaining crepe batter.
Storage
Store the cooked crepes in the fridge on a plate sealed with plastic wrap.

Store the uncooked crepe batter for up to 24 hours in the fridge in a sealed container.
Serving
Serve with jam, peanut butter, or fruit slices for a sweet breakfast. Or add some savory toppings like hummus, roasted red pepper, and zucchini.
Share on Facebook
Pin Recipe
Nutrition
Serving:
1
crepe (plain)
|
Calories:
184.9
kcal
|
Carbohydrates:
39.4
g
|
Protein:
6.3
g
|
Fat:
1.6
g
|
Saturated Fat:
0.3
g
|
Polyunsaturated Fat:
0.5
g
|
Monounsaturated Fat:
0.5
g
|
Sodium:
199.4
mg
|
Potassium:
289.6
mg
|
Fiber:
5
g
|
Sugar:
5.4
g
|
Calcium:
20.7
mg
|
Iron:
2
mg
|
Magnesium:
125.6
mg
|
Phosphorus:
168.5
mg
|
Zinc:
1.6
mg