Vegan Banana Oat Pancakes
These vegan banana oat pancakes are healthy, fluffy pancakes to start the day with healthy carbs and plant-based proteins.
Bonus, this recipe is ready in 15 minutes and stores very well to make ahead of your next vegan breakfast.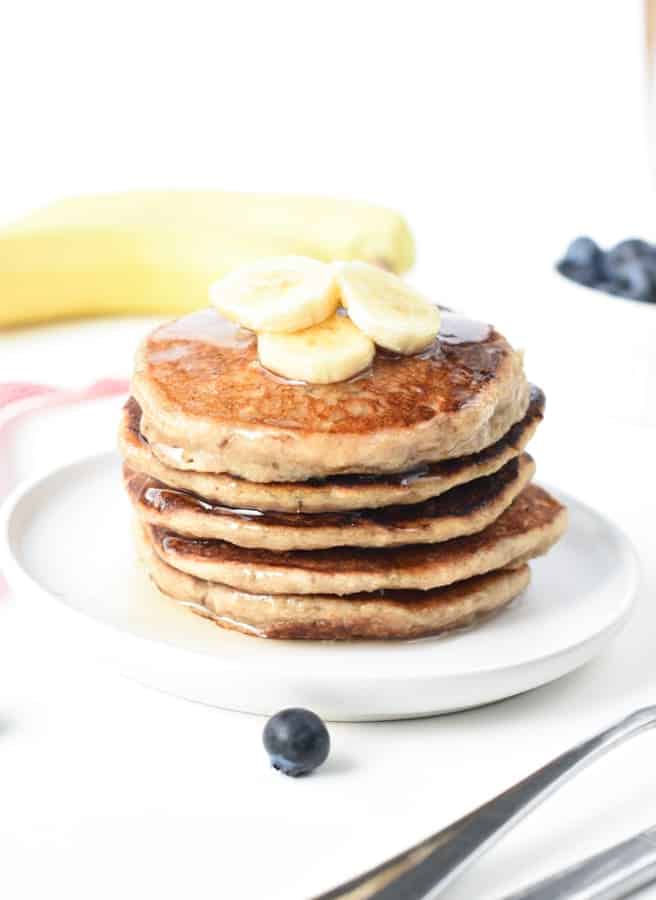 What Are Vegan Banana Oat Pancakes?
Vegan Banana Oat Pancakes are easy and healthy pancakes made with oat flour and no eggs.
Classic banana oat pancakes are not vegan, as the majority of recipes are made with a number of eggs.
How To Make Banana Oat Pancakes Vegan
Most banana pancakes with oats are actually banana egg pancakes. Eggs shouldn't be on your vegan-approved food list since they are animal products.
Here I am sharing with you how you can make healthy banana oat pancakes egg-free and plant-based, and fluffy!
Keep reading to read my tips and tricks to make egg-free banana pancakes that are light, fluffy, and vegan!
Get a blender or food processor
Before you start this recipe, make sure you have either a blender or a food processor on hand.
This is a must to make vegan fluffy pancakes.
First, a blender will help you make your own ultra-fine oat flour at home.
Most oat flour brands are coarse and make heavy pancakes, plus it's cheaper to make your own!
Next, a blender or food processor is the best way to blend banana and liquid ingredients together to create a smooth liquid batter.
In fact, avoiding banana bites in banana oat pancakes is the trick to making them fluffier!
Pancakes ingredients
Below are the ingredients you need to make oats and banana pancakes vegan, without eggs.
Jump to the recipe card below for full measurements and instructions:
Oat Flour – Check my tutorial on how to make oat flour at home. Oat flour is normally gluten-free as long as it's made with certified gluten-free oats.
Baking Powder – To make fluffy pancakes.
Cinnamon – For flavor and optional if you don't like cinnamon.
Mashed Ripe Bananas – About 3 medium bananas or 4 small bananas are needed for this recipe. The recipe provides the exact amount of mashed banana needed for precision. Since this recipe is not using eggs, it's essential to get the amount of banana right.
Almond Milk Or oat milk, or any dairy-free milk you like, all of these are the best milk substitute for pancakes.
Melted Coconut Oil – Or any light flavor oil like avocado oil or canola oil.
Vanilla Extract – To add more flavors.
Maple Syrup – This is optional but adds a lovely sweet flavor to the batter.
Preparing The Oat Flour
You don't have to buy ready-made oat flour for this recipe. Simply bring steel-cut oats or rolled oats into a blender.
Blend on high speed for 40 to 60 seconds or until ultra-fine like flour.
For this recipe, you roughly need to blend 2 1/2 cups of steel-cut oats. Measure your oat flour and set it aside in a mixing bowl.
If you prepare too much oat flour, store the leftover in the pantry in a sealed container for up to 3 months.
Combining Dry Ingredients
In a large mixing bowl, add the prepared oat flour along with the rest of the dry ingredients: baking powder and cinnamon.
Stir to combine well and set aside while you prepare the liquid ingredients.
Combining Liquid Ingredients
First, peel the banana, mash it with a fork and measure the amount required by the recipe in a measuring cup or weight on a kitchen scale.
All bananas have slightly different sizes, so this step is important for precision and fluffy pancakes.
Bring the mashed bananas into a blender or food processor with almond milk, vanilla extract, and maple syrup.
Blend or pulse on high speed until smooth and no banana bites show.
Preparing The Pancake Batter
Pour the liquid ingredients from the blender onto the bowl with the dry ingredients.
Next, stir with a spoon until the batter is smooth.
Cooking Vegan Banana Pancakes
Warm a non-stick pan under medium and grease the pan with cooking spray or a piece of absorbent paper covered with 1 tablespoon of olive oil.
Scoop 1/4 cup of pancake batter into the pan for each pancake and cook on medium heat for 2-3 minutes.
When the sides of the pancakes start to dry, flip and cook for 1 more minute or until the pancakes are golden brown.
Vegan Pancakes Toppings
You can serve these vegan pancakes plain or with some or a few of the ingredients below:
Banana slices.
Blueberries or any berries you like.
A few vegan chocolate chips – you can also add them to the pancake batter!
Peanut butter or almond butter.
Maple syrup or agave syrup.
Storage Instructions
This recipe makes 14 vegan oat and banana pancakes.
I recommend 3 to 4 pancakes per serving which means you will have plenty of leftovers for your next breakfast.
To store pancakes, you can keep them in:
a sealed container in the fridge for up to 3 days.
the freezer, in a sealed container too, but make sure you place a piece of parchment paper between each pancake or they stick together, and it's difficult to thaw one at a time.
Rewarming the pancakes
You can rewarm the pancakes in a bread toaster or in a non-stick pancake griddle or pan for a few minutes on each side.
If you freeze the pancakes, defrost them overnight on a plate at room temperature.
Frequently Asked Questions
Can I Make Banana Pancakes Without A Food Processor Or Blender?
Yes, you can make these vegan banana oat pancakes without a blender if you already have oat flour at home.
However, the texture of the pancakes will be very different. You can expect:
Heavy pancakes – not fluffy!
Banana bites in the dough.
Dryer pancakes
More Vegan Pancake Recipes
I love to make vegan pancakes for breakfast or as a quick snack for the kids.
Below I listed some of my other healthy vegan pancake recipes for you to try. They are mostly gluten-free!
Have you made these vegan oat pancakes with bananas? Share a review or comment below with us!
We love to hear your feedback or simply come on Pinterest to get more vegan recipes inspiration.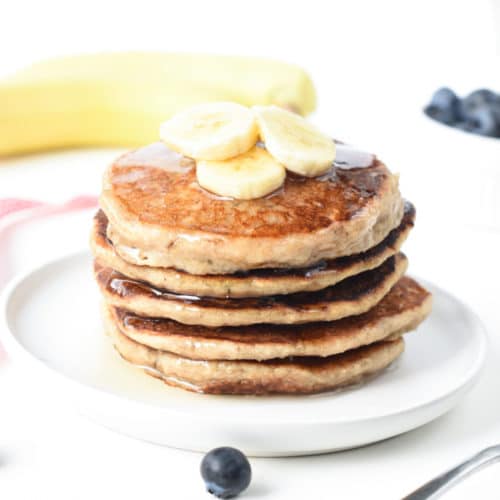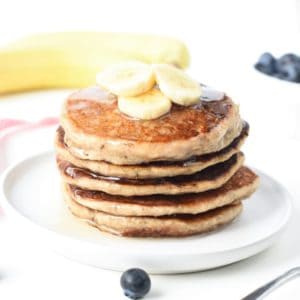 Vegan Banana Oat Pancakes
Instructions
In a large mixing bowl, whisk oat flour, cinnamon, and baking powder. Set aside.

In a blender add mashed bananas, almond milk, melted coconut oil, vanilla, and maple syrup, and process on high speed until smooth – about 30 seconds.

Pour the liquid ingredients onto the oat flour bowl and stir with a spatula until it forms a thick pancake batter with no lumps.

Heat a pancake griddle pan over medium-high heat. When hot, reduce to low heat and scoop 1/4 cup of batter per pancake.

Cook for 2 minutes on one side, then flip and cook for 1-2 minutes on the other side.

Repeat until no more batter is left, you should form about 14 pancakes.

Serve with fruits of your choice, maple syrup, or peanut butter.
Notes
Make your own oat flour: In a high-speed blender, add 2 cups + 1/2 cup of rolled oats and pulse on high speed for about 30 seconds to form fine oat flour.
Share on Facebook
Pin Recipe
Nutrition
Serving:
1
pancake
|
Calories:
137
kcal
|
Carbohydrates:
16
g
|
Protein:
3
g
|
Fat:
7
g
|
Saturated Fat:
4
g
|
Sodium:
146
mg
|
Potassium:
119
mg
|
Fiber:
2
g
|
Sugar:
2
g
|
Vitamin A:
8
IU
|
Vitamin C:
1
mg
|
Calcium:
103
mg
|
Iron:
1
mg