This easy fluffy vegan pumpkin pancake recipe is ideal for celebrating Fall and starting the day with delicious homemade pancakes.
Plus, these are healthy pumpkin pancakes as well made with no refined sugar and gluten-free option!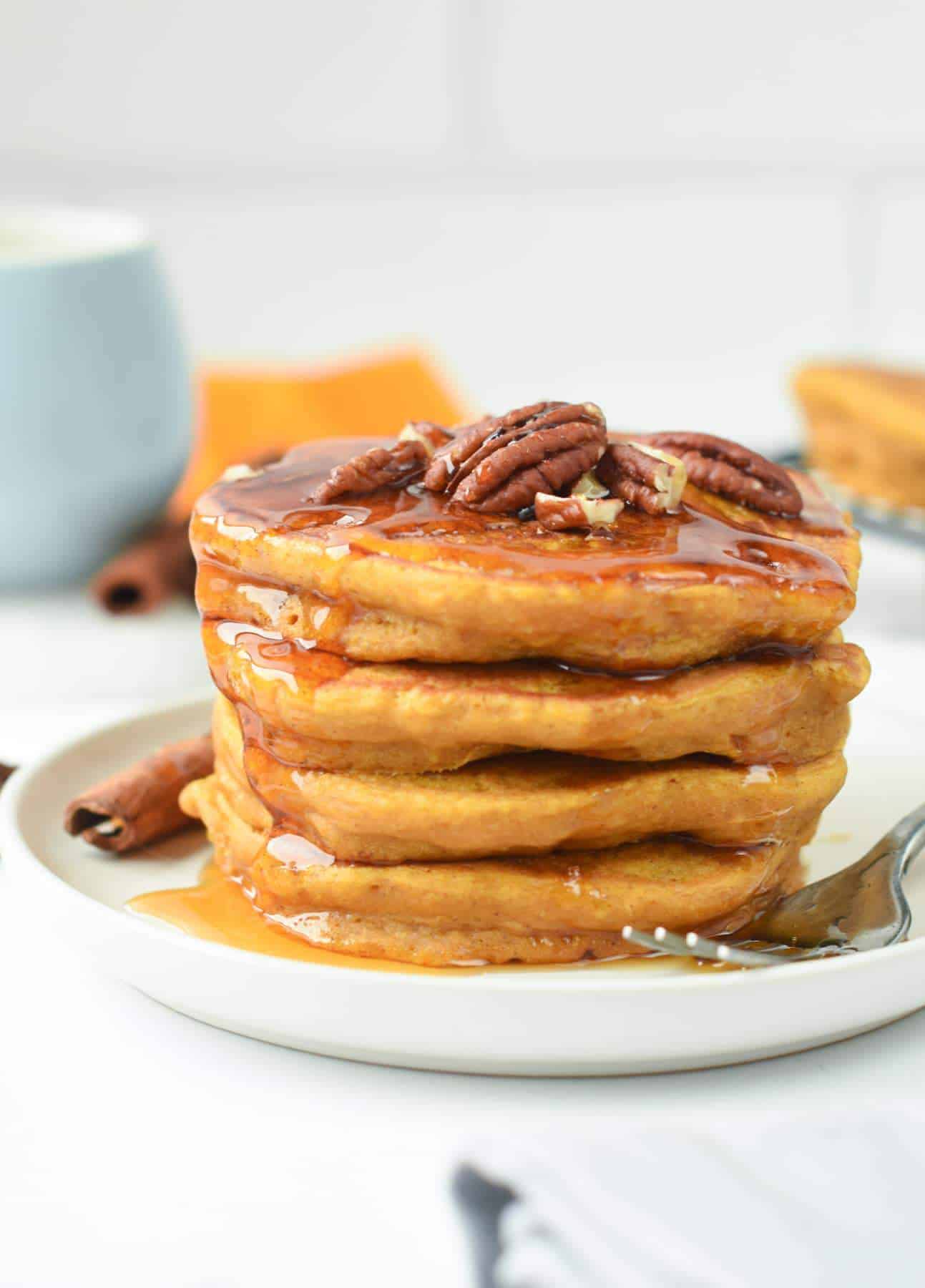 Ready to embrace the pumpkin season with more vegan pumpkin recipes?
We are! And we love starting the day with the smell of pumpkin spices in the kitchen, so pumpkin pancake it is!
What Are Vegan Pumpkin Pancakes?
Vegan Pumpkin Pancakes are fluffy pancakes made with a lot of pumpkin puree that bring a delicious sweet taste.
These pancakes are made with dairy-free and plant-based ingredients, and they are perfect as a vegan breakfast.
Vegan Pumpkin Pancakes bring a taste of fall that can be enjoyed all year round.
How To Make Vegan Pumpkin Pancakes
You only need a few simple ingredients to make vegan pumpkin pie pancakes and just 15 minutes to whip a batch!
Ingredients
Pumpkin puree – you can use canned pumpkin puree, the most convenient way to bake pumpkin goods. But also making your homemade pumpkin puree is a great way to use large pumpkins this season.
All-purpose flour – you have other flour options than all-purpose flour but be aware that any flour change will alter the texture and taste of the pancakes. For example, oat flour works, but the pancakes are not fluffy and more gritty and fragile. You will also need to rest the batter for at least 10 minutes if you use this option to give the fiber some time to absorb liquids and bind the batter.
Baking powder
Vanilla extract
Avocado oil – or any plant-based oil you like, including melted coconut oil. I didn't try the recipe oil-free, but sometimes replacing the oil with the same amount of applesauce works well.
Unsweetened almond milk – or any non-dairy milk you have on hand. There are plenty of plant-based kinds of milk that can be used in this recipe, including oat milk and soy milk.
Coconut sugar – Use coconut sugar or any crystal sweetener you love, including sugar-free erythritol.
Water
Pumpkin pie spices or ground cinnamon
Preparing the Batter
First, whisk pumpkin puree, avocado oil, almond milk, water, vanilla extract, and coconut sugar in a large bowl. Set it aside when the mixture is well combined and smooth.
In another bowl, combine flour, baking powder, and pumpkin pie spices.
Finally, stir the dry ingredients into the wet ingredients until a thick and consistent pancake batter forms.
Cooking the pancakes
Warm a pancake griddle over medium heat and lightly grease it with avocado oil. I like to use a piece of kitchen paper to rub the surface of the pancake pan or griddle to avoid adding too much oil.
Then, scoop about three tablespoons of pancake batter per pancake onto the hot griddle.
Cook for about 2 or 3 minutes, until the sides of the pancakes to set and bit a bit dry so you can easily slide a spatula under it to flip them.
Flip the pumpkin pancake and cook for an extra 1 or 2 minutes until golden brown and cooked through.
Oat flour options
To make pumpkin oatmeal pancakes the vegan way, you need oat flour. It's a great option if you are after a healthier version of this vegan pancake recipe.
I recommend using homemade oat flour instead. Make sure your oat flour is ultra-fine so it absorbs liquid as well as all-purpose flour.
Also, to measure oat flour, use the scoop-and-sweep method, don't overly pack the flour in the measuring cup, or the pancakes come out dense, and I am sure you prefer fluffy pancakes!
When the batter is ready, set aside for 10 minutes at room temperature to thicken.
The fibers in oat flour need a little time to work their charm and bind the ingredients together, so you won't be able to cook the pancake straight away.
Finally, cook the pancake in the hot pancake skillet on low-medium heat.
Oat flour takes longer to cook, and the pancakes are a bit more challenging to flip, but it is worth the extra effort to up the fiber in your breakfast pancakes.
Texture
The texture of these vegan pumpkin pancakes is light, fluffy, moist in the center, and full of pumpkin spice flavors.
Of course, if you choose to use oat flour, the texture will be much lighter, not as chewy and fluffy, and a bit gritty.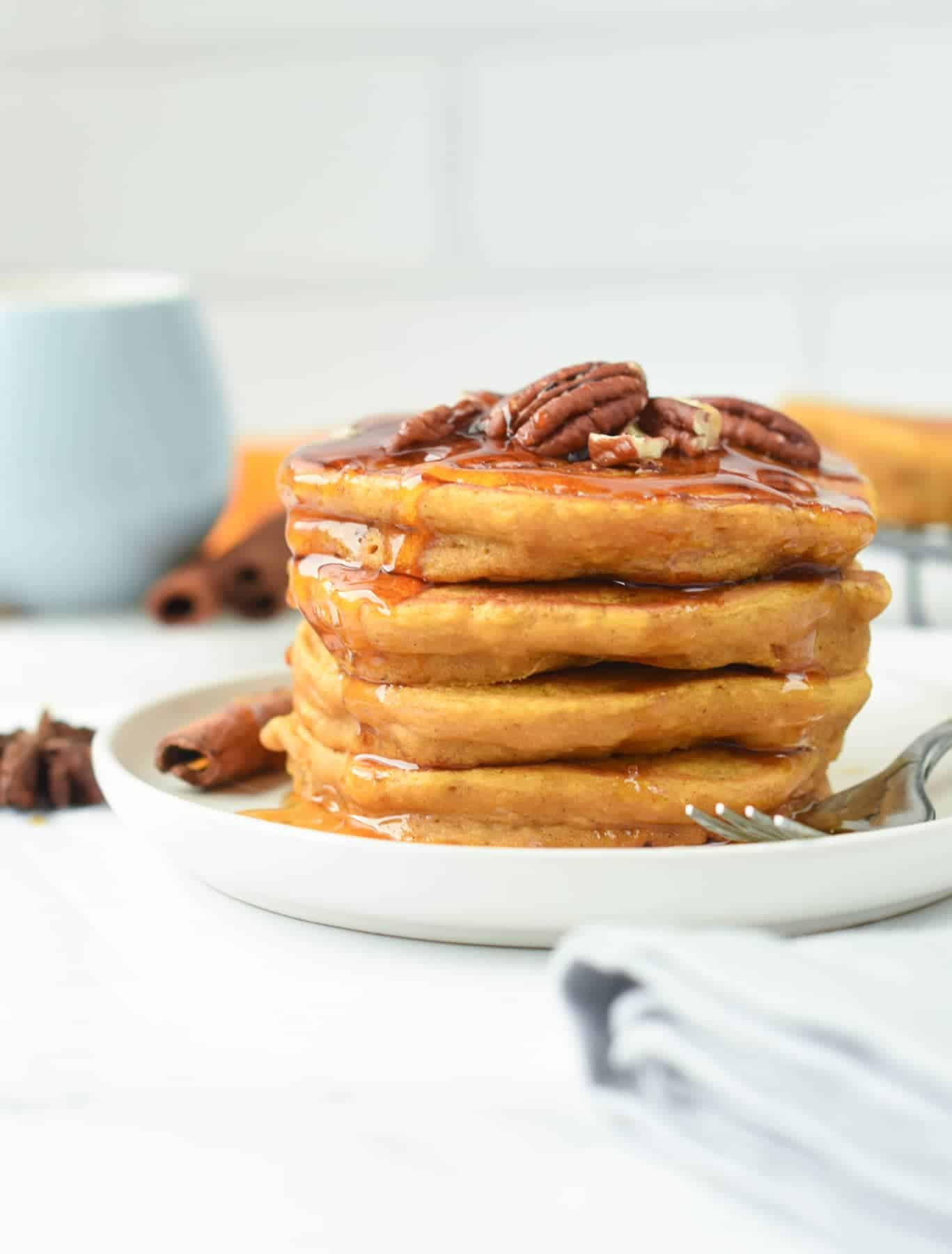 Add-ons
Of course, pancakes are better with add-ons, so feel free to add some of the following to the batter (about 1/3 cup):
Vegan dark chocolate chips – not all dark chocolate are vegan, so make sure your chips are dairy-free.
Chopped nuts – like pecans or walnuts.
Shredded coconut
Toppings
To serve these vegan pumpkin pancakes, we recommend some of the lovely toppings below that combine very well with pumpkin spices.
Maple syrup
Coconut nectar
Chopped pecans
Banana slices
Pinch of cinnamon
A dollop of coconut cream or coconut yogurt to bring out the pumpkin pie flavor of the recipe
Vegan butter
Allergy Options
These healthy vegan pumpkin pancakes are naturally:
Egg-free
Dairy-free
Refined sugar-free
But if you have other allergies, I listed some options for you below:
Gluten-free – you can make vegan, gluten-free pumpkin pancakes using this recipe as long as you use all-purpose gluten-free flour mixed with gum. I love Bob Red Mill's 1:1 Gluten-free Flour Mix. The pancakes are not as fluffy with gluten-free flour and are a bit chewier. I also recommend adding one teaspoon of apple cider vinegar. If you use gluten-free flour, it helps the pancakes rise more. Note that almond flour and coconut flour won't work in this recipe.
Sugar-free – replace the coconut sugar with erythritol or skip sweetener in the recipe.
Oil-free – you can usually replace the oil with the same amount of applesauce.
More Vegan Pumpkin Recipes
It's pumpkin season so let's bake more vegan pumpkin goods.
Below are our favorite vegan recipes to use pumpkin puree this Fall. So pick one or two and enjoy!
Have you made this pumpkin pancake recipe? Share a review or comment below to connect with me.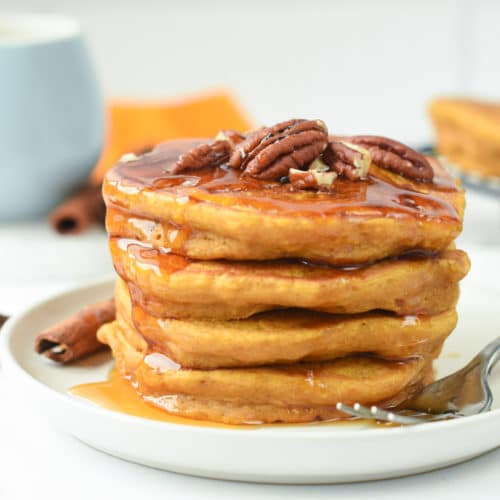 Vegan Pumpkin Pancakes
An easy vegan pumpkin pancake recipe with a fluffy texture and delicious fall flavors.
Pin
Print
Review
Servings:
12
pancakes (3 tbsp each)
Instructions
In a large mixing bowl, whisk pumpkin puree, oil, almond milk, water, and vanilla extract. Whisk until smooth.

Stir in flour, pumpkin spices, coconut sugar, and baking powder. Stir until the batter is smooth with no lumps.

Warm a pancake griddle over medium heat and grease the skillet with a bit of avocado oil.

Scoop out 3 tablespoons of batter per pancake and cook for 2-3 minutes on one side or until sides are dry and set so you can easily slide a spatula under the pancake to flip it over.

Keep baking on the other side for 1-2 minutes.

Serve with maple syrup, pecans, or banana slices.
Storage
Store in an airtight container in the fridge for up to 3 days or freeze in zip lock bags for later.
Notes
Note 1: Homemade pumpkin puree works if made from steamed or roasted pumpkin, not boiled, or you would need more flour to balance the extra moisture.
Note 2: Any crystal sweetener works like white sugar or sugar-free erythritol. Avoid liquid sweeteners like maple syrup that make the batter gummy.
Note 3: Oat flour works in this recipe, but the pancakes won't be as fluffy and grittier. Also, you need to set the batter aside 10 minutes before cooking the pancake to let the fiber from the oat bind with the ingredients.
All-purpose gluten-free flour works if you use a 1:1 gluten-free flour blend containing gum like Bob Red Mill's All-purpose Gluten-free flour.
Almond flour or coconut flour won't work in this recipe.
Share on Facebook
Pin Recipe
Nutrition
Serving:
1
pancake
|
Calories:
86.4
kcal
|
Carbohydrates:
13.5
g
|
Protein:
1.9
g
|
Fat:
2.7
g
|
Saturated Fat:
0.3
g
|
Polyunsaturated Fat:
0.5
g
|
Monounsaturated Fat:
1.8
g
|
Sodium:
127.9
mg
|
Potassium:
49
mg
|
Fiber:
0.9
g
|
Sugar:
0.6
g
|
Vitamin A:
2383.1
IU
|
Vitamin C:
0.6
mg
|
Calcium:
84.2
mg
|
Iron:
1
mg
|
Magnesium:
7.4
mg
|
Phosphorus:
44.2
mg
|
Zinc:
0.1
mg