Vegan Pumpkin Banana Bread
This easy Vegan Pumpkin Banana Bread is the best moist vegan pumpkin bread ever perfect to use these ripe bananas sitting on your kitchen counter. It's the fall version of my classic vegan banana bread.
Bonus, this quick vegan bread is refined sugar-free and low-sugar to keep you healthy and indulge with no guilt.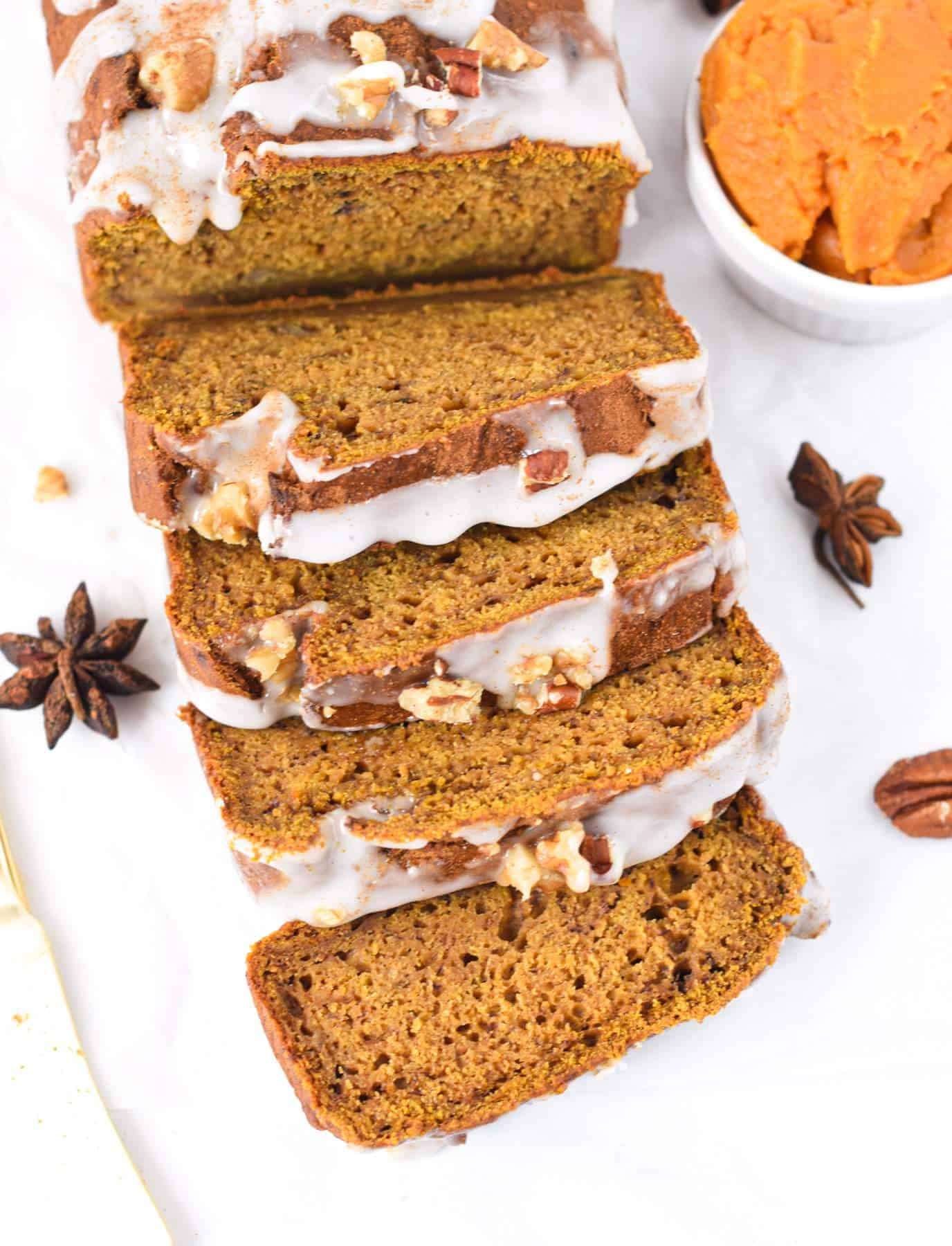 This Vegan Pumpkin Banana Bread is similar to my Vegan Pumpkin Bread, but with bananas for a different texture, and it's the pumpkin version of my Vegan Banana Bread.
Why You'll Love This Recipe
Banana and pumpkin are the perfect combinations for creating baked goods that are:
Super Moist
Naturally Sweet – you don't need much sugar to sweeten your recipe.
Conscious – use all your ripe bananas in the kitchen. You know my passion for ripe banana recipes!
Egg-Free
Dairy-Free
Vegan
How To Make Vegan Pumpkin Banana Bread
It's super easy to make vegan banana pumpkin bread and a great way to make ultra moist pumpkin bread.
Ingredients
Ripe mashed banana I used about three large ripe bananas for this recipe with black spots on their skins to increase the natural sweetness of the bread.
Yellow bananas work as well, but the bread will be less sweet with them, that's all.
Canned Pumpkin Puree or use my homemade pumpkin puree recipe.
Avocado oil or any vegan-approved oil you love, light olive oil, or melted coconut oil works too but makes the bread a tiny bit more dense and packed.
Coconut sugar – don't use a liquid sweetener like maple syrup in this recipe, or the bread will be gummy and dense. Feel free to use any crystal sweetener you love, even sugar-free erythritol, to cut down the carbs.
Vanilla extract
Pumpkin spices – I made my own by mixing one teaspoon of ground cinnamon with 1/4 teaspoon of ginger and 1/4 teaspoon of all spices.
Salt
Baking soda
Baking powder
All-purpose flour – you can use other flours with different results, but some flours won't work! Don't use almond flour or oat flour in this recipe. The flour swaps that work well are white whole wheat flour, white spelt flour, or a gluten-free all-purpose flour mix that includes gum. However, keep in mind that any flour swap results in a different bread texture. Most of the time, the bread is denser with these options.
Preparation
First, peel and mash the bananas on a chopping board until smooth. Measure the amount required by the recipe and place it in a large mixing bowl.
Stir in the pumpkin puree, coconut sugar, avocado oil, and vanilla extract, and whisk well to combine all the wet ingredients. Set aside.
In a separate bowl, add flour, pumpkin spices, salt, baking soda, and baking powder. Stir well to distribute ingredients evenly together into the bowl.
Finally, stir the dry ingredients into the wet ingredients until a thick batter forms.
Transfer the batter into a 9-inch x 5-inch loaf pan covered with parchment paper and lightly oil it with avocado oil.
Bake at 350°F (180°C) for 40 to 50 minutes or until the bread rises beautifully and a toothpick inserted in the middle comes out dry and clean.
Cooling the bread
Transfer the baked bread immediately onto a wire rack, don't cool it down in the pan, it would trap the moisture in the pan, and the bread would be super dense.
Cool completely on the wire rack before slicing or decorating – usually for 3 hours or overnight.
Decorating
It's up to you to add glazing to your vegan banana pumpkin bread. I do love to drizzle a sweet coconut yogurt glazing made of:
Unsweetened coconut yogurt
Powdered sugar
Whisk both ingredients into a small bowl until thick, adding more powdered sugar to thicken the mixture if needed.
Drizzle on top of the cooled bread and sprinkle extra pumpkin pie spices and crushed pecans or pumpkin seeds if you like.
Slice and serve plain or with toppings you love.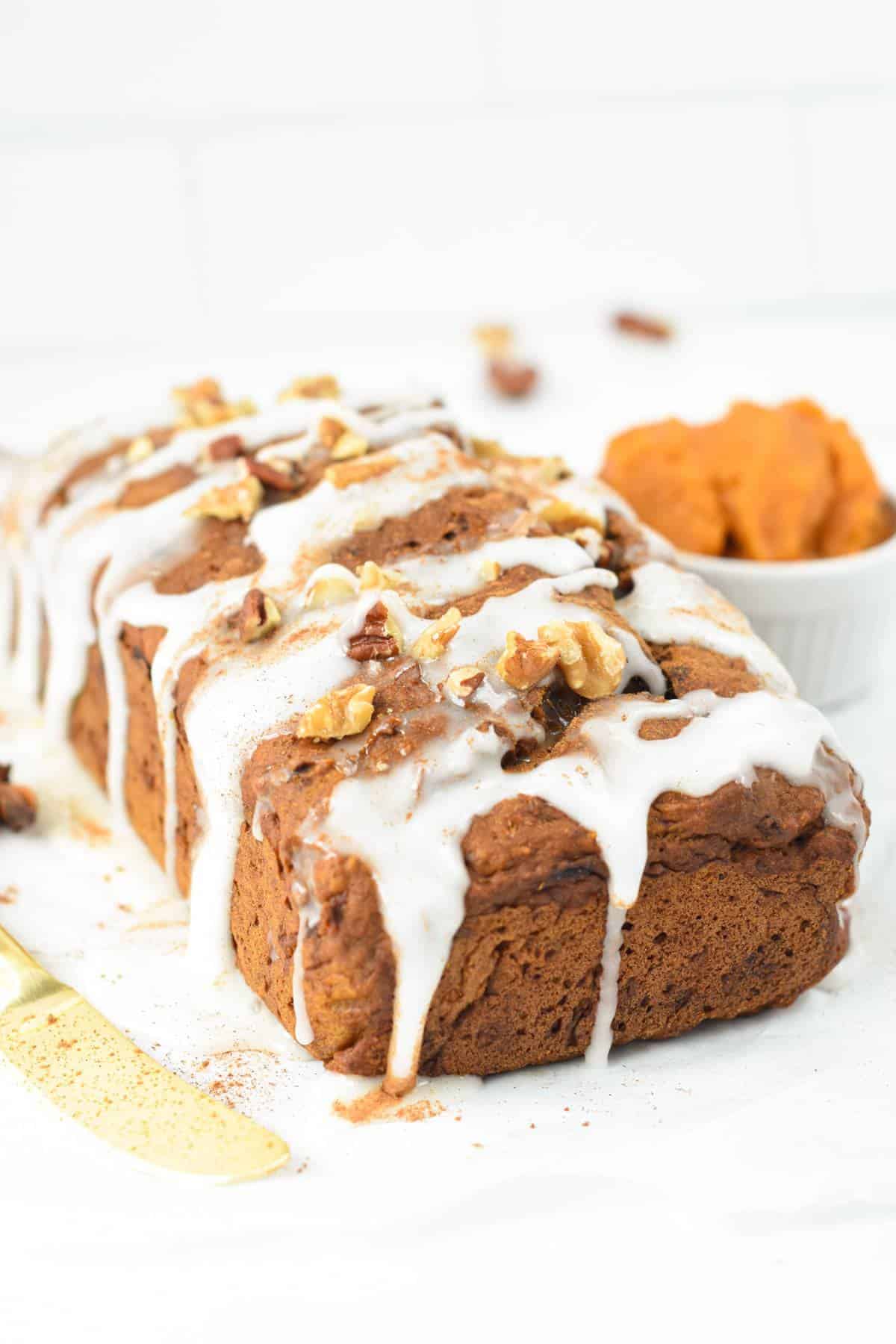 Plant-Based Spreads
This vegan pumpkin bread is delicious plain or with some of the spread below:
Homemade chia seed jam
Peanut butter
Almond butter
Storage
This bread lasts very well for five days stored in an airtight cake box in the fridge. I recommend slicing the bread on demand, just before eating, to keep the loaf moist.
You can also freeze the whole bread or slices for portion control and thaw one slice at a time the day before breakfast.
More Vegan Pumpkin Recipes
I love baking vegan pumpkin recipes during fall, and below are my other favorite fall vegan recipes for you to try:
Vegan Pumpkin Banana Bread
A healthy Vegan Pumpkin Banana Muffin recipe with the most delicious moist bread crumb full of fall flavors.
Pin
Print
Review
Servings: 12 slices
Calories: 160.1 kcal
Ingredients
Caramelized Pumpkin Spiced Pecan
Instructions
Preheat oven to 350°F (180°C). Line a 9×5-inch loaf pan with some paper liner. Slightly oil the paper with cooking spray to prevent the bread from sticking to the paper. Set aside.

Peel the bananas, mash with a fork or potato mashed, and measure the amount called by the recipe.

In a large mixing bowl, stir the mashed banana, pumpkin puree, vanilla extract, oil, and sugar. Stir well to combine evenly.

In another bowl, whisk flour, salt, baking soda, baking powder, and pumpkin spices.

Stir the dry ingredients into the wet ingredients until just combined – don't over mix, or the bread comes out gummy.

Transfer the batter evenly into the loaf pan and bake on the center rack of your oven for 40-50 minutes or until a toothpick inserted in the center of the bread comes out clean.
Storage
Cool on a wire rack immediately after baking, then store in an airtight box for up to 4 days in the fridge, or freeze for later and thaw at room temperature.
Optional icing
In a small bowl stir powdered sugar with almond milk, if too thin add more powdered sugar or more liquid if too thick

Pour over the cooled bread
Optional caramelized pecan
As seen on my Instagram reel, you can add caramelized pecan on top the cooled bread.

In a non stick saucepan add pumpkin puree, coconut sugar, water, vanilla and cinnamon. Bring a high boil for 2-3 minutes until it thickened, stirring once in a while.

Stir in pecan and pour immediately on top the cooled bread
Share on Facebook
Pin Recipe
Nutrition
Serving: 1slice | Calories: 160.1kcal | Carbohydrates: 24.2g | Protein: 2.1g | Fat: 6.5g | Saturated Fat: 0.5g | Polyunsaturated Fat: 1.8g | Monounsaturated Fat: 4g | Trans Fat: 0.1g | Sodium: 189.9mg | Potassium: 137mg | Fiber: 1.7g | Sugar: 7.6g | Vitamin A: 3983.8IU | Vitamin C: 2.7mg | Calcium: 29.6mg | Iron: 1.2mg | Magnesium: 14.5mg | Phosphorus: 37.3mg | Zinc: 0.2mg