This Vegan Pumpkin Bread is the most delicious moist fall bread recipe ever, made with half the sugar of classic pumpkin bread, and it's egg-free and dairy-free.
Did you know that pumpkin bread is not vegan? A classic pumpkin bread recipe is normally made with two eggs, milk, and melted butter.
So, unfortunately, it's not always vegan. Plus, a classic recipe usually uses up to two cups of sugar per bread, so it quite a sweet bread.
Here I am sharing a vegan pumpkin bread that is healthier for you, using a combination of real pumpkin puree and unrefined sugar.
How To Make Vegan Pumpkin Bread
It's super easy to make your vegan pumpkin bread at home in just one bowl.
Let me show you how!
Ingredients
All you need to make this flavorsome pumpkin bread are:
All-Purpose Flour – You can also use white spelt flour or white whole wheat flour. I didn't try gluten-free all-purpose flour blends, but usually, they work pretty well as a 1:1 ratio swap to wheat flour. Make sure your gluten-free flour blend contains gum to improve the texture of the bread.
Flax Egg – It's a combination of flaxseed meal and water. You can also make the same mixture using chia meal.
Oil – Any oil works well in this recipe, including canola oil, melted coconut oil, or a light olive oil
Pumpkin Puree – I am using canned pumpkin puree here, which is the fastest, easiest way to make pumpkin recipes. But of course, you can make your own following my homemade pumpkin puree tutorial.
Pumpkin Pie Spices – I can't buy this ready-made spice mix in my country, so I am making my own which is a basic combination of cinnamon, ground ginger, and ground nutmeg or ground cloves.
Soft Brown Sugar – You can also use brown erythritol for a sugar-free option that is natural or coconut sugar. These last options are a bit less moist and decrease the moisture of the bread.
Maple Syrup or any syrup you love, like coconut nectar, agave syrup, or date syrup are great natural refined sugar-free sweeteners.
Almond Milk – Any plant-based milk would work such as soy milk or oat milk.
Vanilla Extract – For a perfect taste.
Baking Powder
Baking Soda
Salt
Preparing The Flax Egg
Not all vegan baking recipes require an egg replacer like flax egg.
But, pumpkin bread is high in moisture due to the large quantity of pumpkin, and therefore, a flax egg helps with the texture.
To make it, stir one tablespoon of flaxseed meal and 3 tablespoons of lukewarm water in a bowl. Set aside for 10 minutes until a gel-like texture forms.
Combining Ingredients and sweeteners
In a large mixing bowl, add the prepared flax egg, then add the canned pumpkin puree, brown sugar, and maple syrup.
Next, pour oil, non-dairy milk of choice, and vanilla extract.
Use a whisk to combine the ingredients very well.
Sifting Dry Ingredients
Now it's time to add the dry ingredients. To make light, fluffy pumpkin bread, you need to sift the remaining dry ingredients.
Place a sieve over the mixing bowl and pour the flour, spices, baking powder, and baking soda.
Finally, use a silicone spatula to stir the dry ingredients into the wet ingredients until they are just combined.
You don't want to over-mix the batter, or the bread will be thick and dense.
Add-Ons
You can add some ingredients to the pumpkin bread to add a crunchy texture and some flavors, including:
Dark Chocolate Chips
Chopped Nuts – pecans and walnuts go very well.
Baking The Bread
Preheat the oven to 350°F (180°C). Line a 9-inch x 5-inch loaf pan with parchment paper. Then, use an oil spray to oil the paper and pan.
Pour the pumpkin bread batter into the pan and spread it evenly.
Bake in the center rack of the oven for 50 to 60 minutes.
Pumpkin bread takes longer to bake than any other bread because it contains more moisture released by the pumpkin puree.
So be patient, and after 50 minutes, check the baking process by inserting a pick in the center of the bread.
If the batter sticks to the pick, keep baking for another 10 minutes and check.
Remove the bread from the oven and cool down immediately on a cooling rack.
I really don't like to cool down moist bread in the pan because they get soggy and deflate on the sides and the center very quickly.
Cool the bread down for at least 2 hours before glazing or slicing.
Glazing
Glaze the pumpkin bread is optional. The bread is already delicious on its own, but glazing adds a touch of sweetness and a lovely color on top of the slices.
To make a maple glazing on pumpkin bread, you need:
Icing Sugar
Maple Syrup
Almond Milk
Stir the three ingredients together in a mixing bowl until drippy and shiny.
Glaze over the cooled bread.
Allergy Swaps
Below I listed some options to make this vegan pumpkin bread even if you have some allergies to the ingredients listed above.
Gluten-Free – I recommend trying my vegan gluten-free pumpkin bread recipe for the best results. I didn't try using all-purpose gluten-free flour in this recipe, so I am unsure how it would turn out. Most of the time recipe works with the same amount of gluten-free flour, but the results are always much more dense and chewy and gummy.
Oil-Free – I don't recommend swapping oil for anything else because the recipe is already ultra moist. It doesn't mean that the recipe won't work with the classic oil-free replacer like unsweetened apple sauce or dairy-free yogurt. However, the bread will turn out super heavy gummy, and chewy
Flour Swaps – This recipe doesn't work with low-carb flour like almond flour or coconut flour. You can, however use white spelt or white wholewheat flour.
Sugar-Free – Any granulated sugar-free sweetener like allulose or erythritol works well. The liquid sweetener can be replaced with a sugar-free liquid sweetener made of monk fruit.
Serving Pumpkin Bread
This pumpkin bread is delicious eaten plain, but you can also add some delicious toppings like:
Peanut Butter
Almond Butter
Chocolate Spread
Tahini
Maple Syrup
Vegan Butter
Step-By-Step Video
Frequently Asked Questions
Below are the answers to your most frequent questions about this easy vegan pumpkin bread recipe.
Can I Make This Recipe In A Muffin Pan?
Yes, you can bake the batter in a 12-hole muffin tin.
Place the muffin paper cases in the pan and lightly grease the cases with oil spread before filling with the batter up to 3/4 of their level.
Otherwise, try my vegan pumpkin muffin recipe.
Can I Use Homemade Pumpkin Puree?
Absolutely, you can use some homemade pumpkin puree for this recipe but make sure you steam out the cooked pumpkin before processing it into a puree.
If you puree hot cooked pumpkin, it will contain more moisture changing the consistency of your baked goods.
Can I Freeze Pumpkin Bread?
Yes, you can freeze the entire loaf or slice in 12 slices and wrap each slice in airtight plastic wrap before freezing.
It can be kept for up to one month in the freezer. Thaw the pumpkin bread at room temperature the day before and serve at room temperature or rewarm in a bread toaster.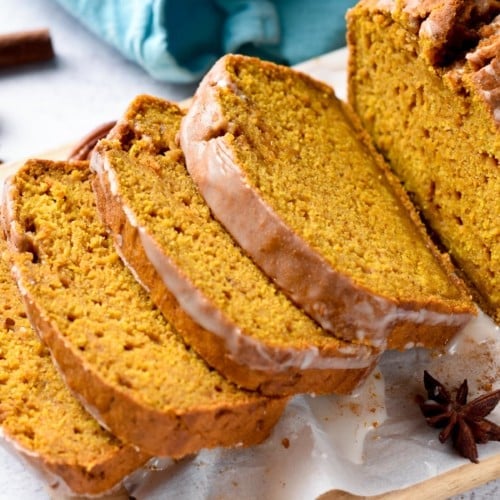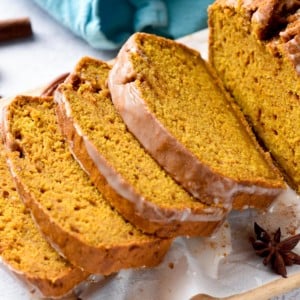 Vegan Pumpkin Bread
This Vegan Pumpkin Bread is a delicious moist fall bread recipe made with half the sugar of classic pumpkin bread and only plant-based ingredients.
Pin
Print
Review
Servings: 12 slices
Calories: 206.1 kcal
Instructions
Preheat the oven to 350°F (180°C). Line a 9-inch x 5-inch loaf pan with parchment paper. Slightly oil paper with oil. Set aside.

In a large mixing bowl, combine pumpkin puree, flax egg, canola oil, soy milk, maple syrup, brown sugar, and vanilla. Set aside.

On top of the bowl, sift the remaining ingredients: flour, baking powder, baking soda, salt, and spices (cinnamon, nutmeg, and ginger).

Stir until just combined, don't over-stir the batter to avoid packed pumpkin bread. The batter should be thick and dense not runny or overly dry. Optional: fold in 1/2 cup of chopped nuts or chocolate chips halfway if desired.

Bake on the center rack for 50 minutes or until a toothpick inserted in the center comes out clean. If not, add 10 minutes and repeat.

Cool down completely on a cooling rack for one hour before eating.
Storage
Store in an airtight container in the fridge for up to 4 days.

Freeze in a sealed box for up to 3 months and thaw the day before eating at room temperature.
Notes
Sugar-free option: Replace the coconut sugar with brown erythritol for a sugar-free, low-carb sweetener. Oil-free option: Replace the oil with the same amount of unsweetened applesauce. Flour: The recipe works with all-purpose flour or whole wheat flour. The texture will be denser, but it adds healthy fiber to the recipe. This recipe doesn't work with almond flour, coconut flour, or oat flour. The nutrition panel is without any add-on, using coconut sugar and regular flour.
Share on Facebook
Pin Recipe
Nutrition
Serving: 1slice (unglazed) | Calories: 206.1kcal | Carbohydrates: 28g | Protein: 2g | Fat: 9.6g | Saturated Fat: 0.7g | Polyunsaturated Fat: 2.8g | Monounsaturated Fat: 5.9g | Trans Fat: 0.04g | Sodium: 162.8mg | Potassium: 55.4mg | Fiber: 0.7g | Sugar: 13.1g | Vitamin A: 28.7IU | Vitamin B12: 0.04µg | Vitamin C: 0.3mg | Vitamin D: 0.05µg | Calcium: 36.4mg | Iron: 1mg | Magnesium: 7mg | Phosphorus: 24.6mg | Zinc: 0.2mg