These Vegan Pumpkin Cookies are chewy, soft pumpkin spice-flavored cookies topped with delicious sweet glazing, perfect for celebrating Fall.
Plus, they are easy to make, and there's a gluten-free option!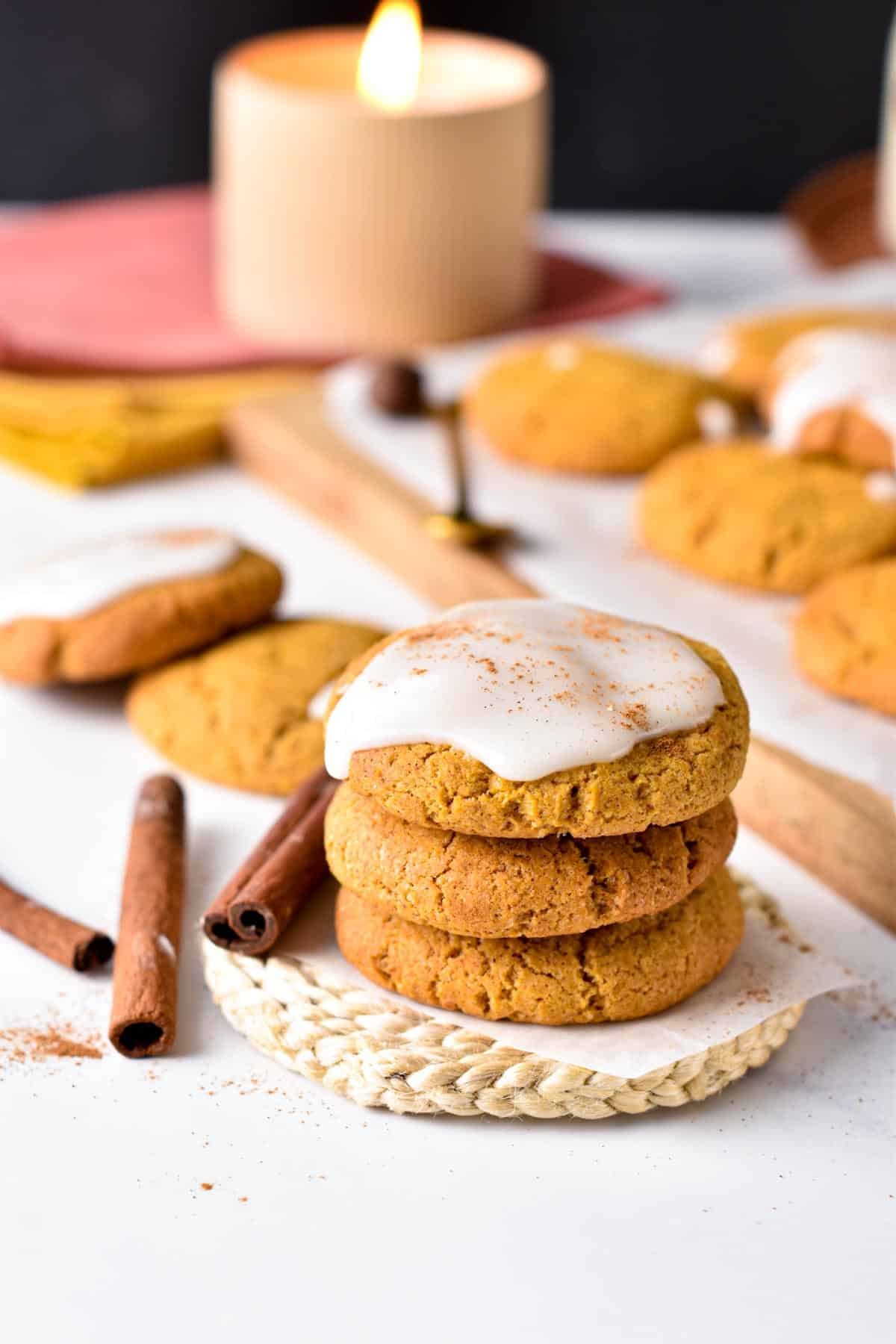 I can't stop baking vegan pumpkin recipes, I love the smell of pumpkin pie spices in my house, and these cookies hit the spot.
Why You'll Love These Cookies
They are naturally:
Egg-free
Dairy-free
Nut-free option
Gluten-free option
How To Make Vegan Pumpkin Cookies
It's super easy to make these chewy dairy-free pumpkin cookies this Fall season.
Ingredients
All you need are simple wholesome ingredients:
Canned Pumpkin Puree – You can also use homemade pumpkin puree but often, it's a bit wetter than canned puree, so you may want to pat dry the puree with absorbent paper before using it in this recipe.
Vegan Butter
Almond Butter or tahini or more vegan butter if preferred, but I found the combination of vegan butter and nut butter much tastier.
All-Purpose Flour
Salt
Baking Soda and Baking Powder
Cinnamon and Pumpkin Pie Spices
Sugar and Brown Sugar – The combination of these two kinds of sugars contributes to the perfect texture of the cookies.
Ginger
Vanilla Extract
Cinnamon
Preparing The Cookie Dough
Add the vegan butter, almond butter, canned pumpkin puree, vanilla extract, sugar, brown sugar, cinnamon, ginger, and pumpkin pie spices to a stand mixer.
Beat on medium speed using the paddle attachment, or you can use an electric beater.
Beat until the sugar is incorporated in the butter and the mixture looks creamy, smooth, and flavorsome.
Adding Dry Ingredients
In another bowl, whisk the remaining dry ingredients: flour, salt, baking soda, and baking powder.
Finally, gently incorporate the dry ingredients on the low-speed setting until a cookie dough forms.
At this stage, feel free to stir in 1/3 cup of your favorite vegan dark chocolate chips to make vegan pumpkin chocolate chip cookies.
Chilling The Dough
Remove the dough from the bowl, form a large ball, and wrap it in plastic wrap before chilling it for any time between 30 minutes and overnight. The longer, the tastier.
This step gives time to the spices to flavor the dough, and the cookie texture will be better as cold control the spread of the cookies on the baking sheet.
Baking The Cookies
Preheat the oven to 350°F (180°C). Line two baking sheets with parchment paper and lightly grease the paper with olive oil.
Scoop about two tablespoons of cookie dough, roll into a ball between your hands, and place on the baking sheet.
Keep a thumb space between each cookie ball. They won't spread in the oven, but this makes it easier to press them down and remove them from the oven.
Use your hand or the back of a spoon to press the cookies onto the baking sheet. The flatter you press them, the less soft and moist they are in the center.
I prefer to press the cookies slightly to keep them moist in the middle.
Bake the vegan pumpkin cookies at 350°F (180°C) for 12 to 14 minutes or until golden brown on the top and sides.
Baking The Cookies
These cookies are pretty soft and fragile just after baking, so keep them for 10 minutes at room temperature on the cookie sheets.
Then, slide a spatula under each cookie to gently release and transfer it to a cooling rack.
Let them cool down at room temperature for a few hours to enjoy their full flavor.
Frosting
When the pumpkin cookies are cold, you can eat them plain or add frosting on top.
To frost your pumpkin cookies, you have a few options. You can use my vegan royal icing, made of 2 simple ingredients.
Powdered Sugar
Almond Milk
Or, you can also use a cashew frosting or keep them plain if preferred.
Storage Instructions
These cookies store very well at room temperature in an airtight container. You can keep them fresh in the box for 5 to 6 days.
You can also freeze the pumpkin cookies for up to 1 month in zip-lock bags or airtight boxes.
Allergy Swaps
If you have food allergies to the ingredients used in this vegan cookie recipe, you can pick some of the options below.
Gluten-Free – Gluten-free all-purpose flour blend can replace wheat flour as long as your blend contains gum and it's a 1:1 flour substitute.
Nut-Free – You can skip the almond butter for more vegan butter, tahini, or sunflower seed butter as a nut-free option.
Sugar-Free – Sugar-free crystal sweeteners like allulose or erythritol will work well to make sugar-free pumpkin cookies.
Flour Swaps – This recipe won't work with almond or coconut flour. It works with all-purpose flour, white wholewheat flour, or white spelt flour.
Frequently Asked Questions
Below are my answers to the most common questions about this recipe.
Can I Use Homemade Pumpkin Puree?
Yes, you can, but keep in mind two things.
First homemade pumpkin puree is made from one kind of pumpkin variety, and it's less flavorsome than canned pumpkin puree, which is often made from a blend of up to 6 pumpkin varieties.
Next, your pumpkin puree is always moister, so it's worth placing the puree in a small bowl covered with absorbent paper before measuring to extract some of the moisture.
Too much pumpkin water will soften and loosen the cookie dough.
What Can I Use Instead Of Pumpkin Spices?
You can replace the pumpkin spices with allspice or a combination of cinnamon, nutmeg, and ground cloves.
Can I Use Almond Flour Or Coconut Flour?
No, this recipe won't work with low-carb flour but try my almond flour pumpkin cookies if you prefer to use almond flour.
More Vegan Pumpkin Recipes
Below are some more vegan recipes to try this Fall season.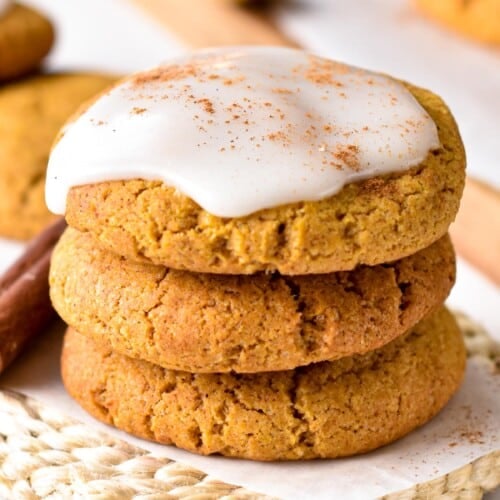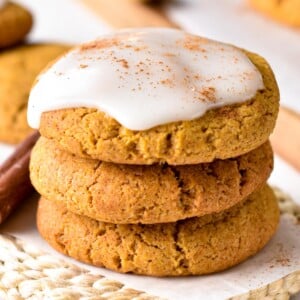 Vegan Pumpkin Cookies
These soft pillowy Vegan Pumpkin Cookies are the best Fall cookies, even better with a vegan cream cheese frosting.
Pin
Print
Review
Servings:
12
cookies (2 tablespoons each)
Instructions
In a large bowl, using an electric beat, beat melted vegan butter, almond butter, sugar, brown sugar, and pumpkin puree until the sugar is dissolved.

Pour the liquid ingredients into the bowl with the dry ingredients and stir to form a consistent pumpkin cookie dough.

If you like, stir in 1/2 cup of vegan chocolate chips.

Cover the bowl and chill the dough for 30 minutes; this is a must. Don't skip.

Remove the dough from the fridge and preheat the oven to 350°F (180°C). Line a cookie sheet with parchment paper and lightly oil the paper with oil spray.

Scoop two tablespoons of cookie dough and roll it into a ball between your hands.

Place the cookie dough balls on the cookie sheet leaving one thumb space between each.

Flatten each cookie ball with your fingers – these cookies won't spread much, so this is a must, or the cookies will be thick and take longer to bake.

Bake for 12-14 minutes or until golden brown and slightly puffed up.

Cool at room temperature on the cookie sheets for 15 minutes, then slide a spatula under each cookie to gently transfer it onto a cooling rack.

The cookies deflate and get all their pumpkin flavors after a few hours at room temperature and enhance after a few days.
Storage
Store in a cookie jar for up to 4 days or freeze in an airtight container for up to 1 month.
Frosting
In a mixing bowl, stir tahini, maple syrup, coconut oil and vanilla.

Spread on top of the cooled pumpkin cookies.
Share on Facebook
Pin Recipe
Nutrition
Serving:
1
cookie
|
Calories:
231.6
kcal
|
Carbohydrates:
33.5
g
|
Protein:
3.1
g
|
Fat:
10.1
g
|
Saturated Fat:
3
g
|
Polyunsaturated Fat:
2.7
g
|
Monounsaturated Fat:
3.6
g
|
Trans Fat:
0.03
g
|
Sodium:
125
mg
|
Potassium:
90.7
mg
|
Fiber:
1.3
g
|
Sugar:
19.3
g
|
Vitamin A:
1303
IU
|
Vitamin C:
0.5
mg
|
Calcium:
35.4
mg
|
Iron:
1.2
mg
|
Magnesium:
18.5
mg
|
Phosphorus:
74.8
mg
|
Zinc:
0.5
mg