These Pumpkin protein bars are healthy homemade protein bars flavored with pumpkin puree and pumpkin pie spices.
These Fall protein bars are also vegan, dairy-free and gluten-free, packed with 8 grams of plant-based protein.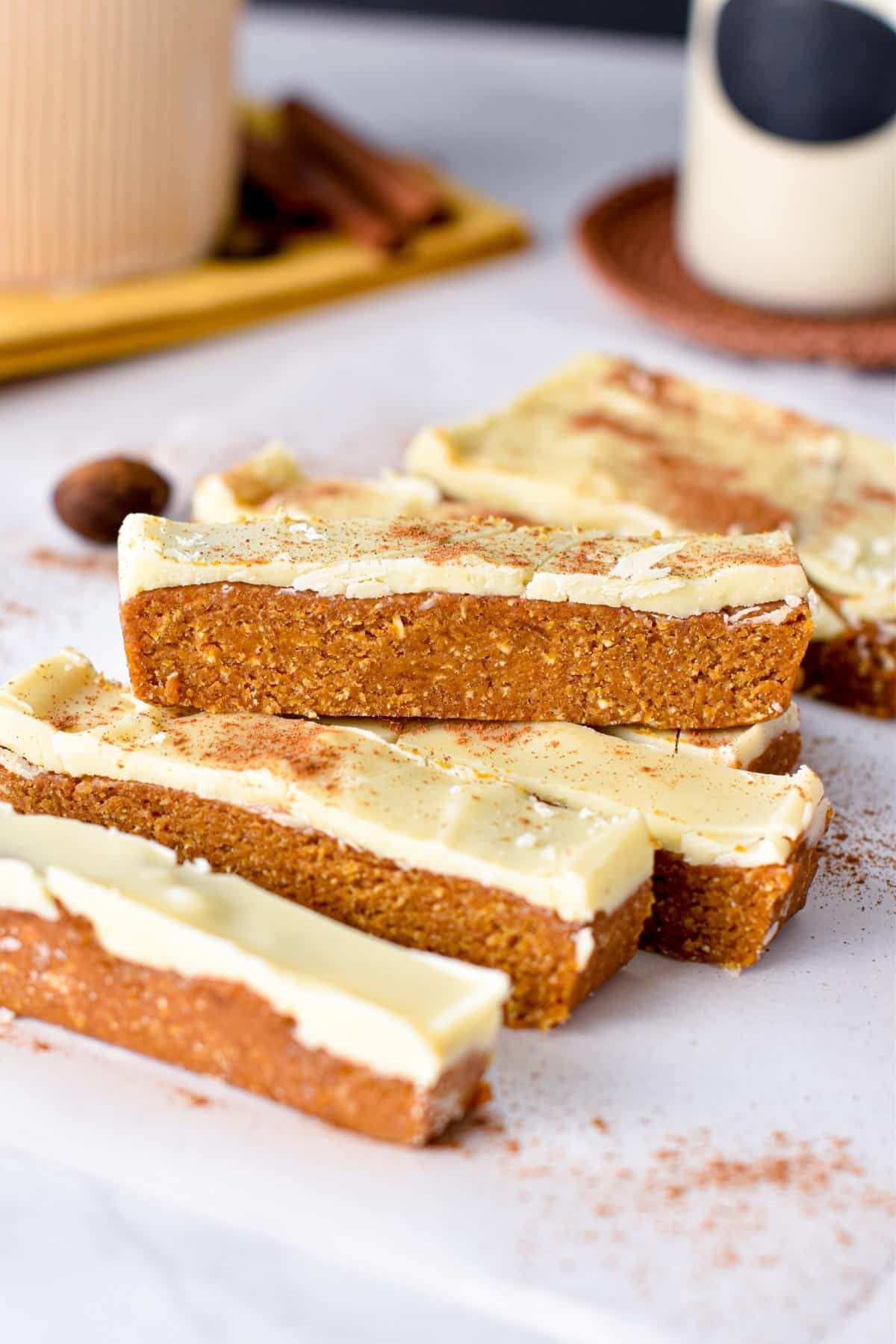 I love making homemade protein bars recipe. They are so much tastier, cheaper and you can create an amazing range of flavors.
Here's my Fall protein bar version, a pumpkin protein bar made with pumpkin puree and delicious pumpkin pie spices.
Let's see how you can make these delicious vegan protein bars at home.
Why You'll Love This Recipe
They are naturally:
Gluten-free
Vegan
Dairy-free
No-bake protein bars
How To Make Pumpkin Protein Bars
This homemade protein bar recipe is the easiest ever.
Ingredients
All you need to make homemade pumpkin protein bars this fall are:
Peanut Butter – Fresh, natural peanut butter without added sugar or added vegetable oil works best. You can also use natural almond butter or sunflower seed butter for a nut-free option.
Pumpkin Puree – I am using pure canned pumpkin puree. It's a bit less wet than homemade pumpkin puree, so if you don't have canned pumpkin puree, you can dry our homemade puree on a piece of absorbent paper to prevent too much liquid in the recipe.
Maple Syrup or any liquid sweetener you love, including sugar-free monk fruit sweetener, agave syrup, or coconut nectar.
Oat Flour or almond flour.
Vanilla Protein Powder – I am using peanut protein powder or pea protein powder for this recipe. Depending on the source of protein, your bar may be softer or dryer.
Coconut Flour
Vanilla Extract – Use only if your protein powder is unflavored or the vanilla flavor can be overpowering.
Pumpkin Pie Spices – I made my own by stirring ground cinnamon, all spices, and ginger.

Making The Protein Bar Dough
In a mixing bowl, stir pumpkin puree, maple syrup, and peanut butter until smooth.
Stir in dry ingredients: oat flour, coconut flour, and protein powder. Stir until the dough comes together into a bowl. If too wet, add more coconut flour.
Coconut flour is highly absorbent and firms up protein bars well.
Note that you should add extra coconut flour, only one teaspoon at a time to avoid the bar drying out too fast.
Stir between each addition and stop when the dough is soft, a bit sticky but holds together.
Line a 9-inch x 5-inch loaf pan with parchment paper, leaving some parts hanging out so you can easily pull out the protein bar later.
Slightly oil paper with coconut oil or oil spray.
Press the pumpkin spice protein bar dough into the loaf pan. Use the back of a spoon or of a measuring cup to flatten the top.
Protein Bar Topping
I like the combination of pumpkin and white chocolate for the top of the bar. I am using a combination of:
Vegan White Chocolate Chips
Melted Coconut Oil
Melt these two ingredients in a bowl in the microwave in 30-second bursts.
Pour over the protein bars and spread the topping evenly.
Freeze the bar for 10 to 12 minutes to set the chocolate shell quickly. You can also pop the loaf pan in the fridge and wait a few hours.
Cutting The Bars
When the chocolate shell has hardened, warm the blade of a long sharp knife under a flame to make cutting the hard chocolate shell easier.
Cut into 10 protein bars and add a pinch of cinnamon or pumpkin pie spices on top of each bar.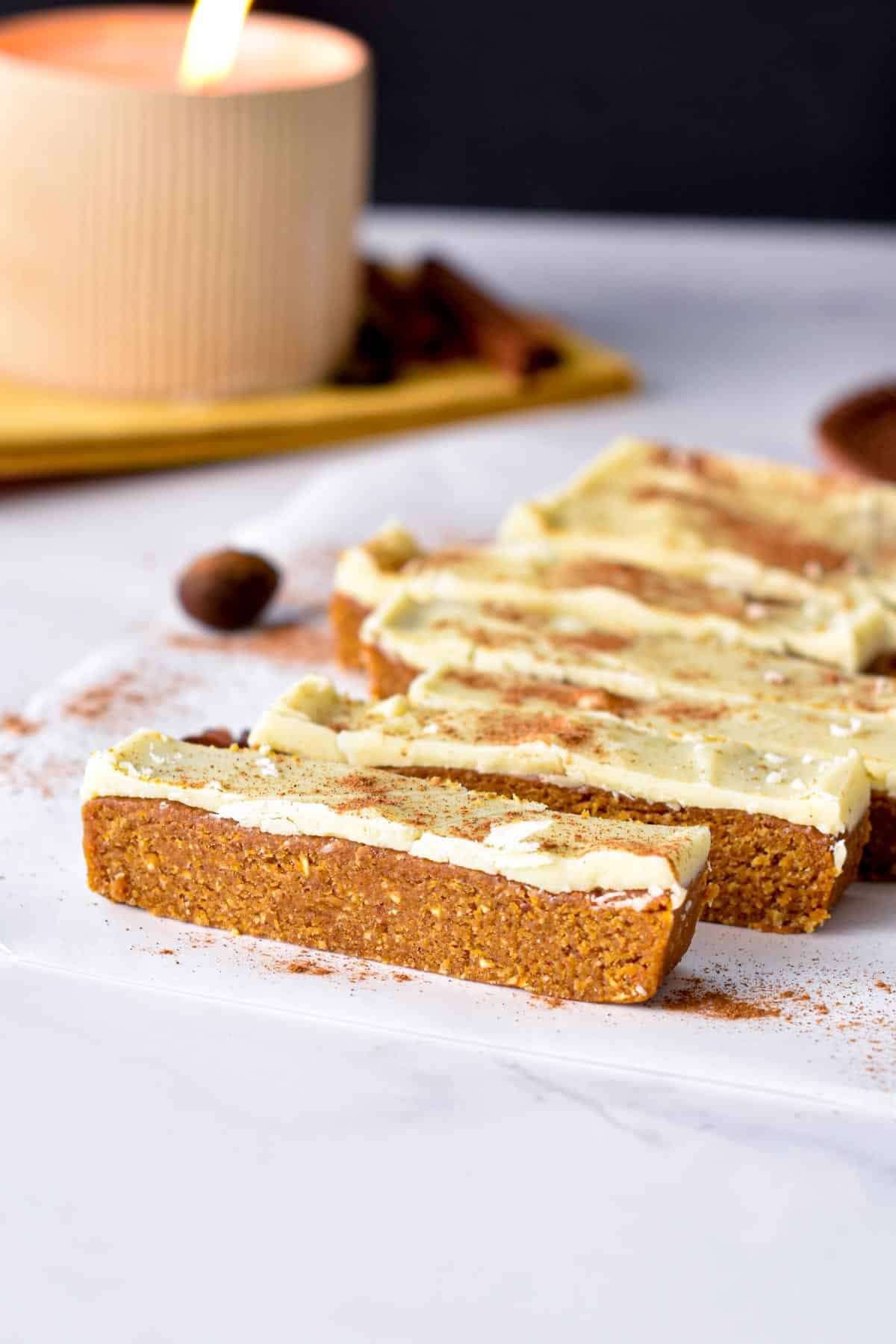 Storage Instructions
These pumpkin protein bars store very well in an airtight box in the fridge for about 4 to 5 days.
You can also freeze the bars for later and thaw in the fridge the day before.
If it's hot where you live, don't keep them too long at room temperature or they soften very fast.
Allergy Swaps
Below are some swap ideas to make this recipe, even if you have food allergies to the ingredients used in this homemade pumpkin bar recipe.
Gluten-Free – Pick a certified oat flour or use almond flour instead.
Sugar-Free – The recipe works with sugar-free maple syrup made of monk fruit. Don't use sugar-free pancake syrup that is made of water and won't firm up the bars. Also, keep in mind that sugar-free syrups are high in fiber and give a different texture.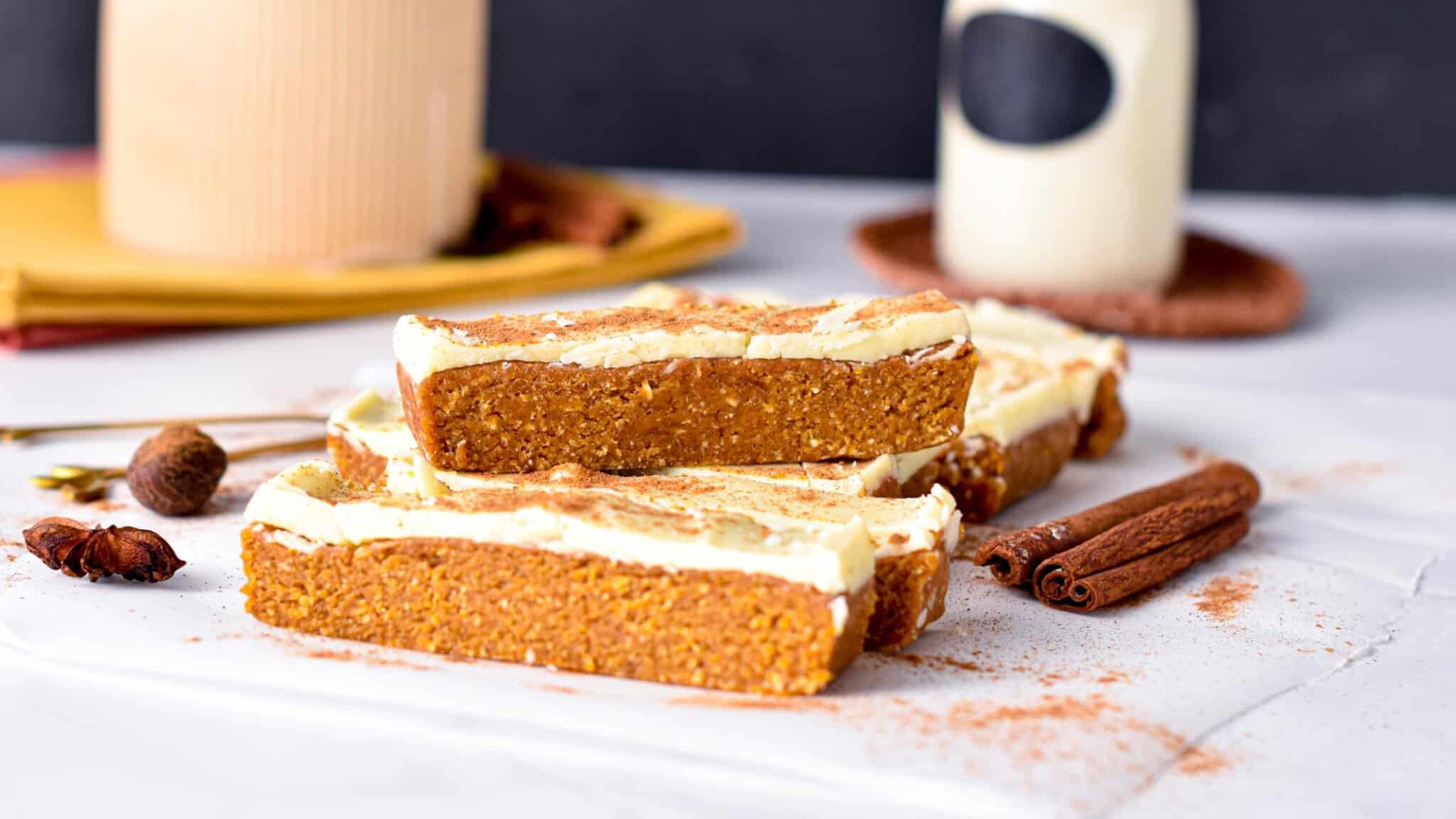 Frequently Asked Questions
Below are the answers to your most frequent questions about this recipe:
Can I Make Oat Flour?
Follow my tutorial on how to make oat flour for this recipe.
It's a very simple process made of rolled oats or quick oats, blended in a blender for 30 seconds.
Can I Skip The White Chocolate?
Yes, you can skip it but the bars will be very soft.
You can also use any vegan chocolate you like including dark chocolate or vegan milk chocolate chips.
Also, if you can't find vegan white chocolate chips in store, use my vegan white chocolate recipe to cover the bar.
Can I Use Homemade Pumpkin Puree?
Yes, you can make your own pumpkin puree for this recipe but often, it's a bit more wet.
So you may like to pat dry the puree in absorbent paper before using in this protein bar recipe.
More Protein Recipes
Below are some more protein bar recipes for you to try:
Did you try this pumpkin protein bar recipe? Share a comment or review below.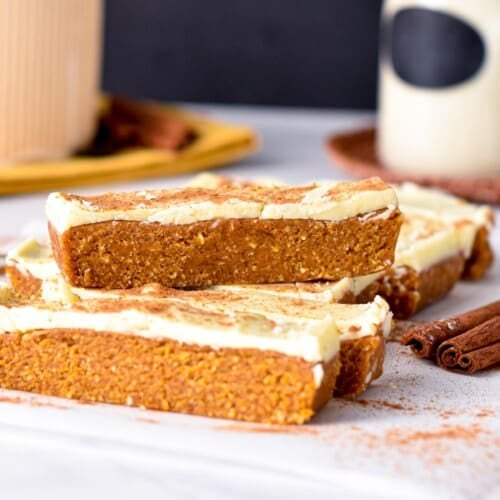 Pumpkin Protein Bars
These Pumpkin protein bars are healthy homemade protein bars flavored with pumpkin puree and pumpkin pie spices. Plus, these Fall protein bars are also vegan, dairy-free, and gluten-free, packed with 8 grams of plant-based protein.
Pin
Print
Review
Instructions
Line a 9×5-inch loaf pan with parchment paper lightly oiled with coconut oil. Set aside.

In a mixing bowl, whisk all the dry ingredients: protein powder, oat flour, cinnamon, all spices, ginger, salt, and coconut flour. Set aside.

In another bowl, stir peanut butter, pumpkin puree, maple syrup, and vanilla until smooth and consistent.

Stir the dry ingredients into the wet ingredients, and use a silicone spatula to form a dough ball. If too sticky or wet, add a few teaspoons of coconut flour, stir and wait a few minutes before adding more, as it takes time for the coconut flour fiber to bind with the liquid. You can also taste the dough and add more cinnamon or all spices to increase the pumpkin flavor.

When the dough, is soft and easy to handle – not too sticky- press the dough into the loaf pan and smoothen the top with a spatula.

In a small bowl, microwave white chocolate chips and coconut oil. Pour over the bar.

Refrigerate the loaf pan for 1 hour to set the bar chocolate shell or, freeze for 10-12 minutes to set them fast.

Warm the blade of a sharp knife under a flame to easily cut them into 10 bars.
Storage
Store in an airtight container in the fridge for up to 5 days or freeze and thaw for 1 hour at room temperature before eating.
Notes
Note 1: Peanut butter can be replaced with the same amount of fresh, drippy sunflower seed butter, almond butter, or any nut/seed butter you love.
Note 2: You can replace the maple syrup with any liquid sweetener, including sugar-free monk fruit syrup.
Note 3: Pea protein powder works the best in this recipe, but hemp, almond, or peanut protein powder are suitable vegan powder alternatives. We didn't try whey protein powder in this recipe as it's not vegan.
Note 4: Oat flour can be replaced with the same amount of almond flour for a low-carb option
Note 5: Coconut flour can be replaced with more oat flour, but it makes a different result – softer bar texture, sticky. You may need 2-3 times more oat flour to balance the coconut flour.
Share on Facebook
Pin Recipe
Nutrition
Serving:
1
bar
|
Calories:
195.9
kcal
|
Carbohydrates:
18.1
g
|
Protein:
8.2
g
|
Fat:
10.8
g
|
Saturated Fat:
3.7
g
|
Polyunsaturated Fat:
1.8
g
|
Monounsaturated Fat:
4.2
g
|
Cholesterol:
1.9
mg
|
Sodium:
122.3
mg
|
Potassium:
150.1
mg
|
Fiber:
1.8
g
|
Sugar:
11.9
g
|
Vitamin A:
1274.6
IU
|
Vitamin B12:
0.1
µg
|
Vitamin C:
0.4
mg
|
Calcium:
43.6
mg
|
Iron:
1.6
mg
|
Magnesium:
32.5
mg
|
Phosphorus:
80.8
mg
|
Zinc:
0.6
mg