Enjoy a creamy breakfast with this Protein Steel cut Oats recipe packed with 22 grams of protein per serving.
Plus, this steel-cut oatmeal is also packed with lots of fiber including the amazing beta-glucans.
We love having oatmeal almost every morning. When I don't make protein powder oatmeal or my overnight oats with protein powder, I like a creamy bowl of protein steel-cut oats.
Steel-cut oats have a better nutrition profile than oatmeal made from whole oat groats, pulsed in pieces.
They contain the outside layer of the groats, adding fiber, especially a soluble fiber called beta-glucans, which is responsible for lower blood sugar levels.
As a result, cooking with steel-cut oats is healthier for you. In addition, they have a lower glycemic index that keeps your energy level steady in the morning.
Also, one cup of steel-cut oats contain 26 grams of protein which is 15 grams more than rolled oats. It means it's a great grain to make high-protein oatmeal.
How To Make Protein Steel Cut Oats
This steel-cut oat with protein powder is packed with plant-based protein and the most creamy vanilla texture.
Ingredients
Steel-Cut Oats – I use quick steel-cut oats that usually cook within 7 minutes over the stove. You can also use regular steel-cut oats, but it takes 20 minutes to cook and require more water.
Unsweetened Almond Milk or soy milk to boost the proteins per serving.
Water
Vanilla Protein Powder – I am always using pea protein powder with a hint of natural vanilla flavor. Feel free to use chocolate protein powder or other flavors to make different breakfast flavors.
Maple Syrup or any liquid sweetener you love including coconut nectar, agave syrup, or date syrup.
Salt – This is optional. I like the touch of salt to balance the light bitterness of steel-cut oats.
In The Microwave
You might be wondering if you can cook steel-cut oat in the microwave. The short answer is yes.
But it takes ages, especially if you are using regular steel-cut oats. Nobody wants to stay next to the microwave for 20 minutes, microwaving in many 2-minute bursts and stirring.
So my version below is made over the stove and using quick-cooking steel-cut oats.
Over The Stove
Quick cooking steel-cut oats has the same nutrition properties as steel-cut oats. It will just save a bunch of 12 minutes to cook.
First, stir all the dry ingredients into a mixing bowl: steel-cut oats, protein powder, and salt. Set aside.
Next, in a non-stick saucepan, bring to boil milk and water.
Remove from heat and stir in the dry ingredients.
Return to medium-high heat, bring back to a low boil, then reduce to a simmer. Cook, stirring occasionally, for 7 to 9 minutes or until creamy and the oats groats soften.
If you are using steel-cut oats, it can take longer, up to 20 minutes to soften and you may have to add water.
Remove from heat, cover with a lid, and set aside for 3 to 4 minutes to improve creaminess.
As it cools, it may form a layer on top of the mixture and that's ok. Just stir to bring all ingredients back together.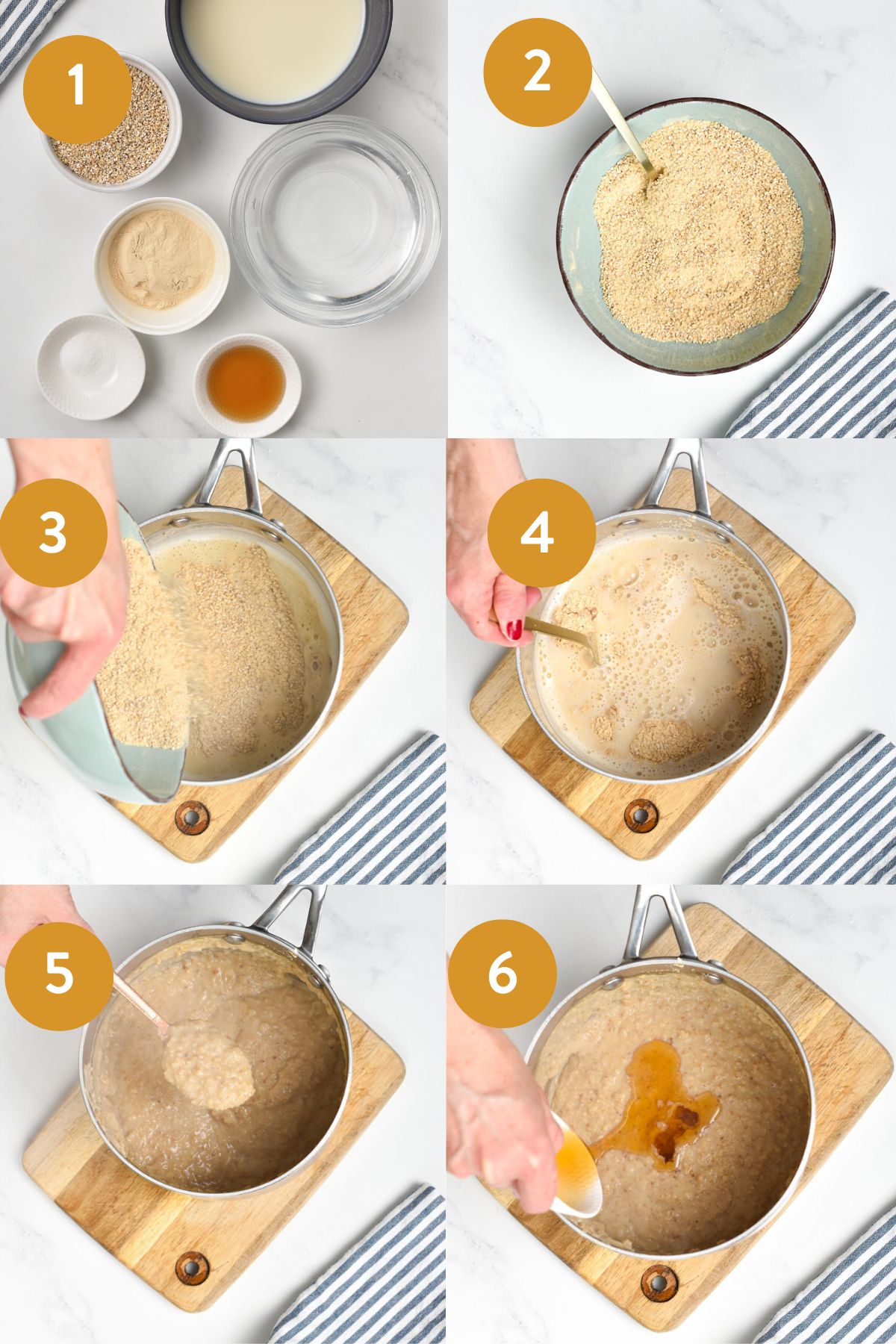 Serving
Before serving, stir in sweetener and flavors. For example, you can add:
Maple Syrup
Cinnamon
Mashed Banana or applesauce
Then, transfer to a shallow porridge bowl and add some:
Fruits – I love frozen berries to cool down the protein oatmeal like raspberries, strawberries, or blueberries.
Nuts – Chopped almonds, cashews, or walnuts.
Seeds – Hemp seeds or chia seeds for added proteins. Try one tablespoon per serving.
Shredded Coconut
A drizzle of nut butter, like peanut butter or almond butter, is a great way to add protein.
Adding More Protein
To increase the protein content of this recipe, use the option below:
Use high-protein plant-based milk like soy milk or protein-fortified almond milk.
Stir in 1-2 tablespoons of Plant-based Greek yogurt, like soy Greek-Style yogurt, a the end of cooking, just before serving. It adds protein and creaminess and cools down the oatmeal.
Use one tablespoon of chia seeds
Drizzle almond butter on top of the bowl.
Storage Instructions
You can store cooked steel-cut oats leftovers in the fridge in an airtight container or sealed bowl. It's a great way to meal prep breakfast recipes for the whole family and start the day healthy.
The next day it will look packed and dry. Add a splash of water to the bowl, microwave for one minute, stir to incorporate the water, and warm up again until creamy and smooth.
Allergy Swaps
Below are some ingredient substitution ideas if you need to accommodate this recipe to allergies and food intolerances.
Gluten-Free – Use certified gluten-free oats brand.
Nut-Free – Use oat milk, soy milk, or coconut milk.
Salt-Free – Skip the salt and use unsalted peanut butter to serve.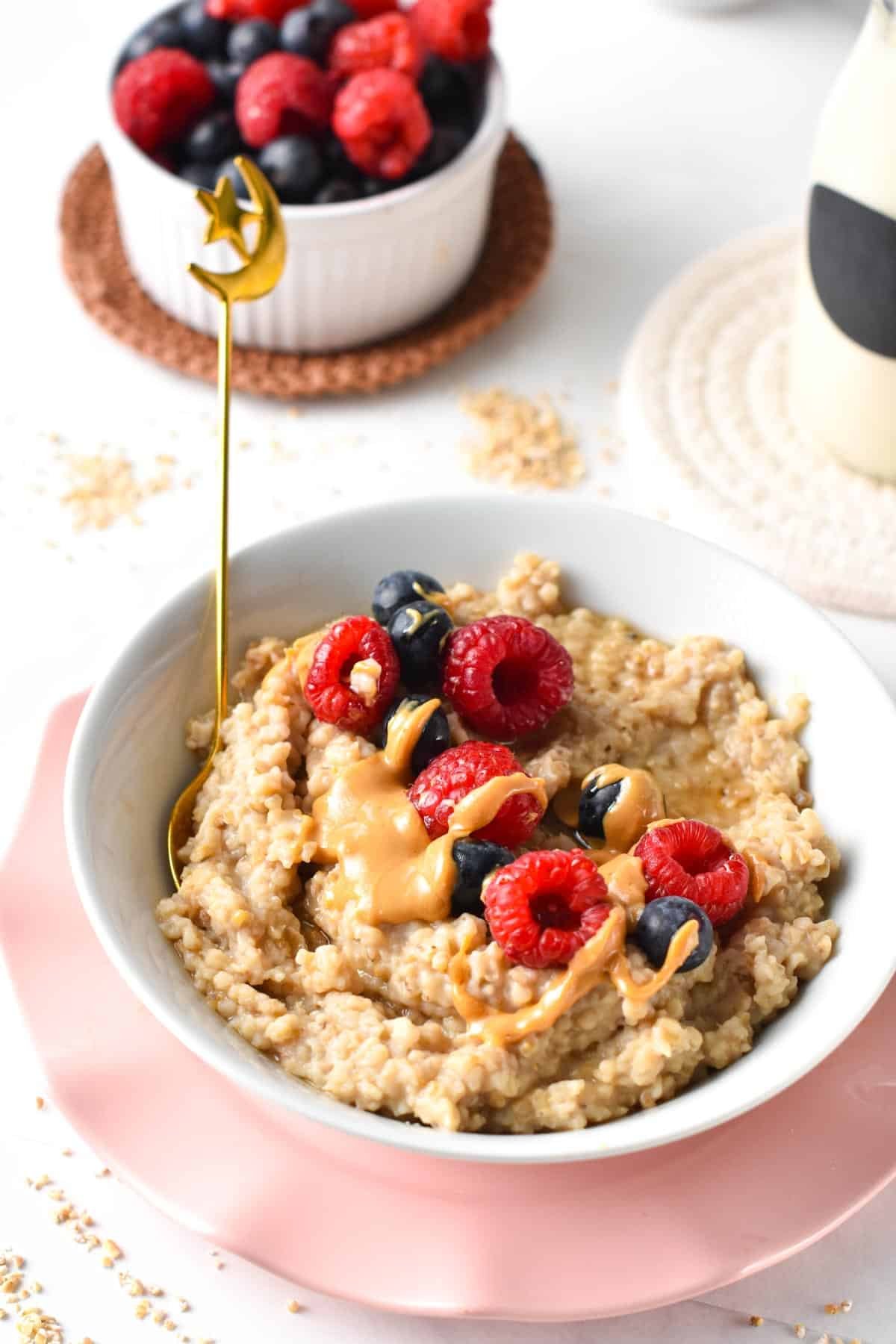 Frequently Asked Questions
What's The Difference Between Steel-Cut Oats And Rolled Oats?
Steel-cut oats are made from whole oats groats, pulsed in small pieces.
Therefore, it's higher in soluble fiber as it contains the outer shell of the groats.
Rolled oats are made from steamed, rolled oats and are lower in fiber. That's why rolled oats cook faster and have fewer health benefits.
Are Steel-Cut Oats High In Protein?
Yes, steel-cut oats contain more proteins per cup, but you won't be able to eat the same serving size of steel-cut oats as rolled oats because they are way more filling.
Per serving 1/2 cup of steel-cut oats, you get 13 grams of protein but also 9 grams of fiber, compared to 5.5 grams of protein for rolled oats and 4 grams of fiber.
How Much Protein Is In A Cup Of Steel-Cut Oat?
Steel-cut oats contain 26 grams of proteins per cup which are 15 grams more than rolled oats.
Is It Healthy To Eat Steel-Cut Oats Every Day?
It's healthy to eat steel-cut oats every morning.
It contains all the healthy things your body needs, like plant-based proteins and fiber, including beta-glucans, which are recognized as beneficial for heart health and lower blood sugar levels.
More Oatmeal Recipes
Below are some more oatmeal recipes for you to try: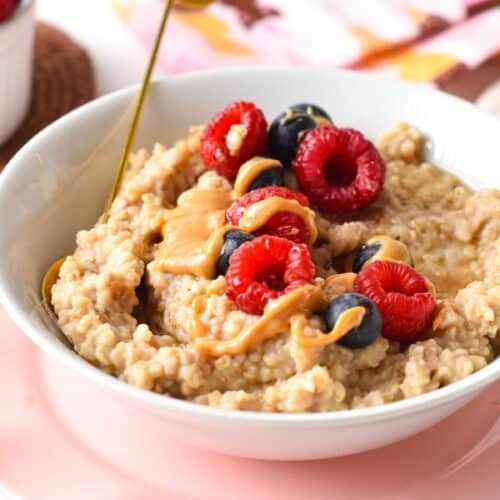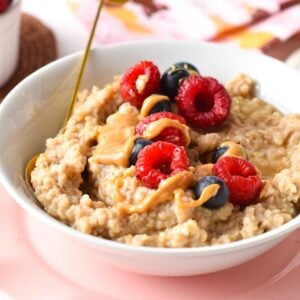 Protein Steel-Cut Oats
Enjoy a creamy breakfast with this Protein Steel cut Oats recipe packed with 22 grams of protein per serving.
Pin
Print
Review
Servings: 2 servings
Calories: 337.4 kcal
Instructions
In a small mixing bowl, whisk the protein powder, steel-cut oats, and salt. Set aside.

In a large non-stick saucepan, add almond milk, cold water and bring to a boil.

Remove the pan from the heat, and stir in the dry ingredients.

Return to high heat, bring back to a light boil, then decrease heat and cook on a low simmer for 7-10 minutes, stirring occasionally on the sides and bottom of the pan.

Cook until the liquid is almost absorbed. Taste the mixture, adjust adding more almond milk for a creamier, softer oatmeal, or remove from heat to form a chewier texture.

Remove from the heat. Cover the saucepan with a lid and set aside for a few minutes until creamy and thick.

Serve with berries, a drizzle of extra almond milk, a dollop of peanut butter, and chocolate chips.
Microwave option
In a microwave-safe bowl, stir quick oat (quick oats cook better in the microwave than rolled oats), protein powder, and salt. Then, stir in the liquid ingredients: almond milk and maple syrup.

Microwave in bursts of 1 minute, stir and check the consistency. Stop when the texture is creamy, and the liquid has evaporated. It generally takes the same time as in a saucepan or 2-3 minutes.

Set aside a few minutes before serving.
Share on Facebook
Pin Recipe
Nutrition
Serving: 1bowl | Calories: 337.4kcal | Carbohydrates: 41.6g | Protein: 21.9g | Fat: 10.3g | Saturated Fat: 1.7g | Polyunsaturated Fat: 3.3g | Monounsaturated Fat: 1.9g | Cholesterol: 43.1mg | Sodium: 444.1mg | Potassium: 163.8mg | Fiber: 5.6g | Sugar: 9.3g | Vitamin A: 9.9IU | Vitamin C: 0.6mg | Calcium: 222.2mg | Iron: 1.9mg | Magnesium: 26.3mg | Phosphorus: 86.8mg | Zinc: 0.3mg