Peanut Butter Baked Oatmeal
This Peanut Butter Baked Oatmeal is a simple, healthy high-protein breakfast perfect as a one-pan breakfast brunch or to meal prep a week of healthy oatmeal.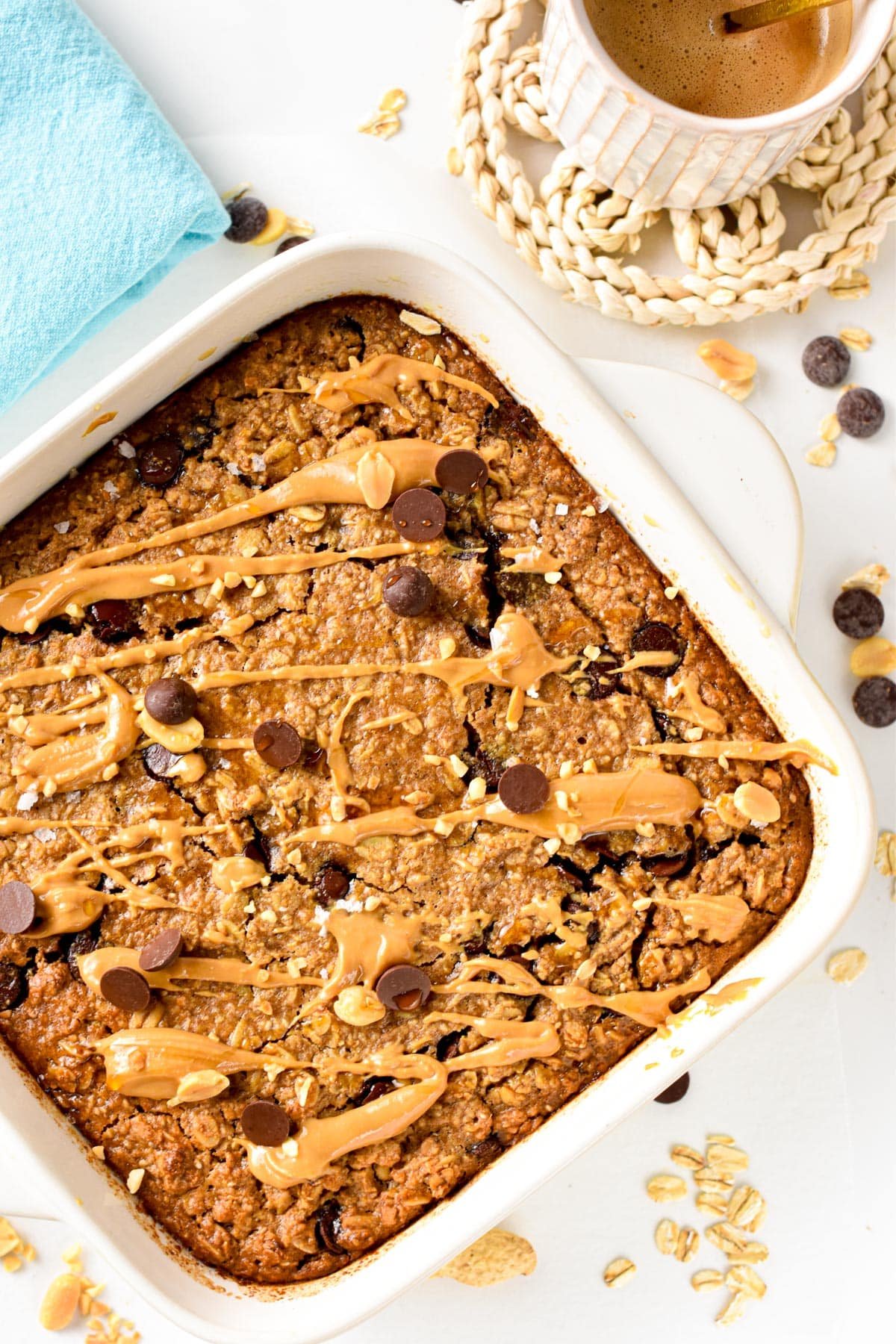 Having a different baked oatmeal flavor every week is a fantastic way of enjoying a healthy breakfast.
This version mixes two of my favorite food, peanut butter, and chocolate, into this simple gluten-free baked oatmeal recipe.
This recipe has a few different ingredients compared to my classic baked oatmeal recipe.
This version is dairy-free, with no yogurt or butter, and the texture comes out ultra-creamy and smooth.
What Is Peanut Butter Baked Oatmeal?
Peanut butter baked oatmeal is similar to a classic oatmeal recipe, but it's baked in one large dish with a creamy texture and a blend of three main ingredients: oats, flax egg, peanut butter, and plant-based milk.
It also contains a few other ingredients for flavors and sweetness.
It's a healthy high-protein breakfast without protein powder, perfect for meal prep or bringing a lovely brunch idea to share with the whole family.
Why You Should Try This Breakfast
There are a few reasons why you should try this chocolate peanut butter baked oatmeal for breakfast.
It's Healthy – Oats are healthy whole grains packed with proteins, fiber, and vitamins like folates, vitamin E, and iron. It's a great wholegrain breakfast food to keep you full and provide energy in the morning.
Quick And Easy – No more excuses to skip breakfast in the morning. This recipe serves six breakfasts and takes under 10 minutes to rewarm in your microwave in a microwave-safe bowl.
Cheap – Oats are one of the less expensive cereals, and you can find very low-cost natural peanut butter or make your own peanut butter following my peanut butter recipe.
Taste Amazing – If you love oatmeal for breakfast, this baked oatmeal with peanut butter is even better. Baking oatmeal turns the texture into a cake-like consistency, similar to a slice of cake.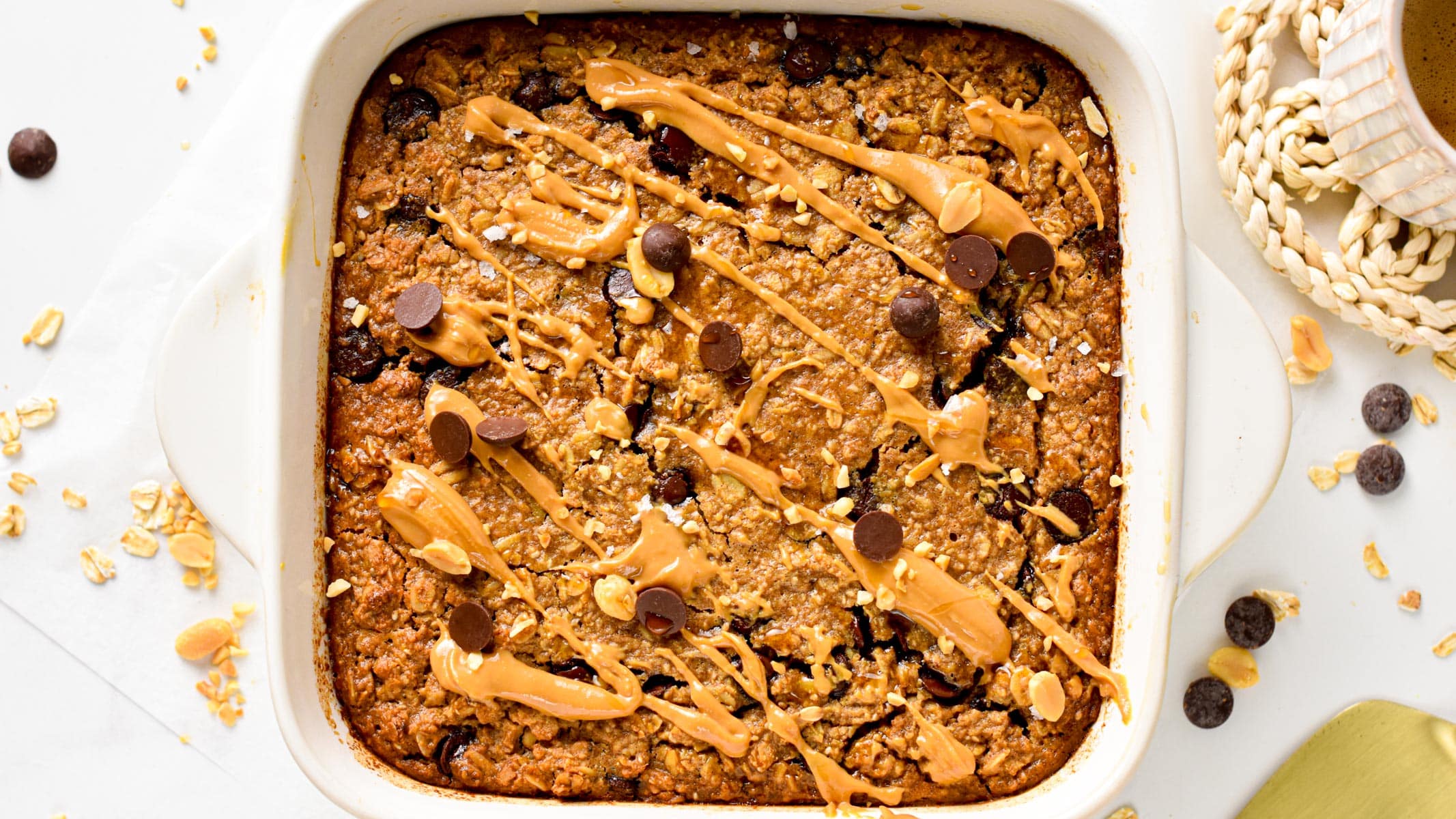 How To Make Peanut Butter Baked Oatmeal
The instructions for this recipe are the most basic and suit anyone trying to eat healthily but only like to cook a little.
Ingredients
All you need are a few simple ingredients:
Old-Fashioned Rolled Oats or a combination of quick oats and old-fashioned oats.
Chia Seeds – Chia seeds are healthy superfoods rich in fiber, healthy fat, Vitamin B1, Vitamin B3, Calcium, Iron, Magnesium, Manganese, Phosphorus, and Zinc.
Cinnamon
Baking Powder
Salt
Chocolate Chips – I prefer to use sugar-free dark chocolate chips.
Vanilla Extract
Pure Maple Syrup or any refined sugar-free liquid sweetener you love, like agave syrup, date syrup, coconut nectar, and more.
Non-Dairy Milk of choice. I like unsweetened almond milk, oat milk, or soy milk to increase the proteins in the recipe.
Peanut Butter – You can also use almond butter, cashew butter, or sunflower seed butter.
Flax Egg or 1/4 cup mashed banana
Baked Oatmeal Preparation
You can make this recipe just before serving or the day before and store it in the fridge.
First, stir all the dry ingredients in a large mixing bowl, including the chocolate chips. Set aside.
In another bowl, whisk the liquid ingredients until the peanut butter is well incorporated into the dairy-free milk and looks like peanut butter, a bit brown in color.
Stir the wet and dry ingredients, then pour them into the prepared baking dish.
Bake on the center rack of the oven for 35 to 45 minutes or until golden brown on top and slightly dry. It shouldn't be wet or soft in the center. If soft, bake a bit longer until firm.
Let the oatmeal cool down for 15 minutes in the dish before slicing and serving.
Storage Instructions
Store this peanut butter oatmeal bake in the fridge, foil the pan, and keep it for up to 5 days in the refrigerator.
You can also freeze them for later. I like to slice portions and freeze them individually.
It's easier to thaw one serving at a time the day before breakfast. Then, simply pop the frozen slice in the fridge and rewarm it the next day.
Rewarming the baked oatmeal is easy. Add the portion n a microwave-safe bowl and microwave for about 1 minute or until hot in the center.
You can also add a bit of non-dairy milk in a non-stick saucepan, add the baked oatmeal serving and rewarm over medium heat.
Flavor Variations
If you don't like chocolate chips or prefer low-sugar baked oatmeal, try some fruits or nuts instead.
Here are some tasty options to pair with the peanut butter flavor in this recipe:
Blueberries
Raspberries
Chopped Almonds
Chopped Peanuts
Unsweetened Shredded Coconut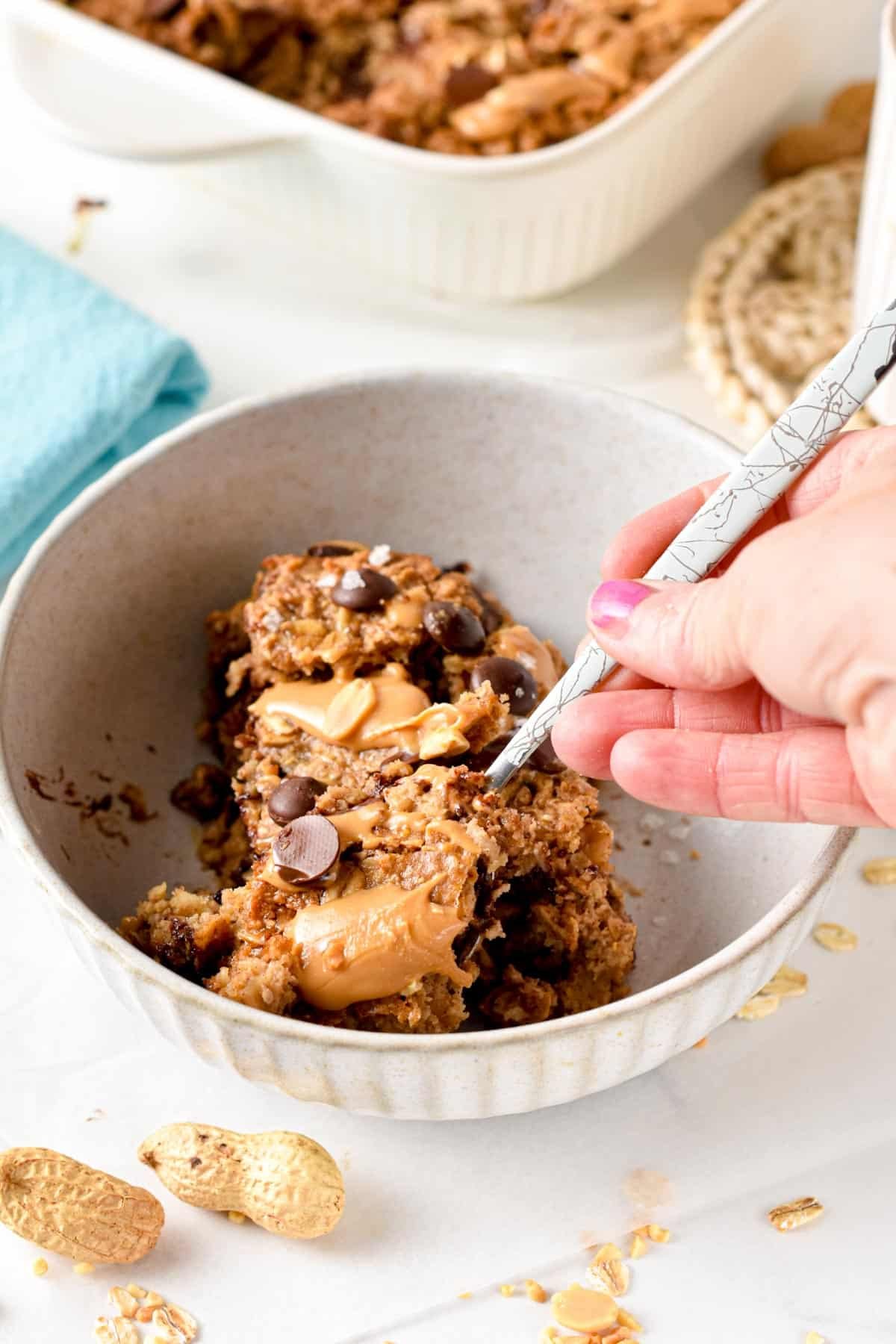 Allergy Swaps
You can use this recipe even if you have food allergies, simply use some of the options below.
Peanut-Free – This recipe works with any nut and seed butter, including almond butter, cashew butter, or sunflower seed butter.
Nut-Free – Use seed butter for a nut-free option. Try sunflower seed butter or tahini. Keep in mind that sunflower seed butter, when baked and in contact with baking powder, turns food green. It's safe to eat, but the color might be unappealing. Use soy milk or coconut milk.
Gluten-Free – Choose a gluten-free certified oat brand and wheat-free baking powder.
Chia Seed-Free – You can skip the chia seeds. They add proteins and firmness to the recipe. Or use a tablespoon of flax meal.
Frequently Asked Questions
Find below my answers to the most common questions you have about this recipe.
Can I Skip Baking Powder?
Yes, baking powder is added to give a cake texture to the oatmeal.
It's totally optional, the recipe is a bit more packed without baking powder but still tastes amazing
Can I Blend The Baked Oatmeal?
You can blend the oats in a high-speed blender, and use the formed oat flour as a dry ingredient in the recipe to make peanut butter-baked oats. The texture will resemble my blended baked oat recipe, it will be dense, a bit gummy, and packed with chocolate chips in the crumb. I would recommend splitting the recipe into 6 ramekins and baking them all at once. The texture of individually baked oats is less dense.
Is Oatmeal And Peanut Butter Healthy For You?
That's the best combination of ingredients to start the day. Oats are a healthy slow carbohydrate, rich in fiber, while peanut butter is an excellent plant-based protein source.
The great thing about this combo is that e fats and fibers slow down the absorption of carbohydrates.
It means it won't raise blood sugar levels too quickly and keep your energy steady through the morning – no energy crash or food cravings guarantee.
More Baked Oats And Oatmeal Recipes
I love this trend of oatmeal recipes. They are so easy and healthy! Here are some more oats recipes for you to try for breakfast.
Have you baked this lovely peanut butter oatmeal for breakfast? Share a comment or review below to let me know what you think.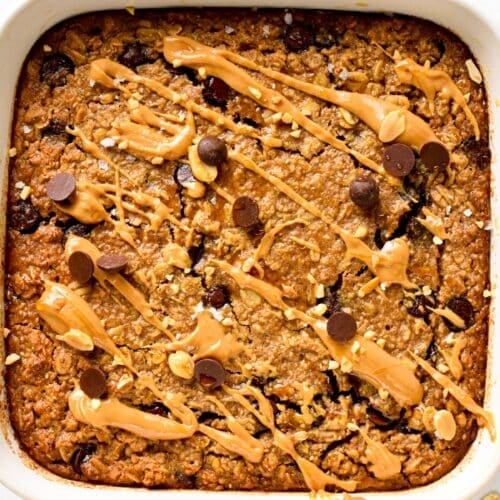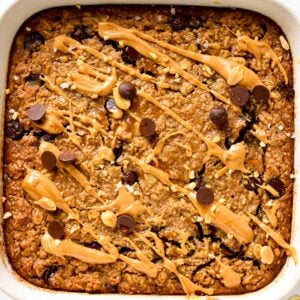 Peanut Butter Baked Oatmeal
This Peanut Butter Baked Oatmeal is a simple, healthy high-protein breakfast perfect as a one-pan breakfast brunch or to meal prep a week of healthy oatmeal.
Pin
Print
Review
Servings: 6 servings
Calories: 384.6 kcal
Instructions
Preheat the oven to 350°F (180°C).

Prepare the flax egg – mix 1 tbalespoon of flax meal and 3 tablespoon lukewarm water in a small bowl. Set aside until gooey.

In a large bowl, whisk all the dry ingredients together: oats, chia seeds, cinnamon, baking powder, salt, and chocolate chips.

In another bowl, whisk all the wet ingredients until well combined: flax egg, peanut butter, maple syrup, vanilla, and milk.

Pour the wet ingredients onto the dry and stir to bring them together.

Pour the baked oatmeal mixture into the prepared baking dish.

Bake the oatmeal on the center rack of the oven at 350°F (180°C) for 35-45 minutes or until set in the center.

Serve with banana slices, extra chocolate chips, and a drizzle of fresh peanut butter.
Share on Facebook
Pin Recipe
Nutrition
Serving: 1serving | Calories: 384.6kcal | Carbohydrates: 40.9g | Protein: 10.5g | Fat: 21g | Saturated Fat: 6.2g | Polyunsaturated Fat: 4.8g | Monounsaturated Fat: 8.4g | Trans Fat: 0.01g | Cholesterol: 0.4mg | Sodium: 444.6mg | Potassium: 377.7mg | Fiber: 6.9g | Sugar: 14.2g | Vitamin A: 7.8IU | Vitamin B12: 0.04µg | Vitamin C: 0.1mg | Calcium: 184.4mg | Iron: 3.6mg | Magnesium: 123.4mg | Phosphorus: 271.3mg | Zinc: 2.3mg